Abstract
Background
The reported prevalence of hypocalcemia after bariatric surgery ranges from 1% after Roux-en-Y gastric bypass (RYGB) to 25% after bilio-pancreatic diversion-duodenal switch (BPD-DS).
Objective
We aimed to define the prevalence of post-operative hypocalcemia and identify clinical predisposing factors.
Setting
The study was conducted in an Academic Medical Center, USA.
Methods
Retrospective analysis of all patients undergoing bariatric surgery from May 2008 to December 2014 at Mayo Clinic Rochester, Minnesota was performed. Patients with revision surgeries were excluded. Hypocalcemia was defined as the lowest recorded serum calcium occurring at least 2 weeks post-operatively.
Results
Nine hundred ninety-nine patients fulfilled the criteria above. After correction for serum albumin concentration, 36 patients had serum calcium ≤8.9 mg/dl. Mean serum calcium was 8.1 ± 0.6 mg/dl. The prevalence was 1.9% in the RYGB group, 9.3% in the sleeve gastrectomy (SG) group, and 10% in the BPD-DS group.
In all three surgical types, patients with hypocalcemia had significantly lower serum albumin and serum 25 (OH) vitamin D concentrations when compared to their normocalcemic counterparts (P < 0.01). The presence of renal insufficiency and vitamin D deficiency was associated with the highest risk of developing hypocalcemia after surgery [OR 16.8 (6.45–47.7) and 7.1(2.9–17.3), respectively]. Pre-operative renal insufficiency increased the odds of developing hypocalcemia by 20-fold.
Conclusions
In our series, hypocalcemia was identified in 3.6% of patients undergoing all bariatric surgery. Patients who are predisposed to developing post-operative hypocalcemia, such as those with pre-operative renal impairment, or post-operative vitamin D deficiency and renal insufficiency, may benefit from increased surveillance and prevention strategies.
Access options
Buy single article
Instant access to the full article PDF.
USD 39.95
Price excludes VAT (USA)
Tax calculation will be finalised during checkout.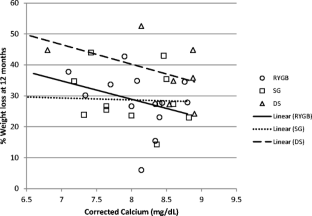 References
Buchwald H, Estok R, Fahrbach K, et al. Weight and type 2 diabetes after bariatric surgery: systematic review and meta-analysis. Am J Med. 2009;122(3):248–56. e5

Sjostrom L, Narbro K, Sjostrom CD, et al. Effects of bariatric surgery on mortality in Swedish obese subjects. N Engl J Med. 2007;357(8):741–52.

Schauer PR, Bhatt DL, Kashyap SR. Bariatric surgery versus intensive medical therapy for diabetes. N Engl J Med. 2014;371(7):682.

Courcoulas AP, Belle SH, Neiberg RH, et al. Three-year outcomes of bariatric surgery vs lifestyle intervention for type 2 diabetes mellitus treatment: a randomized clinical trial. JAMA Surg. 2015;150(10):931–40.

Peterson LA CL, Furtado M, et al. . Malnutrition in bariatric surgery candidates: multiple micronutrient deficiencies prior to surgery. Obes Surg 2015:1–6.

Bal BS, Finelli FC, Shope TR, et al. Nutritional deficiencies after bariatric surgery. Nat Rev Endocrinol. 2012;8(9):544–56.

Toh SY, Zarshenas N, Jorgensen J. Prevalence of nutrient deficiencies in bariatric patients. Nutrition. 2009;25(11–12):1150–6.

Mechanick JI, Youdim A, Jones DB, et al. Clinical practice guidelines for the perioperative nutritional, metabolic, and nonsurgical support of the bariatric surgery patient—2013 update: cosponsored by American Association of Clinical Endocrinologists, The Obesity Society, and American Society for Metabolic & Bariatric Surgery. Obesity (Silver Spring). 2013;21(Suppl 1):S1–27.

Heber D, Greenway FL, Kaplan LM, et al. Endocrine and nutritional management of the post-bariatric surgery patient: an Endocrine Society Clinical Practice Guideline. J Clin Endocrinol Metab. 2010;95(11):4823–43.

Allegretti AS, Nazarian RM, Goverman J, et al. Calciphylaxis: a rare but fatal delayed complication of Roux-en-Y gastric bypass surgery. Am J Kidney Dis. 2014;64(2):274–7.

Newbury L, Dolan K, Hatzifotis M, et al. Calcium and vitamin D depletion and elevated parathyroid hormone following biliopancreatic diversion. Obes Surg. 2003;13(6):893–5.

Johnson JM, Maher JW, Samuel I, et al. Effects of gastric bypass procedures on bone mineral density, calcium, parathyroid hormone, and vitamin D. J Gastrointest Surg. 2005;9(8):1106–10. discussion 10-1

De Prisco C, Levine SN. Metabolic bone disease after gastric bypass surgery for obesity. Am J Med Sci. 2005;329(2):57–61.

Scibora LM, Ikramuddin S, Buchwald H, et al. Examining the link between bariatric surgery, bone loss, and osteoporosis: a review of bone density studies. Obes Surg. 2012;22(4):654–67.

Chapin BL, LeMar Jr HJ, Knodel DH, et al. Secondary hyperparathyroidism following biliopancreatic diversion. Arch Surg. 1996;131(10):1048–52. discussion 53

Diniz Mde F, Diniz MT, Sanches SR, et al. Elevated serum parathormone after Roux-en-Y gastric bypass. Obes Surg. 2004;14(9):1222–6.

Jesudason DR, Clifton P. Interpreting different measures of glomerular filtration rate in obesity and weight loss: pitfalls for the clinician. Int J Obes. 2012;36(11):1421–7.

Slater GH, Ren CJ, Siegel N, et al. Serum fat-soluble vitamin deficiency and abnormal calcium metabolism after malabsorptive bariatric surgery. J Gastrointest Surg. 2004;8(1):48–55. discussion 4-5

Hamoui N, Kim K, Anthone G, et al. The significance of elevated levels of parathyroid hormone in patients with morbid obesity before and after bariatric surgery. Arch Surg. 2003;138(8):891–7.

Ernst B, Thurnheer M, Schmid SM, et al. Evidence for the necessity to systematically assess micronutrient status prior to bariatric surgery. Obes Surg. 2009;19(1):66–73.

Wang C, Guan B, Yang W, Yang J, Cao G, Lee S. Prevalence of electrolyte and nutritional deficiencies in Chinese bariatric surgery candidates. Surg Obes Relat Dis. 2015.

Institute of Medicine: Dietary reference intakes for calcium, phosphorus, magnesium, vitamin D, and fluoride. National Academy of Sciences. Washington, DC1997.

Seres DS. Surrogate nutrition markers, malnutrition, and adequacy of nutrition support. Nutr Clin Pract. 2005;20(3):308–13.

McMahon MM, Sarr MG, Clark MM, et al. Clinical management after bariatric surgery: value of a multidisciplinary approach. Mayo Clin Proc. 2006;81(10):S34–45.

Schafer AL, Weaver CM, Black DM, et al. Intestinal calcium absorption decreases dramatically after gastric bypass surgery despite optimization of vitamin D status. J Bone Miner Res. 2015;30(8):1377–85.

Barger-Lux MJ, Heaney RP, Recker RR. Time course of calcium absorption in humans: evidence for a colonic component. Calcif Tissue Int. 1989;44(5):308–11.

Moize V, Geliebter A, Gluck ME, et al. Obese patients have inadequate protein intake related to protein intolerance up to 1 year following Roux-en-Y gastric bypass. Obes Surg. 2003;13(1):23–8.

Tondapu P, Provost D, Adams-Huet B, et al. Comparison of the absorption of calcium carbonate and calcium citrate after Roux-en-Y gastric bypass. Obes Surg. 2009;19(9):1256–61.

Hewitt S, Sovik TT, Aasheim ET, et al. Secondary hyperparathyroidism, vitamin D sufficiency, and serum calcium 5 years after gastric bypass and duodenal switch. Obes Surg. 2013;23(3):384–90.

Goode LR, Brolin RE, Chowdhury HA, et al. Bone and gastric bypass surgery: effects of dietary calcium and vitamin D. Obes Res. 2004;12(1):40–7.

Lu CW, Chang YK, Chang HH, et al. Fracture risk after bariatric surgery: a 12-year nationwide cohort study. Medicine (Baltimore). 2015;94(48):e2087.

Nakamura KM, Haglind EG, Clowes JA, et al. Fracture risk following bariatric surgery: a population-based study. Osteoporos Int. 2014;25(1):151–8.
Ethics declarations
Disclosure Statement
M.S. and M.S.M had full access to all of the data in the study and take responsibility for the integrity of the data and the accuracy of the data analysis. A.S. participated in data analysis and manuscript preparation. A.S., K.A.K, R.A.W, and T.A.K participated in critical review of the manuscript. The authors report no conflicts of interest.
This article does not contain any studies with human participants or animals performed by any of the authors. For this type of study formal consent is not required.
This project was supported by Grant Number UL1TR000135 from the National Center for Advancing Translational Science (NCATS). Its contents are solely the responsibility of the authors and do not necessarily represent the official views of the NIH.
About this article
Cite this article
Shah, M., Sharma, A., Wermers, R.A. et al. Hypocalcemia After Bariatric Surgery: Prevalence and Associated Risk Factors. OBES SURG 27, 2905–2911 (2017). https://doi.org/10.1007/s11695-017-2705-7
Published:

Issue Date:

DOI: https://doi.org/10.1007/s11695-017-2705-7
Keywords
Hypocalcemia

Roux-en-Y gastric bypass

Sleeve gastrectomy

Bilio-pancreatic diversion

Duodenal switch

Renal impairment

Vitamin D deficiency