Abstract
Background
The Orbera intragastric balloon (IGB) has been approved by the US Food and Drug Administration for use in patients with a body mass index (BMI) between 30 and 40 kg/m2 and is in wide use worldwide as a primary and bridge obesity management tool. The balloon filling volume (BFV) ranges between 400 and 700 mL of saline. Our objective was to determine whether there is an association between BFV and clinically relevant endpoints, namely weight loss outcomes, balloon tolerability, and adverse events.
Methods
A systematic review of studies investigating the use of the Orbera IGB system for obesity treatment was performed. Data was examined using random effects modelling and meta-regression analyses.
Results
Forty-four studies (n = 5549 patients) reported BFV and % total body weight loss (TBWL) at 6 months. Pooled %TBWL at 6 months was 13.2% [95% CI 12.3–14.0]. A funnel plot demonstrated a low risk of publication bias. Meta-regression showed no statistically significant association between filling volume and %TBWL at 6 months (p = 0.268). Higher BFV was associated with lower rates of esophagitis (slope = −0.008, p < 0.001) and prosthesis migration (slope = −0.015, p < 0.001). There was no association between BFV and early removal (p = 0.1), gastroesophageal reflux symptom (p = 0.64), or ulcer rates (p = 0.09).
Conclusions
No association was observed between Orbera IGB filling volume and weight loss outcomes. Higher volumes appear to be associated with lower migration and esophagitis rates; thus, a balloon filling volume of 600–650 mL is recommended.
This is a preview of subscription content,
to check access.
Access this article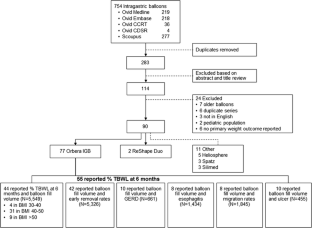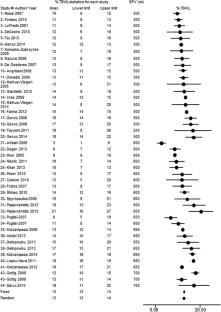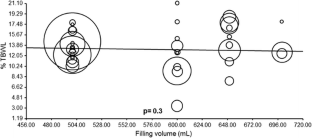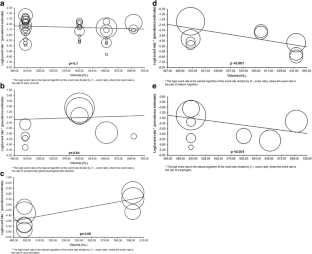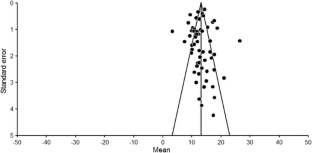 Similar content being viewed by others
Abbreviations
IGB:

Intragastric balloon

BMI:

Body mass index

TBWL:

Total body weight loss

BIB:

BioEnterics Intragastric Balloon

PIVI:

Preservation and Incorporation of Valuable endoscopic Innovations

GERD:

Gastroesophageal reflux disease
References
World Health Organization (WHO). Obesity and overweight. 2016. Available from: http://www.who.int/mediacentre/factsheets/fs311/en/. Accessed 26 Dec 2016.

Dansinger ML, Tatsioni A, Wong JB, et al. Meta-analysis: the effect of dietary counseling for weight loss. Ann Intern Med. 2007;147(1):41–50.

Look AHEAD Research Group. Cardiovascular effects of intensive lifestyle intervention in type 2 diabetes. N Engl J Med. 2013;2013(369):145–54.

Acosta A, Dayyeh BKA, Port JD, et al. Recent advances in clinical practice challenges and opportunities in the management of obesity. Gut. 2014;63(4):687–95.

Khera R, Murad MH, Chandar AK, et al. Association of pharmacological treatments for obesity with weight loss and adverse events: a systematic review and meta-analysis. JAMA. 2016;315(22):2424–34.

Lee JS, Sheer JL, Lopez N, et al. Coverage of obesity treatment: a state-by-state analysis of Medicaid and state insurance laws. Public health reports. 2010:596–604

Neff K, Olbers T, le Roux CW. Bariatric surgery: the challenges with candidate selection, individualizing treatment and clinical outcomes. BMC Med. 2013;11(1):1.

Genco A, Cipriano M, Bacci V, et al. BioEnterics® Intragastric Balloon (BIB®): a short-term, double-blind, randomised, controlled, crossover study on weight reduction in morbidly obese patients. Int J Obes. 2006;30(1):129–33.

Imaz I, Martinez-Cervell C, Garcia-Alvarez EE, et al. Safety and effectiveness of the intragastric balloon for obesity. A meta-analysis. Obes Surg. 2008;18(7):841–6.

ASGE Bariatric Endoscopy Task Force and ASGE Technology Committee: Abu Dayyeh BK, Kumar N, et al. ASGE Bariatric Endoscopy Task Force systematic review and meta-analysis assessing the ASGE PIVI thresholds for adopting endoscopic bariatric therapies. Gastrointest Endosc. 2015;82(3):425–38. e5

Lee Y-M, Low HC, Lim LG, et al. Intragastric balloon significantly improves nonalcoholic fatty liver disease activity score in obese patients with nonalcoholic steatohepatitis: a pilot study. Gastrointest Endosc. 2012;76(4):756–60.

Evans JT, DeLegge MH. Intragastric balloon therapy in the management of obesity: why the bad wrap? JPEN J Parenter Enteral Nutr. 2011;35(1):25–31.

Fuller NR, Pearson S, Lau NS, et al. An intragastric balloon in the treatment of obese individuals with metabolic syndrome: a randomized controlled study. Obesity. 2013;21(8):1561–70.

Gómez V, Woodman G, Abu Dayyeh BK. Delayed gastric emptying as a proposed mechanism of action during intragastric balloon therapy: results of a prospective study. Obesity. 2016;24(9):1849–53.

Ginsberg GG, Chand B, Cote GA, et al. A pathway to endoscopic bariatric therapies. Gastrointest Endosc. 2011;74(5):943–53.

ASGE/ASMBS Task Force on Endoscopic Bariatric Therapy. A pathway to endoscopic bariatric therapies. Surg Obes Relat Dis. 2011;7(6):672–82.

Sharma A, Padwal R. Obesity is a sign—over-eating is a symptom: an aetiological framework for the assessment and management of obesity. Obes Rev. 2010;11(5):362–70.

Blundell JE, Gillett A. Control of food intake in the obese. Obes Res. 2001;9(S11):263S–70S.

Delgado-Aros S, Cremonini F, Castillo JE, et al. Independent influences of body mass and gastric volumes on satiation in humans. Gastroenterology. 2004;126(2):432–40.

Grill H, Hayes M. The nucleus tractus solitarius: a portal for visceral afferent signal processing, energy status assessment and integration of their combined effects on food intake. Int J Obes. 2009;33:S11–S5.

Rigaud D, Trostler N, Rozen R, et al. Gastric distension, hunger and energy intake after balloon implantation in severe obesity. International Journal of Obesity and Related Metabolic Disorders. 1995;19(7):489–95.

Schmidt PT, Naslund E, Gryback P, et al. A role for pancreatic polypeptide in the regulation of gastric emptying and short-term metabolic control. J Clin Endocrinol Metab. 2005;90(9):5241–6.

Melton PM, Kissileff HR, Pi-Sunyer FX. Cholecystokinin (CCK-8) affects gastric pressure and ratings of hunger and fullness in women. Am J Phys. 1992;263(2 Pt 2):R452–6.

Feinle C, Christen M, Grundy D, et al. Effects of duodenal fat, protein or mixed-nutrient infusions on epigastric sensations during sustained gastric distension in healthy humans. Neurogastroenterology and Motility. 2002;14(2):205–13.
Ethics declarations
Ethical Approval
For this type of study, formal consent is not required.
Grant Support
None.
Conflict of Interest
Nitin Kumar, Fateh Bazerbachi, Tarun Rustagi, and Thomas R. McCarty declare that they have no competing interests. Christopher C. Thompson, Manoel P. Galvao Neto, Natan Zundel, Erik B. Wilson, and Barham K. Abu Dayyeh, MD, are consultants for the Apollo Endosurgery, and Christopher J. Gostout is a medical director for the Apollo Endosurgery.
Electronic supplementary material
Below is the link to the electronic supplementary material.
About this article
Cite this article
Kumar, N., Bazerbachi, F., Rustagi, T. et al. The Influence of the Orbera Intragastric Balloon Filling Volumes on Weight Loss, Tolerability, and Adverse Events: a Systematic Review and Meta-Analysis. OBES SURG 27, 2272–2278 (2017). https://doi.org/10.1007/s11695-017-2636-3
Published:

Issue Date:

DOI: https://doi.org/10.1007/s11695-017-2636-3
Keywords