Abstract
Background
The ideal nutritional approach for weight regain after bariatric surgery remains unclear.
Objective
The objective of this study is to assess the effect of whey protein supplementation on weight loss and body composition of women who regained weight 24 or more months after bariatric surgery.
Methods
This is a 16-week open-label, parallel-group, randomized controlled trial of women who regained at least 5 % of their lowest postoperative weight after a Roux-en-Y gastric bypass (RYGB). A total of 34 participants were treated with hypocaloric diet and randomized (1:1) to receive or not supplementation with whey protein, 0.5 g/kg of the ideal body weight. The primary outcomes were changes in body weight, fat free mass (FFM), and fat mass (FM), evaluated by tetrapolar bioelectrical impedance analysis (BIA). Secondary outcomes included resting energy expenditure, blood glucose, lipids, adiponectin, interleukin 6 (IL-6), and cholecystokinin levels. Statistical analyses included generalized estimating equations adjusted for age and physical activity.
Results
Fifteen patients in each group were evaluated: mean age was 45 ± 11 years, body mass index (BMI) was 35.7 ± 5.2 kg/m2, and time since surgery was 69 ± 23 months. Protein intake during follow-up increased by approximately 75 % in the intervention group (p = 0.01). The intervention group presented more body weight loss (1.86 kg, p = 0.017), accounted for FM loss (2.78, p = 0.021) and no change in FFM, as compared to controls (gain of 0.42 kg of body weight and 0.6 kg of FM). No differences in secondary outcomes were observed between groups.
Conclusions
Whey protein supplementation promoted body weight and FM loss in women with long-term weight regain following RYGB.
Access options
Buy single article
Instant access to the full article PDF.
USD 39.95
Price excludes VAT (USA)
Tax calculation will be finalised during checkout.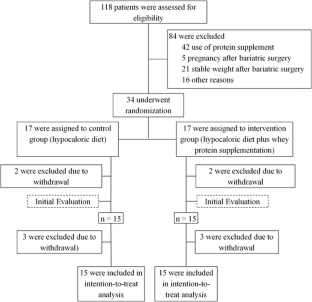 References
Puzziferri N, Roshek TB, Mayo HG, et al. Long-term follow-up after bariatric surgery: a systematic review. JAMA. 2014;312(9):934–42.

Magro DO, Geloneze B, Delfini R, et al. Long-term weight regain after gastric bypass: a 5-year prospective study. Obes Surg. 2008;18:648–51.

Karmali SI, Brar B, Shi X, et al. Weight recidivism post-bariatric surgery: a systematic review. Obes Surg. 2013;23(11):1922–33.

Faria SL, Faria OP, Buffington C, et al. Energy expenditure before and after roux-en-Y gastric bypass. Obes Surg. 2012;22(9):1450–5.

Carey DG, Pliego GJ, Raymond RL, et al. Body composition and metabolic changes following bariatric surgery: effects on fat mass, lean mass and basal metabolic rate. Obes Surg. 2006;16:469–77.

Mechanick JI, Youdim A, Jones DB, et al. Clinical practice guidelines for the perioperative nutritional, metabolic, and nonsurgical support of the bariatric surgery patient—2013 update: cosponsored by American Association of Clinical Endocrinologists, The Obesity Society, and American Society for Metabolic & Bariatric surgery (AACE/TOS/ASMBS Guidelines). Endocr Pract, 2013;19(2):337–372.

Moizé V, Andreu A, Rodríguez L, et al. Protein intake and lean tissue mass retention following bariatric surgery. Clin Nutr. 2012;32(4):550–5.

Näslund E, Hellström PM. Appetite signaling: from gut peptides and enteric nerves to brain. Physiol Behav. 2007;92(1):256–62.

Forsythe LK, Wallace JM, Livingstone MB, et al. Obesity and inflammation: the effects of weight loss. Nutr Res Rev. 2008;21:117–33.

Zhou J, Keenan MJ, Losso JN, et al. Dietary whey protein decreases food intake and body fat in rats. Obesity. 2011;19(8):1568–73.

Hector AJ, Marcotte GR, Churchward-Venne TAJ, et al. Whey protein supplementation preserves postprandial myofibrillar protein synthesis during short-term energy restriction in overweight and obese adults. Nutrition. 2015;145(2):246–52.

Verreijen AM, Verlaan S, Engberink MF, et al. A high whey protein, leucine, and vitamin D-enriched supplement preserves muscle mass during intentional weight loss in obese older adults: a double-blind randomized controlled trial. Am J Clin Nutr. 2015;101(2):279–86.

Kyle UG, Bosaeus I, De Lorenzo AD, et al. Bioelectrical impedance analysis—part II: utilization in clinical practice. Clin Nutr. 2004;23:1430–53.

WHO. World Health Organization. Global recommendations on physical activity for health. Geneva: WHO; 2010.

Friedewald WT, Levy RI, Fredrickson DS, et al. Estimation of the concentration of low-density lipoprotein cholesterol in plasma, without use of the preparative ultracentrifuge. Clin Chem. 1972;18:499–502.

Matthews DR, Hosker JP, Rudenski AS, et al. Homeostasis model assessment: insulin resistance and B-cell function from fasting plasma glucose and insulin concentrations in man. Diabetologia. 1985;28:412–9.

Gomes DL, de Almeida Oliveira D, Dutra E, et al. Resting energy expenditure and body composition of women with weight regain 24 months after bariatric surgery. Obes Surg. 2015:1–5.

Raftopoulos I, Bernstein B, O'Hara C, et al. Protein intake compliance of morbidly obese patients undergoing bariatric surgery and its effect on weight loss and biochemical parameters. Surg Obes Relat Dis. 2011;7(6):733–42.

Zheng Y, Sereika SM, Ewing LI, et al. Association between self-weighing and percent weight change: mediation effects of adherence to energy intake and expenditure goals. J Acad Nutr Diet. 116(4):660–6.

Wibisono C, Probst Y, Neale E, et al. Impact of food supplementation on weight loss in randomised-controlled dietary intervention trials: a sistematic review and meta-analysis. Br J Nutr. 2016;18:1–9.

Aquino LA, Pereira SE, Silva JS, et al. Bariatric surgery: impact on body composition after roux-en-y gastric bypass. Obes Surg. 2012;22(2):195–200.

Tamboli RA. Body composition and energy metabolism following roux-en-y gastric bypass surgery. Obesity. 2010;18(9):1718–24.

Freire RH, Borges MC, Alvarez-Leite JI, et al. Food quality, physical activity and nutritional follow-up as determinant of weight regain after roux-en-Y gastric bypass. Nutrition. 2012;28:53–8.

Gaesser GA, Angadi SA, Brandon J, et al. Exercise and diet, independent of weight loss, improve cardiometabolic risk profile in overweight and obese individuals. Phys Sports Med. 2011;39(2):87–97.

Burguera B, Jesús Tur J, Escudero AJ, et al. An intensive lifestyle intervention is an effective treatment of morbid obesity: the TRAMOMTANA study—a two year randomized controlled clinical trial. Int J Endocrinol 2015; 2015:194696.

Pal S, Ellis V, Dhaliwal S, et al. Effects of whey protein isolate on body composition, lipids, insulin and glucose in overweight and obese individuals. Brit J Nutr. 2010;104(5):716–23.

Cummings DE, Overduin J. Gastrointestinal regulation of food intake. J Clin Invest. 2007;117(1):13.

Herder C, Peltonen M, Svensson PA, et al. Adiponectin and bariatric surgery: associations with diabetes and cardiovascular disease in the Swedish obese subjects study. Diabetes Care. 2014;37(5):1401–9.
Acknowledgments
This study was sponsored by CNPQ under process number 476459/2011-7; notice/universal call 14/2011 and by Fundo de Incentivo à Pesquisa e Eventos (FIPE) of the Hospital de Clínicas de Porto Alegre (HCPA).
Ethics declarations
All procedures performed in studies involving human participants were in accordance with the ethical standards of the institutional and/or national research committee and with the 1964 Helsinki declaration and its later amendments or comparable ethical standards.
Conflict of Interest Disclosure Statement
The authors have no commercial associations that might be a conflict of interest in relation to this article.
About this article
Cite this article
Lopes Gomes, D., Moehlecke, M., Lopes da Silva, F.B. et al. Whey Protein Supplementation Enhances Body Fat and Weight Loss in Women Long After Bariatric Surgery: a Randomized Controlled Trial. OBES SURG 27, 424–431 (2017). https://doi.org/10.1007/s11695-016-2308-8
Published:

Issue Date:

DOI: https://doi.org/10.1007/s11695-016-2308-8
Keywords