Abstract
Background
Vitamin supplementation in bariatric aftercare is essential to prevent nutrient deficiencies; however, rates of vitamin adherence have been as low as 30 % 6 months post-surgery. Preliminary literature suggests non-adherence to prescribed treatments can be linked to demographic and psychological factors. We aimed to determine the relationship between these factors to vitamin adherence in post-bariatric surgery patients.
Methods
A total of 92 bariatric patients were assessed 6 months post-surgery. Patients were administered a questionnaire collecting demographic information, psychological scores, and self-reported adherence. Nutrient deficiencies were analyzed through serum vitamin levels measured 3 and 6 months after surgery. Wilcoxon rank-sum and chi-square tests were used for analysis.
Results
Non-adherence was associated with male sex and full-time employment (p = 0.027, p = 0.015). There were no differences with respect to living situation, education level, or relationship type. Non-adherent patients did not have significantly higher scores for generalized anxiety, depressive symptoms, or avoidant behaviors. However, non-adherent patients displayed greater attachment anxiety than their adherent counterparts (p = 0.0186). Non-adherence was also associated with lower vitamin B12 levels 6 months post-surgery (p = 0.001).
Conclusions
Male gender and full-time work have previously been shown to be associated with non-adherence. This is the first study to demonstrate that attachment anxiety is associated with poor multivitamin adherence in the post-surgical bariatric population. This result is concordant with recent literature that has demonstrated attachment anxiety is associated with poor adherence to dietary recommendations in bariatric patients 6 months postoperatively. Presurgical screening for attachment anxiety could facilitate early interventions to promote better bariatric aftercare in this group.
Access options
Buy single article
Instant access to the full article PDF.
US$ 39.95
Tax calculation will be finalised during checkout.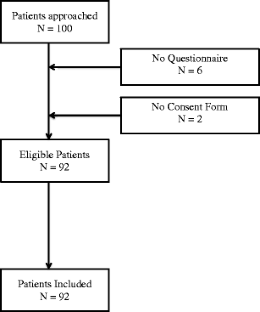 References
1.

WHO. "Obesity and overweight". World Health Organization. January 2015. Web. Accessed: 24 March 2016. http://www.who.int/mediacentre/factsheets/fs311/en/

2.

CDC. "Adult obesity facts". Division of Nutrition, Physical Activity and Obesity: Data and Statistics. September 2015. Web. Accessed 24 March 2016. http://www.cdc.gov/obesity/data/adult.htmlf

3.

Ogden CL, Carroll MD, Kit BK, Flegal KM. Prevalence of childhood and adult obesity in the United States, 2011-2012. JAMA. 2014;311(8):806–14.

4.

Navaneelan T and Janz T. Adjusting the scales: obesity in the Canadian population after correcting for respondent bias. Statistics Canada. November 2015. Web. Accessed 30 March 2016. http://www.statcan.gc.ca/pub/82-624-x/2014001/article/11922-eng.htm

5.

PHAC. "Obesity in Canada." Public Health Agency of Canada. Public Health Agency of Canada, June 2011. Web. Accessed 30 March 2016. <http://www.phac-aspc.gc.ca/hp-ps/hl-mvs/oic-oac/index-eng.php>.

6.

Matsuda M, Shimamura I. Increased oxidative stress in obesity: implications for metabolic syndrome, diabetes, hypertension, dyslipidemia, atherosclerosis, and cancer. Obes Res Clin Pract. 2013;7:e330–41.

7.

Neilson A, Schneider H. Obesity and its comorbidities: present and future importance on health status in Switzerland. Soz Praventivmed. 2005;50(2):78–86.

8.

Zalesin KC, Franklin BA, Miller WM, Peterson ED, McCullough PA. Impact of obesity on cardiovascular disease. Med Clin N Am. 2011;95(5):919–37.

9.

Haslam DW, James WP. Obesity. Lancet. 2005;366(9492):1197–209.

10.

Peeters A, Barendregt JJ, Willekens F, Mackenbach JP, Al Mamun A, Bonneux L. Obesity in adulthood and its consequences for life expectancy: a life-table analysis. Ann Intern Med. 2003;138(1):24.

11.

Buchwald H, Avidor Y, Braunwald E, Jensen MD, Pories W, Fahrbach K, et al. Bariatric surgery: a systematic review and meta-analysis. JAMA. 2004;292(14):1724–37.

12.

Bult MJ, van Dalen T, Muller AF. Surgical treatment of obesity. Eur J Endocrinol. 2008;158(2):135–45.

13.

O'Brien PE. Bariatric surgery: mechanisms, indications and outcomes. J Gastroenterol Hepatol. 2010;25:1358–65.

14.

Picot J, Jones J, Colquitt JL, Gospodarevskaya E, Loveman E, Baxter L, Clegg AJ. The clinical effectiveness and cost-effectiveness of bariatric (weight loss) surgery for obesity: a systematic review and economic evaluation. Health Technol Assess. 2009;13(41):1–190 .215–357, iii-iv

15.

CIHI. "Bariatric surgery in Canada". Canadian Institute for Health Information. May 2014. Web. Accessed 28 Mar 2016. https://secure.cihi.ca/free_products/Bariatric_Surgery_in_Canada_EN.pdf

16.

Xanthakos S. Nutritional deficiencies in obesity and after bariatric surgery. Pediatr Clin N Am. 2009;56(5):1105–21.

17.

Bal BS, Koch TR, Finelli FC, Sarr MG. Managing medical and surgical disorders after divided Roux-en-Y gastric bypass surgery. Nat Rev Gastroenterol Hepatol. 2010;7(6):320–34.

18.

Fujioka K. Follow-up of nutritional and metabolic problems after bariatric surgery. Diabetes Care. 2005;28(2):481–4.

19.

Dogan K, Aarts EO, Koehestanie P, et al. Optimization of vitamin suppletion after Roux-en-Y gastric bypass surgery can lower postoperative deficiencies: a randomized controlled trial. Medicine. 2014;93:e169.

20.

Bal BS, Finelli FC, Shope TR, Koch TR. Nutritional deficiencies after bariatric surgery. Nat Rev Endocrinol. 2012;8(9):544–56.

21.

Schweitzer DH, Posthuma EF. Prevention of vitamin and mineral deficiencies after bariatric surgery: evidence and algorithms. Obes Surg. 2008;18(11):1485–8.

22.

Hng KN, Ang YS. Overview of bariatric surgery for the physician. Clin Med. 2012;12(5):435–40.

23.

Vargas-Ruiz AG, Hernandez-Rivera G, Herrera MF. Prevalence of iron, folate, and vitamin B12 deficiency anemia after laparoscopic Roux-en-Y gastric bypass. Obes Surg. 2008;18:288–93.

24.

Brolin RE, Gorman JH, Gorman RC, et al. Are vitamin B12 and folate deficiency clinically important after Roux-en-Y gastric bypass? J Gastrointest Surg. 1998;2:436–42.

25.

Delamater AM. Improving patient adherence. Clin Diab. 2006;24(2):71–7.

26.

Dempe C, Jünger J, Hoppe S, Katzenberger ML, Möltner A, Ladwig KH, Herzog W, Schultz JH. Association of anxious and depressive symptoms with medication nonadherence in patients with stable coronary artery disease. J Psychosom Res. 2013;74(2):122–7.

27.

Grenard JL, Munjas BA, Adams JL, Suttorp M, Maglione M, McGlynn EA, Gellad WF. Depression and medication adherence in the treatment of chronic diseases in the United States: a meta-analysis. J Gen Intern Med. 2011;26(10):1175–82.

28.

Gasteyger C, Suter M, Gaillard RC, Giusti V. Nutritional deficiencies after Roux-en-Y gastric bypass for morbid obesity often cannot be prevented by standard multivitamin supplementation. Am J Clin Nutr. 2008;87(5):1128–33.

29.

Spitzer RL, Kroenke K, Williams JB, Lowe B. A brief measure for assessing generalized anxiety disorder: the GAD-7. Arch Intern Med. 2006;166(10):1092–7.

30.

Kroenke K, Spitzer RL, Williams JB, Monahan PO, Lowe B. Anxiety disorders in primary care: prevalence, impairment, comorbidity, and detection. Ann Intern Med. 2007;146(5):317–25.

31.

Spitzer RL, Kroenke K, Williams JB. Validation and utility of a self-report version of PRIME-MD: the PHQ primary care study. Primary care evaluation of mental disorders. Patient health questionnaire. JAMA. 1999;282(18):1737–44.

32.

Cassin S, Sockalingam S, Hawa R, Wnuk S, Royal S, Taube-Schiff M, Okrainec A. Psychometric properties of the Patient Health Questionnaire (PHQ-9) as a depression screening tool for bariatric surgery candidates. Psychosomatics. 2013;54(4):352–8.

33.

Lo C, Walsh A, Mikulincer M, Gagliese L, Zimmermann C, Rodin G. Measuring attachment security in patients with advanced cancer: psychometric properties of a modified and brief Experiences in Close Relationships scale. Psychooncology. 2009;18(5):490–9.

34.

Mikulincer M, Shaver PR. Attachment in adulthood: structure, dynamics, and change. NY: Guilford; 2007.

35.

Agh T, Inotai A, Meszaros A. Factors associated with medication adherence in patients with chronic obstructive pulmonary disease. Respiration. 2011;82:328–34.

36.

Sockalingam S, Blank D, Abdelhamid N, Abbey SE, Hirschfield GM. Identifying opportunities to improve management of autoimmune hepatitis: evaluation of drug adherence and psychosocial factors. J Hepatol. 2012;57:1299–304.

37.

Kane SV, Cohen RD, Aikens JE, Hanauer SB. Prevalence of nonadherence with maintenance mesalamine in quiescent ulcerative colitis. Am J Gastroenterol. 2001;96:2929–33.

38.

D'Incà R, Bertomoro P, Mazzocco K, Vettorato MG, Rumiati R, Sturniolo GC. Risk factors for non-adherence to medication in inflammatory bowel disease patients. Aliment Pharmacol Ther. 2008;27:166–72.

39.

Friedman KE, Applegate KL, Grant J. Who is adherent with preoperative psychological treatment recommendations among weight loss surgery candidates? Surg Obes Relat Dis. 2007;3:376–82.

40.

Wheeler E, Prettyman A, Lenhard MJ, Tran K. Adherence to outpatient program postoperative appointments after bariatric surgery. Surg Obes Relat Dis. 2008;4:515–20.

41.

Larjani S, et al. Preoperative predictors of adherence to multidisciplinary follow-up care postbariatric surgery. Surg Obes Relat Dis 2015; In Press.

42.

Aarts F, Geenen R, Gerdes VEA, van de Laar A, Brandjes DPM, Hinnen C. Attachment anxiety predicts poor adherence to dietary recommendations: an indirect effect on weight change 1 year after gastric bypass surgery. Obes Surg. 2015;25(4):666–72.

43.

Mikulincer M, Florian V. The relationship between adult attachment styles and emotional and cognitive reactions to stressful events. In: Simpson J, Rholes S, editors. Attachment theory and close relationships (pp. 143–165). New York: Guilford; 1998.
Acknowledgments
We would like to thank the patients who participated in this study and our Toronto Western Hospital Bariatric Surgery team members for their support of this research project.
Ethics declarations
Ethics Approval
All procedures performed in studies involving human participants were in accordance with the ethical standards of the institutional and/or national research committee and with the 1964 Helsinki Declaration and its later amendments or comparable ethical standards.
Informed Consent
Informed consent was obtained from all individual participants included in the study.
Funding
No external sources of funding were used for this study or its publication.
Conflict of Interest
The authors declare that they have no conflict of interest.
About this article
Cite this article
Sunil, S., Santiago, V.A., Gougeon, L. et al. Predictors of Vitamin Adherence After Bariatric Surgery. OBES SURG 27, 416–423 (2017). https://doi.org/10.1007/s11695-016-2306-x
Keywords
Bariatric surgery

Obesity

Adherence

Vitamins