Abstract
Morbid obesity is a life threatening condition. Currently, surgery represents the only effective and durable therapeutic option to treat it. The first aim of the study was to estimate and compare the major surgical complications and the 30-day rate of mortality between laparoscopic and open Roux-en-Y gastric bypass (LRYGB and RYGB). The second aim was to evaluate the change in outcomes, complications, and deaths, with increased experience over the time period of the review. A random effect of the meta-analysis and meta-regression was used to evaluate surgical complications (i.e., reoperation, stenosis, bleeding, surgical site infection, fistula, internal hernia, and incisional ventral hernia) and the rate of mortality after LRYGB and RYGB over time. A search of literature from 2000 to 2014 led to the selection of 17 papers. When looking at surgical techniques separately, we observed a higher rate of mortality for open surgery (death rate 0.82 %, 95 % CI = 0.49–1.23) compared to laparoscopic surgery (death rate 0.22 %, 95 % CI = 0.09–0.40). This difference resulted highly significant when the two techniques were formally compared (p < 0.001). The improving of surgery technique resulted in a mean rate of mortality reduction of 0.069 %. Laparoscopy represents the approach of choice for bariatric surgery. Contemporary reports of LRYGB show low mortality rates and progressive decline in postoperative complications. Laparoscopic bariatric surgery requires advanced laparoscopic skills, and probably an extended learning curve is not accounted for by current mortality statistics.
Access options
Buy single article
Instant access to the full article PDF.
US$ 39.95
Tax calculation will be finalised during checkout.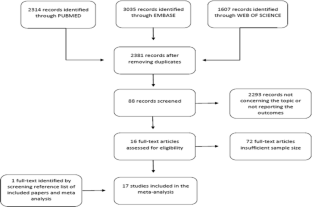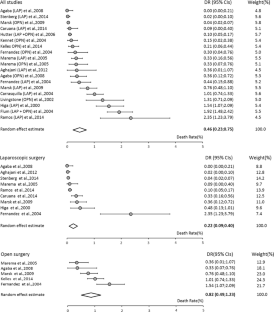 References
1.

Finucane MM, Stevens GA, Cowan MJ, et al. National, regional, and global trends in body-mass index since 1980: systematic analysis of health examination surveys and epidemiological studies with 960 country-years and 9.1 million participants. Lancet. 2011;377(9765):557–67.

2.

World Health Organization (WHO)_Obesity. Available at http://www.who.int/mediacentre/factsheets/fs311/en/ (last accessed 15 August, 2015). In.

3.

Fruhbeck G, Toplak H, Woodward E, et al. Obesity: the gateway to ill health—an EASO position statement on a rising public health, clinical and scientific challenge in Europe. Obes Facts. 2013;6(2):117–20.

4.

Flegal KM, Kit BK, Orpana H, et al. Association of all-cause mortality with overweight and obesity using standard body mass index categories: a systematic review and meta-analysis. Jama. 2013;309(1):71–82.

5.

Chang SH, Stoll CR, Song J, Varela JE, Eagon CJ, Colditz GA. The effectiveness and risks of bariatric surgery: an updated systematic review and meta-analysis, 2003–2012. JAMA Surg 2013.

6.

Samuel I, Mason EE, Renquist KE, et al. Bariatric surgery trends: an 18-year report from the International Bariatric Surgery Registry. Am J Surg. 2006;192(5):657–62.

7.

Buchwald H, Oien DM. Metabolic/bariatric surgery worldwide 2011. Obes Surg. 2013;23(4):427–36.

8.

Angrisani L, Santonicola A, Iovino P, Formisano G, Buchwald H, Scopinaro N. Bariatric surgery worldwide 2013. Obes Surg 2015.

9.

Fried M, Hainer V, Basdevant A, et al. Interdisciplinary European guidelines on surgery of severe obesity. Obes Facts. 2008;1(1):52–9.

10.

Dixon JB, Zimmet P, Alberti KG, et al. Bariatric surgery for diabetes: the International Diabetes Federation takes a position. J Diabetes. 2011;3(4):261–4.

11.

Colquitt JL, Pickett K, Loveman E, et al. Surgery for weight loss in adults. Cochrane Database Syst Rev. 2014;8:Cd003641.

12.

Romanova IV, Ramos EJ, Xu Y, et al. Neurobiologic changes in the hypothalamus associated with weight loss after gastric bypass. J Am Coll Surg. 2004;199(6):887–95.

13.

Saeidi N, Meoli L, Nestoridi E, et al. Reprogramming of intestinal glucose metabolism and glycemic control in rats after gastric bypass. Science. 2013;341(6144):406–10.

14.

Thaler JP, Cummings DE. Minireview: Hormonal and metabolic mechanisms of diabetes remission after gastrointestinal surgery. Endocrinology. 2009;150(6):2518–25.

15.

Nannipieri M, Baldi S, Mari A, et al. Roux-en-Y gastric bypass and sleeve gastrectomy: mechanisms of diabetes remission and role of gut hormones. J Clin Endocrinol Metab. 2013;98(11):4391–9.

16.

Birkmeyer JD, Finks JF, O'Reilly A, et al. Surgical skill and complication rates after bariatric surgery. N Engl J Med. 2013;369(15):1434–42.

17.

Hamdan K, Somers S, Chand M. Management of late postoperative complications of bariatric surgery. Br J Surg. 2011;98(10):1345–55.

18.

Ramos AC, Silva AC, Ramos MG, et al. Simplified gastric bypass: 13 years of experience and 12,000 patients operated. Arq Bras Cir Dig. 2014;27 Suppl 1:2–8.

19.

Stenberg E, Szabo E, Agren G, et al. Early complications after laparoscopic gastric bypass surgery: results from the Scandinavian Obesity Surgery Registry. Ann Surg. 2014;260(6):1040–7.

20.

Bruschi Kelles SM, Diniz MF, Machado CJ, et al. Mortality rate after open Roux-in-Y gastric bypass: a 10-year follow-up. Braz J Med Biol Res. 2014;47(7):617–25.

21.

Aghajani E, Jacobsen HJ, Nergaard BJ, et al. Internal hernia after gastric bypass: a new and simplified technique for laparoscopic primary closure of the mesenteric defects. J Gastrointest Surg. 2012;16(3):641–5.

22.

Caruana JA, McCabe MN, Smith AD, et al. Roux en Y gastric bypass by single-incision mini-laparotomy: outcomes in 3,300 consecutive patients. Obes Surg. 2011;21(7):820–4.

23.

Marsk R, Tynelius P, Rasmussen F, et al. Short-term morbidity and mortality after open versus laparoscopic gastric bypass surgery. A population-based study from Sweden. Obes Surg. 2009;19(11):1485–90.

24.

Agaba EA, Shamseddeen H, Gentles CV, et al. Laparoscopic vs open gastric bypass in the management of morbid obesity: a 7-year retrospective study of 1,364 patients from a single center. Obes Surg. 2008;18(11):1359–63.

25.

Hutter MM, Randall S, Khuri SF, et al. Laparoscopic versus open gastric bypass for morbid obesity: a multicenter, prospective, risk-adjusted analysis from the National Surgical Quality Improvement Program. Ann Surg. 2006;243(5):657–62. discussion 662-656.

26.

Marema RT, Perez M, Buffington CK. Comparison of the benefits and complications between laparoscopic and open Roux-en-Y gastric bypass surgeries. Surg Endosc. 2005;19(4):525–30.

27.

Fernandez Jr AZ, DeMaria EJ, Tichansky DS, et al. Experience with over 3,000 open and laparoscopic bariatric procedures: multivariate analysis of factors related to leak and resultant mortality. Surg Endosc. 2004;18(2):193–7.

28.

Flum DR, Dellinger EP. Impact of gastric bypass operation on survival: a population-based analysis. J Am Coll Surg. 2004;199(4):543–51.

29.

Jones Jr KB. Bariatric surgery—where do we go from here? Int Surg. 2004;89(1):51–7.

30.

Carrasquilla C, English WJ, Esposito P, et al. Total stapled, total intra-abdominal (TSTI) laparoscopic Roux-en-Y gastric bypass: one leak in 1000 cases. Obes Surg. 2004;14(5):613–7.

31.

Livingston EH, Huerta S, Arthur D, et al. Male gender is a predictor of morbidity and age a predictor of mortality for patients undergoing gastric bypass surgery. Ann Surg. 2002;236(5):576–82.

32.

Higa KD, Ho T, Boone KB. Internal hernias after laparoscopic Roux-en-Y gastric bypass: incidence, treatment and prevention. Obes Surg. 2003;13(3):350–4.

33.

Higa KD, Ho T, Boone KB. Laparoscopic Roux-en-Y gastric bypass: technique and 3-year follow-up. J Laparoendosc Adv Surg Tech A. 2001;11(6):377–82.

34.

Higa KD, Boone KB, Ho T. Complications of the laparoscopic Roux-en-Y gastric bypass: 1,040 patients—what have we learned? Obes Surg. 2000;10(6):509–13.

35.

Barendregt JJ, Doi SA, Lee YY, et al. Meta-analysis of prevalence. J Epidemiol Community Health. 2013;67(11):974–8.

36.

Miller JJ. The inverse of the Freeman-Tukey double arcsine transformation. Am Stat. 1978;32:138.

37.

Begg CB, Mazumdar M. Operating characteristics of a rank correlation test for publication bias. Biometrics. 1994;50(4):1088–101.

38.

Egger M, Davey Smith G, Schneider M, et al. Bias in meta-analysis detected by a simple, graphical test. BMJ. 1997;315:629–34.

39.

Ricci C, Gaeta M, Rausa E, Macchitella Y, Bonavina L. Early impact of bariatric surgery on type II diabetes, hypertension, and hyperlipidemia: a systematic review, meta-analysis and meta-regression on 6,587 patients. Obes Surg 2013.

40.

Ricci C, Gaeta M, Rausa E, Asti E, Bandera F, Bonavina L. Long-term effects of bariatric surgery on type II diabetes, hypertension and hyperlipidemia: a meta-analysis and meta-regression study with 5-year follow-up. Obes Surg 2014.

41.

Procter LD, Davenport DL, Bernard AC, et al. General surgical operative duration is associated with increased risk-adjusted infectious complication rates and length of hospital stay. J Am Coll Surg. 2010;210(1):60–5.
Ethics declarations
This article does not contain any studies with human participants or animals performed by any of the authors.
Informed consent does not apply.
Funding
Emanuele Rausa, Luigi Bonavina, Emanuele Asti, Maddalena Gaeta, and Cristian Ricci do not have any sources of funding for research and/or publication.
About this article
Cite this article
Rausa, E., Bonavina, L., Asti, E. et al. Rate of Death and Complications in Laparoscopic and Open Roux-en-Y Gastric Bypass. A Meta-analysis and Meta-regression Analysis on 69,494 Patients. OBES SURG 26, 1956–1963 (2016). https://doi.org/10.1007/s11695-016-2231-z
Keywords
Bariatric surgery

Roux-en-Y gastric bypass

Surgical complications

Learning curve