Abstract
Background
Despite reported effectiveness, weight loss surgery (WLS) still remains one of the least preferred options for outpatient providers, especially in Germany. The aim of this study was to examine the effect of stigma and knowledge on recommendation of WLS and referral to a surgeon by general practitioners (GPs) and internists.
Method
The sample consists of 201 GPs and internists from Germany. The questionnaire included questions on the perceived effectiveness of WLS, the frequency of recommendations of WLS, and the frequency of referral to WLS. Stigma, as well as knowledge was also assessed in this context. Linear and logistic regression models were conducted. A mediation analysis was carried out within post hoc analysis.
Results
Knowledge (b = 0.258, p < 0.001) and stigma towards surgery (b = −0.129, p = 0.013) were related to the frequency of recommendation of WLS. Additionally, respondents, who were more likely to express negative attitudes towards WLS, were less likely to recommend WLS and thus refer patients to WLS (b = −0.107, p < 0.05). Furthermore, respondents with more expertise on WLS were more likely to recommend and thus refer patients to WLS (b = 0.026, p < 0.05).
Conclusion
This study showed that stigma plays a role when it comes to defining treatment pathways for patients with obesity. The question remains how this might influence the patients and their decision regarding their treatment selection. Interventions are required to make treatment decisions by physicians or patients independent of social pressure due to stigma.
Access options
Buy single article
Instant access to the full article PDF.
US$ 39.95
Tax calculation will be finalised during checkout.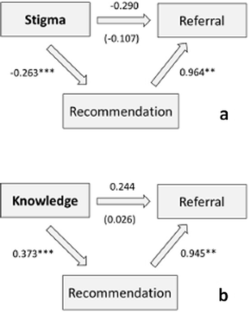 References
1.

Picot J, Jones J, Colquitt JL, et al. The clinical effectiveness and cost-effectiveness of bariatric (weight loss) surgery for obesity: a systematic review and economic evaluation. Health Technol Assess. 2009;13:1–190. 215–357, iii-iv.

2.

Rosemann T, Wensing M, Rueter G, et al. Referrals from general practice to consultants in Germany: if the GP is the initiator, patients' experiences are more positive. BMC Health Serv Res. 2006;6:5.

3.

Höhne A, Jedlitschka K, Hobler D, et al. Hausarztzentrierte Versorgung in Deutschland. Der Hausarzt als Lotse? Gesundheitswesen. 2009;71:414–22.

4.

Piché M, Auclair A, Harvey J, et al. How to choose and use bariatric surgery in 2015. Can J Cardiol. 2015;31:153–66.

5.

Maggard MA, Shugarman LR, Suttorp M, et al. Meta-analysis: surgical treatment of obesity. Ann Intern Med. 2005;142:547–59.

6.

Garb J, Welch G, Zagarins S, et al. Bariatric surgery for the treatment of morbid obesity: a meta-analysis of weight loss outcomes for laparoscopic adjustable gastric banding and laparoscopic gastric bypass. Obes Surg. 2009;19:1447–55.

7.

Expertengruppe Metabolische Chirurgie. Berechnungen der Expertengruppe Metabolische Chirurgie auf Grundlage nationaler Statistiken. München; 2012. Available from: http://www.expertengruppe-mbc.de/berlin-2012.html

8.

Vasas P, Pór F. Surgical options for reducing body weight. Orv Hetil. 2014;155:971–7.

9.

Sikorski C, Luppa M, Dame K, et al. Attitudes towards bariatric surgery in the general public. Obes Surg. 2013;23:338–45.

10.

Avidor Y, Still CD, Brunner M, et al. Primary care and subspecialty management of morbid obesity: referral patterns for bariatric surgery. Surg Obes Relat Dis. 2007;3:392–407.

11.

Sarwer DB, Ritter S, Wadden TA, et al. Physicians' attitudes about referring their type 2 diabetes patients for bariatric surgery. Surg Obes Relat Dis. 2012;8:381–6.

12.

Dumon KR, Murayama KM. Bariatric surgery outcomes. Surg Clin N Am. 2011;91:1313–38.

13.

Balduf LM, Farrell TM. Attitudes, beliefs, and referral patterns of PCPs to bariatric surgeons. J Surg Res. 2008;144:49–58.

14.

Hell E, Miller K. Bariatric surgery—stereotypes and paradigms. Zentralbl Chir. 2002;127:1032–4.

15.

Wee CC, Huskey KW, Bolcic-Jankovic D, et al. Sex, race, and consideration of bariatric surgery among primary care patients with moderate to severe obesity. J Gen Intern Med. 2014;29:68–75.

16.

Foster GD, Wadden TA, Makris AP, et al. Primary care physicians' attitudes about obesity and its treatment. Obes Res. 2003;11:1168–77.

17.

Wadden TA, Anderson DA, Foster GD, et al. Obese women's perceptions of their physicians' weight management attitudes and practices. Arch Fam Med. 2000;9:854–60.

18.

Vartanian LR, Fardouly J. The stigma of obesity surgery: negative evaluations based on weight loss history. Obes Surg. 2013;23:1545–50.

19.

Bacon JG, Scheltema KE, Robinson BE. Fat phobia scale revisited: the short form. Int J Obes Relat Metab Disord. 2001;25:252–7.

20.

Stein J, Luppa M, Ruzanska U, et al. Measuring negative attitudes towards overweight and obesity in the German population—psychometric properties and reference values for the German short version of the Fat Phobia Scale (FPS). PLoS ONE. 2014;9, e114641.

21.

Lewis RJ, Cash TF, Jacobi L, et al. Prejudice toward fat people: the development and validation of the antifat attitudes test. Obes Res. 1997;5:297–307.

22.

Sikorski C, Luppa M, Brähler E, et al. Obese children, adults and senior citizens in the eyes of the general public: results of a representative study on stigma and causation of obesity. PLoS ONE. 2012;7, e46924.

23.

World Health Organization. Obesity: preventing and managing the global epidemic. Genf; 2000.

24.

Hicks R, Tingley D. Causal mediation analysis. Stata J. 2011;11:609–15.

25.

Kopetsch T. Dem deutschen Gesundheitswesen gehen die Ärtze aus!: Studie zur Altersstruktur- und Arztzahlentwicklung. Berlin; 2010.

26.

Bundesärztekammer. Struktur der Ärzteschaft 2013; 2013. Available from: http://www.bundesaerztekammer.de/downloads/Stat13AbbTab.pdf

27.

Sharma AM. Is it time to lower the bar for bariatric surgery? Obes Surg. 2014;24:520–1.

28.

Warner CH, Warner CM, Morganstein J, et al. Military family physician attitudes toward treating obesity. Mil Med. 2008;173:978–84.

29.

Thuan J, Avignon A. Obesity management: attitudes and practices of French general practitioners in a region of France. Int J Obes (Lond). 2005;29:1100–6.

30.

Sharma AM, Kushner RF. A proposed clinical staging system for obesity. Int J Obes (Lond). 2009;33:289–95.

31.

Gill RS, Karmali S, Sharma AM. The potential role of the Edmonton obesity staging system in determining indications for bariatric surgery. Obes Surg. 2011;21:1947–9.

32.

O'Brien PE. Controversies in bariatric surgery. Br J Surg. 2015;102:611–8.

33.

Schauer PR, Bhatt DL, Kirwan JP, et al. Bariatric surgery versus intensive medical therapy for diabetes—3-year outcomes. N Engl J Med. 2014;370:2002–13.

34.

Anderson DA, Wadden TA. Bariatric surgery patients' views of their physicians' weight-related attitudes and practices. Obes Res. 2004;12:1587–95.

35.

Sansone RA, McDonald S, Wiederman MW, et al. Gastric bypass surgery: a survey of primary care physicians. Eat Disord. 2007;15:145–52.

36.

Perlman SE, Reinhold RB, Nadzam GS. How do family practitioners perceive surgery for the morbidly obese? Surg Obes Relat Dis. 2007;3:428–33.

37.

Campbell-Scherer DL, Asselin J, Osunlana AM, et al. Implementation and evaluation of the 5As framework of obesity management in primary care: design of the 5As Team (5AsT) randomized control trial. Implement Sci. 2014;9:78.

38.

Rueda-Clausen CF, Benterud E, Bond T, et al. Effect of implementing the 5As of obesity management framework on provider-patient interactions in primary care. Clin Obes. 2014;4:39–44.

39.

Vallis M, Piccinini-Vallis H, Sharma AM, et al. Clinical review: modified 5 As: minimal intervention for obesity counseling in primary care. Can Fam Physician. 2013;59:27–31.
Ethics declarations
Conflict of Interest
FUCEJ, CLS, HHK, SRH declare to have no conflict of interest. CLS has received speaker honoria from Johnson & Johnson Medical.
Statement of Informed Consent
Informed consent was obtained from all individual participants included in the study. Participants were informed about the study on the first page of the questionnaire and they were instructed that upon returning the filled out questionnaire, their data would be used for scientific publications.
Statement of Human Rights
This study has been approved by the ethics committee of the University of Leipzig and has been performed in accordance with the ethical standards as laid down in the 1964 Declaration of Helsinki and its later amendments or comparable ethical standards.
About this article
Cite this article
Jung, F.U.C.E., Luck-Sikorski, C., König, HH. et al. Stigma and Knowledge as Determinants of Recommendation and Referral Behavior of General Practitioners and Internists. OBES SURG 26, 2393–2401 (2016). https://doi.org/10.1007/s11695-016-2104-5
Keywords
Stigma

Obesity

Weight loss surgery

General practitioners

Internists