Abstract
Background
Laparoscopic sleeve gastrectomy (LSG) results in reduced calorie intake and weight loss. Whether patients consume the same types of food before and after surgery or whether they reduce the volume and calorie density of the foods they consume remains unknown.
Objectives
The aim of this prospective study was to evaluate the changes in daily caloric and macronutrient intake after LSG and the relation between changes of taste and food tolerance over 2 years.
Methods
Thirty morbidly obese patients with median body mass index (BMI) of 43.9 kg/m2 (39.5–57.3) were prospectively enrolled prior to LSG. Weight, BMI, %EWL, weight loss percentage (%WL), and daily intake were evaluated preoperatively at 1, 3, 6, 12, and 24 months after surgery along with a questionnaire evaluating food choices, quality of eating, tolerance of certain types of food, frequency of vomiting, and changes in taste.
Results
The median %EWL and %WL at 12 and 24 months was 65 % (33.9–93.6 %), 27.3 % (14.2–45.5 %) and 71.5 % (39.6–101.1 %), 31 % (19.1–50.3 %) respectively. Six months after surgery, the daily caloric intake reduced by 68 % and the reduction was maintained until 24 months. The median score of the eating questionnaire was 18 (10–27) at 6 months, 22 (16–26) at 12 months, and 23 (10–27) at 24 months, suggesting that the quality of nutrition improved over time. At 6, 12, and 24 months, 75 % of the patients reported changes in taste with reduced interest in sweets, high fat food, and alcoholic drinks. However, at 24 months, 20 % of patients reported a heightened interest in sweets compared to 12 months previously.
Conclusions
LSG reduced calorie intake both through volume of food and the calorie density of the food consumed. The mechanisms for the changes in food preferences may involve both unconditioned and conditioned effects. The influence of dietary counseling on learning which foods are consumed still requires further exploration.
Access options
Buy single article
Instant access to the full article PDF.
US$ 39.95
Tax calculation will be finalised during checkout.
Subscribe to journal
Immediate online access to all issues from 2019. Subscription will auto renew annually.
US$ 79
Tax calculation will be finalised during checkout.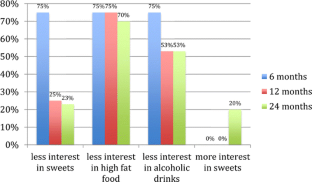 References
1.

Deitel M, Shikora SA. The development of the surgical treatment of morbid obesity. J Am Coll Nutr. 2002;21:365–71.

2.

Gentileschi P. Laparoscopic sleeve gastrectomy as a primary operation for morbid obesity: experience with 200 patients. Gastroenterol Res Pract. 2012;2012:801325.

3.

Van Rutte PW, Smulders JF, de Zoete JP, Nienhuijs SW. Outcome of sleeve gastrectomy as a primary bariatric procedure. Br J Surg. 2014;101:661–8.

4.

Abu-Jaish W, Rosenthal RJ. Sleeve gastrectomy: a new surgical approach for morbid obesity. Expert Rev Gastroenterol Hepatol. 2010;4:101–19.

5.

Snyder-Marlow G, Taylor D, Lenhard J. Nutrition care for patients undergoing laparoscopic sleeve gastrectomy for weight loss. J Am Diet Assoc. 2010;110:600–7.

6.

Buchwald H, Oien DM. Metabolic/bariatric surgery worldwide 2011. Obes Surg. 2013;23:427–36.

7.

Peterli R, Steinert RE, Woelnerhanssen B, et al. Metabolic and hormonal changes after laparoscopic Roux-en-Y Gastric bypass and sleeve gastrectomy: a randomized, prospective trial. Obes Surg. 2012;22:740–48.

8.

Pournaras DJ, le Roux CW. Obesity, gut hormones, and bariatric surgery. World J Surg. 2009;33:1983–8.

9.

Moizé V, Andreu A, Flores L, et al. Long-term dietary intake and nutritional deficiencies following sleeve gastrectomy or Roux-En-Y gastric bypass in a mediterranean population. J Acad Nutr Diet. 2013;113:25–7.

10.

Ochner CN, Kwok Y, Conceição E, et al. Selective reduction in neural responses to high calorie foods following gastric bypass surgery. Ann Surg. 2011;253:502–7.

11.

Thirlby RC, Bahiraei F, Randall J, Drewnoski A. Effect of roux-en-Y gastric bypass on satiety and food likes: the role of genetics. J Gastrointest Surg. 2006;10:270–77.

12.

Miras AD, le Roux CW. Bariatric surgery and taste: novel mechanisms of weight loss. Curr Opin Gastroenterol. 2010;26:140–5.

13.

Miras AD, Jackson RN, Jackson SN, et al. Gastric bypass surgery for obesity decreases the reward value of a sweet-fat stimulus as assessed in a progressive ratio task. Am J Clin Nutr. 2012;96:467–73.

14.

Le Roux CW, Bueter M, Theis N, et al. Gastric bypass reduces fat intake and preference. Am J Physiol Regul Integr Comp Physiol. 2011;301:R1057–66.

15.

Aills LK, Blankenship J, Buffinton C, Furtado M, Parrot J. Allied Health Sciences Section AD Hoc Nutrition Committee. ASMBS allied health nutritional guidelines for the surgical weight loss patient. Surg Obes Relat Dis. 2008;4:S73–S108.

16.

Sioka E, Tzovaras G, Oikonomou K, et al. Influence of eating profile on the outcome of laparoscopic sleeve gastrectomy. Obes Surg. 2013;23:501–8.

17.

Suter M, Calmes JM, Paroz A, Giusti V. A New questionnaire for quick assessment of food tolerance after bariatric surgery. Obes Surg. 2007;17:2–8.

18.

Mechanick JI, Kushner RF, Sugerman HJ, et al. Executive summary of the recommendations of the American Association of Clinical Endocrinologists (AACE), The Obesity Society (TOS), and American Society of Metabolic & Bariatric Surgery (ASMBS) medical guidelines for clinical practice for the perioperative nutritional, metabolic, and nonsurgical support of the bariatric surgery patient. Endocr Pract. 2008;14:318–36.

19.

Brethauer SA, Hammel JP, Schauer PR. Systematic review of sleeve gastrectomy as staging and primary bariatric procedure. Surg Obes Relat Dis. 2009;5:469–75.

20.

Bueter M, Miras AD, Chichger H, et al. Alterations of sucrose preference after Roux-en-Y gastric bypass. Physiol Behav. 2011;104:709–21.
Ethics declarations
Conflict of Interest
The authors declare that they have no conflict of interest. ClR is supported by the Science Foundation Ireland (ref 12/YI/B2480).
Ethical Approval
All procedures performed in the study were in accordance with the ethical standards of the institutional and national research committee and with the 1964 Helsinki Declaration and its later amendments or comparable ethical standards.
Informed Consent
Informed consent was obtained from all individual participants for whom identifying information is included in this article.
Appendix 1
Appendix 1
Suter questionnaire modified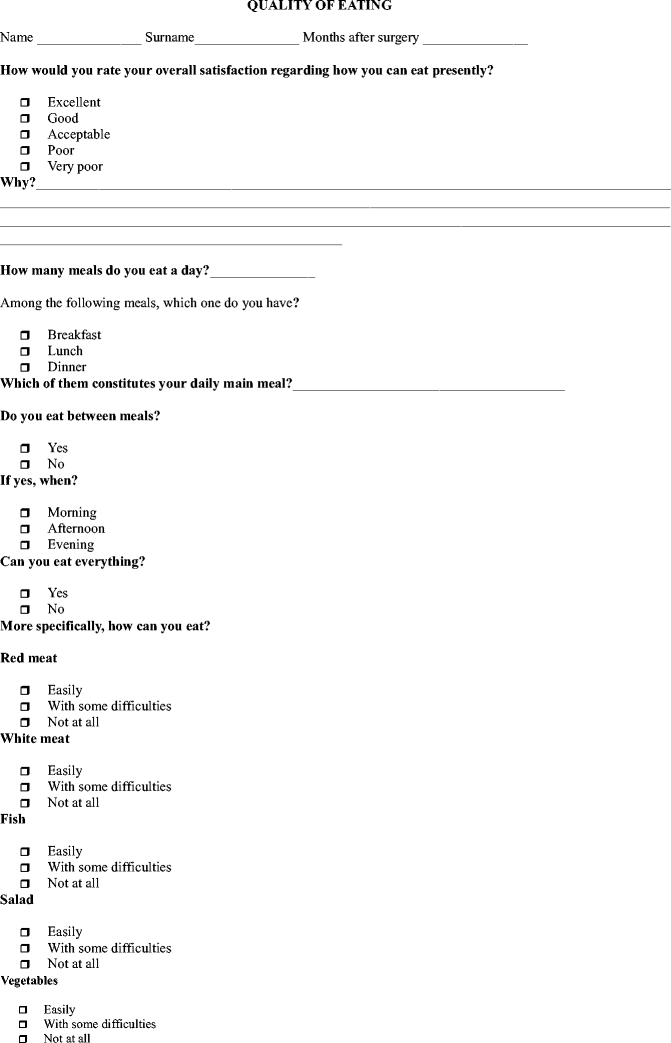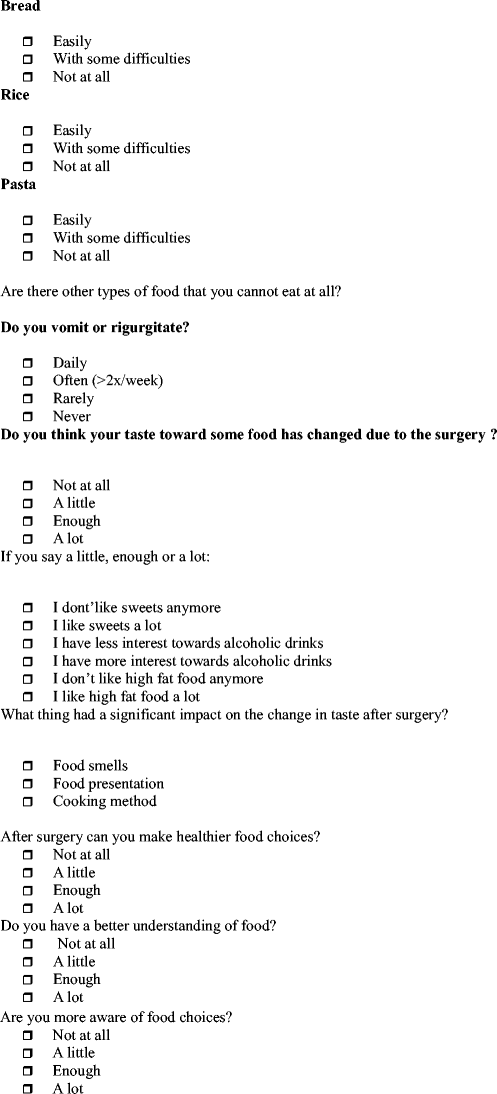 About this article
Cite this article
Coluzzi, I., Raparelli, L., Guarnacci, L. et al. Food Intake and Changes in Eating Behavior After Laparoscopic Sleeve Gastrectomy. OBES SURG 26, 2059–2067 (2016). https://doi.org/10.1007/s11695-015-2043-6
Keywords
Food intake

Eating behavior

Sleeve gastrectomy