Abstract
Background
Little is known regarding the effect of bariatric surgery on urinary incontinence.
Methods
Between September 2008 and November 2014, 240 female patients underwent bariatric surgery.
Results
The prevalence of urinary incontinence preoperatively was 45 % (108). Eighty-two (76 %) completed urinary function questionnaires pre-operatively and post-operatively. Fifty-seven (70 %) underwent laparoscopic gastric bypass, twenty-four (29 %) underwent sleeve gastrectomy and one underwent a banding procedure. Thirty-one (38 %) reported leaking on sneezing or coughing—stress urinary incontinence (SUI). Thirteen (16 %) complained of leaking before reaching the toilet—overactive bladder syndrome (OAB). The remaining thirty-eight (46 %) reported mixed symptoms. The mean pre-operative weight and BMI were 133 (18) kg and 50 (SD = 6.2) kg/m2 respectively. The mean post-operative BMI drop was 16 (SD = 5.2) kg/m2. Preoperatively, 61 (75 %) reported moderate to very severe urinary incontinence compared to 30 (37 %) post-operatively (χ 2 = 3.24.67, p = 0.050). Twenty-seven (33 %) patients reported complete resolution of their urinary incontinence. Fifty-one (62 %) patients required incontinence pads on a daily basis pre-operatively, compared to 35 (43 %) post-operatively (χ 2 = 22.211.6, p = 0.00). The mean International Consultation on Incontinence Questionnaire- Urinary Incontinence short form (ICIQ-UI SF) score was 9.3 (SD = 4.4) pre-operatively compared to 4.9 (SD = 5.3) post-operatively (t = 7.2, p = 0.000). The improvement score post-operatively was 8 (SD = 3). A significant difference in the ICIQ-UI SF was identified between OAB and SUI groups when adjusting for age, number of children, type of delivery and pre-op BMI (t = 1.98, p = 0.05).
Conclusion
Bariatric surgery results in a clinically significant improvement in urinary incontinence. However, this is not proportional to pre-operative BMI, weight loss, age, parity and mode of delivery.
This is a preview of subscription content,
to check access.
Access this article
References
Stevens GA et al. National, regional, and global trends in adult overweight and obesity prevalences. Popul Health Metrics. 2012;10(1):22.

Finucane MM et al. National, regional, and global trends in body-mass index since 1980: systematic analysis of health examination surveys and epidemiological studies with 960 country-years and 9.1 million participants. Lancet. 2011;377(9765):557–67.

Roth J et al. The obesity pandemic: where have we been and where are we going? Obes Res. 2004;12 Suppl 2:88S–101.

Popkin BM, Adair LS, Ng SW. Global nutrition transition and the pandemic of obesity in developing countries. Nutr Rev. 2012;70(1):3–21.

Lim SS et al. A comparative risk assessment of burden of disease and injury attributable to 67 risk factors and risk factor clusters in 21 regions, 1990–2010: a systematic analysis for the Global Burden of Disease Study 2010. Lancet. 2012;380(9859):2224–60.

Prospective Studies C et al. Body-mass index and cause-specific mortality in 900 000 adults: collaborative analyses of 57 prospective studies. Lancet. 2009;373(9669):1083–96.

Ng M et al. Global, regional, and national prevalence of overweight and obesity in children and adults during 1980–2013: a systematic analysis for the Global Burden of Disease Study 2013. Lancet. 2014;384(9945):766–81.

Elia G, Dye TD, Scariati PD. Body mass index and urinary symptoms in women. Int Urogynecol J Pelvic Floor Dysfunct. 2001;12(6):366–9.

Kapoor DS et al. Pelvic floor dysfunction in morbidly obese women: pilot study. Obes Res. 2004;12(7):1104–7.

Uustal Fornell E, Wingren G, Kjolhede P. Factors associated with pelvic floor dysfunction with emphasis on urinary and fecal incontinence and genital prolapse: an epidemiological study. Acta Obstet Gynecol Scand. 2004;83(4):383–9.

Richter HE et al. Urinary and anal incontinence in morbidly obese women considering weight loss surgery. Obstet Gynecol. 2005;106(6):1272–7.

Cummings JM, Rodning CB. Urinary stress incontinence among obese women: review of pathophysiology therapy. Int Urogynecol J Pelvic Floor Dysfunct. 2000;11(1):41–4.

Nygaard I et al. Prevalence of symptomatic pelvic floor disorders in US women. JAMA. 2008;300(11):1311–6.

Minassian VA, Drutz HP, Al-Badr A. Urinary incontinence as a worldwide problem. Int J Gynaecol Obstet. 2003;82(3):327–38.

Lifford KL et al. The epidemiology of urinary incontinence in older women: incidence, progression, and remission. J Am Geriatr Soc. 2008;56(7):1191–8.

Kammerer-Doak D et al. Mixed urinary incontinence: international urogynecological association research and development committee opinion. Int Urogynecol J. 2014;25(10):1303–12.

Haylen BT et al. An International Urogynecological Association (IUGA)/International Continence Society (ICS) joint report on the terminology for female pelvic floor dysfunction. Int Urogynecol J. 2010;21(1):5–26.

Pories WJ et al. Who would have thought it? An operation proves to be the most effective therapy for adult-onset diabetes mellitus. Ann Surg. 1995;222(3):339–50. discussion 350–2.

Sjostrom L et al. Effects of bariatric surgery on mortality in Swedish obese subjects. N Engl J Med. 2007;357(8):741–52.

Obesity: preventing and managing the global epidemic. Report of a WHO consultation. World Health Organ Tech Rep Ser. 2000. 894: i-xii. 1–253.

Burgio KL et al. Changes in urinary and fecal incontinence symptoms with weight loss surgery in morbidly obese women. Obstet Gynecol. 2007;110(5):1034–40.

Deitel M et al. Gynecologic-obstetric changes after loss of massive excess weight following bariatric surgery. J Am Coll Nutr. 1988;7(2):147–53.

Palleschi G et al. Laparoscopic sleeve gastrectomy effects on overactive bladder symptoms. J Surg Res. 2015;196(2):307–12.

Albanopoulos K, et al. The impact of laparoscopic sleeve gastrectomy on weight loss and obesity-associated comorbidities: the results of 3 years of follow-up. Surg Endosc. 2015.

Risstad H, et al. Changes in health-related quality of life after gastric bypass in patients with and without obesity-related disease. Obes Surg. 2015.

Melissas J. IFSO guidelines for safety, quality, and excellence in bariatric surgery. Obes Surg. 2008;18(5):497–500.

Espuna Pons M et al. Comparison between the "ICIQ-UI Short Form" Questionnaire and the "King's Health Questionnaire" as assessment tools of urinary incontinence among women. Actas Urol Esp. 2007;31(5):502–10.

Avery K et al. ICIQ: a brief and robust measure for evaluating the symptoms and impact of urinary incontinence. Neurourol Urodyn. 2004;23(4):322–30.

Herrmann V et al. Correlation of the International Consultation on Incontinence Questionaire: Urinary Incontinence/Short Form to Urodynamic diagnosis in women with urinary incontinence. Rev Bras Ginecol Obstet. 2013;35(1):16–20.

Espuna-Pons M et al. Analysis of the value of the ICIQ-UI SF questionnaire and stress test in the differential diagnosis of the type of urinary incontinence. Neurourol Urodyn. 2007;26(6):836–41.

Seckiner I et al. Correlations between the ICIQ-SF score and urodynamic findings. Neurourol Urodyn. 2007;26(4):492–4.

Klovning A et al. Comparison of two questionnaires for assessing the severity of urinary incontinence: the ICIQ-UI SF versus the incontinence severity index. Neurourol Urodyn. 2009;28(5):411–5.

Siddiqui NY et al. Perceptions about female urinary incontinence: a systematic review. Int Urogynecol J. 2014;25(7):863–71.

Coyne KS et al. Economic burden of urgency urinary incontinence in the United States: a systematic review. J Manag Care Pharm. 2014;20(2):130–40.

Whitcomb EL, Subak LL. Effect of weight loss on urinary incontinence in women. Open Access J Urol. 2011;3:123–32.

Khullar V et al. The relationship between BMI and urinary incontinence subgroups: results from EpiLUTS. Neurourol Urodyn. 2014;33(4):392–9.

Wu SP et al. Outcome after conservative management for mixed urinary incontinence. J Obstet Gynaecol Res. 2015;41(2):269–76.

Celiker Tosun O, et al. Does pelvic floor muscle training abolish symptoms of urinary incontinence? A randomized controlled trial. Clin Rehabil. 2014.

de Boer AG et al. Is a single-item visual analogue scale as valid, reliable and responsive as multi-item scales in measuring quality of life? Qual Life Res. 2004;13(2):311–20.

Bump RC et al. Obesity and lower urinary tract function in women: effect of surgically induced weight loss. Am J Obstet Gynecol. 1992;167(2):392–7. discussion 397–9.

Frohme C et al. TOT approach in stress urinary incontinence (SUI)—outcome in obese female. BMC Urol. 2014;14:20.

Brennand E, et al. Twelve-month outcomes following midurethral sling procedures for stress incontinence: impact of obesity. BJOG. 2014.

Wesnes SL. Weight and urinary incontinence: the missing links. Int Urogynecol J. 2014;25(6):725–9.

Ranasinghe WK et al. Effects of bariatric surgery on urinary and sexual function. BJU Int. 2011;107(1):88–94.

Shen J et al. In vivo effects of leptin on autonomic nerve activity and lipolysis in rats. Neurosci Lett. 2007;416(2):193–7.

Tong RS et al. Pelvic lipomatosis associated with proliferative cystitis occurring in two brothers. Urology. 2002;59(4):602.
Acknowledgments
Catriona O'Sullivan provided invaluable secretarial support for this project.
Ethics declarations
Conflict of Interest
CJ O'Boyle, OE O'Sullivan, H Shabana and M Boyce have no conflict of interest.
BA O'Reilly received educational funding from Astellas and Pfizer.
Appendices
Appendix 1. Pre-Operative Questionnaire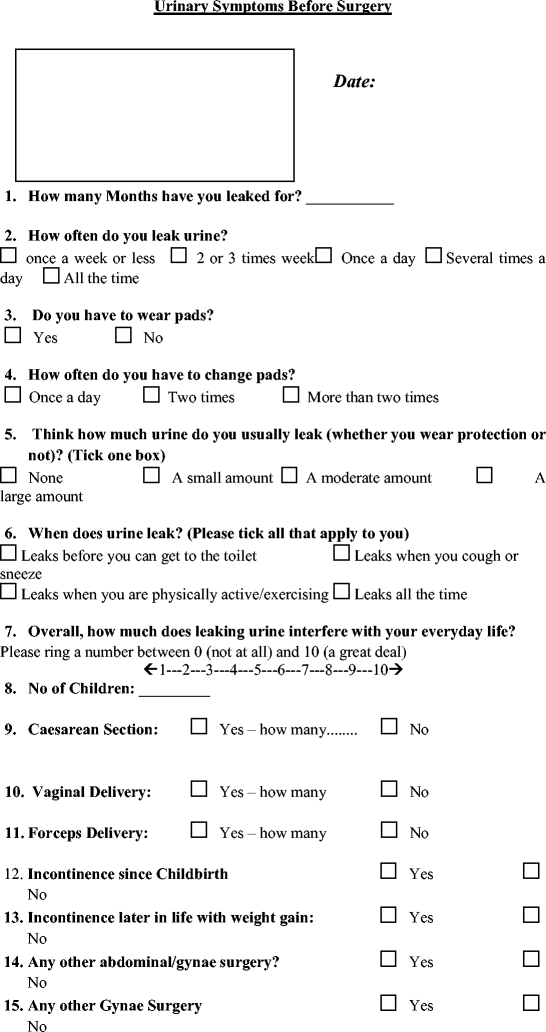 Appendix 2 Post-Operative Questionnaire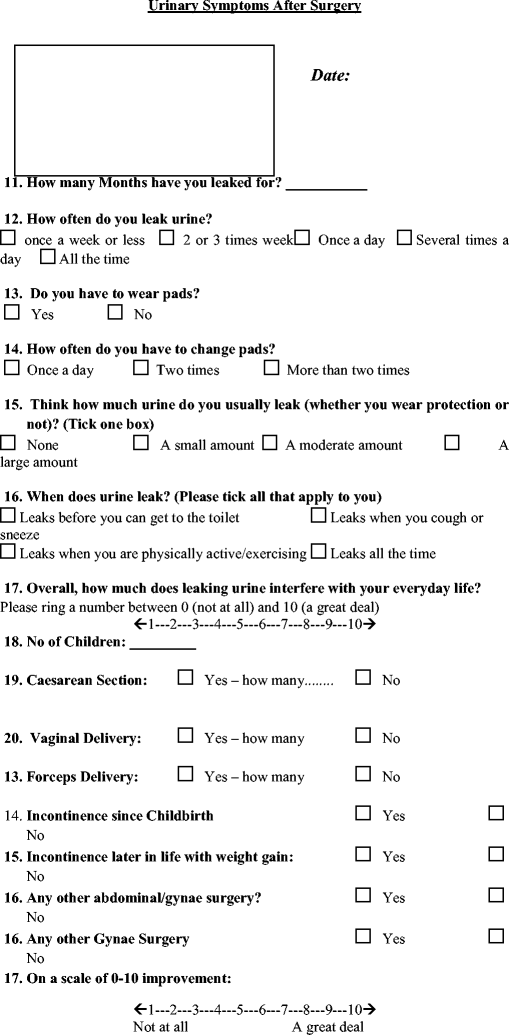 About this article
Cite this article
O'Boyle, C.J., O'Sullivan, O.E., Shabana, H. et al. The Effect of Bariatric Surgery on Urinary Incontinence in Women. OBES SURG 26, 1471–1478 (2016). https://doi.org/10.1007/s11695-015-1969-z
Published:

Issue Date:

DOI: https://doi.org/10.1007/s11695-015-1969-z
Keywords