Abstract
Background
We aimed to determine the effects of laparoscopic adjustable gastric band (LAGB) on beta-cell function in overweight people with type 2 diabetes and to assess the relationship between baseline beta-cell function and glycemic outcomes.
Methods
We studied 44 overweight but not obese people with type 2 diabetes who participated in a randomized trial whose primary outcome was the rate of diabetes remission after 2 years of multidisciplinary diabetes care (MDC group) or multidisciplinary care combined with LAGB. Dynamic beta-cell function was assessed by intravenous glucose challenge, and basal beta-cell function (HOMA-B) and insulin sensitivity (HOMA-S) were determined using the homeostatic model.
Results
Twelve LAGB participants and two MDC participants were in diabetes remission at 2 years. HOMA-S and the C-peptide response to intravenous glucose increased significantly in LAGB but not in MDC participants. The insulin response to glucose did not change in LAGB participants, whereas their fasting C-peptide/insulin ratio increased. Baseline measures of beta-cell function correlated with diabetes remission but not with reduction in HbA1c following LAGB.
Conclusions
In overweight people with diabetes, LAGB improves endogenous beta-cell function after 2 years. Baseline beta-cell function correlated with diabetes remission, but not with HbA1c change following LAGB.
Access options
Buy single article
Instant access to the full article PDF.
US$ 39.95
Tax calculation will be finalised during checkout.
Subscribe to journal
Immediate online access to all issues from 2019. Subscription will auto renew annually.
US$ 79
Tax calculation will be finalised during checkout.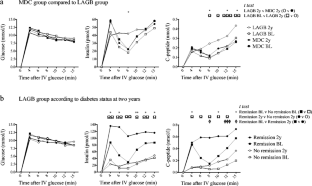 References
1.

Dixon JB et al. Adjustable gastric banding and conventional therapy for type 2 diabetes: a randomized controlled trial. JAMA. 2008;299:316–23.

2.

Ikramuddin S et al. Roux-en-Y gastric bypass vs intensive medical management for the control of type 2 diabetes, hypertension, and hyperlipidemia: the diabetes surgery study randomized clinical trial. JAMA. 2013;309:2240–9.

3.

Mingrone G et al. Bariatric surgery versus conventional medical therapy for type 2 diabetes. N Engl J Med. 2012;366:1577–85.

4.

Schauer PR et al. Bariatric surgery versus intensive medical therapy in obese patients with diabetes. N Engl J Med. 2012;366:1567–76.

5.

Wentworth JM et al. Multidisciplinary diabetes care with and without bariatric surgery in overweight people: a randomised controlled trial. Lancet Diabetes Endocrinol. 2014;2:545–52.

6.

Defronzo RA. Banting lecture. From the triumvirate to the ominous octet: a new paradigm for the treatment of type 2 diabetes mellitus. Diabetes. 2009;58:773–95.

7.

Hamza N et al. Predictors of remission of type 2 diabetes mellitus after laparoscopic gastric banding and bypass. Surg Obes Relat Dis. 2011;7:691–6.

8.

Brethauer SA et al. Can diabetes be surgically cured? Long-term metabolic effects of bariatric surgery in obese patients with type 2 diabetes mellitus. Ann Surg. 2013;258:628–36. discussion 636–627.

9.

Ferrannini E, Mingrone G. Impact of different bariatric surgical procedures on insulin action and beta-cell function in type 2 diabetes. Diabetes Care. 2009;32:514–20.

10.

Dutia R et al. Limited recovery of beta-cell function after gastric bypass despite clinical diabetes remission. Diabetes. 2014;63:1214–23.

11.

Bojsen-Moller KN et al. Early enhancements of hepatic and later of peripheral insulin sensitivity combined with increased postprandial insulin secretion contribute to improved glycemic control after Roux-en-Y gastric bypass. Diabetes. 2014;63:1725–37.

12.

Dixon JB et al. Bariatric surgery: an IDF statement for obese type 2 diabetes. Diabet Med. 2011;28:628–42.

13.

Ramos-Levi AM et al. Statistical models to predict type 2 diabetes remission after bariatric surgery. J Diabetes. 2014;6:472–7.

14.

Dixon JB et al. Predicting the glycemic response to gastric bypass surgery in patients with type 2 diabetes. Diabetes Care. 2013;36:20–6.

15.

Sjostrom L et al. Association of bariatric surgery with long-term remission of type 2 diabetes and with microvascular and macrovascular complications. JAMA. 2014;311:2297–304.

16.

Astiarraga B et al. Biliopancreatic diversion in nonobese patients with type 2 diabetes: impact and mechanisms. J Clin Endocrinol Metab. 2013;98:2765–73.

17.

Levy JC, Matthews DR, Hermans MP. Correct homeostasis model assessment (HOMA) evaluation uses the computer program. Diabetes Care. 1998;21:2191–2.

18.

Svendsen PF et al. The effect of a very low calorie diet on insulin sensitivity, beta cell function, insulin clearance, incretin hormone secretion, androgen levels and body composition in obese young women. Scand J Clin Lab Invest. 2012;72:410–9.

19.

Wallace TM, Levy JC, Matthews DR. Use and abuse of HOMA modeling. Diabetes Care. 2004;27:1487–95.

20.

Dixon JB, Dixon AF, O'Brien PE. Improvements in insulin sensitivity and beta-cell function (HOMA) with weight loss in the severely obese. Homeostatic model assessment. Diabet Med. 2003;20:127–34.

21.

Bergman RN. Orchestration of glucose homeostasis: from a small acorn to the California oak. Diabetes. 2007;56:1489–501.

22.

Kashyap SR et al. Acute effects of gastric bypass versus gastric restrictive surgery on beta-cell function and insulinotropic hormones in severely obese patients with type 2 diabetes. Int J Obes. 2010;34:462–71.

23.

Wajchenberg BL. Beta-cell failure in diabetes and preservation by clinical treatment. Endocr Rev. 2007;28:187–218.

24.

Polyzogopoulou EV, Kalfarentzos F, Vagenakis AG, et al. Restoration of euglycemia and normal acute insulin response to glucose in obese subjects with type 2 diabetes following bariatric surgery. Diabetes. 2003;52:1098–103.

25.

Jackness C et al. Very low-calorie diet mimics the early beneficial effect of Roux-en-Y gastric bypass on insulin sensitivity and beta-cell function in type 2 diabetic patients. Diabetes. 2013;62:3027–32.

26.

Pratley RE, Weyer C. The role of impaired early insulin secretion in the pathogenesis of type II diabetes mellitus. Diabetologia. 2001;44:929–45.
Acknowledgments
We are grateful to the participants for their commitment to this study and to Professor Glenn Ward and Dr. Matt Ritchie for helpful discussion. Maria Bisignano performed glucose, insulin, and C-peptide assays. This study was funded by the Center for Obesity Research and Education (CORE), Monash University. CORE receives grants from the Allergan and Applied Medical for research and educational support. The grants are not tied to any specified research projects, and the grantors have no control over the protocol, analysis, and reporting of any studies. Allergan donated the lap-band prostheses used in this study. The work was also supported by Victorian State Government Operational Infrastructure Support and Australian Government NHMRC IRIISS. JES is supported by a National Health and Medical Research Council Fellowship (586623).
Statement of Ethical Approval
All procedures performed in studies involving human participants were in accordance with the ethical standards of the institutional and/or national research committee and with the 1964 Helsinki declaration and its later amendments or comparable ethical standards.
Conflict of Interest
Paul Burton has received an honorarium to speak at an education conference from Covidien Australia, the manufacturer of surgical stapling devices that are used in procedures designed to treat obesity. No other author reports a conflict of interest.
Electronic supplementary material
Below is the link to the electronic supplementary material.
IVGTT outcomes according to weight loss at 2 years. Median glucose, insulin, and C-peptide responses to intravenous glucose for each weight loss tertile. Statistical comparisons at each timepoint were performed by t test as indicated with 1 and 2 symbols representing p < 0.05 and p < 0.01, respectively. Median [Q1, Q3] AUC data are provided in the Supplementary Table (PDF 80 kb)
About this article
Cite this article
Wentworth, J.M., Playfair, J., Laurie, C. et al. Gastric Band Surgery Leads to Improved Insulin Secretion in Overweight People with Type 2 Diabetes. OBES SURG 25, 2400–2407 (2015). https://doi.org/10.1007/s11695-015-1716-5
Keywords
Bariatric surgery

Type 2 diabetes

IVGTT

First-phase insulin release

Beta-cell function

Weight loss

Diabetes remission