Abstract
Background
The proportion of population older than 60 years is rapidly increasing. The majority of this older population suffers from multiple comorbid conditions including obesity. Non-surgical means of weight loss do not offer a predictable solution. Surgical interventions seem to be the most promising solution for the obesity problem, but there is a relative lack of data in literature regarding bariatric procedures in older populations.
Objectives
Our study aims to evaluate the safety and efficacy of bariatric surgery in patients older than 60 years of age, to determine the weight loss, rate of operation-related complications, and impacts of surgery on comorbid conditions, and to compare the effectiveness of bariatric surgery in older patients to the effectiveness of bariatric surgery for the general population at Montefiore Medical Center.
Methods
A retrospective review of patients' medical records were used to collect data to create databases to identify patients older than 60 years age who underwent bariatric surgery procedures spanning a 4-year period between January 2009 and October 2013. Data reviewed included age, sex, height, pre-operative weight, and body mass index (BMI), presence of obesity-related comorbid conditions, procedures performed, mortality, immediate or delayed complications, length of follow-up, excess weight lost, BMI points lost, percent of excess weight loss (%EWL), hemoglobin Alc (HgbA1c), and effects on obesity-related comorbid conditions. The percent of excess weight loss and number of complications within the older patient group were compared to the general population, which consists of patients between the ages of 22 and 59.
Results
Ninety-eight patients were identified. Seven patients did not follow up at any time period, and the eight patients who had laparoscopic adjustable gastric band (LAGB) were also excluded due to insufficient data. Overall, 83 patients who were above the age of 60 were examined; 30 patients had laparoscopic sleeve gastrectomy (LSG), and 53 patients underwent laparoscopic Roux-en-Y gastric bypass (LRYGB). The average patient age was 63.4 years, the average pre-operative weight was 122.3 kg, and the average excess body weight was 54.8 kg. The pre-existing comorbid conditions included 90.4 % hypertension (HTN), 63.9 % diabetes mellitus (DM), 50.6 % hyperlipidemia (HL), 34.9 % obstructive sleep apnea (OSA), and 30.1 % asthma. The average %EWL at 3 months, 6 months, and 12 months was 37.0, 51.3, and 65.2 %, respectively. A significant proportion of patients reported resolution or improvement in comorbid conditions. When results were compared to the general, population there was no significant difference in the number of complications that occurred within each of the two groups. The difference in %EWL at the 12-month follow-up was not statistically significant between the general population and the older patients, which suggests that both groups lost a similar amount of weight and that bariatric surgery on patients who are above the age of 60 is effective.
Conclusions
Bariatric surgery can be safe and effective for patients older than 60 years of age with a low morbidity and mortality; the weight loss and improvement in comorbidities in older patients were clinically significant. When compared to the general population, there was no statistically significant difference in the average %EWL at 12 months or the number of complications due to surgery. Long-term effects of such interventions will need further studies and investigations.
Access options
Buy single article
Instant access to the full article PDF.
US$ 39.95
Tax calculation will be finalised during checkout.
Subscribe to journal
Immediate online access to all issues from 2019. Subscription will auto renew annually.
US$ 79
Tax calculation will be finalised during checkout.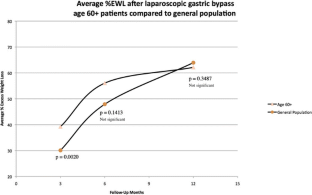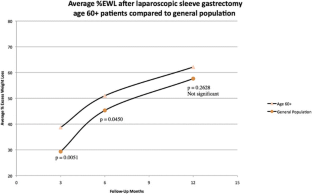 Abbreviations
BMI:

Body mass index

EWL:

Estimated weight loss

LAGB:

Laparoscopic adjustable gastric band

LSG:

Laparoscopic sleeve gastrectomy

LRYGB:

Laparoscopic Roux-en-Y gastric bypass

HTN:

Hypertension

DM:

Diabetes mellitus

HL:

Hyperlipidemia

OSA:

Obstructive sleep apnea

G-J:

Gastrojejunal

SBO:

Small bowel obstruction

LOA:

Lysis of adhesions

HgbAlc:

Hemoglobin A1C
References
1.

Mathus-Vliegen EM. Obesity and the elderly. J Clin Gastroenterol. 2012;46(7):533–44.

2.

Han TS, Tajar A, Lean ME. Obesity and weight management in the elderly. Br Med Bull. 2011;97:169–96.

3.

Gastrointestinal surgery for severe obesity. NIH Consens Statement Online 1991 Mar 25–27;9(1):1–20.2011;97:169–196.

4.

Measuring the Netherlands: a monitoring study of risk factors in the general population 2009–2010. Bilthoven, RIVM, 2011; Report No.: 260152001/2011.

5.

Zamboni M, Mazzali G, Zoico E, et al. Health consequences of obesity in the elderly: a review of four unresolved questions. Int J Obes (Lond). 2005;29:1011–29.

6.

Villareal DT, Apovian CM, Kushner RF, et al. Obesity in older adults: technical review and position statement of the American Society for Nutrition and NAASO, The Obesity Society. Am J Clin Nutr. 2005;82:923–34.

7.

Florez H, Troen BR. Fat and inflammaging: a dual path to unfitness in elderly people? J Am Geriatr Soc. 2008;56:558–60.

8.

Goodpaster BH, Krishnaswami S, Harris TB, et al. Obesity, regional body fat distribution, and the metabolic syndrome in older men and women. Arch Intern Med. 2005;165:777–83.

9.

Varela JE, Wilson SE, Nguyen NT. Outcomes of bariatric surgery in the elderly. Am Surg. 2006;72:865–9.

10.

Sugerman HJ, DeMaria EJ, Kellum JM, et al. Effects of bariatric surgery in older patients. Ann Surg. 2004;240:243–7.

11.

Sosa JL, Pombo H, Pallavicini H, et al. Laparoscopic gastric bypass beyond age 60. Obes Surg. 2004;14:1398–401.

12.

French SA, Folsom AR, Jeffery RW, et al. Prospective study of intentionality of weight loss and mortality in older women: the Iowa women's health study. Am J Epidemiol. 1999;149:504–14.

13.

Williamson DF, Pamuk E, Thun M, et al. Prospective study of intentional weight loss and mortality in overweight white men aged 40–64 years.

14.

Dunkle-Blatter SE, St Jean MR, Whitehead C, et al. Outcomes among elderly bariatric patients at a high-volume center. Surg Obes Relat Dis. 2007;3(2):163–9. discussion 169–70.

15.

Risstad H, Søvik TT, Engström M, et al. Five-year outcomes after laparoscopic gastric bypass and laparoscopic duodenal switch in patients with body mass index of 50 to 60: a randomized clinical trial. JAMA Surg. 2015. doi:10.1001/jamasurg.2014.3579.

16.

Schafer AL, Weaver CM, Black DM, et al. Intestinal calcium absorption decreases dramatically after gastric bypass surgery despite optimization of vitamin D status. J Bone Miner Res. 2015. doi:10.1002/jbmr.2467.

17.

Mathus-Vliegen EMHA, Basdevant AB, Finer NC, et al. Prevalence, pathophysiology, health consequences and treatment options of obesity in the elderly: a guideline. Obes Facts. 2012;5:460–83.

18.

Conference NIH. Gastrointestinal surgery for severe obesity. Consensus development conference panel. Ann Intern Med. 1991;115:956–61.

19.

Fried M, Hainer V, Basdevant A, et al. Interdisciplinary European guidelines for surgery for severe (morbid) obesity. Obes Surg. 2007;17:260–70.

20.

O'Keefe KL, Kemmeter PR, Kemmeter KD. Bariatric surgery outcomes in patients aged 65 years and older at an American society for metabolic and bariatric surgery center of excellence. Obes Surg. 2010;20(9):1199–205.
Conflict of Interest
The authors declare that they have no competing interests.
Ethical Approval
All procedures performed in studies involving human participants were in accordance with the ethical standards of the institutional and/or national research committee and with the 1964 Helsinki declaration and its later amendments or comparable ethical standards. For this type of study, formal consent is not required.
About this article
Cite this article
Abbas, M., Cumella, L., Zhang, Y. et al. Outcomes of Laparoscopic Sleeve Gastrectomy and Roux-en-Y Gastric Bypass in Patients Older than 60. OBES SURG 25, 2251–2256 (2015). https://doi.org/10.1007/s11695-015-1712-9
Keywords
Bariatric surgery

Laparoscopic Roux-en-Y gastric bypass

Morbid obesity

Older patients

Laparoscopic sleeve gastrectomy

Hemoglobin A1c

Diabetes mellitus

Hyperlipidemia

Hypertension

Obstructive sleep apnea

Asthma