Abstract
Background
The first global survey of bariatric/metabolic surgery based on data from the nations or national groupings of the International Federation for the Surgery of Obesity and Metabolic Diseases (IFSO) was published in 1998, followed by reports in 2003, 2009, 2011, and 2012. In this survey, we report a global overview of worldwide bariatric surgery in 2013.
Materials and Methods
A questionnaire evaluating the number and the type of bariatric procedure performed in 2013 was emailed to all members of bariatric societies belonging to IFSO. Trend analyses from 2003 to 2013 were also performed.
Results
There were 49/54 (90.7 %) responders; 37 of the 49 with national registries. The total number of bariatric procedures performed worldwide in 2013 was 468,609, 95.7 % carried out laparoscopically. The highest number (n = 154,276) was from the USA/Canada region. The most commonly performed procedure in the world was Roux-en-Y gastric bypass (RYGB), 45 %; followed by sleeve gastrectomy (SG), 37 %; and adjustable gastric banding (AGB), 10 %. Most significant were the rise in prevalence of SG from 0 to 37 % of the world total from 2003 to 2013, and the fall in AGB of 68 % from its peak in 2008 to 2013.
Conclusions
SG is currently the most frequently performed procedure in the USA/Canada and in the Asia/Pacific regions, and second to RYGB in the Europe and Latin/South America regions. The accuracy of the IFSO-based world survey of procedures would be enhanced if each nation or national group would create a national registry.
Access options
Buy single article
Instant access to the full article PDF.
US$ 39.95
Tax calculation will be finalised during checkout.
Subscribe to journal
Immediate online access to all issues from 2019. Subscription will auto renew annually.
US$ 79
Tax calculation will be finalised during checkout.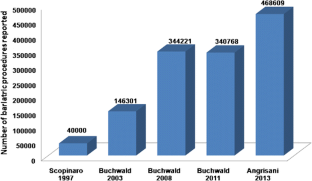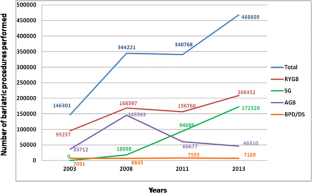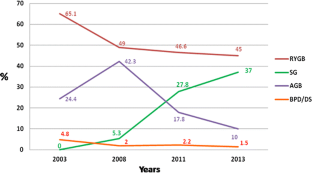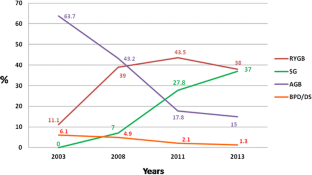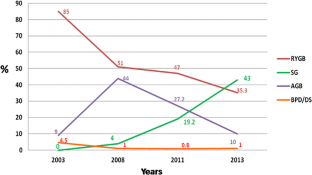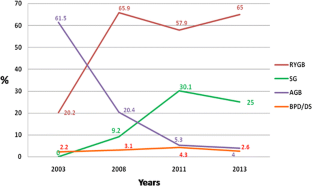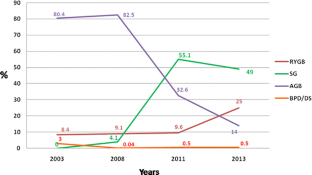 References
1.

Picot J1, Jones J, Colquitt JL, Gospodarevskaya E, Loveman E, Baxter L, Clegg AJ. The clinical effectiveness and cost-effectiveness of bariatric (weight loss) surgery for obesity: a systematic review and economic evaluation. Health Technol Assess. 2009;13(41):1–190, 215–357, iii-iv. doi:10.3310/hta13410

2.

Colquitt JL, Pickett K, Loveman E, et al. Surgery for weight loss in adults. Cochrane Database Syst Rev. 2014;8:CD003641.

3.

Scopinaro N. The IFSO and obesity surgery throughout the world. Obes Surg. 1998;8:3–8.

4.

Buchwald H, Williams SE. Bariatric surgery worldwide 2003. Obes Surg. 2004;14:1157–64.

5.

Buchwald H, Oien DM. Metabolic/bariatric surgery worldwide 2008. Obes Surg. 2009;19(12):1605–11. doi:10.1007/s11695-009-0014-5.

6.

Buchwald H, Oien DM. Metabolic/bariatric surgery worldwide 2011. Obes Surg. 2013;23(4):427–36. doi:10.1007/s11695-012-0864-0.

7.

AngrisaniL, Lorenzo M. Bariatric Surgery Worldwide: Overview and Results. Foletto, Rosenthal Springer-Verlag 2014

8.

World Health Organization. Obesity and overweight fact sheet N° 311, August 2014. http://www.who.int/mediacentre/factsheets/fs311/en/. Accessed Oct 2014

9.

Busetto L, Dixon J, De Luca M, et al. Bariatric surgery in class I obesity: a Position statement from the International Federation for the Surgery of Obesity and Metabolic Disorders (IFSO). Obes Surg. 2014;24(4):487–519. doi:10.1007/s11695-014-1214-1.

10.

Diamantis T, Apostolou KG, Alexandrou A, et al. Review of long-term weight loss results after laparoscopic sleeve gastrectomy. Surg Obes Relat Dis. 2014;10(1):177–83. doi:10.1016/j.soard.2013.11.007.
Acknowledgments
We thank Francesco Carignani and Manuela Mazzarella of IFSO Secretariat for their support.
Conflict of Interest Statement
L. Angrisani, A. Santonicola, P. Iovino, G. Formisano, H. Buchwald, N. Scopinaro have not any conflicts of interest to declare.
Statement of Informed Consent
This is a survey in which we do not directly involve human beings but we just analyze the number of bariatric procedures performed around the world.
Statement of Human and Animal Rights
This is a survey in which we do not directly involve human beings or animals but we just analyze the number of bariatric procedures performed around the world
About this article
Cite this article
Angrisani, L., Santonicola, A., Iovino, P. et al. Bariatric Surgery Worldwide 2013. OBES SURG 25, 1822–1832 (2015). https://doi.org/10.1007/s11695-015-1657-z
Keywords
Obesity

Bariatric/metabolic surgery

IFSO