Abstract
Background
Depression levels generally decrease substantially following bariatric surgery; however, little is known about bariatric patients who might experience increases in depression following surgery. We examined the frequency of bariatric patients who experienced discernible increases in depression levels following surgery and explored their correlates.
Methods
Participants were 107 patients with extreme obesity who underwent gastric bypass surgery and were followed up at 6 and 12 months postsurgery. Participants completed self-report questionnaires about depression (BDI), eating disorder psychopathology (EDE-Q), self-esteem (RSES), and social functioning (SF-36) at baseline and again at 6 and 12 months postsurgery.
Results
Fourteen (13.1 %) participants reported discernible increases (BDI-Increase), 14 (13.1 %) reported discernible decreases (BDI-Decrease), and 79 (73.8 %) did not report discernible changes (no change) in BDI scores from 6 to 12 months postsurgery. Presurgically, there were no differences between the three groups. By 12 months postsurgery, the BDI-Increase group had significantly higher depression scores and significantly lower self-esteem and SF-36 mental component scores than did the other groups. For the BDI-Increase group, BDI Change was significantly associated with body mass index, self-esteem, and SF-36 physical component scores.
Conclusions
Findings highlight that a subgroup of individuals report discernible increases in depressive scores postsurgery and may differ in potentially clinically meaningful ways from those who do not report discernible increases in depressive symptoms. Future research is needed to better understand the long-term trajectory of patients with discernible worsening mood following gastric bypass surgery.
This is a preview of subscription content, log in to check access.
Access options
Buy single article
Instant access to the full article PDF.
US$ 39.95
Price includes VAT for USA
Subscribe to journal
Immediate online access to all issues from 2019. Subscription will auto renew annually.
US$ 99
This is the net price. Taxes to be calculated in checkout.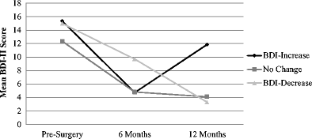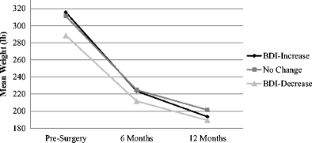 References
1.

Wang YC, McPherson K, Marsh T, et al. Health and economic burden of the projected obesity trends in the USA and the UK. Lancet. 2011;378(9793):815–25.

2.

Dave DM, Tennant J, Colman G. Isolating the effect of major depression on obesity: role of selection bias. J Ment Health Policy Econ. 2011;14(4):165–86.

3.

Moreira RO, Marca KF, Appolinario JC, et al. Increased waist circumference is associated with an increased prevalence of mood disorders and depressive symptoms in obese women. Eat Weight Disord. 2007;12(1):35–40.

4.

Luppino FS, de Wit LM, Bouvy PF, et al. Overweight, obesity, and depression: a systematic review and meta-analysis of longitudinal studies. Arch Gen Psychiatry. 2010;67:220–9.

5.

Faulconbridge LF, Wadden TA, Berkowitz RI, et al. Changes in symptoms of depression with weight loss: results of a randomized trial. Obesity. 2009;17(5):1009–16.

6.

Dixon JB, Dixon ME, O'Brien PE. Depression in association with severe obesity. Arch Intern Med. 2003;163(17):2058–65.

7.

de Zwaan M, Enderle J, Wagner S, et al. Anxiety and depression in bariatric surgery patients: a prospective follow-up study using structured clinical interviews. J Affect Disord. 2011;133:61–8.

8.

Leombruni P, Pierò A, Dosio D, et al. Psychological predictors of outcome in vertical banded gastroplasty: a 6 months prospective pilot study. Obes Surg. 2007;17:941–8.

9.

Sarwer DB, Wadden TA, Moore RH, et al. Preoperative eating behaviour, postoperative dietary adherence and weight loss following gastric bypass surgery. Surg Obes Relat Dis. 2008;4:640–6.

10.

Emery CF, Fondow MDM, Schneider CM, et al. Gastric bypass surgery is associated with reduced inflammation and less depression: a preliminary investigation. Obes Surg. 2007;17:759–63.

11.

Hayden MJ, Dixon JB, Dixon ME, et al. Characterization of the improvement in depressive symptoms following bariatric surgery. Obes Surg. 2011;21(3):328–35.

12.

Velcu LM, Adolphine R, Mourelo R, et al. Weight loss, quality of life and employment status after Roux-en-Y gastric bypass. 5-year analysis. Surg Obes Relat Dis. 2005;1:413–7.

13.

Karlsson J, Taft C, Ryden A, et al. Ten-year trends in health-related quality of life after surgical and conventional treatment for severe obesity: the SOS intervention study. Int J Obes. 2007;31(8):1248–61.

14.

Schowalter M, Benecke A, Lager C, et al. Changes in depression following gastric banding: a 5- to 7-year prospective study. Obes Surg. 2008;18:314–20.

15.

Averbukh Y, Heshka S, El-Shoreya H, et al. Depression score predicts weight loss following Roux-en-Y gastric bypass. Obes Surg. 2003;13(6):833–6.

16.

Odom J, Zalesin KC, Washington TL, et al. Behavioral predictors of weight regain after bariatric surgery. Obes Surg. 2010;20(3):349–56.

17.

Tindle HA, Omalu B, Courcoulas A, et al. Risk of suicide after long-term follow-up from bariatric surgery. Am J Med. 2010;123(11):1036–42.

18.

Beck AT, Steer R. Manual for revised Beck Depression Inventory. New York: Psychological Corporation; 1987.

19.

Look AHEAD Research Group. Impact of intensive lifestyle intervention on depression and health-related quality of life in Type-II diabetes: the Look AHEAD trial. Diabetes Care. 2014;37:1544–53.

20.

Bauchowitz AU, Gonder-Frederick LA, Olbrisch ME, et al. Psychosocial evaluation of bariatric surgery candidates: a survey of present practices. Psychosom Med. 2005;67:825–32.

21.

Walfish S, Vance D, Fabricatore AN. Psychological evaluation of bariatric surgery applicants: procedures and reasons for delay or denial of surgery. Obes Surg. 2007;17(12):1578-83.

22.

Mitchell JE, King WC, Chen J-Y, et al. Course of depressive symptoms and treatment in the Longitudinal Assessment of Bariatric Surgery (LABS-2) study. Obesity. 2014. doi:10.1002/oby.20738.

23.

Beck A, Steer RA, Garbin MG. Psychometric properties of the Beck Depressive Inventory 25 years of evaluation. Clin Psychol Rev. 1988;8:77–100.

24.

Krukowski RA, Friedman KE, Applegate KL. The utility of the Beck Depression Inventory in a bariatric surgery population. Obes Surg. 2010;20(4):426–31.

25.

Fairburn CG, Beglin SJ. Assessment of eating disorders: interview or self-report questionnaire? Int J Eat Disord. 1994;16:363–70.

26.

Fairburn CG, Cooper Z. The eating disorder examination (12th ed.). In: Fairburn CG, Wilson GT, editors. Binge eating: nature, assessment, and treatment. New York: Guilford Press; 1993. p. 317–60.

27.

Reas DL, Grilo CM, Masheb RM. Reliability of the Eating Disorder Examination-Questionnaire in patients with binge eating disorder. Behav Res Ther. 2006;44(1):43–51.

28.

Rosenberg M. Conceiving the self. New York, NY: Basic Books; 1979.

29.

Ware Jr JE, Sherbourne CD. The MOS 36-item short-form health survey (SF-36): I Conceptual framework and item selection. Med Care. 1992;30(6):473–83.

30.

McHorney CA, Ware Jr JE, Lu JF, et al. The MOS 36-item Short-Form Health Survey (SF-36): III. Tests of data quality, scaling assumptions, and reliability across diverse patient groups. Med Care. 1994;32(1):40–66.

31.

McHorney CA, Ware Jr JE, Raczek AE. The MOS 36-Item Short-Form Health Survey (SF-36): II Psychometric and clinical tests of validity in measuring physical and mental health constructs. Med Care. 1993;31(3):247–63.

32.

Ware Jr JE, Kosinski M, Keller SD. SF-36 physical and mental health summary scales—a user′s manual. Boston: New England Medical Center, The Health Institute; 1994.

33.

Faulconbridge LF, Wadden TA, Thomas JG. Changes in depression and quality of life in obese individuals with binge eating disorder: bariatric surgery versus lifestyle modification. Surg Obes Relat Dis. 2013;9(5):790–6.

34.

Adams TD, Gress RE, Smith SC, et al. Long-term mortality after gastric bypass surgery. N Engl J Med. 2007;357(8):753–61.

35.

Zeller MH, Modi AC, Noll JG, et al. Psychosocial functioning improves following adolescent bariatric surgery. Obesity. 2009;17(5):985–90.

36.

Cunningam JL, Merrell CC, Sarr M, et al. Investigation of antidepressant medication usage after bariatric surgery. Obes Surg. 2012;22(4):530–5.
Acknowledgments
This research was supported, in part, by grants K24 DK070052 and R01 DK098492 from the National Institutes of Health. No additional funding was received for the completion of this work.
Conflict of Interest
Drs. Ivezaj and Grilo declare no conflicts of interest. All provided ICMJE Conflict of Interest Forms.
About this article
Cite this article
Ivezaj, V., Grilo, C.M. When Mood Worsens after Gastric Bypass Surgery: Characterization of Bariatric Patients with Increases in Depressive Symptoms Following Surgery. OBES SURG 25, 423–429 (2015). https://doi.org/10.1007/s11695-014-1402-z
Keywords
Bariatric surgery

Gastric bypass

Obesity

Depression

Mood