Abstract
Background
Proximal luminal dilatation (PLD) is one of the most significant challenges following laparoscopic adjustable gastric banding (LAGB). If PLD is identified at an early stage, there is potential to avoid reoperation or irreversible change by implementing nonsurgical measures. The success of these strategies is unknown. The aim of this study was to determine the outcome of how often PLD can be successfully treated nonsurgically.
Methods
The records of patients who underwent primary LAGB insertion by a single surgeon from January 2005 to December 2006 were reviewed. Study participants were all patients who had subsequently undergone a postoperative liquid contrast swallow demonstrating a PLD. The severity of PLD, subsequent management, and outcomes were recorded and assessed.
Results
There were 354 patients who underwent a primary LAGB insertion during the study period. Seventy-eight patients were found to have varying degrees of PLD and had an attempt at nonsurgical management. Thirty-four of these patients (43.6 %) were successfully managed nonsurgically at a mean follow-up of 2.8 years (33.2 months, CL ± 3.2). The success with nonsurgical management was lower if the symmetrical pouch dilatation was more severe or gastric prolapse was seen at presentation, and if no improvement in liquid contrast swallow was seen.
Conclusions
PLD can often be successfully managed with nonsurgical measures, maintaining good weight loss in the intermediate term. Patients with more significant dilatation are more likely to require revisional surgery. Early recognition may have a role in preventing surgery or more severe abnormalities.
Access options
Buy single article
Instant access to the full article PDF.
US$ 39.95
Tax calculation will be finalised during checkout.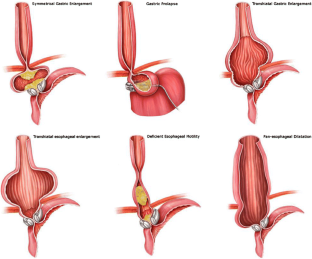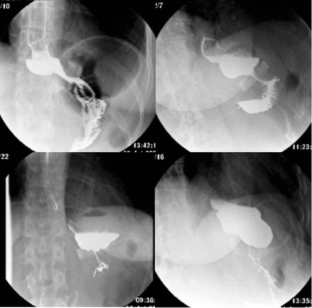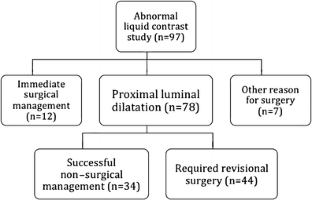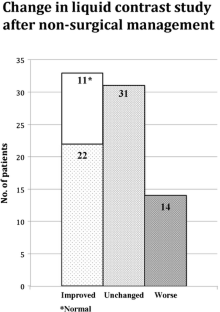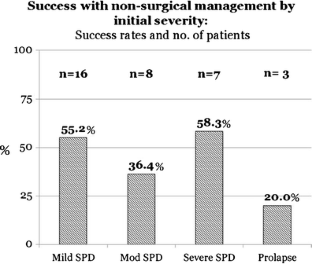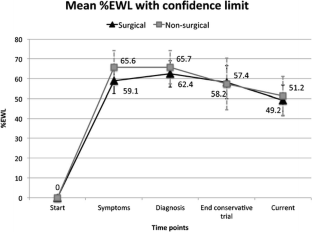 References
1.

O'Brien PE, MacDonald L, Anderson M, et al. Long-term outcomes after bariatric surgery: fifteen-year follow-up of adjustable gastric banding and a systematic review of the bariatric surgical literature. Ann Surg. 2013;257(1):87–94.

2.

Chapman A, Kiroff G, Game P. Laparoscopic adjustable gastric banding in the treatment of obesity: a systematic literature review. Surgery. 2004;135(3):326–51.

3.

Mittermair R, Weiss H. Laparoscopic Swedish adjustable gastric banding: 6-year follow-up and comparison to other laparoscopic bariatric procedures. Obes Surg. 2003;13(3):412–7.

4.

Dargent J. Surgical treatment of morbid obesity by adjustable gastric band: the case for a conservative strategy in the case of failure—a 9-year series. Obes Surg. 2004;14(7):986–90.

5.

Burton PR, Brown WA, Laurie C, et al. Pathophysiology of laparoscopic adjustable gastric bands: analysis and classification using high-resolution video manometry and a stress barium protocol. Obes Surg. 2010;20(1):19–29.

6.

Brown W, Burton PR, Anderson M, et al. Symmetrical pouch dilatation after laparoscopic adjustable gastric banding: incidence and management. Obes Surg. 2008;18(9):1104–8.

7.

Burton PR, Brown W, Laurie C, et al. Predicting outcomes of intermediate term complications and revisional surgery following laparoscopic adjustable gastric banding: utility of the CORE classification and Melbourne Motility Criteria. Obes Surg. 2010;20(11):1516–23.

8.

Moser F, Gorodner M, Galvani C, et al. Pouch enlargement and band slippage: two different entities. Surg Endosc. 2006;20(7):1021–9.

9.

de Jong JR, Tiethof C, van Ramshorst B, et al. Esophageal dilation after laparoscopic adjustable gastric banding: a more systematic approach is needed. Surg Endosc. 2009;23(12):2802–8.

10.

Burton PR, Brown WA, Laurie C, et al. The effect of laparoscopic adjustable gastric bands on esophageal motility and the gastroesophageal junction; analysis using high resolution video manometry. Obes Surg. 2009;19(7):905–14.

11.

Vertruyen M. Repositioning the Lap-Band for proximal pouch dilatation. Obes Surg. 2003;13(2):285–8.

12.

Angrisani L, Lorenzo M, Santoro T, et al. Follow-up of Lap-Band complications. Obes Surg. 1999;9(3):276–8.

13.

O'Brien PE, McPhail T, Chaston TB, et al. Systematic review of medium-term weight loss after bariatric operations. Obes Surg. 2006;16(8):1032–40.

14.

Dixon AF, Dixon JB, O'Brien PE. Laparoscopic adjustable gastric banding induces prolonged satiety: a randomized blind crossover study. J Clin Endocrinol Metab. 2005;90(2):813–9.

15.

Schneider JH, Peters JH, Kirkman E, et al. Are the motility abnormalities of achalasia reversible? An experimental outflow obstruction in the feline model. Surgery. 1999;125(5):498–503.

16.

O'Rourke RW, Seltman AK, Chang EY, et al. A model for gastric banding in the treatment of morbid obesity: the effect of chronic partial gastric outlet obstruction on esophageal physiology. Ann Surg. 2006;244(5):723–33.
Declarations
Paul Burton received a Research Fellowship Grant from the Royal Australasian College of Surgeons to support his research work. Wendy Brown received an Honorarium from Allergan to attend a Surgical Advisory Panel in London in 2009. Paul O'Brien has written a patient information book entitled "The Lap-Band 391 Solution: A Partnership for Weight Loss" which is given to patients without charge, but some are sold to surgeons and others, for which he receives a royalty. He is employed as the National Medical Director for the American Institute of Gastric Banding, a multicenter facility based in Dallas, Texas, that treats obesity predominantly by gastric banding.
Financial Disclosures
The Centre for Obesity Research and Education (CORE) at Monash University receives a grant from Allergan for research support. The grant is not tied to any specified research projects and Allergan has no control of the protocol, analysis, and reporting of any studies. CORE also receives a grant from Applied Medical towards educational programs.
Conflict of Interest
Geraldine Ooi, Paul Burton, Cheryl Laurie, and Geoff Hebbard have no conflict of interest declaration.
About this article
Cite this article
Ooi, G., Burton, P., Laurie, C. et al. Nonsurgical Management of Luminal Dilatation After Laparoscopic Adjustable Gastric Banding. OBES SURG 24, 617–624 (2014). https://doi.org/10.1007/s11695-013-1126-5
Keywords
Proximal luminal dilatation

Symmetrical pouch dilatation

Gastric prolapse

Laparoscopic adjustable gastric banding

Bariatric surgery

Revision surgery

Conservative management

Nonsurgical management

Complication