Abstract
Background
Current health-care reform is focusing on improving patient outcomes while cutting health-care costs, and as such, surgeons should consider that postoperative pain management techniques can contribute to the overall value of care delivered to patients. The current study aims to evaluate the value of continuous wound infusion systems (CWIS) in patients following laparoscopic Roux-en-Y gastric bypass (LRYGB).
Methods
Records of all consecutive patients who underwent elective LRYGB by a single surgeon from January 2008 until June 2010 were reviewed. The presence of CWIS, patient pain scores, postanesthesia care unit (PACU) times, postoperative narcotic and antiemetic requirements, postoperative complications, and hospital length of stay (LOS) were recorded. Clinical data were subsequently linked and correlated with hospital financial data to determine overall hospital costs.
Results
Forty-four LRYGB patients were reviewed; 24 (54.5 %) received CWIS for postoperative pain control. There was no significant difference in PACU times, postoperative LOS, or postoperative complications. Patients with CWIS required significantly less narcotics (36.7 vs. 55.5 mg IV morphine equivalents for total LOS; p = 0.03) and antiemetics (5.0 vs. 12.4 mg ondansetron for total LOS; p = 0.02); however, patients with CWIS did not report better pain control and had slightly higher hospital costs ($13,627.00 vs. $13,395.05, p = 0.68).
Conclusions
Data from the current study suggest that the value of CWIS for postoperative pain control following LRYGB is limited. As the environment for hospital reimbursement is changing to be one which is value driven, surgeons should consider analyses such as this when making decisions on which treatments to offer their patients.
Access options
Buy single article
Instant access to the full article PDF.
US$ 39.95
Tax calculation will be finalised during checkout.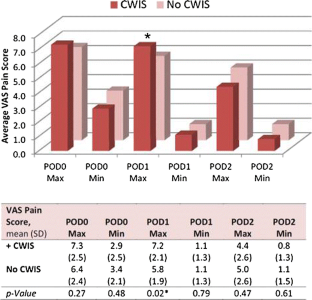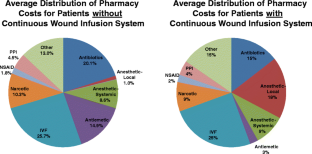 References
1.

Schug SA, Raymann A. Postoperative pain management of the obese patient. Best Pract Res Clin Anaesthesiol. 2011;25(1):73–81.

2.

Leykin Y, Pellis T, Del Mestro E, Fanti G, Marzano B. Perioperative management of 195 consecutive bariatric patients. Eur J Anaesthesiol. 2008;25(2):168–70.

3.

Blake DW, Yew CY, Donnan GB, Williams DL. Postoperative analgesia and respiratory events in patients with symptoms of obstructive sleep apnoea. Anaesth Intensive Care. 2009;37(5):720–5.

4.

Gross JB, Bachenberg KL, Benumof JL, et al. Practice guidelines for the perioperative management of patients with obstructive sleep apnea: a report by the American Society of Anesthesiologists Task Force on Perioperative Management of patients with obstructive sleep apnea. Anesthesiology. 2006;104(5):1081–93. quiz 1117–1088.

5.

Kehlet H, Holte K. Effect of postoperative analgesia on surgical outcome. Br J Anaesth. 2001;87(1):62–72.

6.

Rodgers A, Walker N, Schug S, et al. Reduction of postoperative mortality and morbidity with epidural or spinal anaesthesia: results from overview of randomised trials. BMJ. 2000;321(7275):1493.

7.

von Ungern-Sternberg BS, Regli A, Reber A, Schneider MC. Effect of obesity and thoracic epidural analgesia on perioperative spirometry. Br J Anaesth. 2005;94(1):121–7.

8.

Govindarajan R, Ghosh B, Sathyamoorthy MK, et al. Efficacy of ketorolac in lieu of narcotics in the operative management of laparoscopic surgery for morbid obesity. Surg Obes Relat Dis: Off J Am Soc Bariatric Surg. 2005;1(6):530–5. discussion 535–536.

9.

Kamelgard JI. Combined preemptive and preventive analgesia for open gastric bypass compares favorably with postoperative pain following laparoscopic access for the same surgery. Obes Surg. 2006;16(6):807. author reply 807–808.

10.

Ong CK, Seymour RA, Lirk P, Merry AF. Combining paracetamol (acetaminophen) with nonsteroidal antiinflammatory drugs: a qualitative systematic review of analgesic efficacy for acute postoperative pain. Anesth Analg. 2010;110(4):1170–9.

11.

White PF. The changing role of non-opioid analgesic techniques in the management of postoperative pain. Anesth Analg. 2005;101(5 Suppl):S5–22.

12.

Liu SS, Richman JM, Thirlby RC, Wu CL. Efficacy of continuous wound catheters delivering local anesthetic for postoperative analgesia: a quantitative and qualitative systematic review of randomized controlled trials. J Am Coll Surg. 2006;203(6):914–32.

13.

Porter ME. A strategy for health care reform—toward a value-based system. N Engl J Med. 2009;361(2):109–12.

14.

Porter ME. What is value in health care? N Engl J Med. 2010;363(26):2477–81.

15.

Dowling R, Thielmeier K, Ghaly A, Barber D, Boice T, Dine A. Improved pain control after cardiac surgery: results of a randomized, double-blind, clinical trial. J Thorac Cardiovasc Surg. 2003;126(5):1271–8.

16.

Elder JB, Hoh DJ, Wang MY. Postoperative continuous paravertebral anesthetic infusion for pain control in lumbar spinal fusion surgery. Spine. 2008;33(2):210–8.

17.

Fredman B, Shapiro A, Zohar E, et al. The analgesic efficacy of patient-controlled ropivacaine instillation after Cesarean delivery. Anesth Analg. 2000;91(6):1436–40.

18.

Klein SM, Grant SA, Greengrass RA, et al. Interscalene brachial plexus block with a continuous catheter insertion system and a disposable infusion pump. Anesth Analg. 2000;91(6):1473–8.

19.

Lavand'homme PM, Roelants F, Waterloos H, De Kock MF. Postoperative analgesic effects of continuous wound infiltration with diclofenac after elective cesarean delivery. Anesthesiology. 2007;106(6):1220–5.

20.

Singh K, Samartzis D, Strom J, et al. A prospective, randomized, double-blind study evaluating the efficacy of postoperative continuous local anesthetic infusion at the iliac crest bone graft site after spinal arthrodesis. Spine. 2005;30(22):2477–83.

21.

White PF, Rawal S, Latham P, et al. Use of a continuous local anesthetic infusion for pain management after median sternotomy. Anesthesiology. 2003;99(4):918–23.

22.

Jensen MP, Chen C, Brugger AM. Interpretation of visual analog scale ratings and change scores: a reanalysis of two clinical trials of postoperative pain. J Pain: Off J Am Pain Soc. 2003;4(7):407–14.

23.

Baig MK, Zmora O, Derdemezi J, Weiss EG, Nogueras JJ, Wexner SD. Use of the ON-Q pain management system is associated with decreased postoperative analgesic requirement: double blind randomized placebo pilot study. J Am Coll Surg. 2006;202(2):297–305.

24.

Cheong WK, Seow-Choen F, Eu KW, Tang CL, Heah SM. Randomized clinical trial of local bupivacaine perfusion versus parenteral morphine infusion for pain relief after laparotomy. Br J Surg. 2001;88(3):357–9.

25.

Gupta A, Thorn SE, Axelsson K, et al. Postoperative pain relief using intermittent injections of 0.5% ropivacaine through a catheter after laparoscopic cholecystectomy. Anesth Analg. 2002;95(2):450–6. table of contents.

26.

LeBlanc KA, Bellanger D, Rhynes VK, Hausmann M. Evaluation of continuous infusion of 0.5% bupivacaine by elastomeric pump for postoperative pain management after open inguinal hernia repair. J Am Coll Surg. 2005;200(2):198–202.

27.

Vintar N, Pozlep G, Rawal N, Godec M, Rakovec S. Incisional self-administration of bupivacaine or ropivacaine provides effective analgesia after inguinal hernia repair. Can J Anaesth. 2002;49(5):481–6.

28.

Pacik PT. Pain management in augmentation mammaplasty: a randomized, comparative study of the use of a continuous infusion versus self-administration intermittent bolus of a local anesthetic. Aesthet Surg J Am Soc Aesthetic Plastic Surg. 2004;24(6):523–30.

29.

Sherwinter DA, Ghaznavi AM, Spinner D, Savel RH, Macura JM, Adler H. Continuous infusion of intraperitoneal bupivacaine after laparoscopic surgery: a randomized controlled trial. Obes Surg. 2008;18(12):1581–6.

30.

Iyer CP, Robertson BD, Lenkovsky F, Huerta S, Livingston E, Thurmon JJ. Gastric bypass and On-Q pump: effectiveness of Soaker Catheter system on recovery of bariatric surgery patients. Surg Obes Relat Dis: Off J Am Soc Bariatric Surg. 2010;6(2):181–4.

31.

VanLare JM, Conway PH. Value-based purchasing—national programs to move from volume to value. N Engl J Med. 2012;367(4):292–5.
Acknowledgments
We would like to acknowledge Mr. Christopher Leong, Sr. Decision Support Analyst for Emory University Department of Surgery, for his assistance in financial data acquisition.
Conflict of Interest
The authors have no financial disclosures or conflicts of interest to disclose.
About this article
Cite this article
Medbery, R.L., Chiruvella, A., Srinivasan, J. et al. The Value of Continuous Wound Infusion Systems for Postoperative Pain Control Following Laparoscopic Roux-en-Y Gastric Bypass: an Analysis of Outcomes and Cost. OBES SURG 24, 541–548 (2014). https://doi.org/10.1007/s11695-013-1110-0
Keywords
Bariatric surgery

Laparoscopic surgery

Roux-en-Y gastric bypass

Pain control

Value

Surgery

Outcomes

Cost