Abstract
Background
The aim of this study was to assess the eating profile of patients after laparoscopic sleeve gastrectomy (LSG) and its impact on weight loss.
Methods
One hundred ten patients who underwent LSG were interviewed using Suter questionnaire and revised Questionnaire on Eating and Weight Patterns in follow-up visits. Eating patterns were assessed preoperatively and postoperatively. Patients were divided into six groups according to the timing point of assessment. Group 1 (n = 10) included patients <3 months, group 2 (n = 11) 3–6 months, group 3 (n = 11) 6–12 months, group 4 (n = 39) 1–2 years, group 5 (n = 23) 2–3 years, and group 6 (n = 16) >3 years. The excess weight loss (EWL) was correlated with the results.
Results
The total score of the Suter questionnaire was 15.0 ± 5.87, 20.3 ± 7.07, 26.2 ± 1.54, 23.8 ± 4.25, 24.65 ± 2.8, and 23.43 ± 4.14 for the groups 1–6, respectively (p < 0.0001). No significant differences were denoted when long-term follow-up groups 3 to 6 were compared. No association was found between the preoperative eating pattern and EWL. Postoperatively, 91 patients modified their eating pattern. Postoperative eating pattern was significantly correlated with EWL (p = 0.015). Patients with normal and snacking eating pattern achieve the best EWL (63.57 ± 21.32 and 60.73 ± 20.62, respectively). Binge eating disorder and emotional patterns had the worst EWL (42.84 ± 29.42 and 34.55 ± 19.34, respectively).
Conclusions
Better food tolerance is detected after the first postoperative year after LSG. The postoperative eating patterns seem to affect excessive weight loss.
Access options
Buy single article
Instant access to the full article PDF.
US$ 39.95
Tax calculation will be finalised during checkout.
Subscribe to journal
Immediate online access to all issues from 2019. Subscription will auto renew annually.
US$ 79
Tax calculation will be finalised during checkout.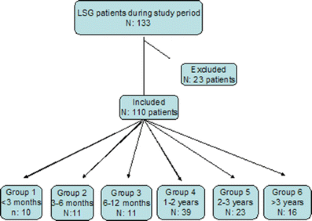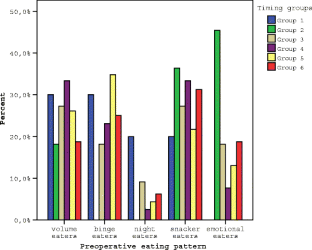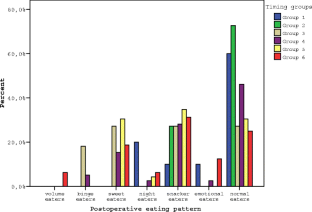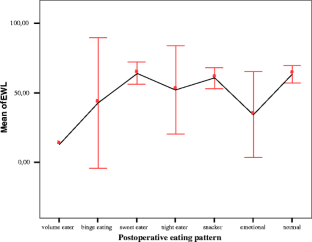 References
1.

Farrell TM, Haggerty SP, Overby DW, et al. Clinical application of laparoscopic bariatric surgery: an evidence-based review. Surg Endosc. 2009;23(5):930–49.

2.

Gagner M, Deitel M, Falterer TL, et al. The Second International Consensus Summit for Sleeve Gastrectomy, March 19–21, 2009. Surg Obes Relat Dis. 2009;5(4):476–85.

3.

van Hout GC, Verschure SK, van Heck GL. Psychosocial predictors of success following bariatric surgery. Obes Surg. 2005;15(4):552–60.

4.

Sarwer DB, Wadden TA, Fabricatore AN. Psychosocial and behavioral aspects of bariatric surgery. Obes Res. 2005;13(4):639–48.

5.

Kafri N, Valfer R, Nativ O, et al. Health behavior, food tolerance, and satisfaction after laparoscopic sleeve gastrectomy. Surg Obes Relat Dis. 2011;7(1):82–8.

6.

Schweiger C, Weiss R, Keidar A. Effect of different bariatric operations on food tolerance and quality of eating. Obes Surg. 2010;20(10):1393–9.

7.

Weiner RA, Theodoridou S, Weiner S. Failure of laparoscopic sleeve gastrectomy–further procedure? Obes Facts. 2011;4 Suppl 1:42–6.

8.

Zacharoulis D, Sioka E, Papamargaritis D et al. Influence of the learning curve on safety and efficiency of laparoscopic sleeve gastrectomy. Obes Surg. 2011; May 12. [Epub ahead of print]

9.

Allied Health Sciences Section Ad Hoc Nutrition Committee, Aills L, Blankenship J, et al. ASMBS Allied Health Nutritional Guidelines for the Surgical Weight Loss Patient. Surg Obes Relat Dis. 2008;4(5 Suppl):S73–S108.

10.

Snyder-Marlow G, Taylor D, Lenhard MJ. Nutrition care for patients undergoing laparoscopic sleeve gastrectomy for weight loss. J Am Diet Assoc. 2010;110(4):600–7.

11.

Suter M, Calmes JM, Paroz A, et al. A new questionnaire for quick assessment of food tolerance after bariatric surgery. Obes Surg. 2007;17(1):2–8.

12.

13.

Yanovski SZ, Nelson JE, Dubbert BK, et al. Association of binge eating disorder and psychiatric comorbidity in obese subjects. Am J Psychiatry. 1993;150(10):1472–9.

14.

Nangle DW, Johnson WG, Carr-Nangle RE, et al. Binge eating disorder and the proposed DSM-IV criteria: psychometric analysis of the Questionnaire of Eating and Weight Patterns. Int J Eat Disord. 1994;16(2):147–57.

15.

Papailiou J, Albanopoulos K, Toutouzas KG, et al. Morbid obesity and sleeve gastrectomy: how does it work? Obes Surg. 2010;20(10):1448–55. Review.

16.

Heber D, Greenway FL, Kaplan LM, et al. Endocrine Society. Endocrine and nutritional management of the post-bariatric surgery patient: an Endocrine Society Clinical Practice Guideline. J Clin Endocrinol Metab. 2010;95(11):4823–43.

17.

Pontiroli AE, Fossati A, Vedani P, et al. Post-surgery adherence to scheduled visits and compliance, more than personality disorders, predict outcome of bariatric restrictive surgery in morbidly obese patients. Obes Surg. 2007;17(11):1492–7.

18.

de Man Lapidoth J, Ghaderi A, Norring C. A comparison of eating disorders among patients receiving surgical vs non-surgical weight-loss treatments. Obes Surg. 2008;18(6):715–20.
Conflict of interest
The authors declare that they have no conflict of interest.
Appendix 1
Appendix 1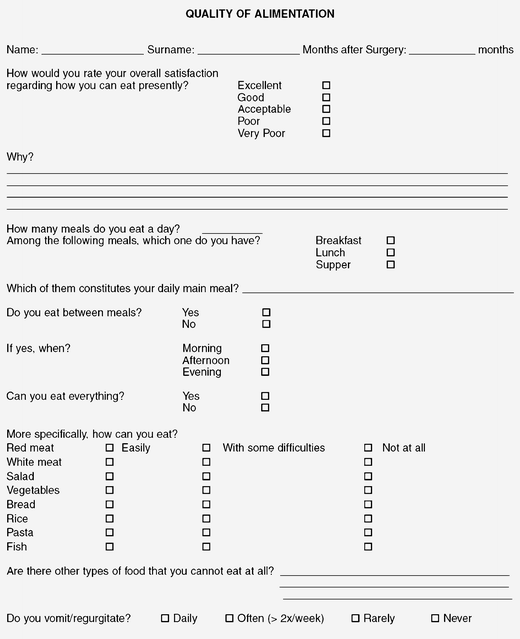 About this article
Cite this article
Sioka, E., Tzovaras, G., Oikonomou, K. et al. Influence of Eating Profile on the Outcome of Laparoscopic Sleeve Gastrectomy. OBES SURG 23, 501–508 (2013). https://doi.org/10.1007/s11695-012-0831-9
Keywords
Laparoscopic sleeve gastrectomy

Bariatric surgery

Morbid obesity

Eating patterns

Food tolerance