Abstract
Background
Intermittent, reversible intraabdominal vagal blockade (VBLOC® Therapy) demonstrated clinically important weight loss in feasibility trials. EMPOWER, a randomized, double-blind, prospective, controlled trial was conducted in USA and Australia.
Methods
Five hundred three subjects were enrolled at 15 centers. After informed consent, 294 subjects were implanted with the vagal blocking system and randomized to the treated (n = 192) or control (n = 102) group. Main outcome measures were percent excess weight loss (percent EWL) at 12 months and serious adverse events. Subjects controlled duration of therapy using an external power source; therapy involved a programmed algorithm of electrical energy delivered to the subdiaphragmatic vagal nerves to inhibit afferent/efferent vagal transmission. Devices in both groups performed regular, low-energy safety checks. Data are mean ± SEM.
Results
Study subjects consisted of 90 % females, body mass index of 41 ± 1 kg/m2, and age of 46 ± 1 years. Device-related complications occurred in 3 % of subjects. There was no mortality. 12-month percent EWL was 17 ± 2 % for the treated and 16 ± 2 % for the control group. Weight loss was related linearly to hours of device use; treated and controls with ≥12 h/day use achieved 30 ± 4 and 22 ± 8 % EWL, respectively.
Conclusions
VBLOC® therapy to treat morbid obesity was safe, but weight loss was not greater in treated compared to controls; clinically important weight loss, however, was related to hours of device use. Post-study analysis suggested that the system electrical safety checks (low charge delivered via the system for electrical impedance, safety, and diagnostic checks) may have contributed to weight loss in the control group.
Access options
Buy single article
Instant access to the full article PDF.
USD 39.95
Price includes VAT (USA)
Tax calculation will be finalised during checkout.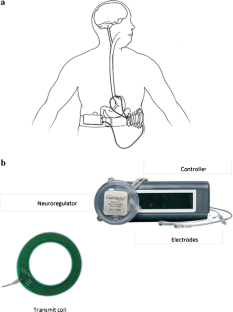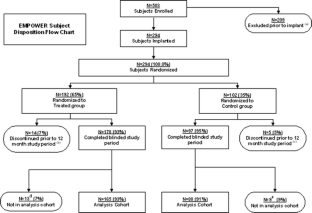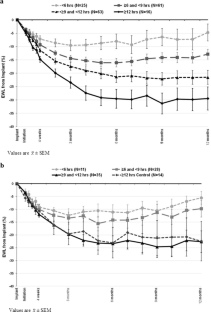 References
1.

Camilleri M, Toouli J, Herrera MF, et al. Intra-abdominal vagal blocking (VBLOC therapy): clinical results with a new implantable medical device. Surgery. 2008;143:723–31.

2.

Shikora SA, Bergenstal R, Bessler M, et al. Implantable gastric stimulation for the treatment of clinically severe obesity: results of the SHAPE trial. Surg Obes Relat Dis. 2009;5:31–7.

3.

NIH Consensus Development Program. Gastrointestinal surgery for severe obesity. Reprinted from NIH Consensus Development Conference Statement. 1991 March 25–27;9(1).

4.

US Dept. of Health and Human Services. The seventh report of the Joint National Committee on the prevention, detection, evaluation, and treatment of high blood pressure (JNC-7). NIH Publication No. 03–5233, 2003.

5.

Stubbs RJ, Hughes DA, Johnstone AM, et al. The use of visual analogue scales to assess motivation to eat in human subjects: a review of their reliability and validity with an evaluation of new hand-held computerized systems for temporal tracking of appetite ratings. Br J Nutr. 2000;84:405–15.

6.

Stunkard AJ, Messick S. The three-factor eating questionnaire to measure dietary restraint, disinhibition and hunger. J Psychosom Res. 1985;29:71–83.

7.

McHorney CA, Ware JE, Raczek AE. The Moss 36-item Short Form Health Survey (SF-36): II. psychometric and clinical tests of validity in measuring physical and mental health constructs. Med Care. 1993;31:247–63.

8.

Kolotkin RL, Crosby RD, Kosloski KD, et al. Development of a brief measure to assess quality of life in obesity. Obes Res. 2001;9:102–11.

9.

Beck AT, Steer RA, Brown GK. Manual for the Beck Depression Inventory-II. 2nd ed. San Antonio: Psychological Corporation; 1996.

10.

Littell RC, Milliken GA, Stroup WW, et al. SAS system for mixed models. Cary: SAS Institute Inc.; 1996.

11.

Camilleri M, Toouli J, Herrera MF, et al. Selection of electrical algorithms to treat obesity with intermittent vagal block using an implantable medical device. Surg Obes Relat Dis. 2009;5:224–30.

12.

Sjostrom L, Narbro K, Sjostrom CD, et al. Effects of bariatric surgery on mortality in Swedish obese subjects. New Eng J Med. 2007;357(8):741–52.

13.

Tweden KS, Anvari M, Bierk MD, et al. Vagal blocking for obesity control (VBLOC): concordance of effects of very high frequency blocking current at the neural and organ levels using two preclinical models. Gastroenterology. 2006;130:A-148.

14.

Tweden KS, Sarr MG, Bierk MD, et al. Vagal blocking for obesity control (VBLOC): studies of pancreatic and gastric function and safety in a porcine model. Surg Obes Rel Dis. 2006;2:301.
Financial disclosure
This study was funded entirely by EnteroMedics Inc, St. Paul, MN.
About this article
Cite this article
Sarr, M.G., Billington, C.J., Brancatisano, R. et al. The EMPOWER Study: Randomized, Prospective, Double-Blind, Multicenter Trial of Vagal Blockade to Induce Weight Loss in Morbid Obesity. OBES SURG 22, 1771–1782 (2012). https://doi.org/10.1007/s11695-012-0751-8
Keywords
Morbid obesity

Vagal modulation

Vagal blockade

Neuromodulation

Weight loss

Satiety

Blood pressure