Abstract
With the high prevalence of obesity and associated comorbidities, the costs of health services produce a great economic impact. The objective of this work was to evaluate the economic benefits of bariatric surgery and to relate the costs to the impact on the health of the individual. A historic cohort study was conducted, with review of medical charts of 194 patients who fulfilled the inclusion criteria for the study. The costs for medications, professional care, and examinations in the pre- and postoperative periods were analyzed, taking into consideration the comorbidities DM2, SAH, and dyslipidemia. The study demonstrated a reduction in the medical costs in the course of the postoperative period, in relation to expenses for medications, professional care, and examinations in the preoperative period. Comparing the preoperative expenses with different times in the postoperative period, a statistically significant difference was seen at all time evaluated (p < 0.001). The resolution of comorbidities was higher than 95% at 36 months after surgery. No statistically significant difference was seen with respect to the prevalence of comorbidities between the sexes in the pre- and postoperative periods (p > 0.05). With regard to age, younger patients showed lower rates of comorbidities in the pre- and postoperative periods (p < 0.001). The costs of the surgery are high, but the expenditures for medications, professional care, and examinations decrease progressively after the operation, where this is more evident in patients with more associated comorbidities.
Access options
Buy single article
Instant access to the full article PDF.
US$ 39.95
Tax calculation will be finalised during checkout.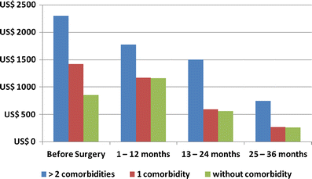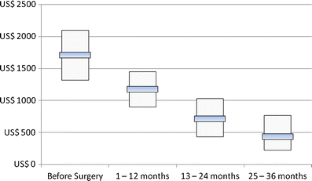 References
1.

Livingston EH, Ko CY. Socioeconomic characteristics of the population eligible for obesity surgery. Surgery. 2003;135(3):288–96.

2.

Crémieux P-Y, Buchwald H, Shikora AS, et al. A study on the economic impact of bariatric surgery. Am J Manag Care. 2008;14(9):589–96.

3.

Maggard MA, Shugarman LR, Suttorp M, et al. Meta-analysis: surgical treatment of obesity. Ann Intern Med. 2005;142:547–59.

4.

Elder KA, Wolfe BM. Bariatric surgery: a review of procedures and outcomes. Gastroenterology. 2007;132:2253–71.

5.

Buchwald H, et al. Bariatric surgery a systematic review and meta-analysis. JAMA. 2004;292(n 14):1725–37.

6.

Craig BM, Tseng DS. Cost-effectiveness of gastric bypass for severe obesity. Am J Med. 2002; 113:(6)491–498

7.

Sjöström L, Lindroos A-K, Peltonen M, et al. Lifestyle, diabetes, and cardiovascular risk factors 10 years after bariatric surgery. N Engl J Med. 2004;351:2683–93.

8.

Padwal RS, Sharma AM. Treating severe obesity: morbid weights and morbid waits. CMAJ. 2009;181(11):777–8.

9.

Arcila D, Velásquez D, Gamino R, et al. Quality of life in bariatric surgery. Obesity Surgery 2002;12

10.

American Diabetes Association. Standards of medical care in diabetes. Diabetes Care 2011;34(supplement 1):January 2011

11.

Frezza EE, Wachtel MS. The economic impact of morbid obesity. Surg Endosc. 2009;23:677–9.

12.

Sociedade Brasileira de Cardiologia/Sociedade Brasileira de Hipertensão/Sociedade Brasileira de Nefrologia. VI Diretrizes Brasileiras de Hipertensão. Arq Bras Cardiol 2010;95(1 supl.1):1–51.

13.

Ministério da Saúde. http://w3.datasus.gov.br/datasus/datasus.php. Accessed on May 11, 2009.

14.

Christou NV. Impact of obesity and bariatric surgery on survival. World J Surg. 2009;33:2022–7.

15.

Balduf LM, Kohn GP, Galanko JA, et al. The impact os socioeconomic factors on patient preparation for Bariatric Surgery. Obes Surg. 2009;19:1089–95.

16.

Klarenbach S, Padwal R, Wiebe N, et al. Bariatric surgery for severe obesity: systematic review and economic evaluation [Internet]. Ottawa: Canadian Agency for Drugs and Technologies in Health; 2010 (Technology report; no. 129). [cited 2010-09-20]. Available at: http://www.cadth.ca/index.php/en/hta/reportspublications/search?&type=16

17.

SISHIPERDIA—Ministério da Saúde. http://hiperdia.datasus.gov.br. Accessed on December 13, 2010.
Acknowledgments
The authors would like to thank Dr. A. Leyva for his help with the translation and editing of the final draft of the manuscript.
Disclosure
There are no external sources of funds supporting this work. There is no financial interest by any of the authors.
Additional information
This article was prepared according to the publication guidelines of Obesity Surgery.
About this article
Cite this article
Sussenbach, S.P., Padoin, A.V., Silva, E.N. et al. Economic Benefits of Bariatric Surgery. OBES SURG 22, 266–270 (2012). https://doi.org/10.1007/s11695-011-0558-z
Keywords
Morbid obesity

Bariatric surgery

Costs

Comorbidities