Abstract
Background
Massive weight loss following bariatric surgery leads to excess skin with functional and aesthetic impairments. Surplus skin can then contribute to problems with additional weight loss or gain. The aims of the current study were to evaluate the frequency of massive soft tissue development in gastric bypass patients, to determine whether males and females experience similar post-bypass body changes, and to learn about the expectations and impairments related to body contouring surgery.
Methods
A questionnaire addressing information on the satisfaction of body image, quality of life, and expectation of body contouring surgery following massive weight loss was mailed to 425 patients who had undergone gastric bypass surgery between 2003 and 2009. Of these 425 individuals, 252 (59%) patients completed the survey.
Results
Ninety percent of women and 88% of men surveyed rated their appearance following massive weight loss as satisfactory, good, or very good. However, 96% of all patients developed surplus skin, which caused intertriginous dermatitis and itching. In addition, patients reported problems with physical activity (playing sports) and finding clothing that fit appropriately. Moreover, 75% of female and 68% of male patients reported desiring body contouring surgery. The most important expectation of body contouring surgery was improved appearance, followed by improved self-confidence and quality of life.
Conclusions
Surplus skin resulting from gastric bypass surgery is a common issue that causes functional and aesthetic impairments in patients. Consequently, this increases the desire for body contouring surgery with high expectations for the aesthetic outcome as well as improved life satisfaction.
This is a preview of subscription content, log in to check access.
Access options
Buy single article
Instant access to the full article PDF.
US$ 39.95
Tax calculation will be finalised during checkout.
Subscribe to journal
Immediate online access to all issues from 2019. Subscription will auto renew annually.
US$ 99
Tax calculation will be finalised during checkout.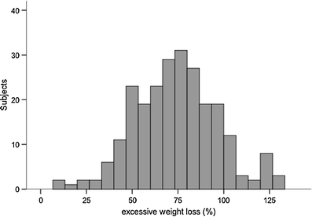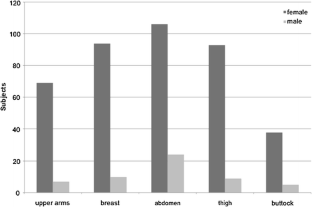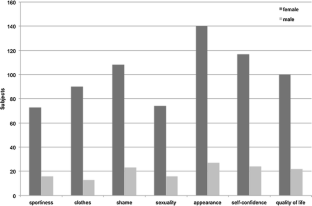 References
1.

Buchwald H, Avidor Y, Braunwald E, et al. Bariatric surgery: a systematic review and meta-analysis. JAMA. 2004;292:1724–37.

2.

Kolotkin RL, Crosby RD, Gress RE, et al. Two-year changes in health-related quality of life in gastric bypass patients compared with severely obese controls. Surg Obes Relat Dis. 2009;5:250–6.

3.

Sarwer DB, Wadden TA, Moore RH, et al. Changes in quality of life and body image after gastric bypass surgery. Surg Obes Relat Dis. 2010;6:608–14.

4.

Zuelzer HB, Baugh NG. Bariatric and body-contouring surgery: a continuum of care for excess and lax skin. Plast Surg Nurs. 2007;27:3–13. quiz 4–5.

5.

Chandawarkar RY. Body contouring following massive weight loss resulting from bariatric surgery. Adv Psychosom Med. 2006;27:61–72.

6.

van Gemert WG, Adang EM, Greve JW, et al. Quality of life assessment of morbidly obese patients: effect of weight-reducing surgery. Am J Clin Nutr. 1998;67:197–201.

7.

Sarwer DB, Thompson JK, Cash TF. Body image and obesity in adulthood. Psychiatr Clin North Am. 2005;28:69–87. viii.

8.

Kinzl JF, Traweger C, Trefalt E, et al. Psychosocial consequences of weight loss following gastric banding for morbid obesity. Obes Surg. 2003;13:105–10.

9.

Kitzinger HB, Abayev S, Pittermann A et al. The prevalence of body contouring surgery after gastric bypass surgery. Obes Surg 2011; doi:10.1007/s11695-011-0459-1.

10.

Datta G, Cravero L, Margara A, et al. The plastic surgeon in the treatment of obesity. Obes Surg. 2006;16:5–11.

11.

Pories WJ, Swanson MS, MacDonald KG, et al. Who would have thought it? An operation proves to be the most effective therapy for adult-onset diabetes mellitus. Ann Surg. 1995;222:339–50. discussion 50–2.

12.

Sjostrom L, Lindroos AK, Peltonen M, et al. Lifestyle, diabetes, and cardiovascular risk factors 10 years after bariatric surgery. N Engl J Med. 2004;351:2683–93.

13.

Bocchieri LE, Meana M, Fisher BL. Perceived psychosocial outcomes of gastric bypass surgery: a qualitative study. Obes Surg. 2002;12:781–8.

14.

Herpertz S, Kielmann R, Wolf AM, et al. Do psychosocial variables predict weight loss or mental health after obesity surgery? A systematic review. Obes Res. 2004;12:1554–69.

15.

Sarwer DB, Wadden TA, Fabricatore AN. Psychosocial and behavioral aspects of bariatric surgery. Obes Res. 2005;13:639–48.

16.

van Hout GC, Boekestein P, Fortuin FA, et al. Psychosocial functioning following bariatric surgery. Obes Surg. 2006;16:787–94.

17.

Pecori L, Serra Cervetti GG, Marinari GM, et al. Attitudes of morbidly obese patients to weight loss and body image following bariatric surgery and body contouring. Obes Surg. 2007;17:68–73.

18.

Biorserud C, Olbers T, Fagevik Olsen M. Patients' experience of surplus skin after laparoscopic gastric bypass. Obes Surg. 2011;21:273–7.

19.

Bruschi S, Datta G, Bocchiotti MA, et al. Limb contouring after massive weight loss: functional rather than aesthetic improvement. Obes Surg. 2009;19:407–11.

20.

Heddens CJ. Body contouring after massive weight loss. Plast Surg Nurs. 2004;24:107–15. quiz 16–7.

21.

Sarwer DB, Wadden TA, Foster GD. Assessment of body image dissatisfaction in obese women: specificity, severity, and clinical significance. J Consult Clin Psychol. 1998;66:651–4.

22.

Sarwer DB, Fabricatore AN. Psychiatric considerations of the massive weight loss patient. Clin Plast Surg. 2008;35:1–10.

23.

Song AY, Rubin JP, Thomas V, et al. Body image and quality of life in post massive weight loss body contouring patients. Obesity (Silver Spring). 2006;14:1626–36.

24.

Gusenoff JA, Messing S, O'Malley W, et al. Temporal and demographic factors influencing the desire for plastic surgery after gastric bypass surgery. Plast Reconstr Surg. 2008;121:2120–6.

25.

Mitchell JE, Crosby RD, Ertelt TW, et al. The desire for body contouring surgery after bariatric surgery. Obes Surg. 2008;18:1308–12.
Conflict of Interest
All authors declare to have no conflict of interest.
About this article
Cite this article
Kitzinger, H.B., Abayev, S., Pittermann, A. et al. After Massive Weight Loss: Patients' Expectations of Body Contouring Surgery. OBES SURG 22, 544–548 (2012). https://doi.org/10.1007/s11695-011-0551-6
Keywords
Gastric bypass

Bariatric surgery

Plastic surgery

Quality of life