Abstract
Background
As bariatric surgery has become more popular, more patients are undergoing body contouring surgery after massive weight loss. Many of the surgical procedures performed on the massive weight loss patient are complex and labor-intensive. Therefore, the plastic surgery unit needs to be prepared for a patient's demand. Little literature is available on how frequently patients who have undergone gastric bypass surgery receive body contouring surgery.
Methods
Two hundred fifty-two subjects (out of 425 who were mailed the questionnaire) who had undergone gastric bypass surgery between 2003 and 2009 completed the questionnaire, which obtained information on body image satisfaction and frequency of body contouring surgery after massive weight loss.
Results
Of all patients, 74% desire a body contouring surgery after gastric bypass surgery. Fifty-three patients (21%) have undergone a total of 61 body contouring procedures. The most common were abdominoplasties (59%), followed by lower body lifts (20%). In contrast to a positive judgment of the general aspect of the body image satisfaction after massive weight loss, both genders are unsatisfied with body areas like abdomen/waist, breast, and thighs.
Conclusions
Paralleling the increasing use of bariatric surgery, there is a high demand for body contouring surgery. A huge disparity exists between the number of subjects who desire a body contouring surgery and those who actually received it.
Access options
Buy single article
Instant access to the full article PDF.
USD 39.95
Price includes VAT (USA)
Tax calculation will be finalised during checkout.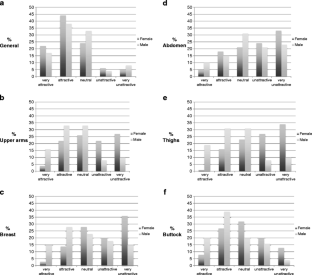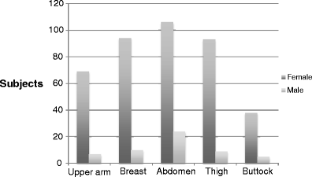 References
1.

Gould JC, Garren MJ, Boll V, et al. Laparoscopic gastric bypass: risks vs. benefits up to two years following surgery in super-super obese patients. Surgery. 2006;140:524–9. discussion 9–31.

2.

Bohdjalian A, Langer FB, Shakeri-Leidenmuhler S, et al. Sleeve gastrectomy as sole and definitive bariatric procedure: 5-year results for weight loss and ghrelin. Obes Surg. 2010;20:535–40.

3.

Buchwald H, Avidor Y, Braunwald E, et al. Bariatric surgery: a systematic review and meta-analysis. Jama. 2004;292:1724–37.

4.

Song AY, Rubin JP, Thomas V, et al. Body image and quality of life in post massive weight loss body contouring patients. Obesity (Silver Spring). 2006;14:1626–36.

5.

Safadi BY. Trends in insurance coverage for bariatric surgery and the impact of evidence-based reviews. Surg Clin North Am. 2005;85:665–80. v.

6.

Colwell AS. Current concepts in post-bariatric body contouring. Obes Surg. 2010;20:1178–82.

7.

van der Beek ES, Te Riele W, Specken TF, et al. The impact of reconstructive procedures following bariatric surgery on patient well-being and quality of life. Obes Surg. 2010;20:36–41.

8.

Rhomberg M, Piza-Katzer H. Plastic reconstructive operations after weight loss through gastric banding. Chirurg. 2002;73:918–23.

9.

Borud LJ, Warren AG. Body contouring in the postbariatric surgery patient. J Am Coll Surg. 2006;203:82–93.

10.

Sebastian JL. Bariatric surgery and work-up of the massive weight loss patient. Clin Plast Surg. 2008;35:11–26.

11.

Hell E, Miller KA, Moorehead MK, et al. Evaluation of health status and quality of life after bariatric surgery: comparison of standard Roux-en-Y gastric bypass, vertical banded gastroplasty and laparoscopic adjustable silicone gastric banding. Obes Surg. 2000;10:214–9.

12.

Mathus-Vliegen EM, de Wit LT. Health-related quality of life after gastric banding. Br J Surg. 2007;94:457–65.

13.

Gusenoff JA, Messing S, O'Malley W, et al. Temporal and demographic factors influencing the desire for plastic surgery after gastric bypass surgery. Plast Reconstr Surg. 2008;121:2120–6.

14.

Mitchell JE, Crosby RD, Ertelt TW, et al. The desire for body contouring surgery after bariatric surgery. Obes Surg. 2008;18:1308–12.

15.

Gusenoff JA, Messing S, O'Malley W, et al. Patterns of plastic surgical use after gastric bypass: who can afford it and who will return for more. Plast Reconstr Surg. 2008;122:951–8.

16.

Livingston EH. The incidence of bariatric surgery has plateaued in the U.S. Am J Surg. 2010;200:378–85.

17.

Warner JP, Stacey DH, Sillah NM, et al. National bariatric surgery and massive weight loss body contouring survey. Plast Reconstr Surg. 2009;124:926–33.
Disclosure
None of the aforementioned authors have any commercial interest in the subject of this study, nor did they get any financial or material support.
About this article
Cite this article
Kitzinger, H.B., Abayev, S., Pittermann, A. et al. The Prevalence of Body Contouring Surgery After Gastric Bypass Surgery. OBES SURG 22, 8–12 (2012). https://doi.org/10.1007/s11695-011-0459-1
Keywords
Body contouring

Gastric bypass

Massive weight loss