Abstract
Background
Life-long nutrition education and diet evaluation are key to the long-term success of surgical treatment of obesity. Diet guidelines provided for bariatric surgery patients generally focus on a progression through dietary stages, from the immediate post-surgical period to 6 months after surgery. However, long-term dietary guidelines for those surgically treated for obesity are not readily available. Therefore, there is a need for dietary recommendations for meal planning and nutritional supplementation for bariatric surgery patients beyond the short-term, post-operative period. The purpose of this paper is to construct an educational tool to provide long-term nutritional and behavioral advice for the post-bariatric patient.
Methods
The manuscript summarizes the current knowledge on dietary strategies and behaviors associated with beneficial nutritional outcomes in the long term of post-bariatric surgery patients.
Results
Dietary and nutritional recommendations are presented in the form of a "bariatric food pyramid" designed to be easily disseminated to patients.
Conclusions
The development of educational tools that are easy to understand and follow is essential for effective patient management during the surgery follow-up period. The pyramid can be used as a tool to help both therapists and patients to understand nutrition recommendations and thus promote a healthy long-term post-op dietary pattern based on high-quality protein, balanced with nutrient-dense complex carbohydrates and healthy sources of essential fatty acids.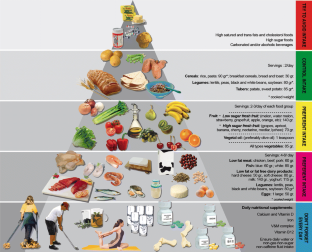 References
1.

Mechanick JI, Kushner RF, Sugerman HJ, Gonzalez-Campoy JM, Collazo-Clavell ML, Spitz AF, et al. American Association of Clinical Endocrinologists, The Obesity Society, and American Society for Metabolic & Bariatric Surgery medical guidelines for clinical practice for the perioperative nutritional, metabolic, and nonsurgical support of the bariatric surgery patient. Obesity (Silver Spring). 2009;17 Suppl 1:S1–70.

2.

Yang M-U, Vanitallie TB. Effect of energy restriction on body composition and nitrogen balance in obese individuals. In: Wadden TA, Vanitallie TB, editors. Treatment of the seriously obese patient. Chapter 4. The Guilford Press; 1992.

3.

Parkes E. Nutritional management of patients after bariatric surgery. Am J Med Sci. 2006;331(4):207–13.

4.

Hwang KO, Childs JH, Goodrick GK, Aboughali WA, Thomas EJ, Johnson CW, et al. Explanations for unsuccessful weight loss among bariatric surgery candidates. Obes Surg. 2008;19:1377–83.

5.

Colles SL, Dixon JB, O'Brien PE. Hunger control and regular physical activity facilitate weight loss after laparoscopic adjustable gastric banding. Obes Surg. 2008;18(7):833–40.

6.

Tucker ON, Szomstein S, Rosenthal RJ. Nutritional consequences of weight-loss surgery. Med Clin North Am. 2007;91(3):499–514.

7.

Allied Health Sciences Section Ad Hoc Nutrition Committee, Aills L, Blankenship J, Buffington C, Furtado M, Parrott J. ASMBS allied health nutritional guidelines for the surgical weight loss patient. Surg Obes Relat Dis. 2008;4(5 Suppl):S73–108.

8.

Lissner L, Lindroos AK, Sjöström L. Swedish obese subjects (SOS): an obesity intervention study with a nutritional perspective. Eur J Clin Nutr. 1998;52:316–22.

9.

Brolin RE, Robertson LB, Kenler HA, Cody RP. Weight loss and dietary intake after vertical banded gastroplasty and roux-en-y gastric bypass. Ann Surg. 1994;220(6):782–90.

10.

Wardé Kamar J, Rogers M, Flancbaum L, Laferrère B. Calorie intake and meal patterns up to 4 years after roux-en-Y gastric bypass surgery. Obes Surg. 2004;14:1070–9.

11.

Swenson BR, Saalwachter Schulman A, Edwards MJ, Gross MP, Hedrick TL, Weltman AL, et al. The effect of a low-carbohydrate, high-protein diet on post laparoscopic gastric bypass weight loss: a prospective randomized trial. J Surg Res. 2007;142(2):308–13.

12.

Bobbioni-Harsch E, Hober O, Morel Ph, Chassot G, et al. Factors influencing energy intake and body weight loss after gastric bypass. Eur J Clin Nutr. 2002;56:551–6.

13.

Leite Faria S, de Oliveira Kelly E, Diniz Lins R, Pereira Faria O. Nutritional management of weight regain after bariatric surgery. Obes Surg. 2008;20:135–39.

14.

Hwang KO, Childs JH, Goodrick GK, Aboughali WA, Thomas EJ, Johnson CW, et al. Explanations for unsuccessful weight loss among bariatric surgery candidates. Obes Surg. 2009;19(10):1377–83.

15.

Sarwer DB, Wadden TA, Moore RH, Baker AW, Gibbons LM, Raper SE, et al. Preoperative eating behavior, postoperative dietary adherence, and weight loss after gastric bypass surgery. Surg Obes Relat Dis. 2008;4(5):640–6.

16.

Harris JA, Benedict FG. A biometric study of basal metabolism in man. Publication No79 of the Carnegie Institution of Washington, 1919.

17.

Bloomberg RD, Fleishman A, Nalle JE, Herron DM, Kini S. Nutritional deficiencies following bariatric surgery: what have we learned? Obes Surg. 2005;15:145–54.

18.

Scruggs DM, Cowan Jr GS, Klesges L, Defibaugh N, Walker R, Kuyper B, et al. Weight loss and caloric intake after regular and extended gastric bypass. Obes Surg. 1993;3(3):233–8.

19.

Bavaresco M, Paganini S, Lima TP, Salgado W Jr, Ceneviva R, Dos Santos JE, et al. Nutritional course of patients submitted to bariatric surgery. Obes Surg. 2008; http://www.springerlink.com/content/6086615p7nv74162/fulltext.pdf.

20.

Moize V, Geliebter A, Gluck ME, Yahav E, Lorence M, Colarusso T, et al. Obese patients have inadequate protein intake related to protein intolerance up to 1 year following roux-en-Y gastric bypass. Obes Surg. 2003;13(1):23–8.

21.

Sjöström L, Lindroos AK, Peltonen M, Torgerson J, Bouchard C, Carlsson B, et al. Lifestyle, diabetes, and cardiovascular risk factors 10 years after bariatric surgery. N Engl J Med. 2004;351(26):2683–93.

22.

Kenler HA, Brolin RE, Cody RP. Changes in eating behaviour after horizontal gastroplasty and roux-en-y gastric bypass. Am J Clin Nutr. 1990;52:87–92.

23.

Lewandowski H, Breen TL, Huang EY. Kwashiorkor and an acrodermatitis enteropatica-like eruption after a distal gastric bypass surgical procedure. Endocr Pract. 2007;13(3):277–82.

24.

Brolin RE, Kenler HA, Gorman JH, Cody RP. Long-limb gastric bypass in the superobese. A prospective randomized study. Ann Surg. 1992;215(4):387–95.

25.

Chaston TB, Dixon JB. Factors associated with percent change in visceral versus subcutaneous abdominal fat during weight loss: findings from a systematic review. Int J Obes (Lond). 2008;32(4):619–28.

26.

Westerterp-Plantenga MS, Nieuwenhuizen A, Tomé D, Soenen S, Westerterp KR. Dietary protein, weight loss, and weight maintenance. Annu Rev Nutr. 2009;29:21–41.

27.

Stocker DJ. Management of the bariatric surgery patient. Endocrinol Metab Clin N Am. 2003;32:437–57.

28.

Marcason W. What are the dietary guidelines following bariatric surgery? J Am Diet Assoc. 2004;104:487–8.

29.

Eliot K. Nutritional considerations after bariatric surgery. Crit Care Nurs Q. 2003;26:133–8.

30.

Avinoha E, Ovnat A, Charuzi I. Nutritional status seven years after roux-en-y gastric bypass surgery. Surgery. 1992;111(2):137–42.

31.

Fujioka K. Follow-up of nutritional and metabolic problems after bariatric surgery. Diabetes Care. 2005;28:481–4.

32.

Ello-Martin JA, Roe LS, LediKwe JH, Beach AM, Rolls BJ. Dietary energy density in the treatment of obesity: a year-long trial comparing 2 weight-loss diets. Am J Clin Nutr. 2007;85(6):1465–77.

33.

Seagle HM, Strain GW, Makris A, Reeves RS, American Dietetic Association. Position of the American Dietetic Association: weight management. J Am Diet Assoc. 2009;109(2):330–46.

34.

Klem ML, Wing RR, Chang CC, Lang W, McGuire MT, Sugerman HJ, et al. A case–control study of successful maintenance of a substantial weight loss: individuals who lost weight through surgery versus those who lost weight through non-surgical means. Int J Obes Relat Metab Disord. 2000;24(5):573–9.

35.

American Diabetes Association Task Force for Writing Nutrition Principles and Recommendations for the Management of Diabetes and Related Complications. American Diabetes Association position statement: evidence-based nutrition principles and recommendations for the treatment and prevention of diabetes and related complications. J Am Diet Assoc. 2002;102(1):109–18.

36.

Innis SM. Essential dietary lipids. In: Ziegler EE, Filer LJ Jr, editors. Present knowledge in nutrition. 7th ed.

37.

Leite Faria S, Pereira Faria O, Carvalho Lopes T, Galvao MV, de Oliveira KE, Ito MK. Relation between carbohydrate intake and weight loss after bariatric surgery. Obes Surg. 2009;19(6):708–16.

38.

Cook CM, Edwards C. Success habits of long-term gastric bypass patients. Obes Surg. 1999;9(1):80–2.

39.

Hafner RJ, Watts JM, Rogers J. Quality of life after gastric bypass for morbid obesity. Int J Obes. 1991;15(8):555–60.

40.

Ukleja A. Dumping syndrome: pathophysiology and treatment. Nutr Clin Pract. 2005;20:517–25.

41.

Dietary Guidelines for Americans 2005. U.S. Department of Health and Human Services U.S. Department of Agriculture. Chapter 7:35-38. (USDA www.health.gov/DietaryGuidelines).

42.

Kellogg TA, Bantle JP, Leslie DB, Redmond JB, Slusarek B, Swan T, et al. Postgastric bypass hyperinsulinemic hypoglycemia syndrome: characterization and response to a modified diet. Surg Obes Relat Dis. 2008;4(4):492–9.

43.

Jenkins DJ, Gassull MA, Leeds AR, Metz G, Dilawari JB, Slavin B, et al. Effect of dietary fiber on complications of gastric surgery: prevention postprandial hypoglycemia by pectin. Gastroenterology. 1977;73(2):215–7.

44.

Aasheim ET, Hofsø D, Hjelmesæth J, Birkeland KI, Bøhmer T. Vitamin status in morbidly obese patients: a cross-sectional study. Am J Clin Nutr. 2008;87:362–9.

45.

Al-Fahad T, Ismael A, Soliman MO, Khoursheed M. Very early onset of Wernicke's encephalopathy after gastric bypass. Obes Surg. 2006;6(5):671–2.

46.

Rhode BM, Shustik C, Christou NV, MacLean LD. Iron absorption and therapy after gastric bypass. Obes Surg. 1999;9(1):17–21.

47.

Colossi FG, Casagrande DS, Chatkin R, Moretto M, Barhouch AS, Repetto G, et al. Need for multivitamin use in the postoperative period of gastric bypass. Obes Surg. 2008;18(2):187–91.

48.

Coupaye M, Puchaux K, Bogard C, Msika S, Jouet P, Clerici C, et al. Nutritional consequences of adjustable gastric banding and gastric bypass: a 1-year prospective study. Obes Surg. 2009;19(1):56–65.

49.

Bond DS, Phelan S, Wolfe LG, Evans RK, Meador JG, Kellum JM, et al. Becoming physically active after bariatric surgery is associated with improved weight loss and health-related quality of life. Obesity. 2009;17(1):78–83.

50.

Panagiotakos D, Pitsavos C, Chrysohoou C, Palliou K, Lentzas I, Skoumas I, et al. Dietary patterns and 5-year incidence of cardiovascular disease: a multivariate analysis of the ATTICA study. Nutr Metab Cardiovasc Dis. 2009;19(4):253–63.

51.

Favretti F, O'Brien PE, Dixon JB. Patient management after LAP-BAND placement. Am J Surg. 2002;184(6B):38S–41.

52.

Leite Faria S, de Oliveira KE, Pereira Faria O, Kiyomi Ito M. Snack-eating patients experience lesser weight loss after roux-en-Y gastric bypass surgery. Obes Surg. 2009;19(9):1293–6.
Conflict of interest statement
The authors declare that they have no conflict of interest.
About this article
Cite this article
Moizé, V.L., Pi-Sunyer, X., Mochari, H. et al. Nutritional Pyramid for Post-gastric Bypass Patients. OBES SURG 20, 1133–1141 (2010). https://doi.org/10.1007/s11695-010-0160-9
Keywords
Dietary pattern

Nutritional pyramid

Obesity

Gastric bypass