Abstract
Background
Low-level laser therapy (LLLT) is commonly used in medical applications, but scientific studies of its efficacy and the mechanism by which it causes loss of fat from fat cells for body contouring are lacking. This study examined the effectiveness and mechanism by which 635–680 nm LLLT acts as a non-invasive body contouring intervention method.
Methods
Forty healthy men and women ages 18–65 years with a BMI <30 kg/m2 were randomized 1:1 to laser or control treatment. Subject's waistlines were treated 30 min twice a week for 4 weeks. Standardized waist circumference measurements and photographs were taken before and after treatments 1, 3, and 8. Subjects were asked not to change their diet or exercise habits. In vitro assays were conducted to determine cell lysis, glycerol, and triglyceride release.
Results
Data were analyzed for those with body weight fluctuations within 1.5 kg during 4 weeks of the study. Each treatment gave a 0.4–0.5 cm loss in waist girth. Cumulative girth loss after 4 weeks was −2.15 cm (−0.78 ± 2.82 vs. 1.35 ± 2.64 cm for the control group, p < 0.05). A blinded evaluation of standardized pictures showed statistically significant cosmetic improvement after 4 weeks of laser treatment. In vitro studies suggested that laser treatment increases fat loss from adipocytes by release of triglycerides, without inducing lipolysis or cell lysis.
Conclusions
LLLT achieved safe and significant girth loss sustained over repeated treatments and cumulative over 4 weeks of eight treatments. The girth loss from the waist gave clinically and statistically significant cosmetic improvement.
Access options
Buy single article
Instant access to the full article PDF.
US$ 39.95
Tax calculation will be finalised during checkout.
Subscribe to journal
Immediate online access to all issues from 2019. Subscription will auto renew annually.
US$ 79
Tax calculation will be finalised during checkout.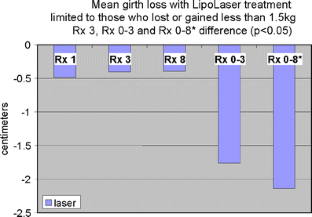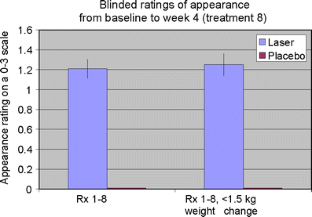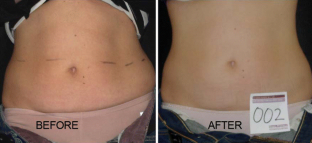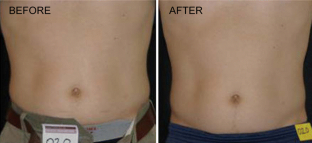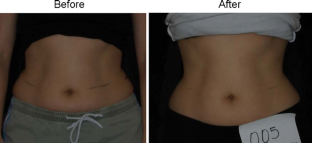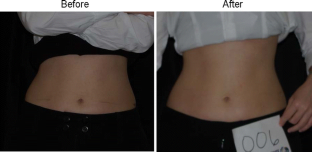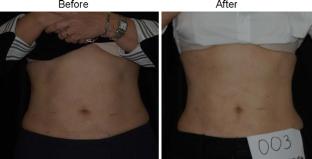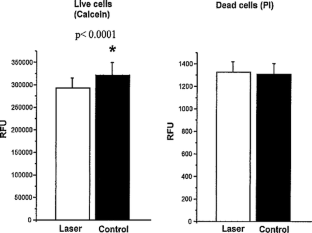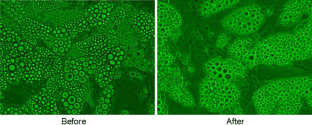 References
1.

King PR. Low level laser therapy: a review. Lasers Med Sci. 1989;4:141.

2.

Neira R, Arroyave J, Ramirez H, et al. Fat liquefaction: effect of low-level laser energy on adipose tissue. Plast Reconstr Surg. 2002;110:912–22. discussion 923–5.

3.

Benedicenti A, Verrando M, Cherlone F, et al. Effect of a 904 nm laser on microcirculation and arteriovenous circulation as evaluated using telethermographic imaging. Parodontol Stomatol (Nuova). 1984;23:167–78.

4.

Dortbudak O, Haas R, Mallath-Pokorny G. Biostimulation of bone marrow cells with a diode soft laser. Clin Oral Implants Res. 2000;11:540–5.

5.

Garavello-Freitas I, Baranauskas V, Joazeiro PP, et al. Low-power laser irradiation improves histomorphometrical parameters and bone matrix organization during tibia wound healing in rats. J Photochem Photobiol B. 2003;70:81–9.

6.

Hall G, Anneroth G, Schennings T, et al. Effect of low level energy laser irradiation on wound healing. An experimental study in rats. Swed Dent J. 1994;18:29–34.

7.

Mester E, Mester AF, Mester A. The biomedical effects of laser application. Lasers Surg Med. 1985;5:31–9.

8.

Campana V, Moya M, Gavotto A, et al. Effects of diclofenac sodium and He:Ne laser irradiation on plasmatic fibrinogen levels in inflammatory processes. J Clin Laser Med Surg. 1998;16:317–20.

9.

Caruso MK, Pekarovic S, Raum WJ, et al. Topical fat reduction from the waist. Diabetes Obes Metab. 2007;9:300–3.

10.

Bunnell BA, Estes BT, Guilak F, et al. Differentiation of adipose stem cells. Methods Mol Biol. 2008;456:155–71.

11.

Rogers PM, Fusinski KA, Rathod MA, et al. Human adenovirus Ad-36 induces adipogenesis via its E4 orf-1 gene. Int J Obes (Lond). 2008;32:397–406.

12.

Karu T. Photobiological fundamentals of low power laser therapy. IEEE J Quantum Electron. 1987;23:1703–18.

13.

Robinson MF, Watson PE. Day-to-day variations in body-weight of young women. Br J Nutr. 1965;19:225–35.

14.

Gay-Crosier F, Polla LL, Tschopp J, et al. Complement activation by pulsed tunable dye laser in normal skin and hemangioma. J Invest Dermatol. 1990;94:426–31.

15.

Dhami LD, Agarwal M. Safe total corporal contouring with large-volume liposuction for the obese patient. Aesthetic Plast Surg. 2006;30:574–88.
Acknowledgements
This study was supported by a grant from Meridian Medical, Inc. Mary Katherine Caruso-Davis received support for her assistantship through the Bissoon Mesotherapy Foundation. The mechanistic in vitro studies were partially supported by a CNRU Center Grant # 1P30 DK072476 entitled "Nutritional Programming: Environmental and Molecular Interactions", sponsored by NIDDK with the assistance of Jeffrey Gimble, M.D., Ph.D. and Ying Yu, MS. The authors wish to thank Eleanor Meador for coordinating the study and performing the LAPEX 2000 LipoLaser treatments, Lindsay Southard and Canaan Heard, undergraduates working on the study, and Mary Beth Burnett who assisted in manuscript preparation.
Additional information
This study was supported by Meridian Medical, Inc., Vancouver, BC, Canada V6K 4L9.
About this article
Cite this article
Caruso-Davis, M.K., Guillot, T.S., Podichetty, V.K. et al. Efficacy of Low-Level Laser Therapy for Body Contouring and Spot Fat Reduction. OBES SURG 21, 722–729 (2011). https://doi.org/10.1007/s11695-010-0126-y
Keywords
Cold laser

Fat reduction

Low-level laser therapy

Non-invasive laser