Abstract
Bariatric surgery has emerged as an important tool in the fight against morbid obesity. However, reviewers have noted that there is a scarcity of long-term clinical surveillance data for bariatric surgery beyond 1-year follow-up and that a high percentage of patients are lost to follow-up, raising questions regarding the accuracy of current outcomes estimates. A meta-analysis of clinical reports providing bariatric surgery weight loss outcomes for morbidly obese patients was conducted over the period 2003–2007. Studies included were randomized controlled trials, nonrandomized controlled trials, and consecutive case series involving patients receiving either laparoscopic adjustable gastric banding (LAGB) or laparoscopic gastric bypass (LGB) surgery. Included studies involved n = 7,383 patients and were largely academic hospital-based (78.6%) and retrospective in design (71.4%). Weight loss outcome was defined by percent excess weight loss (%EWL). Composite estimates showed a significantly greater %EWL for LGB surgery (62.6%) compared to LAGB (49.4%). The superiority of LGB persisted at all three postsurgical time points examined (1, 2, and >3 years). Problems were identified regarding incomplete or suboptimal data reporting in many studies reviewed, and high patient attrition was evident at 2-year (49.8% LAGB, 75.2% LGB) and >3-year (82.6% LAGB, 89% LGB) end points. This meta-analysis confirms the superiority of LGB to LAGB in %EWL found in earlier studies. Although problems in study quality raised significant concerns regarding the validity of current weight loss estimates in this area, there was no evidence of publication bias.
Access options
Buy single article
Instant access to the full article PDF.
US$ 39.95
Tax calculation will be finalised during checkout.
Subscribe to journal
Immediate online access to all issues from 2019. Subscription will auto renew annually.
US$ 79
Tax calculation will be finalised during checkout.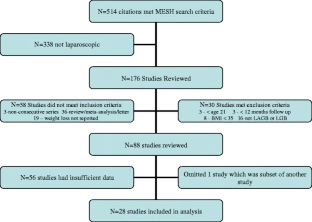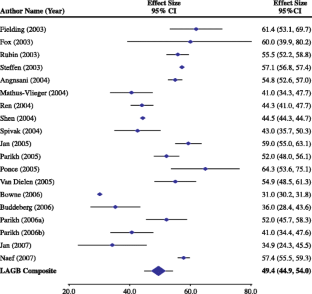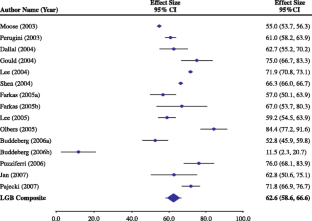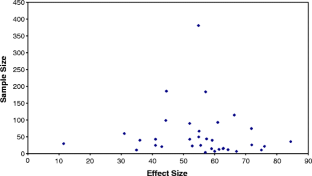 References
1.

Buchwald H. 2004 ASBS consensus conference statement. Bariatric surgery for morbid obesity: health implications for patients, health professionals, and third-party payers. Surg Obes Relat Dis. 2005;1:371–81.

2.

Buchwald H. Obesity comorbidities. In: Buchwald H, Cowan GSM, Pories WJ, editors. Surgical management of obesity. Philadelphia: Saunders Elsevier; 2007.

3.

Blankenship JD, Wolfe BM. Dietary management of obesity. In: Buchwald H, Cowan GSM, Pories WJ, editors. Surgical management of obesity. Philadelphia: Saunders Elsevier; 2007.

4.

American Society for Metabolic and Bariatric Surgery (ASMBS) Fact sheet. https://doi.org/www.asbs.org/Newsite07/media/fact-sheet1_bariatric-surgery.pdf. Accessed 10 April 2009

5.

Bennett JMH, Mehta S, Rhodes M. Surgery for morbid obesity. Postgrad Med J. 2007;83:8–15.

6.

Buchwald H, Avidor Y, Braunwald E, et al. Bariatric surgery: a systematic review and meta-analysis. JAMA. 2004;292:1724–37.

7.

Oria HE. Long term follow-up and evaluation of results in bariatric surgery. In: Buchwald H, Cowan GSM, Pories WJ, editors. Surgical management of obesity. Philadelphia: Saunders Elsevier; 2007.

8.

Courcoulas AP, Flum DR. Filling in the gaps in bariatric surgery research. JAMA. 2005;294:1957–60.

9.

Flanagan L. Practical training of the bariatric surgeon. In: Buchwald H, Cowan GSM, Pories WJ, editors. Surgical management of obesity. Philadelphia: Saunders Elsevier; 2007.

10.

DerSimonian R, Laird N. Meta-analysis in clinical trails. Control Clin Trials. 1986;7:177–88.

11.

Cochran WG. Some methods for strengthening the common χ 2 tests. Biometrics. 1954;10:417–51.

12.

Whitehead A, Whitehead J. A general parametric approach to the meta-analysis of randomized clinical trials. Stat Med. 1991;10:1665–77.

13.

Cooper H, Hedges LV. In: Cooper H, Hedges LV, editors. The handbook of research synthesis. New York: Sage; 1994. p. 25.

14.

Light RJ, Pillemer DB. Summing up: the science of reviewing research. Cambridge: Harvard University Press; 1984. p. 63–75.

15.

Angrisani L, Lorenzo M, Borrelli V. Laparoscopic adjustable gastric banding versus Roux-en-Y gastric bypass: 5-year results of a prospective randomized trial. Surg Obes Relat Dis. 2007;3(2):127–32.

16.

Bowne WB, Julliard K, Castro AE, et al. Laparoscopic gastric bypass is superior to adjustable gastric band in super morbidly obese patients: a prospective, comparative analysis. Arch Surg. 2006;141(7):683–9.

17.

Buddeberg-Fischer B, Klaghofer R, Krug L, et al. Physical and psychosocial outcome in morbidly obese patients with and without bariatric surgery: a 4 1/2-year follow-up. Obes Surg. 2006;16(3):321–30.

18.

Dallal RM, Mattar SG, Lord JL, et al. Results of laparoscopic gastric bypass in patients with cirrhosis. Obes Surg. 2004;14(1):47–53.

19.

Farkas DT, Vemulapalli P, Haider A, et al. Laparoscopic Roux-en-Y gastric bypass is safe and effective in patients with a BMI > or =60. Obes Surg. 2005;15(4):486–93.

20.

Fielding GA. Laparoscopic adjustable gastric banding for massive superobesity (>60 body mass index kg/m2). Surg Endosc. 2003;17(10):1541–5.

21.

Fox SR, Fox KM, Srikanth MS, et al. The Lap-Band system in a North American population. Obes Surg. 2003;13(2):275–80.

22.

Gould JC, Garren MJ, Starling JR. Lessons learned from the first 100 cases in a new minimally invasive bariatric surgery program. Obes Surg. 2004;14(5):618–25.

23.

Jan JC, Hong D, Pereira N, et al. Laparoscopic adjustable gastric banding versus laparoscopic gastric bypass for morbid obesity: a single-institution comparison study of early results. J Gastrointest Surg. 2005;9(1):30–41.

24.

Jan JC, Hong D, Bardaro SJ, et al. Comparative study between laparoscopic adjustable gastric banding and laparoscopic gastric bypass: single-institution, 5-year experience in bariatric surgery. Surg Obes Relat Dis. 2007;3(1):42–50. discussion 50–1.

25.

Lee WJ, Huang MT, Yu PJ, et al. Laparoscopic vertical banded gastroplasty and laparoscopic gastric bypass: a comparison. Obes Surg. 2004;14(5):626–34.

26.

Lee WJ, Yu PJ, Wang W, et al. Laparoscopic Roux-en-Y versus mini-gastric bypass for the treatment of morbid obesity: a prospective randomized controlled clinical trial. Ann Surg. 2005;242(1):20–8.

27.

Moose D, Lourie D, Powell W, et al. Laparoscopic Roux-en-Y gastric bypass: minimally invasive bariatric surgery for the superobese in the community hospital setting. Am Surg. 2003;69(11):930–2.

28.

Mathus-Vliegen EM, de Weerd S, de Wit LT. Health-related quality-of-life in patients with morbid obesity after gastric banding for surgically induced weight loss. Surgery. 2004;135(5):489–97.

29.

Naef M, Naef U, Mouton WG, et al. Outcome and complications after laparoscopic Swedish adjustable gastric banding: 5-year results of a prospective clinical trial. Obes Surg. 2007;17(2):195–201.

30.

Olbers T, Fagevik-Olsén M, Maleckas A, et al. Randomized clinical trial of laparoscopic Roux-en-Y gastric bypass versus laparoscopic vertical banded gastroplasty for obesity. Br J Surg. 2005;92(5):557–62.

31.

Pajecki D, Dalcanalle L, Souza de Oliveira CP, et al. Follow-up of Roux-en-Y gastric bypass patients at 5 or more years postoperatively. Obes Surg. 2007;17(5):601–7.

32.

Parikh MS, Fielding GA, Ren CJ. U.S. experience with 749 laparoscopic adjustable gastric bands: intermediate outcomes. Surg Endosc. 2005;19(12):1631–5.

33.

Parikh MS, Shen R, Weiner M, et al. Laparoscopic bariatric surgery in super-obese patients (BMI > 50) is safe and effective: a review of 332 patients. Obes Surg. 2005;15(6):858–63.

34.

Parikh M, Lo H, Chang C, et al. Comparison of outcomes after laparoscopic adjustable gastric banding in African–Americans and whites. Surg Obes Relat Dis. 2006;2(6):607–10.

35.

Perugini RA, Mason R, Czerniach DR, et al. Predictors of complication and suboptimal weight loss after laparoscopic Roux-en-Y gastric bypass: a series of 188 patients. Arch Surg. 2003;138(5):541–5. discussion 545–6.

36.

Ponce J, Paynter S, Fromm R. Laparoscopic adjustable gastric banding: 1, 014 consecutive cases. J Am Coll Surg. 2005;201(4):529–35.

37.

Puzziferri N, Austrheim-Smith IT, Wolfe BM, et al. Three-year follow-up of a prospective randomized trial comparing laparoscopic versus open gastric bypass. Ann Surg. 2006;243(2):181–8.

38.

Ren CJ, Weiner M, Allen JW. Favorable early results of gastric banding for morbid obesity: the American experience. Surg Endosc. 2004;18(3):543–6.

39.

Rubin M, Spivak H. Prospective study of 250 patients undergoing laparoscopic gastric banding using the two-step technique: a technique to prevent postoperative slippage. Surg Endosc. 2003;17(6):857–60.

40.

Shen R, Dugay G, Rajaram K, et al. Impact of patient follow-up on weight loss after bariatric surgery. Obes Surg. 2004;14(4):514–9.

41.

Spivak H, Anwar F, Burton S, et al. The Lap-Band system in the United States: one surgeon's experience with 271 patients. Surg Endosc. 2004;18(2):198–202.

42.

Steffen R, Biertho L, Ricklin T, et al. Laparoscopic Swedish adjustable gastric banding: a five-year prospective study. Obes Surg. 2003;13(3):404–11.

43.

van Dielen FM, Soeters PB, de Brauw LM, et al. Laparoscopic adjustable gastric banding versus open vertical banded gastroplasty: a prospective randomized trial. Obes Surg. 2005;15(9):1292–8.

44.

Belachew M. Laparoscopic adjustable gastric banding. In: Buchwald H, Cowan GSM, Pories WJ, editors. Surgical management of obesity. Philadelphia: Saunders Elsevier; 2007.

45.

Longitudinal Assessment of Bariatric Surgery (LABS). National Institutes of Health, US Department of Health & Human Services. https://doi.org/www.edc.pitt.edu/labs/Public/index.html. Accessed 15 April 2009.

46.

Moher D, Schulz KF, Altman DG. The CONSORT statement: revised recommendations for improving the quality of reports of parallel-group randomized trials. Ann Intern Med. 2001;134:657–62.

47.

American College of Surgeons Bariatric Surgery Center Network (ACS BSCN). (2009) About ACS Accredited Bariatric Centers https://doi.org/www.acsbscn.org/Public/AboutBSCN.aspx. Accessed on 15 April 2009
About this article
Cite this article
Garb, J., Welch, G., Zagarins, S. et al. Bariatric Surgery for the Treatment of Morbid Obesity: A Meta-analysis of Weight Loss Outcomes for Laparoscopic Adjustable Gastric Banding and Laparoscopic Gastric Bypass. OBES SURG 19, 1447–1455 (2009). https://doi.org/10.1007/s11695-009-9927-2
Received:

Accepted:

Published:

Issue Date:
Keywords
Laparoscopic gastric bypass LGB

Laparoscopic adjustable gastric banding LAGB

Bariatric surgery

Outcomes

%EWL

Laparoscopic adjustable gastric banding

LAGB laparoscopic gastric bypass

LGB

Weight loss