Abstract
Introduction
Roux-en-Y gastric bypass (RYGB) restricts food intake. Consequently, patients consume less calcium. In addition, food no longer passes through the duodenum, the main site of calcium absorption. Therefore, calcium absorption is significantly impaired. The goal of this study is to compare two common calcium supplements in gastric bypass patients.
Method
Nineteen patients were enrolled in a randomized, double-blinded, crossover study comparing the absorption of calcium from calcium carbonate and calcium citrate salts. Serum and urine calcium levels were assessed for peak values (C max) and cumulative calcium increment (area under the curve [AUC]). Serum PTH was assessed for minimum values (PTHmin) and cumulative PTH decrement (AUC). Statistical analysis was performed using a repeated analysis of variance model.
Results
Eighteen subjects completed the study. Calcium citrate resulted in a significantly higher serum C max (9.4 + 0.4 mg/dl vs. 9.2 + 0.3 mg/dl, p = 0.02) and serum AUC (55 + 2 mg/dl vs. 54 + 2 mg/dl, p = 0.02). Calcium citrate resulted in a significantly lower PTHmin (24 + 11 pg/ml vs. 30 + 13 pg/ml, p = 0.01) and a higher AUC (−32 + 51 pg/ml vs. −3 + 56 pg/ml, p = 0.04). There was a non-significant trend for higher urinary AUC in the calcium citrate group (76.13 + 36.39 mg/6 h vs. 66.04 + 40.82, p = 0.17).
Conclusion
Calcium citrate has superior bioavailability than calcium carbonate in RYGB patients.
We're sorry, something doesn't seem to be working properly.
Please try refreshing the page. If that doesn't work, please contact support so we can address the problem.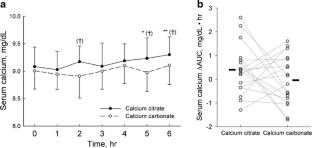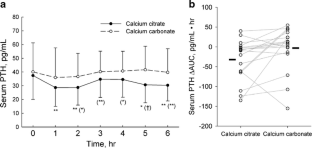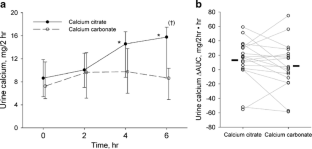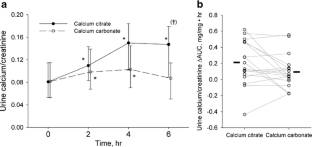 References
1.

WHO information sheet and obesity and overweight. 2003

2.

Clinical guidelines on the identification, evaluation, and treatment of overweight and obesity in adults-the evidence report. National Institutes of Health. Obes Res. 1998;6(Supp 2):51S–209S.

3.

Shah M, Simha V, Garg A. Long term impact of bariatric surgery on body weight, comorbidities, and nutritional status. J Clin Endocrinol Metab. 2006;91:4223–31.

4.

North American Association for the study of obesity and the National Heart, Lung, and Blood Institute (2000) The practice guide: identification, evaluation, and treatment of overweight and obesity in adults. NIH publication 00-4084

5.

National Task Force on the Prevention and Treatment of Obesity. Overweight, obesity, and health risk. Arch Intern Med. 2000;160:898–904.

6.

Eckel RH. Non surgical management of obesity. N Engl J Med. 2008;358:1941–50.

7.

Steinbrook R. Surgery for severe obesity. NEJM. 2004;350:1075–9.

8.

Byrne TK. Complications of surgery for obesity. Surg Clin North Am. 2001;81:1181–93.

9.

Santry HP, Gillen DL, Lauderdale DS. Trends in bariatric surgical procedures. JAMA. 2005;294:1909–17.

10.

Waters GS, Pories WJ, Swanson MS, et al. Long term studies of mental health after the Greenville gastric bypass operation for morbid obesity. Am J Surg. 1991;161:154–7.

11.

Balsiger BM, Kennedy FP, Abu-Lebdeh HS, et al. Prospective evaluation of Roux-en-Y gastric bypass as primary operation for medically complicated obesity. Mayo Clin Proc. 2000;75:673–80.

12.

Sjostorm L, Lindroos AK, Peltonen M, et al. Lifestyle, diabetes, and cardiovascular risk factors 10 years after bariatric surgery. N Engl J Med. 2004;351:2683–93.

13.

Sujerman HJ, Wolfe LG, Sica DA, et al. Diabetes and hypertension in severe obesity and effects of gastric bypass induced weight loss. Ann Surg. 2003;237:751–6.

14.

MacDonald KG Jr, Long SD, Swanson MS, et al. The gastric bypass operation reduces the progression and mortality of non-insulin-dependent diabetes mellitus. J Gastrointest Surg. 1997;1:213–20.

15.

Flum DR, Dellinger EP. Impact of gastric bypass on survival: a population based analysis. J Am Coll Surg. 2004;199:543–51.

16.

Christou NV, Sampalis JS, Liberman M, et al. Surgery decreases long-term mortality, morbidity, and health care use in morbidly obese patients. Ann Surg. 2004;240:416–23.

17.

Karlsson J, Sjostrom L, Sullivan M. Swedish Obese Subjects (SOS): an intervention study of obesity: two-year follow-up of health-related quality of life (HRQL) and eating behavior after gastric surgery for severe obesity. Int J Obes Relat Metab Disord. 1998;22:113–26.

18.

Asplin JR, Coe FL. Hyperoxaluria in kidney stone formers treated with modern bariatric surgery. J Urol. 2007;177:565–9.

19.

Nelson WK, Houghton SG, Milliner DS, et al. Enteric hyperoxaluria, nephrolithiasis, and oxalate nephropathy: potentially serious and unappreciated complications of Roux-en-Y gastric bypass. Surg Obes Relat Dis. 2005;1:481–5.

20.

Sinha MK, Collazo-Clavell ML, Rule A, et al. Hyperoxaluric nephrolithiasis is a complication of Roux-en-Y gastric bypass surgery. Kidney Int. 2007;72:100–7.

21.

Patel BN, Passman CM, Fernandez A et al. (2007) Prevalence of hyperoxaluria after modern bariatric surgery. Presented at 25th World Congress of Endurology & SWL 2007

22.

Prisco CD, Levine SN. Metabolic bone disease after gastric bypass surgery for obesity. Am J Med Sci. 2005;329:57–61.

23.

Goldner WS, O'Dorisio TM, Dillon JS, et al. Severe metabolic bone disease as a long-term complication of obesity surgery. Obes Surg. 2002;12:685–92.

24.

Johnson JM, Maher JW, DeMaria EJ, et al. The long term effects of gastric bypass on Vitamin D metabolism. Ann Surg. 2006;243:701–5.

25.

Coates PS, Fernstrom JD, Fernstrom MH, et al. Gastric bypass surgery for morbid obesity leads to an increase in bone turnover and a decrease in bone mass. J Clin Endocrinol Metab. 2004;89:1061–5.

26.

Von Mach MA, Stoeckli R, Bilz S, et al. Changes in bone mineral content after surgical treatment of morbid obesity. Metabolism. 2004;53:918–21.

27.

Goode LR, Brolin RE, Chowdhury HA, et al. Bone and gastric bypass surgery: effects of dietary calcium and vitamin D. Obes Res. 2004;12:40–7.

28.

Basha B, Rao S, Han ZH, et al. Osteomalacia due to vitamin D depletion: neglected consequence of intestinal malabsorption. Am J Med. 2000;108:296–300.

29.

Slater GH, Ren CF, Siegel N, et al. Serum fat-soluble vitamin deficiency and abnormal calcium metabolism after malabsorptive bariatric surgery. Gastrointest Surg. 2004;8:48–55.

30.

Cifuentes M, Riedt CS, Brolin RE, et al. Weight loss and calcium intake influence calcium absorption in overweight postmenopausal women. Am J Clin Nutr. 2004;80:123–30.

31.

Recker RR. Calcium absorption and achlorohydria. N Engl J Med. 1985;313:70–3.

32.

Pak CYC, Poindexter J, Finlayson B. A model system for assessing physicochemical factors affecting calcium absorbability from the intestinal tract. J Bone Miner Res. 1989;4:119–27.

33.

Pak CY, Avioli LV. Factors affecting absorbability of calcium from calcium salts and food. Calcif Tissue Int. 1988;43:55–60.

34.

Straub DA. Calcium supplementation in clinical practice: a review of forms, doses, and indications. Nutr Clin Pract. 2007;22:286–96.

35.

Malone M. Recommended nutritional supplements for bariatric surgery patients. Ann Pharmacother. 2008;42(12):1851–1858.

36.

Hunt JN, Johnson C. Relation between gastric secretion of acid and urinary excretion of calcium after oral supplements of calcium. Dig Dis Sci. 1983;28:417–21.

37.

Heller HJ, Stewart A, Haynes S, Pak CYC. Pharmacokinetics of calcium absorption from two commercial calcium supplements. Am J Clin Pharmacol. 1999;39:1151–4.

38.

Fleischer J, Stein EM, Bessler M, et al. The decline in Hip Bone Density after Gastric Bypass surgery is associated with extent of weight loss. J Clin Endocrinol Metab. 2008;93:3735–40.

39.

Gagner M, Rogula T, Strain G, et al. Decreased Lipid malabsorption in both gastric bypass and biliopancreatic diversion with duodenal switch. Surg Obes Relat Dis. 2005;1(3):240–1.

40.

Reidt CS, Brolin RE, Sherell RM, et al. True fractional calcium absorption is decreased after Roux-en-Y Gastric Bypass surgery. Obesity. 2006;11:1940–8.

41.

Sakhaee K, Maalouf NM, Abrams SA, et al. Effects of potassium alkali and calcium supplementation on bone turnover in postmenopausal women. J Clin Endocrinol Metab. 2005;90:3528–33.

42.

Kenny AM, Prestwood KM, Biskup B, et al. Comparison of the effects of calcium loading with calcium citrate or calcium carbonate on bone turnover in postmenopausal women. Osteoporos Int. 2004;15:290–4.
Acknowledgments
This work was supported by the National Institute of Health (NIH) grants MO1-RR00633 and CTSA UL1-RR024982. The authors would like to acknowledge the editorial assistance of Ms. Hadley Armstrong.
About this article
Cite this article
Tondapu, P., Provost, D., Adams-Huet, B. et al. Comparison of the Absorption of Calcium Carbonate and Calcium Citrate after Roux-en-Y Gastric Bypass. OBES SURG 19, 1256–1261 (2009). https://doi.org/10.1007/s11695-009-9850-6
Received:

Accepted:

Published:

Issue Date:
Keywords
Roux-en-Y gastric bypass

Obesity

Calcium citrate

Calcium carbonate