Abstract
Background
Although bariatric surgery is the most common procedure used to induce weight loss in morbidly obese patients, its effect on plasma satiety factors (leptin, ghrelin, and apolipoprotein (apo)-AIV) is controversial. The aim of this work was to analyze these parameters before and at different times after surgery.
Methods
Plasma was obtained from 34 patients before undergoing Roux-en-Y gastric bypass and during weight loss in the 12 months following surgery.
Results
Morbidly obese patients had significantly higher values (147%) of leptin than normal-weight (NW) persons, while their ghrelin levels were 46% less than NW. Apo-AIV levels had approximately the same value in both groups (obese and NW). During weight loss, leptin decreased by 75% and ghrelin increased by 78%. Both parameters reached values less than or near NW, respectively, at 1 year after surgery. During the first month after surgery, apo-AIV plasma levels decreased (47%) but later increased and finally returned to preoperative values. Apo-AIV levels were correlated negatively with leptin and positively with ghrelin. High-density lipoprotein (HDL) levels were positively correlated with those of ghrelin and apo-AIV.
Conclusions
During weight loss, plasma leptin and ghrelin could be good markers of total fat decrease. Ghrelin could also indicate gastric mucous improvement, whereas apo-AIV could indicate the recovery of intestinal function. Changes produced in the HDL levels of morbidly obese patients during weight loss suggest a decreased risk of coronary disease.
Access options
Buy single article
Instant access to the full article PDF.
USD 39.95
Price excludes VAT (USA)
Tax calculation will be finalised during checkout.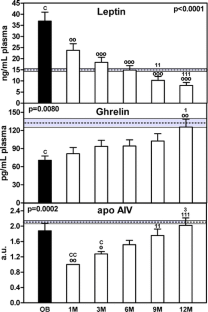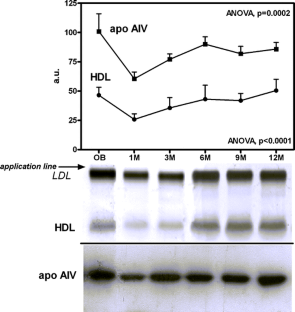 Abbreviations
HOMA-IR:

homeostasis model assessment of insulin resistance

NEFA:

nonesterified fatty acid

TC:

total cholesterol
References
Deitel M. Overview of operations for morbid obesity. World J Surgery 1998;22:913–8.

Gale SM, Castracane VD, Mantzoros CS. Energy homeostasis, obesity and eating disorders: recent advances in endocrinology. J Nutr 2004;134:295–8.

Thomas T, Burguera B, Melton LJ, et al. Relationship of serum leptin levels with body composition and sex steroid and insulin levels in men and women. Metabolism 2000;49:1278–84.

Meier U, Gressner AM. Endocrine regulation of energy metabolism: review of pathobiochemical and clinical chemical aspects of leptin, ghrelin, adiponectin, and resistin. Clin Chem 2004;50:1511–25.

Ahima RS, Saper CB, Flier JS, et al. Leptin regulation of neuroendocrine systems. Front Neuroendocrinol 2000;21:263–307.

Chin-Chance C, Polonsky KS, Schoeller G. Twenty-four-hour leptin levels respond to cumulative short-term energy imbalance and predict subsequent intake. J Clin Endocrinol Metab 2000;85:2685–91.

Wang MY, Lee Y, Unger RH. Novel form of lipolysis induced by leptin. J Biol Chem 1999;274:17541–4.

van't Dielen FM, van't Veer C, Buurman WA, et al. Leptin and soluble leptin receptor levels in obese and weight-losing individuals. J Clin Endocrinol Metab 2002;87:1708–16.

Ariyasu H, Takaya K, Tagami T, et al. Stomach is a major source of circulating ghrelin, and feeding state determines plasma ghrelin-like immunoreactivity levels in humans. J Clin Endocrinol Metab 2001;86:4753–8.

van der Lely AJ, Tschöp M, Heiman ML, et al. Biological, physiological, pharmacological pathophysiological, and aspects of ghrelin. Endocr Rev 2004;24:426–57.

Frühbeck G, Rotellar F, Hernandez-Lizoain JL, et al. Fasting plasma ghrelin concentrations 6 months after gastric bypass are not determined by weight loss or changes in insulinemia. Obes Surg 2004;14:1208–15.

Holdstock C, Engström BE, Ohrvall M, et al. Ghrelin and adipose tissue regulatory peptides: effect of gastric bypass surgery in obese humans. J Clin Endocrinol Metab 2003;88:3177–83.

Adami GF, Cordera R, Andraghetti G, et al. Changes in serum ghrelin concentration following biliopancreatic diversion obesity. Obes Res 2004;12:684–7.

Saad MF, Bernaba B, Hwu CM, et al. Insulin regulates plasma ghrelin concentration. J Clin Endocrinol Metab 2002;87:3997–4000.

Krsek M, Rosická M, Haluzík M, et al. Plasma ghrelin levels in patients with short bowel syndrome. Endocr Res 2002;28:27–33.

Cummings DE, Weigle DS, Frayo RS, et al. Plasma ghrelin levels after diet-induced weight loss or gastric bypass surgery. N Engl J Med 2002;346:1623–30.

Morínigo R, Casamitjana R, Moizé V, et al. Short-term effects of gastric bypass surgery on circulating ghrelin levels. Obes Res 2004;12:1108–16.

Faraj M, Havel PJ, Phélis S, et al. Plasma acylation-stimulating protein, adiponectin, leptin, and ghrelin before and after weight loss induced by gastric bypass surgery in morbidly obese subjects. J Clin Endocrinol Metab 2003;88:1594–602.

Beaumont NJ, Skinner VO, Tan TM, et al. Ghrelin can bind to a species of high density lipoprotein associated with paraoxonase. J Biol Chem 2003;278:8877–80.

Doi T, Liu M, Seeley RJ, et al. Effect of leptin on Intestinal apolipoprotein AIV in response to lipid feeding. Am J Physiol Regul Integr Comp Physiol 2001;281:753–9.

Ghiselli G, Crump WL, Gotto AM. Binding of apo-AIV-phospholipid complexes to plasma membranes of rat liver. Biochem Biophys Res Commun 1986;139:122–8.

Tso P, Liu M. Apolipoprotein A-IV, food intake, and obesity. Physiol Behav 2004;83:631–43.

Shen L, Tso P, Woods SC, et al. Hypothalamic apolipoprotein A-IV is regulated by leptin. Endocrinology 2007;148:2681–9.

Vergès B, Guerci B, Durlach V, et al. Increased plasma apo-AIV level is a marker of abnormal postprandial lipemia: to study in normoponderal and obese subjects. J Lipid Res 2001;42:2021–9.

Lingenhel A, Eder C, Zwiauer K, et al. Decrease of plasma apolipoprotein A-IV during weight reduction in obese adolescents on a low fat diet. Int J Obes Relat Metab Disord 2004;28:1509–13.

Lefevre M, Lovejoy JC, DeFelice SM, et al. Common apolipoprotein A-IV variants are associated with differences in body mass index levels and percentage body fat. Int J Obes Relat Metab Disord 2000;24:945–53.

Sociedad Española para el estudio de la Obesidad (SEEDO). SEEDO'2000 consensus for the evaluation of overweight and obesity and the establishment of criteria for therapeutic intervention. Sociedad Española para el Estudio de la Obesidad. Med Clin 2000;115:587–97.

Lohman TG, Roche AF, Martorell R, editors. Standardization of anthropometric measurements: The Airlie (VA) Consensus Conference. Champaign: Human Kinetics; 1988. p. 20–37.

Deurenberg P, Weststrate JA, Seidell JC. Body mass index as a measure of body fatness: age- and sex-specific prediction formulas. Br J Nutr 1991;65:105–14.

Bonora E, Micciolo R, Ghiatas AA, et al. Is it possible to derive a reliable estimate of human visceral and subcutaneous abdominal adipose tissue from simple anthropometric measurements? Metabolism 1995;44:1617–25.

Bradford MM. A rapid and sensitive method for the quantitation of microgram quantities of protein utilizing the principle of protein-dye binding. Anal Biochem 1976;72:248–54.

Matthews DR, Hosker JP, Rudenski AS, et al. Homeostasis model assessment: insulin resistance and beta-cell function from fasting plasma glucose and insulin concentrations in man. Diabetologia 1985;28:412–9.

López Tejero MD, Través Polo MC. Diagnostic method of human intestinal atrophy in a given patient of any age. 2002, PCT patent (año 2003), reference: P200201609; registre: exp. 32333. UBAR-Universitat de Barcelona, Centro de Patentes de la Universidad de Barcelona.

Rubino F, Gagner M, Gentileschi P, et al. The early effect of the Roux-en-Y gastric bypass on hormones involved in body weight regulation and glucose metabolism. Ann Surg 2004;240:236–42.

Tintera J, Harantova P, Suchanek P, et al. Quantification of intra-abdominal fat during controlled weight reduction: assessment using the water-suppressed breath-hold MRI technique. Physiol Res 2004;53:229–34.

Schwartz RS, Brunzell JD. Increase of adipose tissue lipoprotein lipase activity with weight loss. J Clin Invest 1981;67:1425–30.

Phillips ML, Lewis MC, Chew V, et al. The early effects of weight loss surgery on regional adiposity. Obes Surg 2005;15:1449–55.

Reinehr T, Roth CL, Alexy U, et al. Ghrelin levels before and after reduction of overweight due to a low-fat high-carbohydrate diet in obese children and adolescents. Int J Obes 2005;29:362–8.

Brolin RE, Kenler HA, Wilson AC, et al. Serum lipids after gastric bypass surgery for morbid obesity. Int J Obes 1990;14:939–50.

Frühbeck G, Diez-Caballero A, Gil MJ, et al. The decrease in plasma ghrelin concentrations following bariatric surgery depends on the functional integrity of the fundus. Obes Surg 2004;14:606–12.

Wallace AM, Sattar N, McMillan DC. Effect of weight loss and the inflammatory response on leptin concentrations in gastrointestinal cancer patients. Clin Cancer Res 1998;4:2977–9.

Minocci A, Savia G, Lucantoni R, et al. Leptin plasma concentrations are dependent on body fat distribution in obese patients. Int J Obes Relat Metab Disord 2000;24:1139–44.

Klok MD, Jakobsdottir S, Drent ML. The role of leptin and ghrelin in the regulation of food intake and body weight in humans: a review. Obes Rev 2007;8:21–34.

Liou JM, Lin JT, Lee WJ, et al. The serial changes of ghrelin and leptin levels and their relations to weight loss after laparoscopic minigastric bypass surgery. Obes Surg 2008;18:84–9.

Kotidis EV, Koliakos G, Papavramidis TS, et al. The effect of biliopancreatic diversion with pylorus-preserving sleeve gastrectomy and duodenal switch on fasting serum ghrelin, leptin and adiponectin levels: is there a hormonal contribution to the weight-reducing effect of this procedure? Obes Surg 2006;16:554–9.

Hansen TK, Dall R, Hosoda H, et al. Weight loss increases circulating levels of ghrelin in human obesity. Clin Endocrinol 2002;56:203–6.

Saad MF, Damani S, Gingerich RL, et al. Sexual dimorphism in plasma leptin concentration. J Clin Endocrinol Metab 1997;82:579–84.

Tso P, Liu M, Kalogeris TJ, et al. The role of apolipoprotein A-IV in the regulation of food intake. Annu Rev Nutr 2001;21:231–54.

Hayashi H, Fujimoto K, Cardelli JA, et al. Fat feeding increases size, but not number, of chylomicrons produced by small intestine. Am J Physiol 1990;259:709–19.

Través C, Coll O, Cararach V, et al. Clinical approach to intestinal maturation in neonates prenatally exposed to alcohol. Alcohol Alcohol 2007;42:407–12.

Duverger N, Ghalim N, Ailhaud G, et al. Characterization of apo-AIV-containing lipoprotein particles isolated from human plasma and interstitial fluid. Arterioscler Thromb 1993;13:126–32.

Morton NM, Emilsson V, Liu YL, et al. Leptin action in intestinal cells. J Biol Chem 1998;273:26194–201.

Van Aalst-Cohen ES, Jansen AC, Boekholdt SM, et al. Genetic determinants of plasma HDL-cholesterol levels in familial hypercholesterolemia. Eur J Hum Genet 2005;13:1137–42.
Funding Source
This research was funded by the Fondo de Investigaciones Sanitarias del Instituto de Salud Carlos III of the Ministerio de Sanidad y Consumo (PI030042, PI030024, and PI0700079). Both R. Llamas and E. Pardina were awarded grants from this institution.
Writing Assistance
English grammar and language have been corrected by American Journal Experts (https://doi.org/www.journalexperts.com).
Conflict of Interest
The authors declare that no conflict of interest exists.
About this article
Cite this article
Pardina, E., López-Tejero, M.D., Llamas, R. et al. Ghrelin and Apolipoprotein AIV Levels Show Opposite Trends to Leptin Levels During Weight Loss in Morbidly Obese Patients. OBES SURG 19, 1414–1423 (2009). https://doi.org/10.1007/s11695-008-9793-3
Received:

Accepted:

Published:

Issue Date:

DOI: https://doi.org/10.1007/s11695-008-9793-3
Keywords
Bariatric surgery

RYGBP

HOMA-IR

HDL

Satiety