Abstract
A case is reported of inferior vena cava syndrome in a patient with extreme obesity (BMI: >70 kg/m2), treated at a public hospital. The inferior vena cava obstruction was diagnosed during an attempt at inferior vena cava filter percutaneous insertion, in prebariatric surgery period. The diagnosis occurred after a hepatic scintillography, and was confirmed with a femoral venography and celiac trunk arteriography. The patient underwent a biliopancreatic diversion-duodenal switch and has lost weight. A venography 7 months after the surgery did not show any inferior vena cava rechanneling evidence.
Access options
Buy single article
Instant access to the full article PDF.
US$ 39.95
Tax calculation will be finalised during checkout.
Subscribe to journal
Immediate online access to all issues from 2019. Subscription will auto renew annually.
US$ 79
Tax calculation will be finalised during checkout.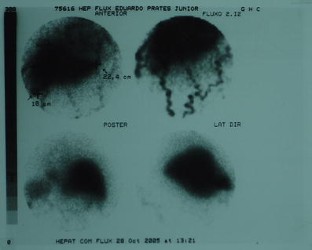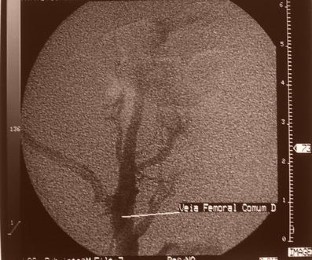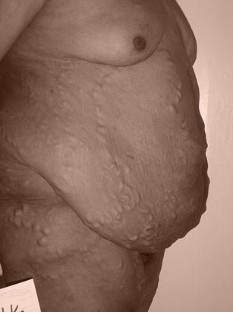 References
1.

Gloviczki P, Vrhiska TJ. Surgical treatment of superior vena cava syndrome. In: Rutherfor RB, editor. Vascular surgery. 5th ed, vol. 2. Philadelphia: W. B. Saunders; 2000. p. 2093–14.

2.

Fletcher WS, Lakin PC, Pommier RF, et al. Results of treatment of inferior vena cava syndrome with expandable metallic stents. Arch Surg. 1998;133(9):935–8.

3.

Häusler M, Hübner D, Delhaas T, et al. Long term complications of inferior vena cava thrombosis. Arch Dis Child. 2001;85(3):228–33.

4.

Ordónes FS, Carrasco JCG, Recio FJB, et al. Absence of the inferior vena cava causing repeated deep venous thrombosis in an adult. Angiology. 1998;49(11):951–6.

5.

Pittman C, Reddy M, Reddy R, et al. Radiological evaluation of inferior vena cava obstruction: pictorial essay. Can Assoc Radiol J. 1999;50(6):376.

6.

Gargiulo NJ, Veith FJ, Lipsitz EC, et al. Experience with inferior vena cava filter placement in patients undergoing open gastric bypass procedures. J Vasc Surg. 2006;44(6):1301–5.

7.

Benotti P, Martin L. Preoperative evaluation and preparation of bariatric surgery candidates. In: Martin LF, editor. Obesity surgery. New York: McGraw-Hill Companies; 2004. p. 95–109.

8.

Kelling WB, Haines K, Stone PA, et. al. Current indications for preoperative inferior vena cava filter insertion in patients undergoing surgery for morbid obesity. Obes Surg. 2005;15:1009–12.

9.

Benotti P, Rodriguez H. Preoperative preparation of the bariatric surgery patient. In: Buchwald H, Cowan GSM, Pories WJ, editors. Surgical management of obesity. Philadelphia: Saunders Elsevier; 2007. p. 102–7.

10.

Ochsner A, Ochsner JL, Sanders HS. Prevention of pulmonary embolism by caval ligation. Ann Surg. 1970;171:923–36.

11.

Hess DS. Limb measurements in duodenal switch (correspondence). Obes Surg. 2003;13:966.
About this article
Cite this article
Meinhardt, N.G., Souto, K.E.P., Knebel, A.V. et al. Inferior Vena Cava Syndrome and Morbid Obesity. OBES SURG 18, 1649 (2008). https://doi.org/10.1007/s11695-008-9581-0
Received:

Accepted:

Published:
Keywords
Morbid obesity

Inferior vena cava syndrome

Bariatric surgery