Abstract
Background
Obesity has become far more prevalent over the last few decades. In parallel, bariatric surgery has been increasingly utilized as a method of treatment. This appears to be having an impact on the rate of body contouring surgery for hanging redundant skin after the massive weight loss that usually results from bariatric surgery. Little literature is available addressing how frequently patients who have undergone bariatric surgery receive or desire body contouring surgery or regarding how satisfied these patients are with the hanging skin in certain body areas.
Methods
Seventy individuals (out of 250 who were mailed the questionnaire) who had undergone Roux-en-Y gastric bypass surgery 6–10 years previously completed a questionnaire, which obtained information regarding their experiences with as well as their desire for body contouring surgery and more general body area satisfaction.
Results
Thirty three of the seventy patients reported having undergone a total of 38 body contouring procedures. The most common were abdominoplasties (24.3%), breast lifts (8.6%), and thigh lifts (7.1%). However, subjects were not uniformly satisfied with body areas that had undergone body contouring surgery; some found the areas unattractive. The majority of patients, at least to some extent, desired body contouring surgery, often in several areas, most notably the waist/abdomen, rear/buttock, upper arms, and chest/breast.
Conclusion
Paralleling the increasing use of bariatric surgery is an increasing desire for body contouring surgery. Most patients desire body contouring surgery after bariatric surgery. However, third party payors usually do not reimburse for such procedures.
This is a preview of subscription content, log in to check access.
Access options
Buy single article
Instant access to the full article PDF.
US$ 39.95
Price includes VAT for USA
Subscribe to journal
Immediate online access to all issues from 2019. Subscription will auto renew annually.
US$ 99
This is the net price. Taxes to be calculated in checkout.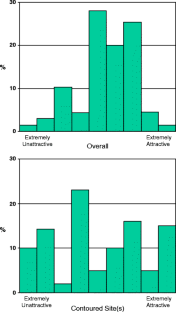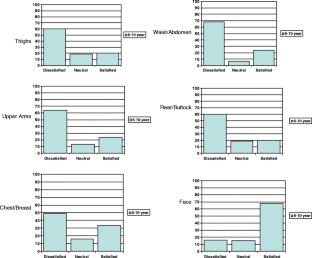 References
1.

National Institute of Health. Clinical guidelines on the identification, evaluation, and treatment of overweight and obesity in adults—the Evidence Report. Obes Res. 1998;2:51S–209S.

2.

Santry HP, Gillen DL, Lauderdale DS. Trends in bariatric surgical procedures. JAMA. 2005;294:1909–17.

3.

Borud LJ, Warren AG. Body contouring in the postbariatric surgery patient. J Am Coll Surg. 2005;203:82–93.

4.

Tang L, Song AY, Choi S, et al. Completing the metamorphosis: building a center of excellence in postbariatric plastic surgery. Ann Plast Surg. 2007;58:54–6.

5.

Rubin JP, Nguyen V, Schwentker A. Perioperative management of the post-gastric-bypass patient presenting for body contour surgery. Clin Plast Surg. 2004;31:601–10.

6.

Sarwer DB, Thompson K, Mitchell JE, et al. Psychological considerations of the bariatric surgery patient undergoing body contouring surgery. Plast Reconstr. Surg. (in press).

7.

Scheufler O, Erdmann D. Current concepts and trends in postbariatric plastic surgery. Chirurg. 2007;78:316–25.

8.

Spector JA, Levine SM, Karp NS. Surgical solutions to the problem of massive weight loss. World J Gastroenterol. 2006;12:6602–7.

9.

Chandawarkar RY. Body contouring following massive weight loss resulting from bariatric surgery. Adv Psychosom Med. 2006;27:61–72.

10.

Borud LJ, Warren AG. Modified vertical abdominoplasty in the massive weight loss patient. Plast Reconstr Surg. 2007;119:1911–21.

11.

Rhomberg M, Pulzi P, Piza-Katzer H. Single-stage abdominoplasty and mastopexy after weight loss following gastric banding. Obes Surg. 2003;13:418–23.

12.

Espinosa-de-los-Monteros A, de la Torrre J, Rosenberg L, et al. Abdonimoplasty with total abdominal liposuction for patients with massive weight loss. Aesthet Plast Surg. 2006;30:42–6.

13.

Manahan MA, Shermak MA. Massive panniculectomy after massive weight loss. Plast Reconstr Surg. 2006;117:2191–7.

14.

Nemerofsky RB, Oliak DA, Capella JF. Body lift: an account of 200 consecutive cases in the massive weight loss patient. Plast Reconstr Surg. 2006;117:414–30.

15.

Hurwitz DJ. Single-staged total body lift after massive weight loss. Ann Plast Surg. 2004;52:435–41.

16.

Strauch B, Hermann C, Rohde C, et al. Mid-body contouring in the post-bariatric surgery patient. Plast Reconstr Surg. 2006;117:2200–11.

17.

Aly AS, Cram AE, Heddens C. Truncal body contouring surgery in the massive weight loss patient. Clin Plast Surg. 2004;31:611–24.

18.

Sclafani AP. Restoration of the jawline and the neck after bariatric surgery. Facial Plast Surg. 2005;21:28–32.

19.

Hurwitz DJ, Holland SW. The L brachioplasty: an innovative approach to correct excess tissue of the upper arm, axilla, and lateral chest. Plast Reconstr Surg. 2006;117:401–11.

20.

Hurwitz DJ, Rubin JP, Risin M, et al. Correcting the saddlebag deformity in the massive weight loss patient. Plast Reconstr Surg. 2004;114:1313–25.

21.

Song AY, Rubin JP, Thomas V, et al. Body image and quality of life in post massive weight loss body contouring patients. Obesity. 2006;14:1626–36.

22.

Migliori F, Rosati CD, Alessandro G, et al. Body contouring after biliopancreatic diversion. Obes Surg. 2006;16:11638–44.

23.

Bolton MA, Pruzinsky T, Cash TG, et al. Measuring outcomes in plastic surgery: body image and quality of life in abdominoplasty patients. Plast Reconstr Surg. 2003;112:619–25.

24.

Pecori L, Serra Cervetti GG, Marianri GM, et al. Attitudes of morbidly obese patients to weight loss and body image following bariatric surgery and body contouring. Obes Surg. 2007;17:68–73.

25.

Rhomberg M, Piza-Katzer H. Plastic reconstructive operations after weight loss through gastric banding. Chirurg. 2002;73:918–23.

26.

Sanger C, David LR. Impact of significant weight loss on outcome of body-contouring surgery. Ann Plast Surg. 2006;56:585–6.
About this article
Cite this article
Mitchell, J.E., Crosby, R.D., Ertelt, T.W. et al. The Desire for Body Contouring Surgery after Bariatric Surgery. OBES SURG 18, 1308 (2008). https://doi.org/10.1007/s11695-008-9557-0
Received:

Accepted:

Published:
Keywords
Body contouring

Bariatrics