Abstract
Background
Slippage rates of 1.4–24 % are frequently quoted after adjustable gastric banding. This complication can be extremely serious and has contributed to many units offering more invasive interventions in the surgical management of morbid obesity. We present results of the first 1,140 Laparoscopic Bands performed in our unit.
Methods
Between April 2003 and June 2007, 1140 consecutive patients, mean weight 121.5 kg (range 73–268 kg), mean body mass index (BMI) 44.3 kg/m2 (range 35–88) underwent laparoscopic adjustable gastric banding (LAGB). An identical surgical technique of one gastropexy suture in addition to the two routine gastro–gastro tunnel sutures was used in all cases. Fluoroscopy-guided adjustments were performed at 3 and 6 months and fluoroscopic evaluations were performed later if clinically indicated.
Results
There was no mortality and only one major septic complication of gastric perforation 1 week postoperatively which was managed conservatively. The mean stay was 1.02 days (range 0–30 days). Excess percent BMI loss in these patients at 3, 6, 12, 18, 24, 30, and 36 months were 25.4%, 34.7%, 38.3%, 41.1%, 43.7%, 44.4%, and 58.9%, respectively. Slippage with urgent readmission occurred in one patient (0.08%) at 5 months. Two partial slippages were noticed at 12 and 18 months, respectively. One patient had the band removed and the other was treated by band deflation and repositioning 6 months later.
Conclusion
These results demonstrate that in our unit, laparoscopic gastric band insertion is successful in producing weight loss and at the same time has a very low slippage and pouch dilatation rate. This difference is most probably secondary to operative technique.
Access options
Buy single article
Instant access to the full article PDF.
USD 39.95
Price includes VAT (USA)
Tax calculation will be finalised during checkout.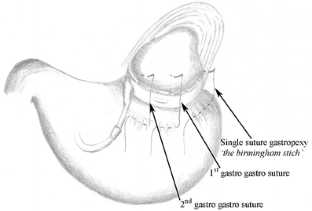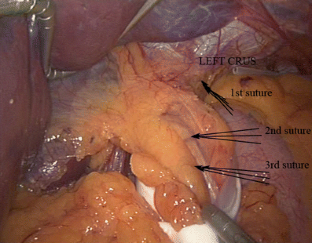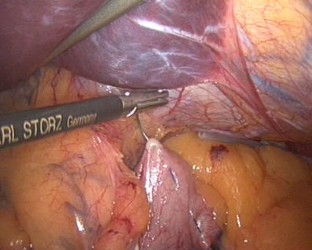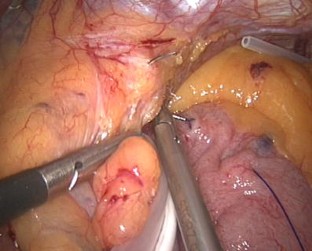 References
1.

Favretti F, Segato G, Ashton D, et al. Laparoscopic adjustable gastric banding in 1,791 consecutive obese patients: 12-year results. Obes Surg 2007;17(2):168–75.

2.

Buchwald H, Avidor Y, Braunwald E, et al. Bariatric surgery: a systematic review and meta-analysis. JAMA 2004;292(14):1724–37.

3.

Chevallier JM, Zinzindohoue F, Douard R, et al. Complications after laparoscopic adjustable gastric banding for morbid obesity: experience with 1,000 patients over 7 years. Obes Surg 2004;14(3):407–14.

4.

O'Brien PE, Dixon JB, Laurie C, Anderson M. A prospective randomized trial of placement of the laparoscopic adjustable gastric band: comparison of the perigastric and pars flaccida pathways. Obes Surg 2005;15(6):820–6.

5.

Ponce J, Paynter S, Fromm R. Laparoscopic adjustable gastric band-ing: 1,014 consecutive cases. J Am Coll Surg 2005;201(4):529–35.

6.

Khoursheed M, Al-Bader I, Mohammad AI, Soliman MO, Dashti H. Slippage after adjustable gastric banding according to the pars flaccida and the perigastric approach. Med Princ Pract 2007;16(2):110–3.

7.

Zappa MA, Micheletto G, Lattuada E, et al. Prevention of pouch dilatation after laparoscopic adjustable gastric banding. Obes Surg 2006;16(2):132–6.

8.

Kriwanek S, Schermann M, Ali Abdullah S, Roka R. Band slippage—a potentially life-threatening complication after laparoscopic adjustable gastric banding. Obes Surg 2005;15(1):133–6.

9.

Hubbard VS, Hall WH. Gastrointestinal surgery for severe obesity. Obes Surg 1991;1(3):257–65.

10.

1983 Metropolitan height and weight tables. New York: Metropolitan Life Foundation. Statistical Bulletin 1983;64(1):2–9.

11.

Deitel M, Gawdat K, Melissas J. Reporting weight loss 2007. Obes Surg 2007;17(5):565–8.

12.

O'Brien PE, McPhail T, Chaston TB, Dixon JB. Systematic review of medium-term weight loss after bariatric operations. Obes Surg 2006;16(8):1032–40.

13.

Myers JA, Sarker S, Shayani V. Treatment of massive super-obesity with laparoscopic adjustable gastric banding. Surg Obes Relat Dis 2006;2(1):37–40; discussion 40.

14.

Dixon JB, O'Brien PE. Health outcomes of severely obese type 2 diabetic subjects 1 year after laparoscopic adjustable gastric banding. Diabetes Care 2002;25(2):358–63.

15.

Peterli RWB, Kern B, Peters T, Fluee M. Predictors of poor outcome after Laparoscopic gastric banding. Surgery for obesity and related diseases 2007;3(3):279.

16.

Taylor CJ, Layani L. Laparoscopic adjustable gastric banding in patients > or =60 years old: is it worthwhile? Obes Surg 2006;16(12):1579–83.

17.

Weiner R, Blanco-Engert R, Weiner S, Matkowitz R, Schaefer L, Pomhoff I. Outcome after laparoscopic adjustable gastric banding—8 years experience. Obes Surg 2003;13(3):427–34.

18.

Chapman AE, Kiroff G, Game P, et al. Laparoscopic adjustable gastric banding in the treatment of obesity: a systematic literature review. Surgery 2004;135(3):326–51.

19.

Frydenberg HB. Modification of gastric banding, using a fundal suture. Obes Surg 1991;1(3):315–7.

20.

Boschi S, Fogli L, Berta RD, et al. Avoiding complications after laparoscopic esophago-gastric banding: experience with 400 consecutive patients. Obes Surg 2006;16(9):1166–70.

21.

Parikh MS, Shen R, Weiner M, Siegel N, Ren CJ. Laparoscopic bariatric surgery in super-obese patients (BMI > 50) is safe and effective: a review of 332 patients. Obes Surg 2005;15(6):858–63.

22.

Martikainen T, Pirinen E, Alhava E, et al. Long-term results, late complications and quality of life in a series of adjustable gastric banding. Obes Surg 2004;14(5):648–54.

23.

Ramos A, Neto M, Galvao M, et al. Stitchless technique with Swedish adjustable gastric band. Surg Obes Relat Dis 2007;3(3):319.

24.

Mizrahi S, Avinoah E. Technical tips for laparoscopic gastric banding: 6 years' experience in 2800 procedures by a single surgical team. Am J Surg 2007;193(2):160–5.

25.

Lantsberg L, Yizhak A, Avinoach E, Mizrahi S. Laparoscopic gastric banding in adolescents. Obes Surg 2006;16(2):217.

26.

Keidar A, Szold A, Carmon E, Blanc A, Abu-Abeid S. Band slippage after laparoscopic adjustable gastric banding: etiology and treatment. Surg Endosc 2005;19(2):262–7.
Acknowledgment
We would like to thank Dr Debbie Wai, Specialist Registrar, Radiology, West Midlands Deanery, for her help with the artwork required for this manuscript.
Additional information
Awarded first prize at the 12th World Congress of the International Federation for the Surgery of Obesity, Porto, Portugal, September 5–8, 2007.
About this article
Cite this article
Singhal, R., Kitchen, M., Ndirika, S. et al. The "Birmingham stitch"—Avoiding Slippage in Laparoscopic Gastric Banding. OBES SURG 18, 359–363 (2008). https://doi.org/10.1007/s11695-007-9360-3
Received:

Accepted:

Published:

Issue Date:
Keywords
Slippage

Banding

LAGB

Gastropexy

Obesity