Abstract
Previous study showed that deep eutectic solvent (DES)-extracted pectin exhibited undesirable structural and functional properties. It has to be noted that most of the researchers were seeking the parameters that could increase the extraction yield and neglected the importance of the pectin structures that could ultimately affect the functional properties. Hence, a comparison between the use of DES and less acidic medium (citric acid monohydrate, CAM) in extracting the pectin was conducted. This study demonstrated that the mediums used significantly influenced these aforementioned properties and the optimum extraction parameters. The maximum Averrhoa bilimbi pectin (ABP) yield (9.34%) was obtained at the optimal condition: CAM percentage = 3.71% (w/v), extraction temperature = 80 °C and extraction time = 3.0 h. The result showed that extraction using CAM required longer time (30 min more) than DES and the yield was lower (4.96% less). Apart from that, ABP-CAM was found lower in linearity with higher contribution of RG and branch size of the pectin compared to the ABP-DES which was found to be more linear pectin with a lower contribution of RG and less branch size. Besides that, it was also observed that using CAM as the extraction medium had improved the water holding capacity (6.22%), emulsifying activity (145.59%) and ferric reducing antioxidant power (38.26%) compared to ABP-DES. Overall, it suggested that the extraction medium plays an important role in the extraction of the pectin, structure of the pectin and, hence affects the properties of the extracted pectin.
Access options
Buy single article
Instant access to the full article PDF.
USD 39.95
Price excludes VAT (USA)
Tax calculation will be finalised during checkout.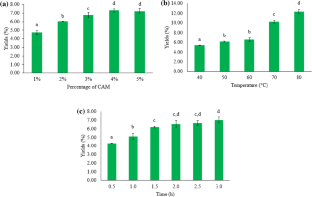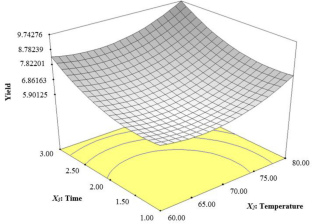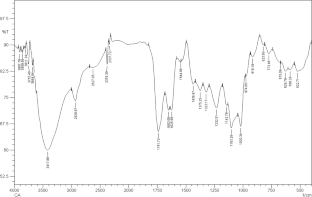 References
M. Sandarani, J. Pharmacognosy Nat. Prod. 3, 1 (2017)

A.A. Hossein, Pectin and Galacturonic Acid from Citrus Wastes (M.Sc. diss), University of Boras, Sweden (2009).

M.H. Shafie, R. Yusof, C.Y. Gan, Carbohydr. Polym. 216, 303 (2019)

J.S. Yang, T.H. Mu, M.M. Ma, Food Chem. 244, 197 (2018)

Z. Raji, F. Khodaiyan, K. Rezaei, H. Kiani, S.S. Hosseini, Int. J. Biol. Macromol. 98, 709 (2017)

T. Masuko, A. Minami, N. Iwasaki, T. Majima, S.I. Nishimura, Y.C. Lee, Anal. Biochem. 339, 69 (2005)

M.M. Bradford, Anal. Biochem. 72, 248 (1976)

R. María, M. Shirley, C. Xavier, S. Jaime, V. David, S. Rosa, D. Jodie, J. King Saud Univ. Sci. 30, 500 (2018)

M.L. Fishman, P.E. Pfeffer, R.A. Barford, L.W. Doner, J. Agric. Food Chem. 32, 372 (1984)

S.Q. Liew, G.C. Ngoh, R. Yusoff, W.H. Teoh, Biocatal. Agric. Biotechnol. 13, 1 (2018)

Y. Lv, X. Yang, Y. Zhao, Y. Ruan, Y. Yang, Z. Wang, Food Chem. 112, 742 (2009)

D.P. Leao, B.G. Botelho, L.S. Oliveira, A.S. Franca, LWT-Food Sci. Technol. 87, 575 (2018)

J. Singthong, S.W. Cui, S. Ningsanond, H.D. Goff, Carbohydr. Polym. 58, 391 (2004)

S.K. Du, H. Jiang, X. Yu, J.L. Jane, LWT-Food Sci. Technol. 55, 308 (2014)

H.M.S. Akhtar, M. Abdin, Y.S. Hamed, W. Wang, G. Chen, D. Chen, X. Zeng, LWT, Article ID: 108265 (2019).

M.S. Blois, Nature 181, 1199 (1958)

I. F. Benzie, J. Strain, Method Enzymol. 29915 (1999).

P.H.F. Pereira, T.Í.S. Oliveira, M.F. Rosa, F.L. Cavalcante, G.K. Moates, N. Wellner, H.M.C. Azeredo, Int. J. Biol. Macromol. 88, 373 (2016)

J. Lu, J. Li, R. Jin, S. Li, J. Yi, J. Huang, Int. J. Biol. Macromol. 131, 323 (2019)

B. M. N., Nguyen, T., Pirak, Cogent Food Agric. 5, Article ID: 1633076 (2019).

X. Guo, X. Guo, H. Meng, B. Zhang, S. Yu, Food Hydrocoll. 70, 105 (2017)

M. Yolmeh, S.M. Jafari, Food Bioprocess Tech. 10, 413 (2017)

L. Zhang, M. Wang, Int. J. Biol. Macromol. 95, 675 (2017)

S. Muthusamy, L.P. Manickam, V. Murugan, M. Chendrasekar, A. Pugazhendhi, Int. J. Biol. Macromol. 124, 750 (2018)

W. Wang, X. Li, X. Bao, L. Gao, Y. Tao, Int. J. Biol. Macromol. 120, 1420 (2018)

F. Jafari, F. Khodaiyan, H. Kiani, S.S. Hosseini, Carbohydr. Polym. 157, 1315 (2017)

B. Pasandide, F. Khodaiyan, Z.E. Mousavi, S.S. Hosseini, Carbohydr. Polym. 178, 27 (2017)

V. Vieira, M.A. Prieto, L. Barros, J.A.P. Coutinho, I.C.F.R. Ferreira, O. Ferreira, Ind. Crops Prod. 115, 261 (2018)

F. Rubio-Senent, G. Rodríguez-Gutiérrez, A. Lama-Muñoz, J. Fernández-Bolaños, Food Hydrocoll. 43, 311 (2015)

K. Houben, R.P. Jolie, I. Fraeye, A.M. Van Loey, M.E. Hendrickx, Carbohydr. Res. 346, 1105 (2011)

X. Landreau, B. Lanfant, T. Merle, C. Dublanche-Tixier, P. Tristant, Eur. Phys. J. D 66, 1 (2012)

E. Dickinson, Food Hydrocoll. 17, 25 (2003)

Y. Wu, W. Cui, N.A.M. Eskin, H.D. Goff, Food Res. Int. 42, 1141 (2009)

M. Kazemi, F. Khodaiyan, M. Labbafi, S. SaeidHosseini, M. Hojjati, Food Chem. 271, 663 (2019)

M. Kazemi, F. Khodaiyan, S.S. Hosseini, Food Chem. 294, 339 (2019)

H.-F. Tan, C.-Y. Gan, Int. J. Biol. Macromol. 85, 487 (2016)

Z. Mzoughi, A. Abdelhamid, C. Rihouey, D. Le Cerf, A. Bouraoui, H. Majdoub, Carbohydr. Polym. 185, 127 (2018)

Z. Mzoughi, G. Souid, R. Timoumi, D. LeCerf, H. Majdoub, Int. J. Biol. Macromol. 136, 332 (2019)

X. Zeng, P. Li, X. Chen, Y. Kang, Y. Xie, X. Li, Y. Zhang, Int. J. Biol. Macromol. 126, 867 (2019)

F.O. Ogutu, T.H. Mu, Ultrason. Sonochem. 38, 726 (2017)
Acknowledgements
This research was financially supported by Universiti Sains Malaysia RUI Grant (Grant Number: 1001/CABR/8011045). The authors acknowledged Analytical Biochemistry Research Centre (ABrC), Universiti Sains Malaysia and School of Technology Industry, Universiti Sains Malaysia for its testing facilities. The authors would also like to acknowledge the financial support from USM Fellowship.
Ethics declarations
Conflict of interest
The authors declare that there are none conflict of interest to declare.
Additional information
Publisher's Note
Springer Nature remains neutral with regard to jurisdictional claims in published maps and institutional affiliations.
Appendix 1
Appendix 1
BBD with the observed responses and predicted values for the yield of ABP-CAM.
Run

Variable levels

Yield (%)

x1 (% CAM)

x2 (temperature)

x3 (time)

Observed (y1)

Predicted (y0)

1

0

+ 1

− 1

8.65

7.67

2

+ 1

0

− 1

6.42

6.13

3

0

0

0

7.29

6.38

4

+ 1

+ 1

+ 1

10.23

9.74

5

0

0

0

5.99

6.38

6

− 1

0

+ 1

8.56

8.20

7

0

− 1

− 1

6.19

6.29

8

0

0

0

6.59

6.38

9

+ 1

− 1

0

6.42

6.13

10

− 1

− 1

0

6.78

6.54

11

0

0

0

6.35

6.38

12

− 1

+ 1

0

8.06

7.93

13

+ 1

+ 1

0

6.33

7.93

14

0

0

0

7.05

6.38

15

+ 1

0

+ 1

7.37

8.20

16

0

− 1

+ 1

8.34

8.36

17

− 1

0

− 1

4.96

6.13
About this article
Cite this article
Shafie, M.H., Gan, CY. A comparison of properties between the citric acid monohydrate and deep eutectic solvent extracted Averrhoa bilimbi pectins. Food Measure 14, 2889–2897 (2020). https://doi.org/10.1007/s11694-020-00533-x
Received:

Accepted:

Published:

Issue Date:

DOI: https://doi.org/10.1007/s11694-020-00533-x
Keywords