Abstract
We investigated the relationship between apple skin color and internal quality characteristics, such as the concentration of functional compounds, physicochemical and textural properties. The skin color of 'Fuji' apples (N = 420) was determined and the apples were categorized into three classes (class A, N = 231; class B, N = 130; class C, N = 59). The apple skin color values correlated significantly with flesh color intensity. For sensory attributes, the yellow color intensity of apple flesh had a positive correlation with redness (a*, r = 0.781) and ΔE(r = 0.787) of apple flesh color (r = 0.787). There was strong correlation between a*, and the chemical properties of apple flesh. Apple skin color (a*) was positively correlated with total juice content (r = 0.784), soluble solid contents (r = 0.626), soluble solid contents/total acidity (r = 0.697), fructose (r = 0.444), sorbitol (r = 0.476), and sucrose concentrations (r = 0.823), respectively. However, malic acid (r = − 0.525), shikimic acid (r = − 0.443), and total organic acid concentrations (r = − 0.519) correlated negatively with a*. The a* value also showed positive correlations with phenol and anthocyanidine concentrations, but a negative correlation with DPPH, FRAP, and ABTS concentrations. A principal component analysis was performed to analyze functional compounds, sensory attributes, and physicochemical properties of apple skin and flesh; the total variance was 91.31% (F1; 58.92%, F2: 32.39%), 84.55% (F1;50.86%, F2;33.69%), 90.37% (F1;75.74%, F2; 14.63%) and 57.20% (F1;41.92%, F2;15.28%), respectively. Our results confirmed a strong correlation between the ΔE and a*, which are indicative of the skin color and the internal quality measures of the Fuji apple. Thus, the skin color of Fuji apples seems to be a reliable index of internal fruit quality.
This is a preview of subscription content,
to check access.
Access this article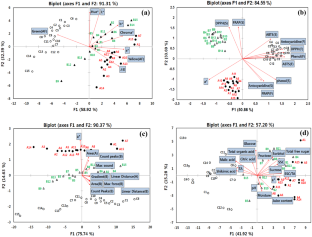 Similar content being viewed by others
References
K.H. KU, E.J. Choi, S.S. Kim, M.C. Jeong, Quality characteristics and sensory evaluation of Fuji apple based on commodity price. Korean J. Food Preserv. 27, 1065–1073 (2016)

Ministry of Agriculture, Food and Rural Affairs (MAFRA) Statistics of agricultural product amount. (MAFRA, 2016), http://lib.mafra.go.kr. Accessed 2 Jan 2016

Y.H. Choi, S.J. Lee, A survey on uses, preference and recognition of apple. J. Korean Soc. Food Cult. 20, 204–213 (2005)

H.W. Park, J.Y. Yoon, Y.H. Kim, S.A. Lee, H.S. Cha, Korean J. Food Preserv. 14, 105–108 (2007)

M.E. Saltveit, Effect of ethylene on equality of fresh fruits and vegetables. Postharvest Biol. Technol. 15, 279–292 (1993)

T.J. Richards, P.M. Patterson, Effect of ethylene on equality of fresh fruits and vegetables. Agric. Resour. Econ. Rev. 29, 10–23 (2000)

F.R. Harker, F.A. Gunson, S.R. Jaeger, The case for fruit quality; an interpretive review of consumer attitudes, and preferences for apples. Postharvest Biol. Technol. 28, 333–347 (2003)

Z.H. Li, H. Gemma, S. Iwahori, Stimulation of Fuji apple skin color by ethepone and phosphorus-calcium mixed compounds in relation to flavonoid synthesis. Sci. Hortic. 94, 193–199 (2002)

K.P. Kim, M.S. Park, Consumer preferences for fruit size and their implication. Korean J. Food Mark. Econ. 24, 26–39 (2007)

C. Kajikwa, Quality level and price in Japanese apple market. Agribusiness. 14, 227–234 (1998)

K. Kim, Y.H. Kim, J.H. Park, An analysis on the change of consumer's fruit purchasing behavior. J Rural Dev. 27, 55–66 (2004)

S.D. Cho, D.M. Kim, G.H. Kim, Survey on consumer perceptions of the sensory quality attributes of apple. Korean J. Food Preserv. 15, 810–815 (2008)

A. Merwe, M. Muller, M. Rijst, L.F. Labushangene, T. Næs, W.J. Steyn, Impact of appearance on degree of liking and eating quality expectations of selected apple cultivars. Int. J. Food Sci. Technol. 50, 492–499 (2015)

L. Seppa, J. Railio, K. Vehkalahti, R. Tahvonen, H. Tuorila, Hedonic response and individual definitions if an ideal apple as predictors of choice. J. Sens Stu. 28, 346–356 (2013)

J. Bonany, A. Buehler, J. Carbo, S. Codarin, F. Donati, G. Echeverria, S. Egger, W. Guerra, C. Hilaire, I. Holler, I. Iglesias, K. Jesionkowska, D. Konopacka, D. Kruczynask, A. Matinelli, T. Pitior, S. Sansavini, R. Stehr, F. Schoorl, Consumer eating quality acceptance of new apple varieties in different European countries. Food Qual. Prefer. 30, 250–259 (2013)

L. Yuan, J. Cai, L. Sun, E. Han, T. Ernest, Nondestructive measurement of soluble solids content in apples by a portable fruit analyzer. Food Anal. Methods 9, 785–794 (2016)

J. Dong, W. Guo, Nondestructive determination of apple internal qualities using Near-Infrared hyperspectral reflectance imaging. Food Anal. Methods 8, 2635–2646 (2015)

D. Eisenstecken, A. Panarese, P. Robatscher, C.W. Huck, A. Zanella, M. Oberhuber, A near infrared spectroscopy and chemometric approach to improve apple fruit quality management; A case study on the cultivars Cripps pink and Braeburn. Molecules. 20, 13603–13619 (2015)

J.B. Hutchings, Food Colour and Appearance, 1st edn. (Blackie Academic & Professional, Cambridge, 1994), pp. 217–225

M.L. Corollaro, I. Endrizzi, A. Bertolini, E. Aprea, M.L. .Dematte, F. Costa, F. Biasioli, F. Gasperi, F, Sensory profiling of apple: methodological aspects, cultivar characterization and postharvest changes. Postharvest Biol. Technol. 77, 111–120 (2013)

H.Y. Jung, S.S. Kim, Identification of ideal size and drivers for consumer acceptability of apple. Korean J. Food Preserv. 21, 618–626 (2014)

V. Singleton, J.A. Rossi, Colorimetry of total phenolic with phosphomolybdic-phosphotungstic acid reagents. Am. J. Enol. Vitic. 16, 144–158 (1965)

M. Ceymann, E. Arrigoni, H. Scharer, A.B. Nising, R.F. Herrell, Identification of apples rich in health-promoting flavan-3-ols and phenolic acids by measuring the polyphenol profile. J. Food Compos. Anal. 26, 128–135 (2012)

M.B. Arnao, A. Cano, M. Acosta, The hydrophilic and lipophilic contribution to total antioxidant activity. Food Chem. 73, 239–244 (2001)

K. Thaipon, U. Boonprakob, K. Crosby, L. Cisneros-Zevallos, D. Hawkins, Byne, Original article: comparison of ABTS, DPPH, FRAP, and ORAC assays for estimating antioxidant activity from guava fruit extracts. Food Compos. Anal. 19, 669–675 (2006)

W. Brand-Willams, M. Cuvelier, C.L. Berset, Use of free radical method to evaluate antioxidant activity. LWT Food Sci. Technol. 28, 25–30 (1995)

I.F.F. Benzie, J.J. Stain, The ferric reducing ability of plasma (FRAP) as a measure of 'antioxidant powder' the FRAP assay. Anal. Biochem. 239, 70–76 (1996)

A. Bechar, A. Mizrach, P. Barreiro, S. Landahl, Determination of mealiness in apples using ultrasonic measurements. Biosyst. Eng. 91, 329–334 (2005)

B. Ozturk, K. Yildiz, Y. Ozkan, Effects of pre-harvest methyl jasmonate treatments on bioactive compounds and peel color development of 'Fuji' Apples. Int. J. Food Prop. 18, 954–962 (2016)

A. Gouws, W.J. Steyn, The effect of temperature, region and season on red colour development in apple peel under constant irradiance. Sci. Hortic. 73, 79–85 (2014)

M.B. Eberhardt, C.Y. Lee, R.H. Liu, Antioxidant activity of fresh apples. Nature 405, 903–904 (2000)

S.F. Hagen, G.I.A. Borge, G.B. Benstsson, W. Bilger, A. Berge, K. Haffner, Phenolic contents and other health and sensory related properties of apple fruit (Malus domestica Borkh., cv. Aroma): Effect of postharvest UV-B irradiation. Postharvest Biol. Technol. 45, 1–19 (2007)

J. Lee, M.C. Jeong, K.H. Ku, Chemical, physical, and sensory properties of 1-MCP-treated Fuji apple (Malus domestica Borkh.) fruit after long-term cold storage. Appl Biol Chem. 60, 363–374 (2007)

Y. Zhang, P. Li, L. Cheng, Development changes of carbohydrates, organic acids, amino acids, and phenolic compounds in Honeycrisp apple flesh. Food Chem. 123, 1013–1018 (2010)

J.H. Hong, K.C. Cross, Surface sterilization of whole tomato fruit with sodium hypochlorite influences subsequent postharvest behavior of fresh-cut slices. Postharvest Biol. Technol. 13, 51–58 (1998)

D. Bakhai. O. Arakawa, Induction of phenolic compounds biosynthesis with light irradiation in the flesh of red and yellow apples. J. Appl. Hortic. 8, 101–104 (2006)

A. Duba-Chodak, T. Tarko, T. Tuszynski, Antioxidant activity of apples—an impact of maturity stage and fruit part. Acta Sci. Pol. Technol. Aliment 10, 443–454 (2011)

I. Iglesias, G. Echeverria, Y. Soria, Differences in fruit colour development, anthocyanin content, fruit quality and consumer acceptability of eight 'Gala' apple strains. Sci. Hortic. 119, 32–40 (2008)

R.M. Crassweller, R.A. Hollender, Consumer evaluation of  Delicious apple strains. Gruit Var. J. 43, 139–142 (1989)

D.V. Fisher, D.O. Ketchie, Survey of literature on red strains of 'Delicious', 1st edn. (Pullman, Washington, 1989), pp. 23–37

I. Iglesias, S. Alegre, The effect of anti-hall nets on fruit protection, radiation, temperature, quality and profitability of 'Mondial Gala' apples. J. Appl. Hortic. 8, 91–100 (2006)

T.A. Baugher, H.W. Hogmire, T. Lightner, Determining apple packout losses and impact of profitability. Appl. Agric. Res. 5, 23–26 (1990)

A. Vogri, A. Kravos, Organoleptic evaluation of some apple varieties. Zbarnik Referatov. 1, 649–653 (2004)

C. Rapillard, A. Dessimoz, Differencts mutants de Gala. Rev. Suisse Vitic. Hortic. 32, 233–237 (2000)

C.S. Walsh, B. Statier, T. Sologmos, A. Thompson, Determining 'Gala' maturity for different stage regimes. Good Fruit Grower. 42, 6–10 (1991)

A. Plotto, A.N. Azarenko, J.P. Mattheis, M.R. Mcdaniel, 'Gala', 'Braeburn' and 'Fuji' apples: maturity indices and quality after storage. Fruit Var. J. 49, 133–142 (1995)

Y. Guan, C. Peace, D. Rudell, S. Verma, K. Evans, QTLs detected for individual sugars and soluble solids content in apple. Mol. Breed. 35, 1–13 (2015)

N. Oraguzie, P. Alspach, R. Voz, C. Whitworth, C. Ranatunga, R. Weskeet, R. Harker, Postharvest assessment of fruit quality parameters in apple using both instruments and an expert panel. Postharvest Biol. Technol. 77, 111–120 (2009)

F.R. Harker, K.B. Marsh, H. Young, S.H. Murray, F.A. Gunson, S.B. Walker, Sensory interpretation of instrumental measurement 2: sweet and acid taste of apple fruit. Postharvest Biol. Technol. 24, 241–250 (2002)
Acknowledgements
This research was supported by the Main Research Program (E0187301-01, E0132200-05) of the Korea Food Research Institute (KFRI) funded by the Ministry of Science and ICT.
Additional information
Publisher's Note
Springer Nature remains neutral with regard to jurisdictional claims in published maps and institutional affiliations.
About this article
Cite this article
Ku, KH., Kim, HJ. & Jeong, MC. Relationship between quality characteristics and skin color of 'Fuji' Apples (Malus domestica Borkh.). Food Measure 13, 1935–1946 (2019). https://doi.org/10.1007/s11694-019-00112-9
Received:

Accepted:

Published:

Issue Date:

DOI: https://doi.org/10.1007/s11694-019-00112-9
Keywords