Abstract
Tunisian carob pods were used to produce molasses and powders, which were then analyzed for their composional and functional properties. Molasses were made from carob juice by boiling until three different concentrations (60, 70 and 80 °Brix), while powders were prepared by microwave drying of the by-product derived from carob molasses processing at three power levels (100, 300 and 600 W). Results showed that the processed carob products exhibited interesting characteristics. Carob molasses were characterized by important reducing sugars content, dark color and functional properties with high antioxidant activity and emulsifying capacity. On the other hand, carob powders were characterized by high levels of dietary fibers, brown color and water/oil retention capacity. This study provides, for the first time, a potential valorization of the carob by-product into powder and highlights some functional properties of carob products required by food industry.
This is a preview of subscription content, log in to check access.
Access options
Buy single article
Instant access to the full article PDF.
US$ 39.95
Price includes VAT for USA
Subscribe to journal
Immediate online access to all issues from 2019. Subscription will auto renew annually.
US$ 99
This is the net price. Taxes to be calculated in checkout.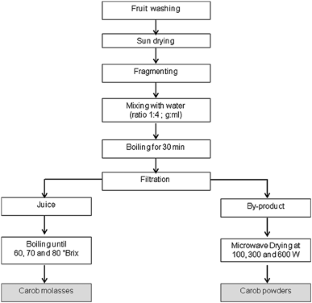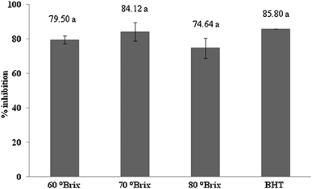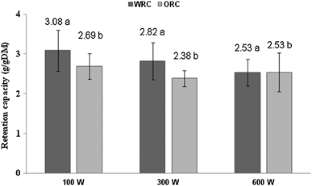 References
1.

M. Afif, N. Ben Fadhel, M.L. Khoudja, M. Boussaid, Genetic diversity in Tunisian Ceratonia siliqua L. (Caesalpinioideae) natural populations. Genet. Resour. Crop. Evol, 53, 1501–1511 (2006)

2.

H.R. Oziyci, N. Tetik, I. Turhan, E. Yatmaz, K. Ucgun, H. Akgul, H. Gubbuk, M. Karhan, Mineral composition of pods and seeds of wild and grafted carob (Ceratonia siliqua L.) fruits. Sci. Hort. 167, 149–152 (2014)

3.

A.K. Yousif, H.M. Alghzawi, Processing and characterization of carob powder. Food Chem. 69, 283–287 (2000)

4.

N. Bouzouita, A. Khaldi, S. Zgoulli, L. Chebil, M. Chaabouni, P. Thonart, The analysis of crude and purified locust bean gum: a comparison of samples from different carob tree populations in Tunisia. Food Chem. 101, 1508–1515 (2007)

5.

K. Dhaouadi, M. Belkhir, I. Akinocho, F. Raboudi, D. Pamies, E. Barrajón, C. Estevan, S. Fattouch, Sucrose supplementation during traditional carob syrup processing affected its chemical characteristics and biological activities. LWT-Food Sci. Technol. 57, 1–8 (2014)

6.

N. Tetik, I. Turhan, H.R. Oziyci, M. Karhan, Determination of d-pinitol in carob syrup. Int. J. Food Sci. Nutr. 62, 572–576 (2011)

7.

F.A. Ayaz, H. Torun, R.H. Glew, Z.D. Bak, L.T. Chuang, J.M. Presly, R. Andrews, Nutrient content of carob pod (Ceratonia siliqua L.) flour prepared commercially and domestically. Plant Food Hum. Nutr. 64, 286–292 (2009)

8.

R. Abi Azar, Milk protein complexation by green carob pods extract: Technological properties of obtained coagulums. PhD thesis, AgroParisTech, France (2007)

9.

H. Bozkurt, F. Göğüs, S. Eren, Non-enzymatic browning reactions in boiled grape juice and its models during storage. Food Chem. 64, 89–93 (1999)

10.

O.S. Toker, M. Doganc, N.B. Ersöz, M.T. Yilmaz, Optimization of the content of 5-hydroxymethylfurfural (HMF) formed in some molasses types: HPLC-DAD analysis to determine effect of different storage time and temperature levels. Ind. Crops Prod. 50, 137–144 (2013)

11.

M. Maskan, Production of pomegranate (Punica granatum L.) juice concentrate by various heating methods: colour degradation and kinetic. J. Food Eng. 72, 218–224 (2006)

12.

S. Benjakul, W. Visessanguan, V. Phongkanpai, M. Tanaka, Antioxidative activity of caramelisation products and their preventive effect on lipid oxidation in fish mince. Food Chem. 90, 231–239 (2005)

13.

D.V. Čepo, A. Mornar, B. Nigovi, D. Kremer, D. Radanovi, I.V. Dragojevi, Optimization of roasting conditions as an useful approach for increasing antioxidant activity of carob powder. LWT-Food Sci. Technol. 58, 578–586 (2014)

14.

M.M. Özcan, D. Arslan, H. Gökçalik, Some compositional properties and mineral contents of carob (Ceratonia siliqua) fruit, flour and syrup. Int. J. Food Sci. Nutr. 58, 652–658 (2007)

15.

AOAC, Official Methods of Analysis of AOAC Intl, 15th edn. (Association of Official Analytical Chemists, Washington, DC, 1995)

16.

AFNOR, Produits dérivés des fruits et des légumes, détermination des sucres. (Association Française de Normalisation, Paris, 1970)

17.

G.L. Miller, Use of dinitrosalicilic acid reagent for determination of reducing sugars. Anal. Chem. 31, 426–428 (1959)

18.

L. Prosky, N.G. Asp, T.F. Schweizer, J.W. De Vries, I. Furda, Determination of insoluble, soluble, and total dietary fibre in food products: Interlaboratory study. J. Assoc. Off. Anal. Chem. 71, 1017–1023 (1988)

19.

V.L. Singleton, J.A. Rossi, Colorimetry of total phenolics with phosphomolybdic-phosphotungstic acid reagent. Am. J. Enol. Vitic. 16, 144–158 (1965)

20.

A. Haddarah, A. Ismail, A. Bassal, T. Hamieh, I. Ioannou, M. Ghoul, Morphological and chemical variability of lebanese carob varieties. Eur. Sci. J 9, 353–369 (2013)

21.

M.C. Garau, S. Simal, C. Rossello, A. Femenia, Effect of air-drying temperature on physico-chemical properties of dietary fibre and antioxidant capacity of orange (Citrus aurantium v. Canoneta) by-products. Food Chem. 104, 1014–1024 (2007)

22.

K. Yasumatsu, K. Sawada, S. Moritaka, M. Misaki, J. Toda, T. Wada, Whipping and emulsifying properties of soybean products. Agric. Biol. Chem. 36, 719–727 (1972)

23.

N. Turkmen, F. Sari, E.S. Poyrazoglu, Y.S. Velioglu, Effects of prolonged heating on antioxidant activity and colour of honey. Food Chem. 95, 653–657 (2006)

24.

F. Abbès, M.A. Bouaziz, C. Blecker, M. Masmoudi, H. Attia, S. Besbes, Date syrup: effect of hydrolytic enzymes (pectinase/cellulase) on physicochemical characteristics, sensory and functional properties. LWT-Food Sci. Technol. 44, 1827–1834 (2011)

25.

M.A. Martín-Cabrejas, Y. Aguilera, M. Pedrosa, C. Cuadrado, T. Hernández, S. Díaz, The impact of dehydration process on antinutrients and protein digestibility of some legume flours. Food Chem. 114, 1063–1068 (2009)

26.

E.I. Mejia-Meza, J.A. Yanez, N.M. Davies, B. Rasco, F. Younce, C.M. Remsberg, Improving nutritional value of dried blueberries (Vaccinium corymbosum L.) combining microwave-vacuum, hot-air drying and freeze drying technologies. Int. J. Food Eng. 4(5), 1–6 (2008)

27.

W. Qu, Z. Pan, H. Ma, Extraction modeling and activities of antioxidants from pomegranate marc. J. Food Eng. 99, 16–23 (2010)

28.

M. Papagiannopoulos, H.R. Wollseifen, A. Mellenthin, B. Haber, R. Galensa, Identification and quantification of polyphenols in carob fruits (Ceratonia siliqua L.) and derived products by HPLC-UV-ESI/MS. J. Agric. Food Chem. 52, 3784–3791 (2004)

29.

Y. Lario, E. Sendra, J. Garcia-Pérez, C. Fuentes, E. Sayas-Barbera, J. Fernandez-Lopez, J.A. Pérez-Alvarez, Preparation of high dietary fiber powder from lemon juice by-products. Innov. Food Sci. Emerg. 5, 113–117 (2004)

30.

M. Jridi, N. Souissi, M. Ben Salem, M.A. Ayadi, M. Nasri, S. Azabou, Tunisian date (Phoenix dactylifera L.) by-products: Characterization and potential effects on sensory, textural and antioxidant properties of dairy desserts. Food Chem. 188, 8–15 (2015)

31.

M. Alpaslan, M. Hayta, Rheological and sensory properties of pekmez (grape molasses)/tahin (sesame paste) blends. J. Food Eng. 54, 89–93 (2002)

32.

B.S. Wang, L.W. Chang, Z.C. Kang, H.L. Chu, H.M. Tai, M.H. Huang, Inhibitory effects of molasses on mutation and nitric oxide production. Food Chem. 126, 1102–1107 (2011)

33.

J.B. Zhang, N.N. Wu, X.Q. Yang, X.T. He, L.J. Wang, Improvement of emulsifying properties of Maillard reaction products from ß-conglycinin and dextran using controlled enzymatic hydrolysis. Food Hydrocoll. 28, 301–312 (2012)

34.

M. Maskan, F. Göğüş, Effect of sugar on the rheological properties of sunflower oil–water emulsions. J. Food Eng. 43, 173–177 (2000)

35.

Y. Li, F. Lu, C. Luo, Z. Chen, J. Mao, C. Shoemaker, F. Zhong, Functional properties of the Maillard reaction products of rice protein with sugar. Food Chem. 117, 69–74 (2009)

36.

N. Ghanem, D. Mihoubi, N. Kechaou, N. Boudhrioua Mihoubi, Microwave dehydration of three citrus peel cultivars: effect on water and oil retention capacities, color, shrinkage and total phenols content. Ind. Crops Prod. 40, 167–177 (2012)

37.

Q.M. Chen, M.R. Fu, F.L. Yue, Y.Y. Cheng, Effect of superfine grinding on physicochemical properties, antioxidant activity and phenolic content of red rice (Oryza sativa L.). Food Nutr. Sci. 6, 1277–1284 (2015)

38.

J.H. Hu, Y.Q. Chen, D.J. Ni, Effect of superfine grinding on quality and antioxidant property of fine green tea powders. LWT-Food Sci. Technol. 4, 8–12 (2012)

39.

K.X. Zhu, S. Huang, W. Peng, H.F. Qian, H.M. Zhou, Effect of ultrafine grinding on hydration and antioxidant properties of wheat bran dietary fiber. Food Res. Int. 43, 943–948 (2010)

40.

M. Elleuch, D. Bedigian, O. Roiseux, S. Besbes, C. Blecker, H. Attia, Dietary fibre and fibre-rich by-products of food processing: characterisation, technological functionality and commercial applications: a review. Food Chem. 124, 411–421 (2011)
Acknowledgements
The authors would like to thank Confiserie Triki-Le Moulin (CTM, Sfax, Tunisia) for the financial support. They are also very grateful to Mr. Firas Chaker for her precious help to perform some analyzes in the industry.
Ethics declarations
Conflict of interest
The authors declare that they have no conflict of interest.
Additional information
Sirine Karra and Héla Kechaou have equally contributed to this work.
About this article
Cite this article
Tounsi, L., Karra, S., Kechaou, H. et al. Processing, physico-chemical and functional properties of carob molasses and powders. Food Measure 11, 1440–1448 (2017). https://doi.org/10.1007/s11694-017-9523-4
Received:

Accepted:

Published:

Issue Date:
Keywords
Carob molasses

Boiling concentration

Carob powder

Microwave drying

Functional properties