Abstract
The aim of this study was to determine the chemical composition, antioxidant potential and phytochemical analysis of Artemisia dracunculusas as well as its antibacterial and antifungal effects (individually or in combination with Coriandrum sativum and Plantago major) "in vitro". Total phenolic content, total flavonoid content and anthocyanin content were determined through spectrophotometric methods. Antioxidant potential was determined calorimetrically for 2,2-diphenyl-1-picrylhydrazyl (DPPH) scavenging activity. The disk diffusion method and hole-plate diffusion method were used to assess the diameter of the inhibition zone. The pour plate method was adopted to determine the susceptibility of the pathogenic strains against Artemisia dracunculusas extract. The broth microdilution and agar dilution methods were employed to measure the minimum inhibitory concentration. The minimum bactericidal/fungicidal concentration was measured using the wells in which no turbidity/color change was observed. The fractional inhibitory concentration index (FICI) was also determined for the extracts. The chemical composition of Artemisia dracunculusas essential oil was analyzed by gas chromatography and gas chromatography/mass spectrometry. The results showed that IC50 of A. dracunculus was 65.4 μg/ml, Total phenolic content was equal to 24.10 mg GAE/g, total flavonoid content was 20 mg QE/g. The major components included p-Allylanisole (84.00%), Ocimene (E)-beta (7.46%), Ocimene (Z)-beta (6.24%) and Limonene (1.42%), respectively. The extract of A. dracunculus exhibited strong antimicrobial activity against fungi with an average inhibition zone of 14.70 mm. All bacteria (except Streptococcus pyogenes and Staphylococcu aureus) were more resistant than Candida albicans. Regarding the checkerboard data, 10 FICIs (≤0.5) showed the synergistic effect, whereas eight FICIs (>0.5 to 1) indicated the additive effect.
Access options
Buy single article
Instant access to the full article PDF.
USD 39.95
Price excludes VAT (USA)
Tax calculation will be finalised during checkout.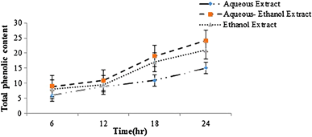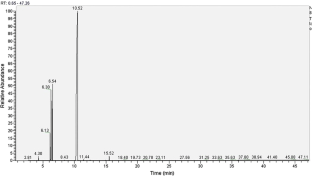 References
M. Afsharzadeh, M. Naderinasab, Z.T. Najaran, M. Barzin, S.A. Emami, In-vitro antimicrobial activities of some iranian conifers. Iran. J. Pharm. Res. 12, 63–74 (2012)

R. Ahmad, E.N. Mahbob, Z.M. Noor, N.H. Ismail, N.H. Lajis, K. Shaari, Evaluation of antioxidant potential of medicinal plants from Malaysian Rubiaceae (subfamily Rubioideae). Afr. J. Biotechnol. 9, 7948–7954 (2010)

A. Alghooneh, B. Alizadeh-Behbahani, H. Noorbakhsh, F. Tabatabaei-Yazdi, Application of intelligent modeling to predict the population dynamics of Pseudomonas aeruginosa in Frankfurter sausage containing Satureja bachtiarica extracts. Microbial pathog. 85,58–65 (2015)

B. Alizadeh Behbahani, F. Shahidi, F. Tabatabaei Yazdi, S.A. Mortazavi, M. Mohebbi, Use of Plantago major seed mucilage as a novel edible coating incorporated with Anethum graveolens essential oil on shelf life extension of beef in refrigerated storage. Int. J. Biol. Macromol. 94, 515–526 (2017)

B. Alizadeh Behbahani, F. Tabatabaei Yazdi, A. Mortazavi, F. Zendeboodi, M.M. Gholian, A. Vasiee Effect of aqueous and ethanolic extract of Eucalyptus camaldulensis L. on food infection and intoxication microorganisms "in vitro". J. Paramed. Sci. 4, 89–99 (2013)

B. Alizadeh Behbahani, F. Tabatabaei Yazdi, H. Noorbakhsh, F. Riazi, A. Jajarmi, F.T. Yazdi, Study of the antibacterial activity of methanolic and aqueous extracts of Myrtus communis on pathogenic strains causing infection. Zahedan J. Res. Med. Sci. 18, 1–7 (2016)

B. Alizadeh Behbahani, Production of an antimicrobial edible coating based on Plantago major seed mucilage in combination with dill and Tarragon essential oils: its properties and application in beef. [PhD dissertation]. Mashhad: Ferdowsi University of Mashhad, Faculty of Agriculture, Food Science and Technology Department, in Persian. (2016)

F. Aqil, I. Ahmad, Z. Mehmood, Antioxidant and free radical scavenging properties of twelve traditionally used Indian medicinal plants. Turk. J. Biol. 30, 177–183 (2006)

S. Arabshahi-Delouee, A. Urooj, Antioxidant properties of various solvent extracts of mulberry (Morus indica L.) leaves. Food. Chem. 102, 1233–1240 (2007)

F. Ayoughi, M. Marzegar, M. Sahari, H. Naghdibadi, Chemical compositions of essential oils of Artemisia dracunculus L. and endemic Matricaria chamomilla L. and an evaluation of their antioxidative effects. J. Agric. Sci. Technol. 13, 79–88 (2010)

H. Babayi, I. Kolo, J. Okogun, U. Ijah, The antimicrobial activities of methanolic extracts of Eucalyptus camaldulensis and Terminalia catappa against some pathogenic microorganisms. Biokemistri 16, 106–111 (2004)

R.G. Bachir, M. Benali, Antibacterial activity of the essential oils from the leaves of Eucalyptus globulus against Escherichia coli and Staphylococcus aureus. Asian Pac. J. Trop. Biomed. 2, 739–742 (2012)

M. Benli, I. Kaya, N. Yigit, Screening antimicrobial activity of various extracts of Artemisia dracunculus L. Cell Biochem. Funct. 25, 681–686 (2007)

L. Braga, A.A. Leite, K.G. Xavier, J. Takahashi, M. Bemquerer, E. Chartone-Souza, Synergic interaction between pomegranate extract and antibiotics against Staphylococcus aureus. Can. J. Microbiol. 51, 541–547 (2005)

F. Candan, M. Unlu, B. Tepe, D. Daferera, M. Polissiou, A. Sokmen, H.A. Akpulat, Antioxidant and antimicrobial activity of the essential oil and methanol extracts of Achillea millefolium subsp. millefolium Afan.(Asteraceae). J. Ethnopharmacol. 87, 215–220 (2003)

G. Cao, R.L. Prior, Comparison of different analytical methods for assessing total antioxidant capacity of human serum. Clin. Chem. 44, 1309–1315 (1998)

E. Chan, C.Y.-K. Wong, C.-W. Wan, C.-Y. Kwok, J.-H. Wu, K.-M. NG, C.-H. SO, A.L.-S. Au,, C.C.-W. Poon, S.-W. Seto, Evaluation of anti-oxidant capacity of root of Scutellaria baicalensis Georgi, in comparison with roots of Polygonum multiflorum Thunb and Panax ginseng CA Meyer. Am. J. Chin. Med. 38, 815–827 (2010)

R. Chirinos, H. Rogez, D. Campos, R. Pedreschi, Y. Larondelle, Optimization of extraction conditions of antioxidant phenolic compounds from mashua (Tropaeolum tuberosum Ruiz and Pavon) tubers. Sep. Purif. Technol. 55, 217–225 (2007)

C. Chotimarkorn, S. Benjakul, N. Silalai, Antioxidant components and properties of five long-grained rice bran extracts from commercial available cultivars in Thailand. Food. Chem. 111, 636–641 (2008)

T.-C. Chou, Theoretical basis, experimental design, and computerized simulation of synergism and antagonism in drug combination studies. Pharmacol. Rev. 58, 621–681 (2006)

S.C. Chhabra, F.C. Uiso, E.N. Mshiu, Phytochemical screening of Tanzanian medicinal plants. Part 1, J. Ethnopharmacol 11, 157–179 (1984)

K.-H. Chun, J.W. Kosmeder, S. Sun, J.M. Pezzuto, R. Lotan, W.K. Hong, H.-Y. Lee, Effects of deguelin on the phosphatidylinositol 3-kinase/Akt pathway and apoptosis in premalignant human bronchial epithelial cells. J. Natl. Cancer Inst. 95, 291–302 (2003)

A. Clauditz, A. Resch, K.P. Wieland, A. Peschel, F. Gotz, Staphyloxanthin plays a role in the fitness of Staphylococcus aureus and its ability to cope with oxidative stress. Infect. Immun. 74, 4950–4953 (2006)

M. Contini, S. Baccelloni, R. Massantini, G. Anelli, Extraction of natural antioxidants from hazelnut (Corylus avellana L.) shell and skin wastes by long maceration at room temperature. Food. Chem. 110, 659–669 (2008)

M.M. Cowan, Plant products as antimicrobial agents. Clin. Microbiol. Rev. 12, 564–582 (1999)

D.J. Daferera, B.N. Ziogas, M.G. Polissiou, GC-MS analysis of essential oils from some Greek aromatic plants and their fungitoxicity on Penicillium digitatum. J. Agric. Food. Chem. 48, 2576–2581 (2000)

K. Dholwani, A. Saluja, A. Gupta, D. Shah, A review on plant-derived natural products and their analogs with anti-tumor activity. Indian J. Pharmacol. 40, 49–58 (2008)

H. Durmaz, E. Sagun, Z. Tarakci, F. Ozgokce, Antibacterial activities of Allium vineale, Chaerophyllum macropodum and Prangos ferulacea. Afr. J. Biotechnol. 5, 1795–1798 (2006)

H. Edeoga, D. Okwu, B. Mbaebie, Phytochemical constituents of some Nigerian medicinal plants. Afr. J. Biotechnol. 4, 685–688 (2005)

A. Eidi, S. Oryan, J. Zaringhalam, M. Rad, Antinociceptive and anti-inflammatory effects of the aerial parts of Artemisia dracunculus in mice. Pharm. Biol. 54, 549–554 (2016)

Eucast, Terminology relating to methods for the determination of susceptibility of bacteria to antimicrobial agents. Clinic. Microbiol. Infect. (2006). doi:10.1046/j.1469-0691.2000.00149

M. Farzaneh, M. Ahmadzadeh, J. Hadian, A.S. Tehrani, Chemical composition and antifungal activity of the essential oils of three species of Artemisia on some soil-borne phytopathogens. Commun. Agric. Appl. Biol. Sci. 71, 1327–1333 (2006)

A. Fernández-Agulló, E. Pereira, M. Freire, P. Valentao, P. Andrade, J. González-Álvarez, J. Pereira, Influence of solvent on the antioxidant and antimicrobial properties of walnut (Juglans regia L.) green husk extracts. Ind. Crops Prod. 42, 126–132 (2013)

R.-M.A. Giner,, M.A.-L. Villalba,, M.A.-C. Recio,, S. Manez, M. Cerdá-Nicolás, J.-L. Ríos, Anti-inflammatory glycoterpenoids from Scrophularia auriculata. Eur. J. Pharmacol. 389, 243–252 (2000)

M. Hajoori, M. Naik, K. Naik, N. Butani, Evaluation of antimicrobial activity of Eugenia jambolana seed extract against human pathogens. Int. J. Pharm. Chem. Biol. Sci. 3, 935–939 (2013)

B. Halliwell, R. Aeschbach, J. Löliger, O. Aruoma, The characterization of antioxidants. Food Chem. Toxicol. 33, 601–617 (1995)

M. Hauskrecht, Value-function approximations for partially observable Markov decision processes. J. Artif. Intell. Res. 33–94 (2000)

S. Inouye, T. Takizawa, H. Yamaguchi, Antibacterial activity of essential oils and their major constituents against respiratory tract pathogens by gaseous contact. J. Antimicrob. Chemother. 47, 565–573 (2001)

J. Javanmardi, C. Stushnoff, E. Locke, J. Vivanco, Antioxidant activity and total phenolic content of Iranian Ocimum accessions. Food. Chem. 83, 547–550 (2003)

B. Joshi, S. Lekhak, A. Sharma, Antibacterial property of different medicinal plants: Ocimum sanctum, Cinnamomum zeylanicum, Xanthoxylum armatum and Origanum majorana. Kathmandu Univ. J. Sci. Eng. Technol. 5, 143–150 2009

D. Kalemba, D. Kusewicz, K. Świa̧der, Antimicrobial properties of the essential oil of Artemisia asiatica Nakai. Phytother Res 16, 288–291 (2002)

S. Kordali, R. Kotan, A. Mavi, A. Cakir, A. Ala, A. Yildirim, Determination of the chemical composition and antioxidant activity of the essential oil of Artemisia dracunculus and of the antifungal and antibacterial activities of Turkish Artemisia absinthium, A. dracunculus, Artemisia santonicum, and Artemisia spicigera essential oils. J. Agric. Food. Chem. 53, 9452–9458 (2005)

M. Kuçuk, S. Kolayli, Ş. Karaoglu,, E. Ulusoy, C. Baltaci, F. Candan, Biological activities and chemical composition of three honeys of different types from Anatolia. Food. Chem. 100, 526–534 (2007)

A. Kumaran, R.J. Karunakaran, Antioxidant and free radical scavenging activity of an aqueous extract of Coleus aromaticus. Food. Chem. 97, 109–114 (2006)

R. Lanciotti, A. Gianotti, F. Patrignani, N. Belletti, M. Guerzoni, F. Gardini, Use of natural aroma compounds to improve shelf-life and safety of minimally processed fruits. Trends Food Sci. Technol. 15, 201–208 (2004)

L. Leistner, Basic aspects of food preservation by hurdle technology. Int. J. Food Microbiol. 55, 181–186 (2000)

L. Leong, G. Shui, An investigation of antioxidant capacity of fruits in Singapore markets. Food. Chem. 76, 69–75 (2002)

B.B. Li, B. Smith, M.M. Hossain, Extraction of phenolic from citrus peels: I. Solvent extraction method. Sep. Purif. Technol. 48, 182–196 (2006)

J. Li, Y.G. Zu, Y.J. Fu, Y.C. Yang, S.M. Li, Z.N. Li, M. Wink, Optimization microwaveassisted extraction of triterpene saponins from defatted residue of yellow horn (Xanthoceras sorbifolia Bunge.) kernel and evaluation of its antioxidant activity. Innov. Food Sci. Emerg. Technol. 11, 637–643 (2010)

S.H. Lone, K.A. Bhat, M.A. Khuroo, Chemical and Pharmacological Perspective of Artemisia amygdalina (Springer, Heidelberg, 2015)

K. Loziene, P.R. Venskutonis, A. Sipailienė, J. Labokas, Radical scavenging and antibacterial properties of the extracts from different Thymus pulegioides L. chemotypes. Food. Chem. 103, 546–559 (2007)

A. Marston, K. Hostettmann, Separation and quantification of flavonoids. In: M. Andersen, K.R. Markham (eds.), Flavonoids: Chemistry, Biochemistry, and Applications. Boca Raton. (CRC Press, New York, 2006), pp. 1–36

N. Mehmood, M. Zubair, K. Rizwan, N. Rasool, M. Shahid, V.U. Ahmad, Antioxidant, antimicrobial and phytochemical analysis of cichoriumintybus seeds extract and various organic fractions. Iran. J. Pharm. Res. 11, 1145–1151 (2012)

S. Mita, N. Murano, M. Akaike, K. Nakamura, Mutants of Arabidopsis thaliana with pleiotropic effects on the expression of the gene for β-amylase and on the accumulation of anthocyanin that are inducible by sugars. Plant J. 11, 841–851 (1997)

R.A. Mothana, U. Lindequist, Antimicrobial activity of some medicinal plants of the island Soqotra. J. Ethnopharmacol. 96, 177–181 (2005)

National Committee for Clinical Laboratory Standards, Methods for dilution antimicrobial susceptibility tests for bacteria that grow aerobically). Approved standard; M7-A5, 5th edn.(National Committee for Clinical Laboratory Standards, Pennsylvania, Wayne 2000)

P.S. Negi, Plant extracts for the control of bacterial growth: Efficacy, stability and safety issues for food application. Int. J. Food Microbiol. 156, 7–17 (2012)

O.V. Njoku, C. Obi, Phytochemical constituents of some selected medicinal plants. Afr. J. Pure Appl. Chem. 3, 228–233 (2009)

I. Olivera, A. Souse, P. Valentao, P. Andrade, F. Ferreira, A. Bento, R. Seabra, I. Estevinho, J.A. Pereira, Chemical composition and antioxidant and antimicrobial activities of three hazelnut (Corylus avellana l.)cultivars. Food Chem. Toxicol. 46, 1801–1807 (2008)

S. Pascual-Teresa, M.T. Sanchez-Ballesta, Anthocyanins: from plant to health. Phytochem. Rev. 7, 281–299 (2008)

D.M. Peterson, C.L. Emmons, A. Hibbs, Phenolic antioxidant activity in pearling fractions of oat groats. J. Cereal Sci. 33, 97–103 (2001)

K. Polatoglu, F. Demirci, B. Demirci, N. Gören, K.H.C. Baser, Antibacterial activity and the variation of Tanacetum parthenium (L.) Schultz Bip. essential oils from Turkey. J. Oleo Sci. 59, 177–184 (2010)

C. Quettier-Deleu, B. Gressier, J. Vasseur, T. Dine, C. Brunet, M. Luyckx, M. Cazin, J.-C. Cazin, F. Bailleul, F. Trotin, Phenolic compounds and antioxidant activities of buckwheat (Fagopyrum esculentum Moench) hulls and flour. J. Ethnopharmacol. 72, 35–42 (2000)

M. Ramezani, J. Behravan, A. Yazdinezhad, Chemical composition and antimicrobial activity of the volatile oil of artemisia khorassanica from Iran. Pharm. Biol. 42, 599–602 (2005)

R.B. Rashid, R. Chowdhury, A. Jabbar, C.M. Hasan, M.A. Rashid, Constituents of Albizzia lebbeck and antibacterial activity of an isolated flavone derivative. Saudi Pharma. J. 11, 52–56 (2003)

A. Rosato, C. Vitali, N. De laurentis, D. Armenise, M.A. Milillo, Antibacterial effect of some essential oils administered alone or in combination with Norfloxacin. Phytomedicine 14, 727–732 (2007)

R.G.O. Rumbaoa, D.F. Cornago, I.M. Geronimo, Phenolic content and antioxidant capacity of Philippine potato (Solanum tuberosum) tubers. J. Food Compos. Anal. 22, 546–550 (2009)

O. Sagdic, A. Karahan, M. Ozcan, G. Ozkan, Note: Effect of some spice extracts on bacterial inhibition. Food Sci. Technol. Int. 9, 353–358 (2003)

M. Sengul, S. Ercisli, H. Yildiz, N. Gungor, A. Kavaz, B. Çetin, Antioxidant, antimicrobial activity and total phenolic content within the aerial parts of Artemisia absinthum, Artemisia santonicum and Saponaria officinalis. Iran. J. Pharm. Res. 10, 49–56 (2011)

R. Sharafati-Chaleshtori, N. Rokni, M. Rafieian-Kopaei, F. Drees, A. Sharafati-Chaleshtori, E. Salehi, Use of Tarragon (Artemisia dracunculus) essential oil as a natural preservative in beef burger. Ital. J. Food Sci. 26, 427–432 (2014)

Y. Shiri, M. Solouki, S. Saeidi, Activity of some Iranian plant extracts against multi-drug resistant human pathogens isolated from urinary tract infections. Zahedan J. Res. Med. Sci. 16, 50–54 (2014)

M.H. Sureshjani, T. Tabatabaei Yazdi, S.A. Mortazavi, B. Alizadeh Behbahani, F. Shahidi, Antimicrobial effects of Kelussia odoratissima extracts against food borne and food spoilage bacteria in vitro. J. Paramed. Sci. 5, 15–120 (2014)

M. Suzuki, T. Watanabe, A. Miura, E. Harashima, Y. Nakagawa, K. Tsuji, An extraction solvent optimum for analyzing polyphenol contents by Folin-Denis assay. Nippon Shokuhin Kagaku Kaishi. 49, 507–511 (2002)

F. Tabatabaei Yazdi, B. Alizadeh Behbahani, A. Vasiee, S.A. Mortazavi, F. Tabatabaei Yazdi, An investigation on the effect of alcoholic and aqueous extracts of Dorema aucheri (Bilhar) on some pathogenic bacteria in vitro. J. Paramed. Sci. 6, 58–64 (2015)

F. Tabatabaei-Yazdi, B. Alizadeh-Behbahani, Antimicrobial effect of the aqueous and ethanolic Teucrium polium L. extracts on gram positive and gram negative bacteria "in vitro". J. Paramed. Sci. 4, 55–61 (2013)

K. Tawaha, F. Alali, M. Gharaibeh, M. Mohammad, T. El-Elimat, Antioxidant activity and total phenolic content of selected Jordanian species, Food Chem. 104, 1372–1378 (2007)

B. Tepe, M. Sokmen, H.A. Akpulat, A. Sokmen, Screening of the antioxidant potentials of six Salvia species from Turkey. Food. Chem. 95, 200–204 (2006)

D.T. Tsukayama, H.J. Van Loon, C. Cartwright, B. Chmielewaski. The evolution of pseudomonas aeruginosa during antibiotic arotation in a medical intensive care unit: The radar-trial. Int. J. Antimicrob. Agents 24, 339–345.

M. Valero, M. Salmeron, Antibacterial activity of 11 essential oils against Bacillus cereus in tyndallized carrot broth. Int. J. Food Microbiol. 85, 73–81 (2003)

D. Vattem, Y.-T. Lin, R. Ghaedian, K. Shetty, Cranberry synergies for dietary management of Helicobacter pylori infections. Process Biochem. 40, 1583–1592 (2005)

I. Wiegand, K. Hilpert, R.E. Hancock, Agar and broth dilution methods to determine the minimal inhibitory concentration (MIC) of antimicrobial substances. Nat. protoc. 3, 163–175 (2008)

Y. Yano, M. Satomi, H. Oikawa, Antimicrobial effect of spices and herbs on Vibrio parahaemolyticus. Int. J. Food Microbiol. 111, 6–11 (2006)

Z. Zhang, L. Liao, J. Moore, T. Wu, Z. Wang, Antioxidant phenolic compound from walnut kernels (juglant L.). Food. Chem. 113, 160–165 (2009)
Acknowledgements
The authors wish to express their profound gratitude sincerely to the Research Deputy of Ferdowsi University of Mashhad for funding this project with the code of 3/33601.
About this article
Cite this article
Behbahani, B.A., Shahidi, F., Yazdi, F.T. et al. Antioxidant activity and antimicrobial effect of tarragon (Artemisia dracunculus) extract and chemical composition of its essential oil. Food Measure 11, 847–863 (2017). https://doi.org/10.1007/s11694-016-9456-3
Received:

Accepted:

Published:

Issue Date:

DOI: https://doi.org/10.1007/s11694-016-9456-3
Keywords