Abstract
In recent years a lot of the scientific interest has been concentrated on the identification of factors among low cost herbs that can be helpful in improving the health of humans. A shocking feature of herbal analysis has been that rarely any rare, exotic and exquisite plant has proved more fascinating. Typically some common, less familiar, and disdained weed have been discovered to possess undreamt of virtues. Urtica dioica is a weed and its seeds, leaves and even roots are used for medicinal purpose. It is a sensible reservoir of micronutrients and nutritional elements which leads us to focus our study on this herb. Despite of being wholesome, leaves are easily digested and high in minerals (especially iron), vitamin C and pro-vitamin A. U.dioica is used as both medicine and food in many countries particularly in Mediterranean region because of being widespread and having conjointly exceptional biological activities. This comprehensive review is an effort to summarise the recent data on nutrition, pharmacological and clinical effects of U. dioica keeping in view the increased demand by patients to use natural products with antioxidant activity, anti diabetic activity and having potential for treatment of inflammatory diseases. The review of nutritional properties is also an important aspect as every person needs general nutritional support in order to stay well or become optimally healthy. This review provides an overview of U. dioica in relation to antioxidant activity, anti diabetic activity, antimutagenic activity, antimicrobial activity, analgesic effect and treatment of inflammatory diseases that promotes its use.
Access options
Buy single article
Instant access to the full article PDF.
USD 39.95
Price includes VAT (USA)
Tax calculation will be finalised during checkout.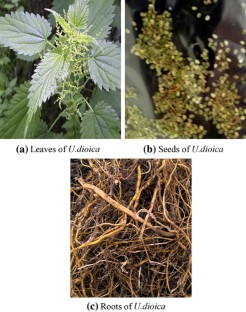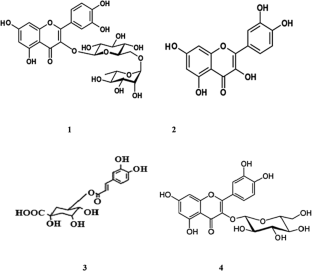 References
1.

S.M.D.C. Thornhill, A.M.B.S. Kelly, Altern. Med. Rev. 5, 448–454 (2000)

2.

A. Legssyer, A. Ziyyat, H. Mekhfi, M. Bnouham, A. Tahri, M. Serhrouchni, J. Hoerter, R. Fischmeister, Phytother. Res. 16, 503–507 (2002)

3.

A. Hartl, C. Vogl, Am. J. Altern. Agric. 17, 195–200 (2002)

4.

C.R. Vogl, A. Hartl, Am. J. Altern. Agric. 18, 119–128 (2003)

5.

S. Facciola, A. Cornucopia, Source book of edible plants. (Kampong Publications, Vista, 1998)

6.

A. Tahri, S. Yamani, A. Legssyer, M. Aziz, H. Mekhfi, A.M. Bnouham, Ziyyat. J. Ethnopharmacol. 73, 95–100 (2000)

7.

P.A. Baeuerle, T. Henkel, Ann. Rev. Immunol. 12, 141–179 (1994)

8.

A.Z. Mercadante, D.B. Rodriguez-Amaya, Int. J. Food Sci. Tech. 25, 213–219 (1990)

9.

R.B. Shekelle, M. Lepper, S. Liu, C. Maliza, W.J. Raynor, A.H. Rossof, O. Paul, A.M. Shryock, J. Stamler, Lancet 2, 1185–1189 (1981)

10.

T. Javor, M. Bata, L. Lovasz, F. Moron, L. Nagy, I. Patty, J. Szabolcs, F. Tarnok, G. Toth, G. Mozsik, Int. J. Tissue React. 5, 289–296 (1983)

11.

R.G. Cutler, Proc. Nat. Acad. Sci. USA 81, 7627–7631 (1984)

12.

J.L. Guil-Guerrero, M.M. Rebolloso-Fuentes, M.E.T. Isasa, J. Food Compost. Anal. 16, 111–119 (2003)

13.

P.J. Whitney, G. Gibbs, Biologist (London) 53, 178–182 (2006)

14.

S. Bisht, S. Bhandari, N.S. Bisht, Agric. Sci. Res. J. 2, 250–252 (2012)

15.

S.B. McMahon, Biol. Sci. 351, 431–440 (1996)

16.

H. Wagner, F. Willer, R. Samtleben, G. Boos, Phytomedicine 1, 213–224 (1994)

17.

N. Emmelin, W. Feldberg, New Phytol. 48, 143–148 (1949)

18.

C.C. Baskin, J.M. Baskin, Seeds: ecology, biogeography, and evolution of dormancy and germination. (Academic Press, San Diego, 1998), pp. 666

19.

M.H. Sajfrtová, H. Sovová, L. Opletal, M. Bártlová, J. Supercrit Fluids 35, 111–116 (2005)

20.

D. Orčić, M. Francišković, K. Bekvalac, E. Svirčev, I. Beara, M. Lesjak, N. Mimica-Dukić, Quantitative determination of plant phenolics in Urtica dioica extracts by high-performance liquid chromatography coupled with tandem mass spectrometric detection. Food Chem. 143, 48–53 (2013)

21.

R. Ullah, I. Hussain, S. Ahmad, Arabian J. Chem. in press (2013)

22.

E. Balestreri, R. Felicioli, R. Ficcanterri, R Fiorentini Acta Aliment 22, 211–221 (1993)

23.

T. Fahrendorf, E. Beck, Planta 180, 237–244 (1990)

24.

I. Gullcin, I. Kufrevioglu, M. Oktay, J. Enzyme Inhib. Med. Chem. 20, 297–302 (2005)

25.

C.A. Simoes-Pires, B. Hmicha, A. Marston, K.A. Hostettmann, Phytochem. Anal. 20, 511–515 (2009)

26.

S.A. Dar, F.A. Ganai, A.R. Yousuf, M. Balkhi, T.M. Bhat, F.A. Bhat, Afr. J. Microbiol. Res. 6, 6893–6899 (2012)

27.

A.M. Chahardehi, D. Ibrahim, S.F.J Sulaiman, Appl. Biol. Sci. 3, 27–31 (2009)

28.

M.S. Kataki, V. Murugamani, A. Rajkumari, P.S. Mehra, D. Awasthi, R.S. Yadav Pharm, Crop 3, 38–46 (2012)

29.

A. Güder, H. Korkmaz, Iran. J. Pharm. Res. 11, 913–923 (2012)

30.

L. Moldovan, A. Gaspar, L. Toma, O. Craciunescu, C. Saviuc, Rev de Chim Bucharest 62, 299–303 (2011)

31.

S. Dogan, M.E. Diken, M. Dogan, J. Med. Plant Res. 4, 2566–2573 (2010)

32.

C. Proestos, I.S. Boziaris, J.E. Nychas, M. Komaitis, Food Chem. 95, 664–671 (2005

33.

F. Pourmorad, S.J. Hosseinimehr, N. Shahabimajd, Afr. J. Biotechnol. 5, 1142–1145 (2006)

34.

H. Wetherilt, G. Kavalali (ed.) Nutritional Evaluation of Urtica Species. In: Urtica (Taylor & Francis, London and New York, 2003), pp. 84–92

35.

P. DeLeo, A. Miceli, C. Antonaci, G. Vigna, J. Sci. Food Agric. 63, 391–395 (2006)

36.

L.P. Lezhneva, I.A. Murav'ev, V.S. Cherevatyi. Rastitel' nye Resursy 22, 255–257 (1986)

37.

B. Obertreis, K. Giller, T. Teucher Behnke, H. Schmitz, Arzneimittel Forschung 46, 52–56 (1996)

38.

N.S. Kavtaradze, M.D. Alaniya, Chem. Nat. Compd. 39, 315 (2003)

39.

W.J. Peumans M. De Ley, W.F. Broekeart, FEBS Lett. 177, 99–103 (1984)

40.

V. Rafajlovska, Z. Kavrakovski, J. Simonovska, M. Srbinoska, Qual. Life Res. 4, 26–30 (2013)

41.

E.S. Lapinskaya, Y.F. Kopyt'ko, E.A. Timokhina, B.A. Krapivkin, G.S. Levandovskii, T.D. Dargaeva, T.A. Sokol'skaya, Pharm. Chem. J. 42, 650–653 (2008)

42.

A. Chevallier, Encyclopaedia of medicinal plants. (Dorling Kindersley, London, 1996)

43.

M. I Aksu, Turk. J. Vet. Anim. Sci. 27, 685–693. (2003)

44.

M.I. Aksu, M. Kaya, Food Control 15, 591–598 (2004)

45.

M.A. G Maobe, R.M. Nyarango, World Appl. Sci. J. 21, 1128–1135 (2013)

46.

J. Balzarini, J. Neyts, D. Schols, M. Hosoya, E. Van Damme, W. Peumans, E. De Clercq, Antiviral Res. 18, 191–207 (1992)

47.

B. Obertreis, T. Ruttkowski, T. Teucher, B. Behnke, H. Schmitz, Arzneimittel Forsch 46, 389–394 (1996)

48.

K.F. Dizaye, B.O. Alberzingi, S.R. Sulaiman, Iraqi. J. Vet. Sci. 27, 25–31 (2013)

49.

K.K. Ghaima, N.M. Hashim, S.A. Ali, J. App. Pharm. Sci. 3, 96–99 (2013)

50.

B.M. Sayhan, M. Kanter, S. Oguz, M. Erboga, Protective effect of Urtica dioica L. on renal ischemia/reperfusion injury in rat. J. Mol. Hist. 43, 691–698 (2012)

51.

M. Das, B.P. Sarma, B. Rokeya, R. Parial, N. Nahar, M. Mosihuzzaman, A. Khan, L. Ali, J. Diabetol. 2, 1–6 (2011)

52.

M. Monfared, A. Kamkar, S.G. Khaligh, A.J. Javan, F. Asadi, A.A. Basti, Antioxidative effects of Iranian Urtica dioica L. extracts on the oxidation of sunflower oil. J. Med. Plant Res. 5, 4438–4445 (2011)

53.

Y. Kan, I. Orhan, U. Koca, B. Özcelik, S. Aslan, M. Kartal, S. Küsmenoğlu, Turk. J. Pharm. Sci. 61, 21–30 (2009)

54.

I. Gülçin, M.E. KüfrevioğluÖİ, M. Oktay, Büyükokuroğlu. J. Ethnopharmacol. 90, 205–215 (2004)

55.

E. Alp, M.I. Aksu, Meat Sci. 86, 468–473 (2010)

56.

T.C. Matsingou, M. Kapsokefalou, A. Safiloglou, Free Radic Res. 35, 593–605 (2001)

57.

K.C. Ofokansi, C.O. Esimone, C.K. Anele, Plant Prod. Res. J. 9, 23–27 (2005)

58.

A. Toldy, K. Stadler, M. Sasvári, J. Jakus, K.J. Jung, H. Y. Chung, Z. Radák, Brain Res. Bull. 65, 487–493 (2005))

59.

I. Hadizadeh, B. Peivastegan, M. Kolahi, Pak. J. Biol. Sci. 12, 58–63 (2009)

60.

B. Roschek, R.C. Fink, R.S.M. McMichael, Alberte. Phytother. Res. 23, 920–926 (2009)

61.

E. Koch, H.E.W. Jaggy, S.S. Chatterjee, N S Arch. Pharmacol. 351, R57 abstract 225 (1995)

62.

B. Starvic, Clin. Biochem. 27, 245–248 (1994)

63.

A. Ghorbanibirgani, A. Khalili, L. Zamani, Iran Red. Crescent. Me 15, 9–10 (2012)

64.

J. Sokeland, J. Albrecht, Urologe A. 36, 327–333 (1997)

65.

T. Hirano, M. Homma, K. Oka, Planta Med. 60, 30–33 (1992)

66.

D.J. Hryb, M.S. Khan, W.N.A. Romas, Rosner. Planta Med. 61, 31–32 (1995)

67.

K. Szentmihalyi, Á.M. Kéry, Then, B. Lakatos, Z. Sándor, P. Vinkler, Phytother. Res. 12, 163–166 (1998)

68.

G. Kavalali, Londre. (Taylor & Francis, New York, 2003), pp. 83

69.

A. Ziyyat, A. Legssyer, H. Mekhfi, A. Dassouli, M. Serhrouchni, W. Benjelloun, J. Ethnopharmacol. 58, 45–54 (1997)

70.

G. Brenner, Pharmacology, 1st edn. (Harcourt Health Science, San Diego (2001)

71.

K. Riehemann, B. Behnke, K. Schulze-Osthoff, FEBS Lett. 442, 89–94 (1999)

72.

S. Klingelhoefer, B. Obertreis, S. Quast, B. Behnke, J. Rheumatol. 26, 2517–2522 (1999)

73.

D. Yigit, N. Yigit, U. Ozgen. Mycoses 52, 135–140 (2009)

74.

U.D.O. Lopez-Aroche, P. Salinas-Sanchez, MendozadeGives, M.E. López-Arellano, E. Liébano-Hernández, G. Valladares-Cisneros, D.M. Arias-Ataide, V.J. Hernández-Velázquez Helminthol 82, 25–31 (2008)

75.

W.F. Broekaert, J. VAN Parijs, F. Leyns, H. Joos, W.J. Peumans, Science 245, 1100–1102 (1989)

76.

V.N. Burkova, S.G. Boev, A.I. Vengerovskiĭ, N.V. Iudina, A.G. Arbuzov Eksp Klin Farmakol 74, 24–27 (2011)

77.

V.Z. Safari, M.P. Ngugi, G. Orinda, E.M. Njagi, Med. Aromat. Plants (2016)

78.

L. Konrad, H.H. Muller, C. Lenz, H. Laubinger, G. Aumuller, J.J. Lichius, Planta Med. 66, 44–47 (2000)

79.

M. Kanter, O. Coskun, M. Budancamanak, World J. Gastroenterol. 11, 6684–6688 (2005)

80.

D. Farzami, S. Ahmadvand, F.J. Vardasbi, S. Majin, Khaghani. J. Ethnopharmacol. 89, 47–53 (2003)

81.

M. Blumenthal, W.R. Busse, A. Goldberg, J. Gruenwald, T. Hall, C.W. Riggins, S. Klein, R.S. Rister, American Botanical Council 216, Austin, 1998, pp. 36–138

82.

J. Gerard, The herbal or general history of plants. (Dover Publications, New York (NY), 1633), pp. 1631p (reprinted 1975)

83.

M. Nassiri-Asl, F. Zamansoltani, E. Abbasi, M.M. Daneshi, A.A. Zangivand, Chin. J. Integr. Med. 7, 428–433 (2009)
About this article
Cite this article
Jan, K.N., zarafshan, K. & Singh, S. Stinging nettle (Urtica dioica L.): a reservoir of nutrition and bioactive components with great functional potential. Food Measure 11, 423–433 (2017). https://doi.org/10.1007/s11694-016-9410-4
Received:

Accepted:

Published:

Issue Date:
Keywords
Urtica dioica

Nutritional properties

Antioxidant activity

Bioactive components

Functional aspects