Abstract
In recent times computer vision employing image processing techniques has been developed rapidly in order to quantitatively characterize of foods. In this study, effect of cress seed gum as a novel gluten substitute and xanthan gum (1 % base on flour and starch weight) on gluten-free bread were investigated by image processing. Additionally, bread crumb analyzed during storage (24 and 72 h). Bread features selected for analysis were moisture content, specific volume, slice shape, crust and crumb color, pore area fraction, pore size distribution, number of cells/cm2, pore shape, fractal dimension of pore boundaries and crumb texture. The results exhibited, hydrocolloids improved quality of gluten-free breads significantly (p < 0.05). Hydrocolloid addition increased pore area fraction and had positive effect on crumb color during storage. Hydrocolloid by forming thick layer influenced the stability of gas cells and caused more regular and solids pores in gluten-free bread which was more noticeable in breads containing cress seed gum. Fractal values of boundaries indicated that the breads containing cress seed gum had more regular and smooth boundaries. Texture analysis by gray level co-occurrence matrix revealed stability crumb texture during storage.
Access options
Buy single article
Instant access to the full article PDF.
US$ 39.95
Tax calculation will be finalised during checkout.
Subscribe to journal
Immediate online access to all issues from 2019. Subscription will auto renew annually.
US$ 79
Tax calculation will be finalised during checkout.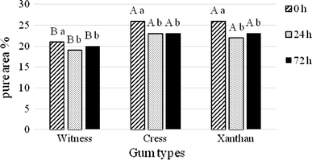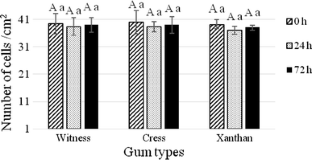 References
1.

J.A. Murray, Am. J. Clin. Nutr. 69(3), 354 (1999)

2.

E. Gallagher, T. Gormley, E. Arendt, Trends Food Sci. Technol. 15(3), 143 (2004)

3.

S. Susanna, P. Prabhasankar, Food Sci. Technol. (LWT) 50(2), 613 (2012)

4.

R. Mahmoud, E. Yousif, M. Gadallah, A. Alawneh, Ann. Agric. Sci. 58(1), 19 (2013)

5.

A. Bakke, Z. Vickers, J. Food Sci. 72(7), 473 (2007)

6.

A. Lazaridou, D. Duta, M. Papageorgiou, N. Belc, C. Biliaderis, J. Food Eng. 79(3), 1033 (2007)

7.

M. Mohammadi, N. Sadeghnia, M.H Azizi, T.R. Neyestani, A.M Mortazavian, J. Ind Eng Chem. 20(4), 1812 (2014)

8.

E. Dickinson, Food Hydrocoll. 17(1), 25 (2003)

9.

S. Mezaize, S. Chevallier, A. Le Bail, M. De Lamballerie, J. Food Sci. 74(3), 140 (2009)

10.

I. Demirkesen, B. Mert, G. Sumnu, S. Sahin, J. Food Eng. 96(2), 295 (2010)

11.

E. Gallagher, T. Gormley, E. Arendt, J. Food Eng. 56(2), 153 (2003)

12.

G. Sworn, in Handbook of Hydrocolloids, ed. by G.O. Phillips, Williams, Peter Anthony (CRC Press, Boca Raton, 2000)

13.

A. Imeson, Food stabilisers, thickeners and gelling agents (Wiley, Oxford, 2011)

14.

E. Gimeno, C. Moraru, J. Kokini, Cereal Chem. 81(1), 100 (2004)

15.

S. Naji, S.M.A. Razavi, H. Karazhiyan, Food Hydrocoll. 28(1), 75 (2012)

16.

S. Naji, S.M.A. Razavi, H. Karazhiyan, A. Koocheki, Electron. J. Environ. Agric. Food Chem. 11(3), 222 (2012)

17.

H. Karazhiyan, S.M.A. Razavi, G.O. Phillips, Y. Fang, S. Al-Assaf, K. Nishinari, Int. J. Comp. Sci. Info. Technol. 46(5), 1066 (2011)

18.

S. Naji, S.M.A Razavi, H. Karazhiyan, Food Bioprocess. Technol. 6, 1302 (2013)

19.

V. Gökmen, H.Z. Senyuva, B. Dülek, E. Cetin, Mol. Nutr. Food Res. 50(9), 805 (2006)

20.

C.-J. Du, D.-W. Sun, J. Food Eng. 72(1), 39 (2006)

21.

D.-W. Sun, Computer vision technology for food quality evaluation. Food science and technology International series (Academic Press, London, 2008)

22.

H. Sapirstein, R. Roller, W. Bushuk, Cereal Chem. 71, 383 (1994)

23.

R. Jahromi, S. Hossein, M. Karimi, F.T Yazdi, S.A Mortazavi, J. Food Process. Preserv. ISSN 1745–4549 (2013)

24.

S. Ozge Ozkoc, G. Sumnu, S. Sahin, Food Hydrocoll. 23(8), 2182 (2009)

25.

Y. Mohd Jusoh, N. Chin, Y. Yusof, R. Abdul Rahman, J. Food Eng. 94(3), 366 (2009)

26.

S. Wang, A. Karrech, K. Regenauer-Lieb, S. Chakrabati-Bell, J. Food Eng. 116(4), 852 (2013)

27.

S. Wang, P. Austin, S. Bell, J. Cereal Sci. 54(2), 203 (2011)

28.

J. Gray, J. Bemiller, Compr. Rev. Food Sci. Food Saf. 2(1), 1 (2003)

29.

American Association Of Cereal Chemists (AACC), Approved methods of the AACC. (St Paul, Minneapolis, 2000)

30.

R. Quevedo, J. Aguilera, F. Pedreschi, Food Bioprocess. Tech. 3(5), 637 (2010)

31.

I.C Moreira, in Complexidade e Caos, ed. by H.M Nussenzveig (Editora UFRJ/COPEA, Rio de Janeiro), pp. 51–82

32.

M. Barros Filho, F. Sobreira, Assessing texture pattern in slum across scales: an unsupervised approach, Vol. 87 (CASA Working Papers Series, 2005)

33.

C. Tournier, M. Grass, D. Zope, C. Salles, D. Bertrand, J. Food Eng. 113(4), 615 (2012)

34.

P. Mohanaiah, P. Sathyanarayana, L. GuruKumar, Int. J. Sci. Res. Publ. 3(5), 2250 (2013)

35.

H.A. Gavilighi, M.H. Azizi, M. Barzegar, M.A. Ameri, J. Food Technol. 4(3), 185 (2006)

36.

A. Hegazy, M. Ammar, M. Ibrahium, World J. Dairy Food Sci. 4(2), 123 (2009)

37.

A. Guarda, C. Rosell, C. Benedito, M. Galotto, Food Hydrocoll. 18(2), 241 (2004)

38.

M.E. Barcenas, C.M. Rosell, Food Hydrocoll. 19(6), 1037 (2005)

39.

Z. Kohajdová, J. Karovičová, Š. Schmidt, Acta Chim. Slovaca 2(1), 46 (2009)

40.

H. Karazhiyan, S.M.A. Razavi, G.O. Phillips, Food Hydrocoll. 25(5), 915 (2011)

41.

F. Fan, Q. Ma, J. Ge, Q. Peng, W.W. Riley, S. Tang, J. Food Eng. 118(4), 426 (2013)

42.

F. Pedreschi, J. Leon, D. Mery, P. Moyano, Food Res. Int. 39(10), 1092 (2006)

43.

R. Ziobro, T. Witczak, L. Juszczak, J. Korus, Food Hydrocoll. 32, 2, (2013)

44.

L.S. Sciarini, P.D. Ribotta, A.E. León, G.T. Pérez, Int. J. Food Sci. Technol. 45(11), 2306 (2010)

45.

R. Sharadanant, K. Khan, Cereal Chem. 80(6), 773 (2003)

46.

I. Mandala, K. Sotirakoglou, Food Hydrocoll. 19(4), 709 (2005)

47.

A. Kadir, L.E. Nugroho, A. Susanto, P.I. Santosa, Int. J. Comp. Sci. Info. Technol. 3(3), 256 (2011)

48.

R. Agarwal, S. Agarwal, N. Mishra, Int. J. Comp. Sci. Info. Technol. 2(4), 80 (2013)

49.

U. Gonzales-Barron, F. Butler, Eur. Food Res. Technol. 226(4), 721 (2008)

50.

G. Juodeikiene, J. Salomskiene, D. Eidukonyte, D. Vidmantiene, V. Narbutaite, L. Vaiciulyte-Funk, Food Technol. Biotechnol. 49(4), 502 (2011)

51.

J. Chanona-Pérez, R. Quevedo, A. R. Jiménez Aparicio, C. Gumeta Chávez, J. A. Mendoza Pérez, G. Calderón Domínguez, L. Alamilla-Beltrán, G. F. Gutiérrez-López, in Food engineering: integrated approaches, ed. by G.V. B.-C. Gustavo, F. Gutiérrez-López, Jorge Welti-Chanes, Efrén Parada-Arias (Springer New York, 2008), pp. 277–286

52.

A. Shahbahrami, T.A. Pham, K. Bertels, J. Supercomput. 59(3), 1455 (2012)
About this article
Cite this article
Naji-Tabasi, S., Mohebbi, M. Evaluation of cress seed gum and xanthan gum effect on macrostructure properties of gluten-free bread by image processing. Food Measure 9, 110–119 (2015). https://doi.org/10.1007/s11694-014-9216-1
Received:

Accepted:

Published:

Issue Date:
Keywords
Image analysis

Gluten-free bread

Cress seed gum

Xanthan gum