Abstract
The do-it-yourself biology (DIYbio) community is emerging as a movement that fosters open access to resources permitting modern molecular biology, and synthetic biology among others. It promises in particular to be a source of cheaper and simpler solutions for environmental monitoring, personal diagnostic and the use of biomaterials. The successful growth of a global community of DIYbio practitioners will depend largely on enabling safe access to state-of-the-art molecular biology tools and resources. In this paper we analyze the rise of DIYbio, its community, its material resources and its applications. We look at the current projects developed for the international genetically engineered machine competition in order to get a sense of what amateur biologists can potentially create in their community laboratories over the coming years. We also show why and how the DIYbio community, in the context of a global governance development, is putting in place a safety/ethical framework for guarantying the pursuit of its activity. And finally we argue that the global spread of DIY biology potentially reconfigures and opens up access to biological information and laboratory equipment and that, therefore, it can foster new practices and transversal collaborations between professional scientists and amateurs.
Access options
Buy single article
Instant access to the full article PDF.
USD 39.95
Price excludes VAT (USA)
Tax calculation will be finalised during checkout.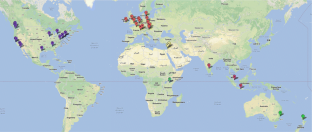 References
Alper J (2009) Biotech in the basement. Nat Biotechnol 27:1077–1078

Anderson J, Sassaman L, You E (2010) The rise of distributed, decentralized, amateur/citizen science and do it yourself biology: safety and security concerns. Open Sci Summit, Berkeley USA, July 29–31

Anonymous (2009) Garage Biology. Amateur scientists who experiment at home should be welcomed by the professionals. Nature 467(7316):634

Carlson R (2010) Biology is technology. Harvard University Press, Cambridge

Carothers J (2013) Design-driven, multi-use research agendas to enable applied synthetic biology for global health. Syst Synth Biol. doi:10.1007/s11693-013-9118-2

Chung C, Niemela SL, Miller RH (1989) One-step preparation of competent Escherichia coli: transformation and storage of bacterial cells in the same solution. Proc Natl Acad Sci USA 86:2172

Delfanti A (2010) Genome Hackers, rebel biology, open source and science ethic. University of Milan, Dissertation

Gibson DG et al (2008) Complete Chemical Synthesis, Assembly, and Cloning of a Mycoplasma genitalium Genome. Science 319:1215–1220

Gorman B (2011) Patent office as biosecurity gatekeeper: Fostering responsible science and building public trust in DIY science. Marshall Rev Intell Prop L 3(10):423–449

Grimm E, Arbuthnot P (1995) Rapid purification of recombinant Taq DNA polymerase by freezing and high temperature thawing of bacterial expression cultures. Nucleic Acids Res 23:4518–4519

Hajibabaei M (2012) The golden age of DNA metasystematics. Trends Genet 28(11):535–537

Hillson NJ (2011) DNA Assembly Method Standardization for Synthetic Biomolecular Circuits and Systems. Design and Analysis of Biomolecular Circuits 10:295–314

Hillson NJ, Rosengarten RD, Keasling JD (2012) J5 DNA Assembly Design Automation Software. ACS Synth. Biol 1(1):14–21

iGEM UCL (2012) A survey on biohackers and the use of BioBricks. http://2012.igem.org/Team:University_College_London/HumanPractice/DIYbio/DIYbio

Ingelfinger JR (2008) Melamine and the Global Implications of Food Contamination. New England Journal of Medecine 359(26):2745–2748

Kera D (2012) Hackerspaces and DIYbio in Asia: connecting science and community with open data, kits and protocols. Journal of Peer Production, Issue 2

Khalil AS, Collins JJ (2010) Synthetic biology: applications come of age. Nat Rev Genet 11:367–379

Kuiken T, Pauwels E (2010) Beyond the laboratory and far away: immediate and future challenges in governing the bio-economy. http://www.synbioproject.org/process/assets/files/6642/beyond_the_laboratory_and_far_away_a_wilson_center_policy_brief.pdf

Ledford H (2010) Life hackers. Nature 467:650–652

Meyer M (2012) Build your own lab: do-it-yourself biology and the rise of citizen biotech-economies. J Peer Prod, issue 2

National Strategy for Countering Biothreats (2010) http://www.whitehouse.gov/sites/default/files/National_Strategy_for_Countering_BioThreats.pdf

PCSBI Synthetic Biology Report (2012) http://bioethics.gov/cms/sites/default/files/PCSBI-Synthetic-Biology-Report-12.16.10.pdf

Rodrigo G, Landrain TE, Jaramillo A (2012) De novo automated design of small RNA circuits for engineering synthetic riboregulation in living cells. Proc. Nat. Acad. Sci. 109(38):15271–15276

Sanborn MR, Wan SK, Bulard R (1982) Microwave sterilization of plastic tissue culture vessels for reuse. Appl Environ Microbiol 44:960–964

Sawyer E (2011) The promises, demands, and risks of garage biology. Nature 18 Aug 2011

Schmidt M (2008) Diffusion of synthetic biology: a challenge to biosafety. Syst Synth Biol 2(1–2):1–6

Shetty RP, Endy D, Knight TF (2008) Engineering BioBrick vectors from BioBrick parts. J Biol Eng 2:5

Siddappa N, Avinash A, Venkatramanan M, Ranga U (2007) Regeneration of commercial nucleic acid extraction columns without the risk of carryover contamination. Biotechniques 42:186–192

Soma Y et al (2012) Direct isopropanol production from cellobiose by engineered Escherichia coli using a synthetic pathway and a cell surface display system. J Biosci Bioeng. doi:10.1016/j.jbiosc.2012.02.019

Tocchetti S (2012) DIYbiologists as 'makers' of personal biologies: how MAKE Magazine and Maker Faires contribute in constituting biology as a personal technology. Journal of Peer Production, Issue 2

Tucker JB (2011) Could terrorists exploit synthetic biology? The New Atlantis.com

Wohlsen M (2011) Biopunk: DIY scientists hack the software of life. Current (Ed)

Wolinsky H (2009) Kitchen biology. EMBO Rep 10(7):683–685

Yehezkel TB et al (2011) Recursive construction and error correction of DNA molecules and libraries from synthetic and natural DNA. Meth Enzymol 498:207–245
Acknowledgments
The authors would like to thank Jason Bobe and the members of La Paillasse for useful comments and criticism over the manuscript Thomas Landrain is supported by a Ph.D. fellowship from the AXA Research Fund.
Conflict of interest
The authors declare that they have no conflict of interest.
Electronic supplementary material
Below is the link to the electronic supplementary material.
About this article
Cite this article
Landrain, T., Meyer, M., Perez, A.M. et al. Do-it-yourself biology: challenges and promises for an open science and technology movement. Syst Synth Biol 7, 115–126 (2013). https://doi.org/10.1007/s11693-013-9116-4
Received:

Revised:

Accepted:

Published:

Issue Date:

DOI: https://doi.org/10.1007/s11693-013-9116-4
Keywords
DIYbio

Synthetic biology

iGEM

Health

Innovation

Biosecurity