Abstract
Purpose
Chagas disease, caused by the protozoan parasite Trypanosoma cruzi, is a vector-borne disease with a major disease burden in the Americas, with over 6 million cases. There are about 200,000 cases in Ecuador, but the epidemiology of the disease is poorly understood, particularly in the Amazon region, making surveillance and control challenging.
Methods
We determined here the seroprevalence of T. cruzi antibodies in a cohort of 516 schoolchildren aged 5–15 years from Chontapunta parish, in the Napo province, Ecuador, using ELISA and indirect hemaglutination tests.
Results
We detected a seroprevalence of 0.77% (95% confidence interval 0.31–1.97%), with some significant variation among the three studied communities.
Conclusion
These data provide evidence of the ongoing transmission of T. cruzi in this area, and support the need to strengthen epidemiological surveillance and patient care.
Access options
Buy single article
Instant access to the full article PDF.
US$ 39.95
Tax calculation will be finalised during checkout.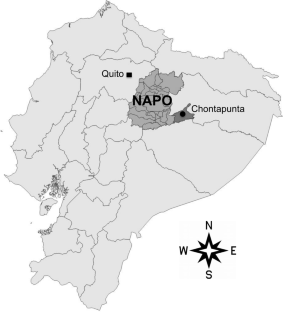 References
1.

WHO (2015) Chagas disease in Latin America: an epidemiological update based on 2010 estimates. WklyEpidemiol Rec 90(6):33–43

2.

Rassi A Jr, Marin JAN, Rassi A (2017) Chronic Chagas cardiomyopathy: a review of the main pathogenic mechanisms and the efficacy of aetiological treatment following the BENznidazole Evaluation for Interrupting Trypanosomiasis (BENEFIT) trial. Mem Inst Oswaldo 112(3):224–235. https://doi.org/10.1590/0074-02760160334

3.

Lee BY, Bacon KM, Bottazzi ME, Hotez PJ (2013) Global economic burden of Chagas disease: a computational simulation model. Lancet Infect Dis 13(4):342–348. https://doi.org/10.1016/S1473-3099(13)70002-1

4.

Quinde-Calderon L, Rios-Quituizaca P, Solorzano L, Dumonteil E (2016) Ten years (2004–2014) of Chagas disease surveillance and vector control in Ecuador: successes and challenges. Trop Med Int Health 21(1):84–92. https://doi.org/10.1111/tmi.12620

5.

Dumonteil E, Herrera C, Martini L, Grijalva MJ, Guevara AG, Costales JA et al (2016) Chagas disease has not been controlled in Ecuador. PLoS ONE 11(6):e0158145. https://doi.org/10.1371/journal.pone.0158145

6.

Black CL, Ocana-Mayorga S, Riner DK, Costales JA, Lascano MS, Arcos-Teran L et al (2009) Seroprevalence of Trypanosoma cruzi in rural Ecuador and clustering of seropositivity within households. Am J Trop Med Hyg 81(6):1035–1040. https://doi.org/10.4269/ajtmh.2009.08-0594

7.

Grijalva MJ, Escalante L, Paredes RA, Costales JA, Padilla A, Rowland EC et al (2003) Seroprevalence and risk factors for Trypanosoma cruzi infection in the Amazon region of Ecuador. Am J Trop Med Hyg 69(4):380–385

8.

Carrera Vargas C, Orlando Narváez A, MuzzioAroca J, Shiguango G, Martini Robles L, Herrera C et al (2015) Seroprevalence of Trypanosoma cruzi infection in school children and in pregnant women from an Amazonian region in Orellana province, Ecuador. Am J Trop Med Hyg 93(4):774–778

9.

Aguilar HM, Abad-Franch F, Dias JC, Junqueira AC, Coura JR (2007) Chagas disease in the Amazon region. Mem Inst Oswaldo Cruz 102(Suppl):147–156. https://doi.org/10.1590/s0074-02762007005000098

10.

Amunárriz M, Quito S, Tanzado V, López M (2010) Seroprevalencia de la enfermedad de Chagas en el cantónAguarico, Amazoníaecuatoriana. Rev PanamSaludPublica 28(1):25–29. https://doi.org/10.1590/s1020-49892010000700004

11.

Abad-Franch F, Monteiro FA (2007) Biogeography and evolution of Amazonian triatomines (Heteroptera: Reduviidae): implications for Chagas disease surveillance in humid forest ecoregions. Mem Inst Oswaldo Cruz 102(Suppl):157–170. https://doi.org/10.1590/s0074-02762007005000108

12.

Waleckx E, Gourbière S, Dumonteil E (2015) Intrusive triatomines and the challenge of adapting vector control practices. Mem Inst Oswaldo Cruz 110(3):324–338. https://doi.org/10.1590/0074-02760140409
Funding
This work was funded in part by grant # 632083 from Tulane University School of Public Health and Tropical Medicine to ED.
Ethics declarations
Conflict of interest
The authors declare that they have no conflict of interest.
Ethical approval
The study was carried out as part of the routine epidemiologic surveillance activities of the National Reference Center from the National Institute of Public Health (INSPI).
Additional information
Publisher's Note
Springer Nature remains neutral with regard to jurisdictional claims in published maps and institutional affiliations.
About this article
Cite this article
Carrera Vargas, C., Solorzano, L., Guale, D. et al. Active Transmission of Trypanosoma cruzi in Schoolchildren from the Amazon Region in Napo Province, Ecuador. Acta Parasit. (2021). https://doi.org/10.1007/s11686-021-00334-2
Received:

Accepted:

Published:
Keywords
Chagas disease

American trypanosomiasis

Seroprevalence

Diagnostic

Pediatric