Abstract
Purpose
In many tropical areas, the coinfection of Schistosoma spp. and other pathogens is frequent. The impact of schistosomiasis on other infections has been demonstrated for several organisms. Infection with the widely spread bacterium, Helicobacter pylori, has been linked to ulcers and tumors of the digestive system with the humoral immune response playing possible modulatory roles. The present study investigated the impact of patent S. mansoni infection on the antibody response to H. pylori.
Methods
A total of 100 participants from a schistosomiasis endemic area in Egypt were enrolled in the study. Based on the detection of S. mansoni eggs and H. pylori coproantigen in fecal samples, they were equally divided into four groups: schistosomiasis, concomitant S. mansoni and H. pylori infection, H. pylori infection alone, and healthy controls. Anti-H. pylori IgG and IgA were determined in serum samples using ELISA.
Results
A significantly lower IgA seropositivity rate and significantly lower IgG levels were found in patients with concomitant schistosomiasis (Gp2) compared to those infected only with H. pylori (Gp1).
Conclusions
Concomitant S. mansoni infection with light to moderate intensity alters serological responses to H. pylori. In schistosomiasis endemic areas, the routine examination for H. pylori infection should, therefore, rely on coproantigen level rather than antibody levels. Further studies should investigate histopathological changes and other immunological parameters in coinfection.
Access options
Buy single article
Instant access to the full article PDF.
US$ 39.95
Tax calculation will be finalised during checkout.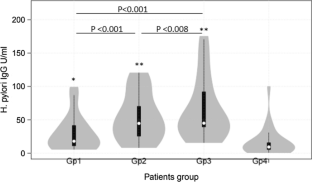 References
1.

World Health Organization (WHO) (2020) Schistosomiasis

2.

Boissier J, Mouahid G, Moné H (2019) Schistosoma spp. In: Rose JB, Jiménez-Cisneros B (eds) Global Water Pathogen Project. http://www.waterpathogens.org (Robertson, L (eds) Part 4 Helminths) http://www.waterpathogens.org/book/shistosoma Michigan State University, E. Lansing, MI, UNESCO. https://doi.org/https://doi.org/10.14321/waterpathogens.45

3.

Othman AA, Soliman RH (2015) Schistosomiasis in Egypt: a never-ending story? Acta Trop 148:179–190. https://doi.org/10.1016/j.actatropica.2015.04.016

4.

Abruzzi A, Fried B (2011) Coinfection of Schistosoma (Trematoda) with bacteria, protozoa and helminths. Adv Parasitol 77:1–85

5.

Hsiao A, Toy T, Seo JH, Marks F (2016) Interaction between Salmonella and schistosomiasis: a review. PLoS Pathog 12(12):e1005928. https://doi.org/10.1371/journal.ppat.1005928

6.

Nejati-Skarkhah A, Darvish H, Validi M, Ebrahimpour S, Nouri RH (2018) Influence of Helicobacter pylori virulence factors CagA and VacA on pathogenesis of gastrointestinal disorders. Microb Pathog 117:43–48. https://doi.org/10.1016/j.micpath.2018.02.016

7.

Galal YS, Ghobrial CM, Labib JR, Abou-Zekri EM (2019) Helicobacter pylori among symptomatic Egyptian children: prevalence, risk factors, and effect on growth. J Egypt Public Health Assoc 94:17. https://doi.org/10.1186/s42506-019-0017-6

8.

Moyat M, Velin D (2014) Immune responses to Helicobacter pylori infection. World J Gastroenterol 20(19):5583–5593. https://doi.org/10.3748/wjg.v20.i19.5583

9.

Tosi FM, Czinn JS (1990) Opsonic activity of specific human IgG against Helicobacter pylori. J Infect Dis 162(1):156–162. https://doi.org/10.1093/infdis/162.1.156

10.

Srivastava R, Kashyap A, Kumar M, Nath G, Jain AK (2013) Mucosal IgA & IL-1β in Helicobacter pylori Infection. Indian J Clin Biochem 28(1):19–23. https://doi.org/10.1007/s12291-012-0262-3

11.

Abbas AT, El-Beshbishi SN, Elsheikha HM (2009) Increased Helicobacter pylori-associated pathology in outbred mice coinfected with schistosomiasis. Parasitol Res 105(2):297–299. https://doi.org/10.1007/s00436-009-1486-x

12.

Abou Holw SA, Anwar MM, Bassiouni RB, Hussen NA, Eltaweel HA (2008) Impact of coinfection with Schistosoma mansoni on Helicobacter pylori induced disease. J Egypt Soc Parasitol 38(1):73–84

13.

Garcia LS (2007) Diagnostic medical parasitology, 5th edn. ASM Press, Washington, pp 581–600

14.

World Health Organization (WHO) (2017) Bench aids for the diagnosis of intestinal parasites, second edition. https://apps.who.int/iris/rest/bitstreams/1231221/retrieve

15.

Kirkpatrick LA, Feeney BC (2013) A Simple Guide to IBM SPSS Statistics for Version 20.0 Cengage Learning, California

16.

Clerc M, Fenton A, Babayan SA, Pedersen AB (2019) Parasitic nematodes simultaneously suppress and benefit from coccidian coinfection in their natural mouse host. Parasitology 146(8):1096–1106. https://doi.org/10.1017/S0031182019000192

17.

Wang YK, Kuo FC, Liu CJ, Wu MC, Shih HY, Wang SS et al (2015) Diagnosis of Helicobacter pylori infection: current options and developments. World J Gastroenterol 21(40):11221–11235. https://doi.org/10.3748/wjg.v21.i40.11221

18.

Dangtakot R, Pinlaor S, Itthitaetrakool U, Chaidee A, Chomvarin C, Sangka A, Wilailuckana C, Pinlaor P (2017) Coinfection with Helicobacter pylori and Opisthorchis viverrini enhances the severity of hepatobiliary abnormalities in Hhamsters. Infect Immun 85(4):e00009-17. https://doi.org/10.1128/IAI.00009-17

19.

Deenonpoe R, Mairiang E, Mairiang P, Pairojkul C, Chamgramol Y, Rinaldi G, Loukas A, Brindley PJ, Sripa B (2017) Elevated prevalence of Helicobacter species and virulence factors in opisthorchiasis and associated hepatobiliary disease. Sci Rep 7:42744. https://doi.org/10.1038/srep42744

20.

Du Y, Agnew A, Ye XP, Robinson PA, Forman D, Crabtree JE (2006) Helicobacter pylori and Schistosoma japonicum co-infection in a Chinese population: helminth infection alters humoral responses to Helicobacter pylori and serum pepsinogen I/II ratio. Microbes Infect 8(1):52–60

21.

Fox JG, Beck P, Dangler CA, Whary MT, Wang TC, Shi HN et al (2000) Concurrent enteric helminth infection modulates inflammation and gastric immune responses and reduces helicobacter-induced gastric atrophy. Nat Med 6(5):536–542

22.

Harris JB, Podolsky MJ, Bhuiyan TR, Chowdhury F, Khan AI, Larocque RC et al (2009) Immunologic responses to Vibrio cholerae in patients co-infected with intestinal parasites in Bangladesh. PLoS Negl Trop Dis 3(3):e403. https://doi.org/10.1371/journal.pntd.0000403

23.

McSorley HJ, Maizels RM (2012) Helminth infections and host immune regulation. Clin Microbiol Rev 25(4):585–608. https://doi.org/10.1128/CMR.05040-11

24.

Maizels RM, Smits HH, McSorley HJ (2018) Modulation of host immunity by helminths: the expanding repertoire of parasite effector molecules. Immunity 49(5):801–818. https://doi.org/10.1016/j.immuni.2018.10.016

25.

Mattsson A, Quiding-Järbrink M, Lönroth H, Hamlet A, Ahlstedt I, Svennerholm A (1998) Antibody-secreting cells in the stomachs of symptomatic and asymptomatic Helicobacter pylori-infected subjects. Infect Immun 66(6):2705–2712. https://doi.org/10.1128/IAI.66.6.2705-2712.1998

26.

Peek RM Jr, Fiske C, Wilson KT (2010) Role of innate immunity in Helicobacter pylori-induced gastric malignancy. Physiol Rev 90(3):831–858. https://doi.org/10.1152/physrev.00039.2009

27.

Kaetzel CS, Robinson JK, Chintalacharuvu KR, Vaerman JP, Lamm ME (1991) The polymeric immunoglobulin receptor (secretory component) mediates transport of immune complexes across epithelial cells: a local defense function for IgA. Proc Natl Acad Sci USA 88(19):8796–8800. https://doi.org/10.1073/pnas.88.19.8796

28.

Mazanec MB, Nedrud JG, Kaetzel CS, Lamm ME (1993) A three-tiered view of the role of IgA in mucosal defense. Immunol Today 14(9):430–435. https://doi.org/10.1016/0167-5699(93)90245-G

29.

Pérez-Pérez GI, Brown WR, Cover TL, Dunn BE, Cao P, Blaser MJ (1994) Correlation between serological and mucosal inflammatory responses to Helicobacter pylori. Clin Diagn Lab Immunol 1(3):325–329

30.

Futagami S, Takahashi H, Norose Y, Kobayashi M (1998) Systemic and local immune responses against Helicobacter pylori urease in patients with chronic gastritis: distinct IgA and IgG productive sites. Gut 43(2):168–175. https://doi.org/10.1136/gut.43.2.168

31.

Burkitt DM, Duckworth AC, Williams MJ, Pritchard MD (2017) Helicobacter pylori-induced gastric pathology: insights from in vivo and ex vivo models. Dis Model Mech 10(2):89–104. https://doi.org/10.1242/dmm.027649

32.

Oluwasola A, Otegbayo J, Ola S, Ebili H, Afolabi A, Odaibo G (2012) Correlation of serum anti-helicobacter pylori immunoglobulin a (IgA) with histological parameters of chronic gastritis in ibadan. Nigeria Ann Ib Postgrad Med 10(1):18–24

33.

Li S, Lu AP, Zhang L, Li YD (2003) Anti-Helicobacter pylori immunoglobulin G (IgG) and IgA antibody responses and the value of clinical presentations in diagnosis of H. pylori infection in patients with precancerous lesions. World J Gastroenterol 9(4):755–758

34.

Pan KF, Formichella L, Zhang L, Zhang Y, Ma JL, Li ZX et al (2014) Helicobacter pylori antibody responses and evolution of precancerous gastric lesions in a Chinese population. Int J Cancer 134(9):2118–2125. https://doi.org/10.1002/ijc.28560

35.

Smith P, Fallon RE, Mangan NE, Walsh CM, Saraiva M, Sayers JR et al (2005) Schistosoma mansoni secretes a chemokine binding protein with antiinflammatory activity. J Exp Med 202(10):1319–1325. https://doi.org/10.1084/jem.20050955
Ethics declarations
Conflict of interest
The authors declare that there is no conflict of interest.
Additional information
Publisher's Note
Springer Nature remains neutral with regard to jurisdictional claims in published maps and institutional affiliations.
About this article
Cite this article
Ahmed, A.F.M., El-Sayad, M.H., Ali, H.S. et al. Impact of Coinfection with Schistosoma mansoni on the Antibody Response to Helicobacter pylori. Acta Parasit. (2021). https://doi.org/10.1007/s11686-020-00330-y
Received:

Accepted:

Published:
Keywords
Coinfection

S. mansoni
H. pylori

Coproantigen

Antibody levels