Abstract
Purpose
Leishmaniasis is an infectious disease transmitted by insects that proliferate mainly in impoverished environments of tropical climates. In the absence of an effective vaccine, pharmacological treatment is the main tool to combat this disease. The objective of this work was to analyze the anti-leishmanial activity of 2-chloro-N-[4-(4-chlorophenyl)-2-thiazolyl] acetamide (AT) in promastigotes of Leishmania mexicana.
Methods
The biological activity of the compound was evaluated using a sulphorhodamine B cytotoxicity test and the integrity of the erythrocytes was evaluated by a lysis test. The anti-trypanosomatid activity was evaluated in vitro, a cell death assay was performed by flow cytometry (IP/Annexin V stain) and a parasite growth recovery assay was performed.
Results
The AT showed a CC50 value of 0.031 µM for HeLa cells after 24 h of exposure, which did not induce erythrocyte lysis. On the other hand, the AT showed an IC50 value of 0.086 µM for L. mexicana (promastigote form) after 24 h of interaction. The compound was capable of inducing apoptosis in the parasites and did not allow recovery after 24 h of exposure.
Conclusion
This study provides valuable information with the objective of developing new drugs for the treatment of this disease, although more research on this molecule is needed to improve its biological activity.
Access options
Buy single article
Instant access to the full article PDF.
US$ 39.95
Tax calculation will be finalised during checkout.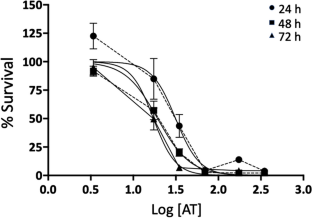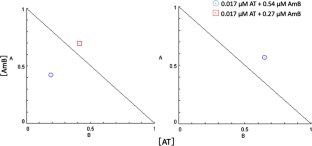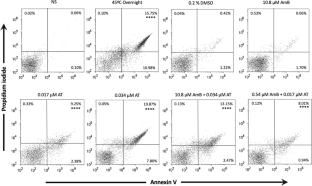 Data Availability
Data generated and analyzed during this study were included in this published article.
References
1.

Savoia D (2015) Recent updates and perspectives on leishmaniasis. J Infect Dev Ctries 9(6):588–596. PMID: 26142667. https://doi.org/10.3855/jidc.6833.

2.

Chatelain E (2015) Chagas disease drug discovery: toward a new era. J Biomol Screen 20(1):22–35. Epub 22 Sep 2014. PMID: 25245987. https://doi.org/10.1177/1087057114550585

3.

Ghorbani M, Farhoudi R (2017) Leishmaniasis in humans: drug or vaccine therapy? Drug Des Dev Ther 12:25–40. PMID: 29317800; PMCID: PMC5743117. https://doi.org/10.2147/DDDT.S146521

4.

Rouf A, Tanyeli C (2015) Bioactive thiazole and benzothiazole derivatives. Eur J Med Chem 97:911–927. Epub 22 Oct 2014. PMID: 25455640. https://doi.org/10.1016/j.ejmech.2014.10.058

5.

Lu Y, Li CM, Wang Z, Ross CR 2nd, Chen J, Dalton JT et al (2009) Discovery of 4-substituted methoxybenzoyl-aryl-thiazole as novel anticancer agents: synthesis, biological evaluation, and structure-activity relationships. J Med Chem 52(6):1701–1711. PMID: 19243174; PMCID: PMC2760094. https://doi.org/10.1021/jm801449a

6.

Barreca ML, Balzarini J, Chimirri A, De Clercq E, De Luca L, Höltje HD et al (2002) Design, synthesis, structure-activity relationships, and molecular modeling studies of 2,3-diaryl-1,3-thiazolidin-4-ones as potent anti-HIV agents. J Med Chem 45(24):5410–5413. PMID: 12431069. https://doi.org/10.1021/jm020977+

7.

Cuenca-Estrella M, Gomez-Lopez A, Mellado E, Garcia-Effron G, Rodriguez-Tudela JL (2004) In vitro activities of ravuconazole and four other antifungal agents against fluconazole-resistant or -susceptible clinical yeast isolates. Antimicrob Agents Chemother 48:3107–3111. PMID: 15273127; PMCID: PMC478504. https://doi.org/10.1128/AAC.48.8.3107-3111.2004

8.

Mohareb RM, Zaki MY, Abbas NS (2015) Synthesis, anti-inflammatory and anti-ulcer evaluations of thiazole, thiophene, pyridine and pyran derivatives derived from androstenedione. Steroids 98:80–91. Epub 07 Mar 2015. PMID: 25759119. https://doi.org/10.1016/j.steroids.2015.03.001

9.

Papadopoulou MV, Trunz BB, Bloomer BW, McKenzie C, Wilkinson SR, Prasittichai C et al (2011) Novel 3-nitro-1H-1,2,4-triazole-based aliphatic and aromatic amines as anti-Chagasic agents. J Med Chem 54(23):8214–8223. Epub 04 Nov 2011. PMID: 22023653; PMCID: PMC3258117. https://doi.org/10.1021/jm201215n

10.

Papadopoulou MV, Bloomer BW, Rosenzweig HS, Wilkinson SR, Kaiser M, Chatelain E et al (2015) Discovery of potent nitrotriazole-based antitrypanosomal agents: in vitro and in vivo evaluation. Bioorg Med Chem 23(19):6467–6476. Epub 24 Aug 2015. PMID: 26344593. https://doi.org/10.1016/j.bmc.2015.08.014

11.

Ramos-Ligonio A, López-Monteon A, Trigos A (2012) Trypanocidal activity of ergosterol peroxide from Pleurotus ostreatus. Phytother Res 26(6):938–943. Epub 14 Nov 2011. PMID: 22083593. https://doi.org/10.1002/ptr.3653.

12.

Papazisis KT, Geromichalos GD, Dimitriadis KA, Kortsaris AH (1997) Optimization of the sulforhodamine B colorimetric assay. J Immunol Methods 208(2):151–158. PMID: 9433470. https://doi.org/10.1016/s0022-1759(97)00137-3

13.

Nwaka S, Ramirez B, Brun R, Maes L, Douglas F, Ridley R (2009) Advancing drug innovation for neglected diseases—criteria for lead progression. PLoS Negl Trop Dis 3(8):e440. PMID: 19707561; PMCID: PMC2727960. https://doi.org/10.1371/journal.pntd.0000440

14.

Yurttas L, Özkay Y, Gençer HK, Acar U (2015) Synthesis of some new thiazole derivatives and their biological activity evaluation. J Chem ID 464379. https://doi.org/10.1155/2015/464379

15.

Nava-Zuazo C, Chávez-Silva F, Moo-Puc R, Chan-Bacab MJ, Ortega-Morales BO, Moreno-Díaz H et al (2014) 2-acylamino-5-nitro-1,3-thiazoles: preparation and in vitro bioevaluation against four neglected protozoan parasites. Bioorg Med Chem 22(5):1626–1633. Epub 31 Jan 2014. PMID: 24529307. https://doi.org/10.1016/j.bmc.2014.01.029

16.

Serban G (2019) Future prospects in the treatment of parasitic diseases: 2-amino-1,3,4-thiadiazoles in leishmaniasis. Molecules 24(8):1557. PMID: 31010226; PMCID: PMC6514673. https://doi.org/10.3390/molecules24081557

17.

Bestgen B, Kufareva I, Seetoh W, Abell C, Hartmann RW, Abagyan R et al (2019) 2-Aminothiazole derivatives as selective allosteric modulators of the protein kinase CK2. 2. Structure-based optimization and investigation of effects specific to the allosteric mode of action. J Med Chem 62(4):1817–1836. Epub 13 Feb 2019. PMID: 30689946; PMCID: PMC7579840. https://doi.org/10.1021/acs.jmedchem.8b01765

18.

Jiang FC, Cheng CY (2006) The design and synthesis of 2-aminothiazole derivatives and their inhibitory activity on apoptosis. Yao Xue Xue Bao 41(8):727–734. PMID: 17039777.

19.

Fietta P (2006) Many ways to die: passive and active cell death styles. Riv Biol 99(1):69–83. PMID: 16791791.

20.

Da Silva EB, Silva OEDA, Oliveira AR, da Silva Mendes CH, Dos Santos TA, da Silva AC et al (2017) Design and synthesis of potent anti-trypanosoma cruzi agents new thiazoles derivatives which induce apoptotic parasite death. Eur J Med Chem 130:39–50. Epub 2017 Feb 16. PMID: 28242550. https://doi.org/10.1016/j.ejmech.2017.02.026
Acknowledgements
The authors thanks to Estefanía Ramos-López, Roberto Meza-Romero and Eric Dumonteil for her appreciation of the manuscript. Mario Daniel Caba-Flores was a recipient of a Ph.D. fellowship from CONACyT, Mexico (451898).
Funding
This research was funded by the Universidad Veracruzana (Prize for interdisciplinary research 2019–2020).
Ethics declarations
Conflict of Interest
The authors have no conflict of interest to declare.
Ethical Approval
The project was reviewed and approved by the Ethical Committee of the Faculty of Chemical Sciences (FCQ/057/08/2019).
Additional information
Publisher's Note
Springer Nature remains neutral with regard to jurisdictional claims in published maps and institutional affiliations.
About this article
Cite this article
Caba-Flores, M.D., Hernández-Romero, D., López-Monteon, A. et al. Activity In Vitro of 2-Chloro-N-[4-(4-Chlorophenyl)-2-Thiazolyl]Acetamide Against Promastigotes of Leishmania mexicana: An Apoptosis Inducer. Acta Parasit. (2021). https://doi.org/10.1007/s11686-020-00328-6
Received:

Accepted:

Published:
Keywords
Neglected tropical diseases

Aminothiazole derivatives

Leishmaniasis

Apoptosis

Infectious disease