Abstract
Purpose
Restored role of the grey wolf in ecological networks of newly recolonized areas can be studied via surveys of parasite communities of this predator. As helminths circulating in multi-host systems, the tapeworms directly reflect wolves' diet, while some species are also important from the One Health perspective. The Czech experienced centuries of wolves' absence, however, now it is situated on the crossroad of recolonising wolves' populations, which is opening questions of their role in ecological networks in this area and thus in sylvatic cycles of heteroxenous parasites.
Methods
Five wolf carcasses from this area were obtained and genetic affinity to a particular population was inspected. Tapeworms isolated from wolves' intestines during necropsies were molecularly identified based on sequences of COI marker.
Results
Three wolf haplotypes (w1, w2, w14) correspond with the dominance of haplogroup 1 (w1, w2) within Central European lowland population and haplogroup 2 (w14) within the Carpathian population. Two Taenia spp. were revealed: T. krabbei in Central European population wolves and T. hydatigena in an individual from Carpathian population.
Conclusions
The results serve as a base for future monitoring and studies of the recolonising wolf population and its impact on ecosystems in the studied area to contribute to the hypothesis about differentiation of parasite communities in particular wolf population and higher parasite diversity and richness in established populations in comparison to newly settled ones.
Access options
Buy single article
Instant access to the full article PDF.
US$ 39.95
Tax calculation will be finalised during checkout.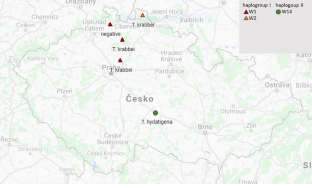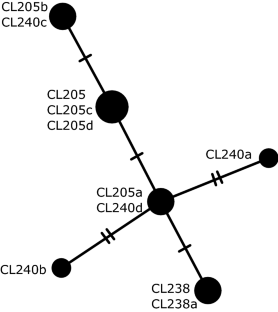 Availability of Data and Materials
All published sequential data are available in GenBank database under defined accession numbers.
References
1.

Lesniak I, Heckmann I, Heitlinger E, Szentiks CA, Nowak C, Harms V, Jarausch A, Reinhardt I, Kluth G, Hofer H, Krone O (2017) Population expansion and individual age affect endoparasite richness and diversity in a recolonising large carnivore population. Sci Rep. https://doi.org/10.1038/srep41730

2.

Hulva P, Černá Bolfíková B, Woznicová V, Jindřichová M, Benešová M, Myslajek RW, Nowak S, Szewcyk M, Niedźwiecka N, Figura M, Hájková A, Sándor AD, Zyka V, Romportl D, Kutal M, Finďo S, Antal V (2018) Wolves at the crossroad: fission-fusion range biogeography in the Western Carpathians and Central Europe. Divers Distrib 24:179–192. https://doi.org/10.1111/ddi.12676

3.

Hudson PJ, Dobson AP, Lafferty KD (2006) Is a healthy ecosystem one that is rich in parasites? Trends Ecol Evol 21:381–385. https://doi.org/10.1016/j.tree.2006.04.0078

4.

Bandelt H, Forster P, Röhl A (1999) Median-joining networks for inferring intraspecific phylogenies. Mol Biol Evol 16(1):37–48

5.

Thompson RCA (2013) Parasite zoonoses and wildlife: one health, spillover and human activity. Int J Parasitol 43:1079–1088. https://doi.org/10.1016/j.ijpara.2013.06.007

6.

Bowles J, Blair D, McManus DP (1992) Genetic variants within the genus Echinococcus identified by mitochondrial DNA sequencing. Mol Biochem Parasit 54:165–173

7.

Trachsel D, Deplazes P, Mathis A (2007) Identification of taeniid eggs in the faeces from carnivores based on multiplex PCR using targets in mitochondrial DNA. Parasitology 134:911–920. https://doi.org/10.1017/S0031182007002235

8.

Kearse M, Moir R, Wilson A, Stones-Havas S, Cheung M, Sturrock S, Buxton S, Cooper A, Markowitz S, Duran C, Thierer T, Ashton B, Meintjes P, Drummond A (2012) Geneious basic: an integrated and extendable desktop software platform for the organization and analysis of sequence data. Bioinformatics 28:1647–1649. https://doi.org/10.1093/bioinformatics/bts199

9.

Chapron G, Kaczensky P, Linnell JDC, von Arx M, Huber D, Andrén H et al (2014) Recovery of large carnivores in Europe's modern human-dominated landscapes. Science 346:1517–1519. https://doi.org/10.1126/science.1257553

10.

Kutal M, Belotti E, Volfová J, Mináriková T, Bufka L, Poledník L, Krojerová J, Bojda M, Váňa M, Kutalová L, Beneš J, Flousek J, Tomášek V, Kafka P, Poledníková K, Pospíšková J, Dekař P, Machciník B, Koubek P, Dula M (2017) Occurrence of large carnivores—Lynx lynx, Canis lupus, and Ursus arctos—and of Felis silvestris in the Czech Republic and western Slovakia in 2012–2016 (Carnivora). Lynx N S 48:93–107. https://doi.org/10.2478/lynx-2017-0006

11.

Priemer J, Krone O, Schuster R (2002) Taenia krabbei (Cestoda: Cyclophyllidea) in Germany and its delimination from T. ovis. Zool Anz 241:333–337

12.

Lavikainen A, Laaksonen S, Beckmen K, Oksanen A, Isomursu M, Meri S (2011) Molecular identification of Taenia spp. in wolves (Canis lupus), brown bears (Ursus arctos) and cervids from North Europe and Alaska. Parasitol Int 60:289–295. https://doi.org/10.1016/j.parint.2011.04.004

13.

Lesniak I, Franz M, Heckmann I, Greenwood AD, Hofer H, Krone O (2017) Surrogate hosts: hunting dogs and recolonizing grey wolves share their endoparasites. Int J Parasitol-Par 6:278–286. https://doi.org/10.1016/j.ijppaw.2017.09.001

14.

Wagner C, Holzapfel M, Kluth G, Reinhardt I, Ansorge H (2012) Wolf (Canis lupus) feeding habits during the first eight years of its occurrence in Germany. Mamm Biol 77:196–203. https://doi.org/10.1016/j.mambio.2011.12.004

15.

Nguyen MT, Gabriel S, Abatih EN, Dorny P (2016) A systematic review on the global occurrence of Taenia hydatigena in pigs and cattle. Vet Parasitol 226:97–103. https://doi.org/10.1016/j.vetpar.2016.06.034

16.

Jansson E, Harmoinen J, Ruokonen M, Aspi J (2014) Living on the edge: reconstructing the genetic history of the Finnish wolf population. BMC Evol Biol 14:64. https://doi.org/10.1186/1471-2148-14-64
Acknowledgements
We are grateful to the Nature Conservation Agency of the Czech Republic for providing access to the wolves' cadavers. The study was supported by the grant project CIGA 20185006 of Czech University of Life Sciences Prague, by the project IGA 104/2020/FVL provided by University of Veterinary and Pharmaceutical Sciences Brno and by the project Nr. CZ.02.1.01/0.0/0.0/16_019/0000787 "Fighting Infectious Diseases" provided by the Ministry of Education Youth and Sports of the Czech Republic.
Ethics declarations
Conflict of interest
We have no conflicts of interests or competing interests.
Additional information
Publisher's Note
Springer Nature remains neutral with regard to jurisdictional claims in published maps and institutional affiliations.
About this article
Cite this article
Juránková, J., Hulva, P., Bolfíková, B.Č. et al. Identification of Tapeworm Species in Genetically Characterised Grey Wolves Recolonising Central Europe. Acta Parasit. (2021). https://doi.org/10.1007/s11686-020-00327-7
Received:

Accepted:

Published:
Keywords
Grey wolf

Recolonising

Haplotypes

Tapeworms