Abstract
Purpose
Coxiella burnetii is known for its potential as veterinary and human bacterial pathogen. The bacteria have been described in ticks, but their role in transmission of Q fever in humans is considered low. Coxiella endosymbionts closely related to C. burnetii have been also isolated from an extensive range of tick species and evidence is growing that these endosymbionts could be linked to human bacteremia. The aim of this study was to get new information on the presence of Coxiella species in ticks infesting wild and domestic hosts in Sardinia, Italy.
Methods
Here, 138 ticks collected from the study area were analyzed for the presence of C. burnetii and Coxiella-like bacteria by polymerase chain reaction (PCR), sequencing and philogenetic analyses using a set of primers targeting the 16S rRNA gene.
Results
DNA of Coxiella species was detected in 69% of the total ticks examined. Based on phylogenetic analysis, the 16S rRNA Coxiella genotypes identified in this study grouped in strongly supported monophyletic clades with identified reference sequences of CLEs detected from Rhipicephalus, Dermacentor, Haemaphysalis and Ornithodoros species and with Coxiella burnetii strains isolated worldwide.
Conclusion
This study reports the molecular detection of a high diversity of Coxiella-like bacteria in Sardinian ticks and confirms also the presence of C. burnetii in tick species previously identified in the island. The role that Coxiella-like endosymbionts play in Sardinian ticks and in their vertebrate hosts needs to be explored further.
Access options
Buy single article
Instant access to the full article PDF.
US$ 39.95
Tax calculation will be finalised during checkout.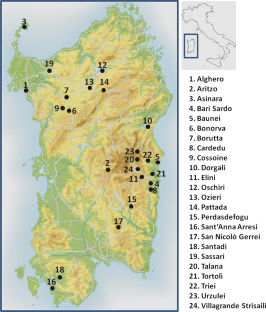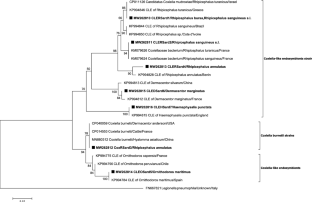 References
1.

Almeida AP, Marcili A, Leite RC, Nieri-Bastos FA, Domingues LN, Martins JR, Labruna MB (2012) Coxiella symbiont in the tick Ornithodoros rostratus (Acari: Argasidae). Ticks Tick Borne Dis 3:203–206. https://doi.org/10.1016/j.ttbdis.2012.02.003

2.

Anderson A, Bijlmer H, Fournier PE, Graves S, Hartzell J, Kersh GJ, Limonard G, Marrie TJ, Massung RF, McQuiston JH, Nicholson WL, Paddock CD, Sexton DJ (2013) Diagnosis and management of Q fever–United States, 2013: recommendations from CDC and the Q Fever Working Group. MMWR Recomm Rep 62:730

3.

Arthan W, Sumrandee C, Hirunkanokpun S, Kitthawee S, Baimai V, Trinachartvanit W, Ahantarig A (2015) Detection of Coxiella-like endosymbiont in Haemaphysalis tick in Thailand. Ticks Tick Borne Dis 6:63–68. https://doi.org/10.1016/j.ttbdis.2014.09.005

4.

Barandika JF, Hurtado A, García-Sanmartín J, Juste RA, Anda P, García-Pérez AL (2008) Prevalence of tick-borne zoonotic bacteria in questing adult ticks from northern Spain. Vector Borne Zoonotic Dis 8:829–883. https://doi.org/10.1089/vbz.2008.0023

5.

Ben-Yosef M, Rot A, Mahagna M, Kapri E, Behar A, Gottlieb Y (2020) Coxiella-like endosymbiont of Rhipicephalus sanguineus is required for physiological processes during ontogeny. Front Microbiol 22(11):493. https://doi.org/10.3389/fmicb.2020.00493

6.

Bernasconi MV, Casati S, Péter O, Piffaretti JC (2002) Rhipicephalus ticks infected with Rickettsia and Coxiella in Southern Switzerland (Canton Ticino). Infect Genet Evol 2:111–120. https://doi.org/10.1016/s1567-1348(02)00092-8

7.

Boarbi S, Fretin D, Mori M (2016) Coxiella burnetii, agent de la fièvre Q. Can J Microbiol 62:102–122. https://doi.org/10.1139/cjm-2015-0551

8.

Buysse M, Plantard O, McCoy KD, Duron O (2019) Menard C (2019) Tissue localization of Coxiella-like endosymbionts in three European tick species through fluorescence in situ hybridization. Ticks Tick Borne Dis 10:798–804. https://doi.org/10.1016/j.ttbdis.2019.03.014

9.

Chisu V, Foxi C, Mannu R, Satta G, Masala G (2018) A five-year survey of tick species and identification of tick-borne bacteria in Sardinia, Italy. Ticks Tick Borne Dis 9:678–681. https://doi.org/10.1016/j.ttbdis.2018.02.008

10.

Chisu V, Loi F, Foxi C, Chessa G, Masu G, Rolesu S, Masala G (2020) Coexistence of tick-borne pathogens in ticks collected from their hosts in Sardinia: an update. Acta Parasitol. https://doi.org/10.1007/s11686-020-00240-z

11.

Duron O, Jourdain E, McCoy KD (2014) Diversity and global distribution of the Coxiella intracellular bacterium in seabird ticks. Ticks Tick Borne Dis 5:557–563. https://doi.org/10.1016/j.ttbdis.2014.04.003

12.

Duron O, Sidi-Boumedine K, Rousset E, Moutailler S, Jourdain E (2015) The importance of ticks in Q fever transmission: what has (and has not) been demonstrated? Trends Parasitol 31:536–552. https://doi.org/10.1016/j.pt.2015.06.014

13.

Duron O, Noël V, McCoy KD, Bonazzi M, Sidi-Boumedine K, Morel O, Vavre F, Zenner L, Jourdain E, Durand P, Arnathau C, Renaud F, Trape JF, Biguezoton AS, Cremaschi J, Dietrich M, Léger E, Appelgren A, Dupraz M, Gómez-Díaz E, Diatta G, Dayo GK, Adakal H, Zoungrana S, Vial L, Chevillon C (2015) The recent evolution of a maternally-inherited endosymbiont of ticks led to the emergence of the Q Fever pathogen Coxiella burnetii. PLoS Pathog 11:e1004892. https://doi.org/10.1371/journal.ppat.1004892

14.

Duron O (2015) The IS1111 insertion sequence used for detection of Coxiella burnetii is widespread in Coxiella-like endosymbionts of ticks. FEMS Microbiol Lett. https://doi.org/10.1093/femsle/fnv132

15.

Duron O, Binetruy F, Noël V, Cremaschi J, McCoy KD, Arnathau C, Plantard O, Goolsby J, Pérez de León AA, Heylen DJA, Van Oosten AR, Gottlieb Y, Baneth G, Guglielmone AA, Estrada-Peña A, Opara MN, Zenner L, Vavre F, Chevillon C (2017) Evolutionary changes in symbiont community structure in ticks. Mol Ecol 26:2905–3292. https://doi.org/10.1111/mec.14094

16.

Eldin C, Mélenotte C, Mediannikov O, Ghigo E, Million M, Edouard S, Mege JL, Maurin M, Raoult D (2017) From Q Fever to Coxiella burnetii infection: a paradigm change. Clin Microbiol Rev 30:115–190. https://doi.org/10.1128/CMR.00045-16

17.

Elsa J, Duron O, Séverine B, González-Acuña D, Sidi-Boumedine K (2015) Molecular methods routinely used to detect Coxiella burnetii in ticks cross-react with Coxiella-like bacteria. Infect Ecol Epidemiol 5:29230. https://doi.org/10.3402/iee.v5.29230

18.

Estrada-Peña A, Mihalca AD, Petney TN (2017) Ticks of Europe and North Africa: a guide to species identification. Springer International Publishing, 404 pp; ISBN 978-3-319-63759-4

19.

Felsenstein J (1985) Confidence limits on phylogenies: an approach using the bootstrap. Evolution 39:783–791. https://doi.org/10.1111/j.1558-5646.1985.tb00420.x

20.

Gottlieb Y, Lalzar I, Klasson L (2015) Distinctive genome reduction rates revealed by genomic analyses of two Coxiella-like endosymbionts in ticks genome. Biol Evol 7:1779–1796. https://doi.org/10.1093/gbe/evv108

21.

Guizzo MG, Parizi LF, Nunes RD, Schama R, Albano RM, Tirloni L, Oldiges DP, Vieira RP, Oliveira WHC, Leite MS, Gonzales SA, Farber M, Martins O, Vaz IDS Jr, Oliveira PL (2017) A Coxiella mutualist symbiont is essential to the development of Rhipicephalus microplus. Sci Rep 7:17554. https://doi.org/10.1038/s41598-017-17309-x

22.

Guimard T, Amrane S, Elsa Prudent El, Karkouri K, Raoult D, Angelakis E (2017) Case report: scalp eschar and neck lymphadenopathy associated with bacteremia due to Coxiella-like bacteria. Am J Trop Med Hyg 97:1319–1322. https://doi.org/10.4269/ajtmh.17-0251

23.

Kimura M (1980) A simple method for estimating evolutionary rate of base substitutions through comparative studies of nucleotide sequences. J Mol Evol 16:111–120. https://doi.org/10.1007/BF01731581

24.

Klyachko O, Stein BD, Grindle N, Clay K, Fuqua C (2007) Localization and visualization of a Coxiella-type symbiont within the lone star tick Amblyomma americanum. Appl Environ Microbiol 73:6584–6594. https://doi.org/10.1128/AEM.00537-07

25.

Knobel DL, Maina AN, Cutler SJ, Ogola E, Feikin DR, Junghae M, Halliday JEB, Richards AL, Breiman RF, Cleaveland S, Njenga MK (2013) Coxiella burnetii in humans, domestic ruminants, and ticks in rural western Kenya. Am J Trop Med Hyg 88:513–518. https://doi.org/10.4269/ajtmh.12-0169

26.

Kurtti TJ, Palme AT, Olive JH Jr (2002) Rickettsiella-like bacteria in Ixodes woodi (Acari: Ixodidae). J Med Entomol 39:534–540. https://doi.org/10.1603/0022-2585-39.3.534

27.

Lalzar I, Harrus S, Mumcuoglu KY, Gottlieb Y (2012) Composition and seasonal variation of Rhipicephalus turanicus and Rhipicephalus sanguineus bacterial communities. App Environ Microbiol 78:4110–4116. https://doi.org/10.1128/AEM.00323-12

28.

Larkin MA, Blackshields G, Brown NP, Chenna R, McGettigan PA, McWilliam H, Valentin F, Wallace IM, Wilm A, Lopez R, Thompson JD, Gibson TJ, Higgins DG (2007) Clustal W and Clustal X version 2.0. Bioinformatics 23:2947–2948. https://doi.org/10.1093/bioinformatics/btm404

29.

Lee JH, Park HS, Jang WJ, Koh SE, Park TK, Kang SS et al (2004) Identification of the Coxiella sp. detected from Haemaphysalis longicornis ticks in Korea. Microbiol Immunol 48:125–130. https://doi.org/10.1111/j.1348-0421.2004.tb03498.x

30.

Machado-Ferreira E, Dietrich G, Hojgaard A, Levin M, Piesman J, Zeidner NS, Soares CA (2011) Coxiella symbionts in the cayenne tick Amblyomma cajennense. Microb Ecol 62:134–142. https://doi.org/10.1007/s00248-011-9868-x

31.

Machado-Ferreira E, Vizzoni VF, Balsemão-Pires E, Moerbeck L, Gazeta GS, Piesman J, Voloch CM, Soares CA (2016) Coxiella symbionts are widespread into hard ticks. Parasitol Res 115:4691–4699. https://doi.org/10.1007/s00436-016-5230-z

32.

Masala G, Porcu R, Daga C, Denti S, Canu G, Patta C, Tola S (2007) Detection of pathogens in ovine and caprine abortion samples from Sardinia, Italy, by PCR. J Vet Diagn Invest 19:96–98. https://doi.org/10.1177/104063870701900116

33.

Muramatsu Y, Usaki N, Thongchai C, Kramomtong I, Kriengsak P, Tamura Y (2014) Seroepidemiologic survey in Thailand of Coxiella burnetii infection in cattle and chickens and presence in ticks attached to dairy cattle. Southeast Asian J Trop Med Pub Health 45:1167–1172

34.

Papa A, Tsioka K, Kontana A, Papadopoulos C, Giadinis N (2017) Bacterial pathogens and endosymbionts in ticks. Ticks Tick Borne Dis 8:31–35. https://doi.org/10.1016/j.ttbdis.2016.09.011

35.

Polo MF, Mastrandrea S, Santoru L, Arcadu A, Masala G, Marras V, Bagella G, Sechi MM, Tanda F, Pirina P (2015) Pulmonary inflammatory pseudotumor due to Coxiella burnetii. Case report and literature review. Microbes Infect 17:795–798. https://doi.org/10.1016/j.micinf.2015.08.008

36.

Porter SR, Czaplicki G, Mainil J, Guattéo R, Saegerman C (2011) Q Fever: current state of knowledge and perspectives of research of a neglected zoonosis. Int J Microbiol. https://doi.org/10.1155/2011/248418

37.

Rahal M, Medkour H, Diarra AZ, Bitam I, Parola P, Mediannikov O (2020) Molecular identification and evaluation of Coxiella-like endosymbionts genetic diversity carried by cattle ticks in Algeria. Ticks Tick Borne Dis 11:101493. https://doi.org/10.1016/j.ttbdis.2020.101493

38.

Rolain JM, Gouriet F, Brouqui P, Larrey D, Janbon F, Vene S et al (2005) Concomitant or consecutive infection with Coxiella burnetii and tickborne diseases. Clin Infect Dis 40:82–88. https://doi.org/10.1086/426440

39.

Saitou N, Nei M (1987) The neighbor-joining method: a new method for reconstructing phylogenetic trees. Mol Biol Ev 4:406–425. https://doi.org/10.1093/oxfordjournals.molbev.a040454

40.

Satta G, Chisu V, Cabras P, Fois F, Masala G (2011) Pathogens and symbionts in ticks: a survey on tick species distribution and presence of tick-transmitted micro-organisms in Sardinia, Italy. J Med Microbiol 60:63–68. https://doi.org/10.1099/jmm.0.021543-0

41.

Lee SH, Ouh IO, Lee GH, Goo YK, Kim S, Kwon OD, Kwak D (2016) Molecular detection and genotyping of Coxiella-like endosymbionts in ticks that infest horses in South Korea. PLoS ONE 28(11):10. https://doi.org/10.1371/journal.pone.0165784

42.

Šimo L, Kazimirova M, Richardson J, Bonnet SI (2017) The essential role of tick salivary glands and saliva in tick feeding and pathogen transmission. Front Cell Infect Microbiol 22(7):281. https://doi.org/10.3389/fcimb.2017.00281

43.

Smith TA, Driscoll T, Gillespie JJ, Raghavan R (2015) A Coxiella-like endosymbiont is a potential vitamin source for the lone star tick. Genome Biol Evol 7:831–838. https://doi.org/10.1093/gbe/evv016

44.

Špitalská E, Sparagano O, Stanko M, Schwarzová K, Špitalský Z, Škultéty L, Havlíková SF (2018) Diversity of Coxiella-like and Francisella-like endosymbionts, and Rickettsia spp, Coxiella burnetii as pathogens in the tick populations of Slovakia, Central Europe. Ticks Tick Borne Dis 9:1207–1211. https://doi.org/10.1016/j.ttbdis.2018.05.002

45.

Tamura K, Stecher G, Peterson D, Filipski A, Kumar S (2013) MEGA6: molecular evolutionary genetics analysis version 60. Mol Biol Evol 30:2725–2729. https://doi.org/10.1093/molbev/mst197

46.

Tozer SJ, Lambert SB, Strong CL, Field HE, Sloots TP, Nissen MD (2013) Potential animal and environmental sources of Q fever infection for humans in Queensland Zoonoses. Public Health 61:105–112. https://doi.org/10.1111/zph.12051

47.

Trinachartvanit W, Maneewong S, Kaenkan W, Usananan P, Baimai V, Ahantarig A (2018) Coxiella-like bacteria in fowl ticks from Thailand. Parasit Vectors 11:670. https://doi.org/10.1186/s13071-018-3259-9

48.

Tsementzi D, Castro Gordillo J, Mahagna M, Gottlieb Y, Konstantinidis KT (2018) Comparison of closely related, uncultivated Coxiella tick endosymbiont population genomes reveals clues about the mechanisms of symbiosis. Environ Microbiol 20:1751–1764. https://doi.org/10.1111/1462-2920.14104

49.

Williams-Newkirk AJ, Rowe LA, Mixson-Hayden TR, Dasch GA (2014) Characterization of the bacterial communities of life stages of free living lone star ticks (Amblyomma americanum). PLoS ONE 9:e102130. https://doi.org/10.1371/journal.pone.0102130
Ethics declarations
Conflict of Interest
The authors declare that they have no conflict of interests.
Ethics Approval
All applicable international, national, and/or institutional guidelines for the care and use of animal were followed. All procedures performed in studies involving human participant were in accordance with the ethical standards of the institutional and/or national ethic committee. A written informed consent was obtained from patients at the time of hospitalization. The Istituto Zooprofilattico Sperimentale of Sardinia was authorized by the ethics committee of the Local Health Authority of Sassari (Comitato di Bioetica, ASL N. 1, Sassari) Prot N. 1136, to analyze human sera following the request of the National Health Service doctors, since 03/26/2013.
Additional information
Publisher's Note
Springer Nature remains neutral with regard to jurisdictional claims in published maps and institutional affiliations.
About this article
Cite this article
Chisu, V., Mura, L., Foxi, C. et al. Coxiellaceae in Ticks from Human, Domestic and Wild Hosts from Sardinia, Italy: High Diversity of Coxiella-like Endosymbionts. Acta Parasit. (2021). https://doi.org/10.1007/s11686-020-00324-w
Received:

Accepted:

Published:
Keywords
Coxiella burnetii
Coxiella-like endosymbionts

Ticks

Tick-borne diseases