Abstract
Purpose
Surra is a zoonotic disease caused by Trypanosoma evansi (Trypanozoon), a salivary trypanosome native to Africa which affects a wide range of mammals worldwide and causes mortality and significant economic loss. The present study was devoted to the molecular characterization of T. evansi derived from naturally infected dromedary camels in Algeria.
Methods
A total of 148 blood samples were collected from mixed age camels living in one of four geographic regions (Ouargla, El Oued, Biskra and Ghardaia) of Algeria. Samples underwent PCR amplification and sequencing of the internal transcribed spacer 1 (ITS1) complete sequence.
Results
DNA of Trypanosoma spp. was found in 19 camels (12.84%). Trypanosoma spp. molecular positivity was not affected by sex (p = 0.50), age (p = 0.08), or geographic location (p = 0.12). Based on multiple sequence alignment of the obtained DNA sequences with representative T. evansi ITS1 sequences available globally, the Algerian sequences were grouped within four different haplotypes including two which were original.
Conclusion
Results of this study provide preliminary data on which future studies of genetic diversity and molecular epidemiology of T. evansi can be based.
Access options
Buy single article
Instant access to the full article PDF.
US$ 39.95
Tax calculation will be finalised during checkout.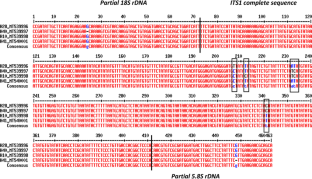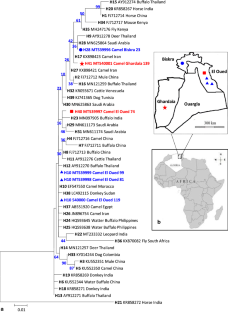 Availability of data and material
Acknowledgements
We thank Professor Curtis R. Youngs, Animal Science Department, Iowa State University, Ames, IA 50011, United States of America for improvement of our English. We are also grateful to Nour el houda Ammani, Amina Arib and Amira Azzouz for their participation in the study.
Ethics declarations
Conflict of Interest
The authors declare that they have no conflict of interest.
Ethics Approval
This study with camels was supervised by the division of biological resources of the Scientific and Technical Research Centre for Arid Areas (CRSTRA). It was conducted in accordance with the World Animal Health Organization (OIE) guiding principles on animal welfare included in the OIE Terrestrial Animal Health Code [40].Verbal consent of farm owners involved in this investigation was obtained prior to the collection of blood samples from their animals.
About this article
Cite this article
Boutellis, A., Bellabidi, M., Benaissa, M.H. et al. New Haplotypes of Trypanosoma evansi Identified in Dromedary Camels from Algeria. Acta Parasit. 66, 294–302 (2021). https://doi.org/10.1007/s11686-020-00316-w
Received:

Accepted:

Published:

Issue Date:
Keywords
Trypanosoma evansi

Camels

Algeria

Molecular characterization

ITS1

Haplotypes