Abstract
Background
Human demodecid mites including Demodex folliculorum and Demodex brevis Akbulatova can cause acne, rosacea, epifolliculitis, blepharitis, seborrheic dermatitis, perioral dermatitis, acromastitis and such skin health problems. Artemisia (Composiate) are widely distributed in temperate regions in the northern hemisphere. It has been reported that 17 species of plants in Artemisia used to be mugwort in China. Mugwort volatile oil (MVO) has antibacterial and antiviral effects, can relieve cough and asthma, acts as an expectorant, choleretic and sedative, and promotes circulation and enhances immunity.
Purpose
This research was to observe the effect of MVO on two types of human demodecid mites in vitro.
Methods
The MVO was obtained via the supercritical CO2 extraction method, and the human demodecid mites were acquired with cellophane tape. MVO had a distinct killing effect on two types of human demodecid mites, Demodex folliculorum and Demodex brevis. The body of the demodecid mites has a classical temporal process, which consists of excitement, contractions, death and transparency. The killing time was lengthened with decreasing concentration, thus showing an evident dependence on concentration.
Results
The experiment showed that 3.125% was the minimum effective concentration of MVO for killing D. brevis, and 6.25% was the minimum effective concentration for killing D. folliculorum; the killing effect of MVO on D. brevis was greater than on D. follilorum.
Conclusion
This result suggests that mugwort, which acts as a traditional Chinese herbal medicine, has a noticeable killing effect on human demodecid mites.
Access options
Buy single article
Instant access to the full article PDF.
US$ 39.95
Tax calculation will be finalised during checkout.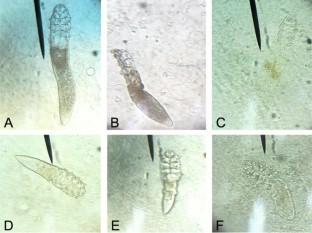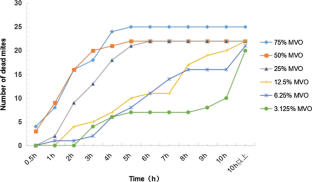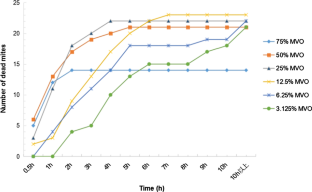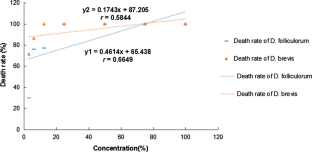 References
1.

Guo N (2009) View on human demodicidosis. Med Anim Control 25:25–28

2.

Chang YS, Huang YC (2017) Role of Demodex mite infestation in rosacea: a systematic review and meta-analysis. J Am Acad Dermatol 77(3):441-447.e6. https://doi.org/10.1016/j.jaad.2017.03.040 (Epub 2017 Jul 12 PMID: 28711190)

3.

Gonzalez-Hinojosa D, Jaime-Villalonga A, Aguilar-Montes G, Lammoglia-Ordiales L (2018) Demodex and rosacea: is there a relationship? Indian J Ophthalmol 66(1):36–38. https://doi.org/10.4103/ijo.IJO_514_17.PMID:29283119;PMCID:PMC5778578

4.

Czepita D, Ku탄na-Grygiel W, Czepita M, Grobelny A (2007) Demodex folliculorum and Demodex brevis as a cause of chronic marginal blepharitis. Ann Acad Med Stetin. 53(1):63–67 (discussion 67. PMID: 18561612)

5.

Lavy I (2019) Demodex parasites and chronic blepharitis. Harefuah. 158(2):112–114 (Hebrew. PMID: 30779489)

6.

Elston CA, Elston DM (2014) Demodex mites. Clin Dermatol. 32(6):739–743. https://doi.org/10.1016/j.clindermatol.2014.02.012 (Epub 2014 Feb 28. PMID: 25441466)

7.

Lee SH, Chun YS, Kim JH, Kim ES, Kim JC (2010) The relationship between demodex and ocular discomfort. Invest Ophthalmol Vis Sci 51(6):2906–2911. https://doi.org/10.1167/iovs.09-4850 (Epub 2010 Feb 3 PMID: 20130278)

8.

Hsu CK, Zink A, Wei KJ, Dzika E, Plewig G, Chen W. Primäre humane Demodikose. Eine Erkrankung sui generis Primary human demodicosis. A disease sui generis. Hautarzt. 2015;66(3):189–94. German. Doi: https://doi.org/10.1007/s00105-015-3595-z. PMID: 25744530.

9.

Human Demodicosis:Emerging Dermatosis caused by Demodex[J].Chin J Parasitol Parasit Dis 2016;(05):456–462+472.

10.

Zhou YWF, Ke P (2011) The application of metronidazole in Dermatology. Med Recapitul 17:1207–1209

11.

Ning XL, Ma Q (2016) Clinical features analysis of demodectic blephartis observed in 40 patients. Zhongguo Ji Sheng Chong Xue Yu Ji Sheng Chong Bing Za Zhi 34:182–183

12.

Friedman P, Sabban EC, Cabo H (2017) Usefulness of dermoscopy in the diagnosis and monitoring treatment of demodicidosis. Dermatol Pract Concept 7:35–38

13.

Jacob S, VanDaele MA, Brown JN (2019) Treatment of Demodex-associated inflammatory skin conditions: a systematic review. Dermatol Ther. 32(6):e13103. https://doi.org/10.1111/dth.13103 (Epub 2019 Oct 28. PMID: 31583801)

14.

Messaoud R, El Fekih L, Mahmoud A, Ben Amor H, Bannour R, Doan S, Khairallah M (2019) Improvement in ocular symptoms and signs in patients with Demodex anterior blepharitis using a novel terpinen-4-ol (2.5%) and hyaluronic acid (0.2%) cleansing wipe. Clin Ophthalmol. 13:1043–1054. https://doi.org/10.2147/OPTH.S198585 (PMID: 31417235; PMCID: PMC6592021)

15.

Luo Y, Sun YJ, Zhang L, Luan XL (2016) Treatment of mites folliculitis with an ornidazole-based sequential therapy: a randomized trial. Medicine (Baltimore) 95(27):e4173. https://doi.org/10.1097/MD.0000000000004173 (PMID:27399141;PMCID:PMC5058870)

16.

Gupta V, Bhatia R, Yadav D, Khanna N (2016) Clues to facial demodicidosis: a case illustration. Ind J Dermatol 61(4):453–454

17.

Vashisht D, Singh J, Baveja S, Tiwari R, Bhatnagar A (2016) Unilateral demodicidosis of face mimicking hansens disease. Dermatol Rep 8:6891

18.

Yao AXTY, Wang ZW, Duan YC (2015) Advances in the treatment of facial Demodicidosis. J Pathog Biol 10:78–82

19.

Yu JPRH (2008) Chinese medicine treatment of Demodex. J Trop Dis Parasitol 6:181–183

20.

Deng YXWJ, Yin ZQ, Jia RY, Chen ZZ, He CL, Liang XX, Lv C (2014) Acaricidal activity of four herbal monomer substances in vitro. Chin J Vet Sci 34:136–143

21.

Karakurt Y, Zeytun E (2018) Evaluation of the efficacy of tea tree oil on the density of Demodex mites (Acari: Demodicidae) and ocular symptoms in patients with demodectic blepharitis. J Parasitol 104(5):473–478. https://doi.org/10.1645/18-46 (Epub 2018 Jul 26 PMID: 30016200)

22.

Gao YY, Di Pascuale MA, Li W, Baradaran-Rafii A, Elizondo A, Kuo CL, Raju VK, Tseng SC (2005a) In vitro and in vivo killing of ocular Demodex by tea tree oil. Br J Ophthalmol 89(11):1468–1473. https://doi.org/10.1136/bjo.2005.072363 (PMID:16234455;PMCID:PMC1772908)

23.

Zhang YQDW, Zhao ZM, Wang JJ, Liu LH (2004) On insectisidal and acaricidal of a Chinese traditional meidicinal plant clove. J Southwest Agric Univ 26:429–432

24.

Tian YLC (2006) 25 kinds of Chinese herbal medicine in vitro anti D follicuforum activity screening. J Chin Med Mater 29:1013–1015

25.

Zhao YEGN (2007) The pesiticidal effect and mechanism oil in vitro against Demodex. Chin Bull Entomol 44:74–77

26.

Zhao YA, Na G, Shi R, Zhang LX (2006) The effect and mechanism of new natural miticide camphor oil in killing Demodex. J Xi'an Jiaotong Univ 27:544–547

27.

Li HHW, Yu BL, Luo LJ, Jia XM (2011) The therapeutic effect of peppermint oil on demodex in body surface of human. J Kunming Med Univ 7:102–103

28.

Xq H (2002) Treatment of stemonae to demodex dermatitis. J Med Theory Pract 15:396

29.

Zhen SZCC, Shen CH, Liu YZ (2004) Killing effect of viratrum nigrum cream on Demodex folliculorum in vitro. J Med Sci Yanbian Univ 27:31

30.

Qadir M, Maurya AK, Agnihotri VK, Shah WA (2019) Volatile composition, antibacterial and antioxidant activities of artemisia tournefortiana Reichb. from Kashmir, India. Nat Prod Res 28:1–5

31.

Weber RW (2006) Mugwort, A. vulgaris. Ann Allergy Asthma Immunol 97(2):A4. https://doi.org/10.1016/s1081-1206(10)60001-4 (PMID: 16937739)

32.

Zeng HYZX, Feng B (2005) Extraction technology of the volatile oils from Artemisiae argyi leaves by supercritical CO2 microwave. Gui Haia 3:285-288+263

33.

Abiri R, Silva ALM, de Mesquita LSS, de Mesquita JWC, Atabaki N, de Almeida Jr EB, Shaharuddin NA, Malik S (2018) Towards a better understanding of Artemisia vulgaris: Botany, phytochemistry, pharmacological and biotechnological potential. Food Res Int 109:403–415

34.

Abidi A, Sebai E, Dhibi M, Alimi D, Rekik M, B'chir F, Maizels RM, Akkari H. Chemical analyses and anthelmintic effects of Artemisia campestris essential oil. Veterinary Parasitology. 2018; 21.

35.

Yuan FSGS, Yu AK, Han YM, Dai GS, Yu H, Deng SH, Zou LJ (1993) The screening test of killing Demodex in traditional Chinese Medicine. Chin J Parasit Dis Control 3:238–239

36.

Liang YFLH (1999) Screening of traditional Chinese medicine of killing human Demodex. Guangxi J Trad Chin Med 22:40

37.

Zhao YEGN, Mu X, Wu CR, Lu ZH (2007) In vitro killing effect of P-Cymene on Demodex and its mechanism of action. Chin J Zoonoses 1:19–22

38.

Gao YY, Di Pascuale MA, Li W, Baradaran-Rafii A, Elizondo A, Kuo CL, Raju VK, Tseng SC (2005b) In vitro and in vivo killing of ocular Demodex by tea tree oil. Br J Ophthalmol 89:1468–1473

39.

Gao YYDPM, Li W, Liu DT, Baradaran-Rafii A, Elizondo A, Kawakita T, Raju VK, Tseng SC (2005) High prevalence of Demodexin eyelashes with cylindrical dandruff. Invest Ophthalmol Vis Sci 46:3089–3094

40.

Koo H, Kim TH, Kim KW, Wee SW, Chun YS, Kim JC (2012) Ocular surface discomfort and Demodex: effect of tea tree oil eyelid scrub in Demodex blepharitis. J Korean Med Sci 27:1574–1579

41.

Zhao YEFL, Shi J, Guo N, Li C, Huang CJ (2006) Studies on the experiment of killing Demodex folliculorum in vitro with crude extract of folicum artemisiae argyi Chinese. J Vector Biol Control 3:209–211

42.

Huang LJGY, Xu DL, Wang R, Fan CM (2007) In vitro killing of the extracts of 30 Chinese herbal drugs on ocular Demodex. China J Chin Ophthalmol 4:211–214 (263:59-65)
Ethics declarations
Conflict of interest
The authors declare that there are no conflicts of interest.
Ethics approval
The source of the research specimens obtained the informed consent of the provider and the approval of the academic committee members of the school.
Additional information
Publisher's Note
Springer Nature remains neutral with regard to jurisdictional claims in published maps and institutional affiliations.
About this article
Cite this article
Du, J., Gao, R. & Zhao, J. The Effect of Volatile Oil from Chinese Mugwort Leaf on Human Demodecid Mites In Vitro. Acta Parasit. (2021). https://doi.org/10.1007/s11686-020-00314-y
Received:

Accepted:

Published:
Keywords
Mugwort

Mugwort volatile oil

Human demodecid mite

Supercritical CO2 extraction method

Cellophane tape method