Abstract
Introduction
Psychoda sp. is often collected from patchy habitats such as sewers, drains and decomposing organic matters. The discovery of Psychoda sp. in forensic studies indicated that it might have noteworthy value in assisting death investigations.
Purpose
This study reports on the first finding of Psychoda larvae collected from decomposing rabbit carcasses placed in Cameron Highlands, Pahang, Malaysia.
Methods
The larvae were first observed on rabbit carcasses and were collected using tweezers and carefully preserved in 70% ethanol. They were subsequently mounted on microscopy slides using Hoyer's medium and identified as Psychoda sp. morphologically. The identification was also confirmed through a DNA barcoding analysis.
Results
Psychoda sp. larvae were collected on day-10 post-mortem where the rabbit carcasses were at the advanced decay stage of decomposition. The cytochrome c oxidase I (COI) gene sequences of the larvae had 90% similarity with the Psychoda spp. in the database.
Conclusion
The finding of these larvae on carrion may provide additional valuable insights into forensic entomology and may assist in death investigations.
Access options
Buy single article
Instant access to the full article PDF.
US$ 39.95
Tax calculation will be finalised during checkout.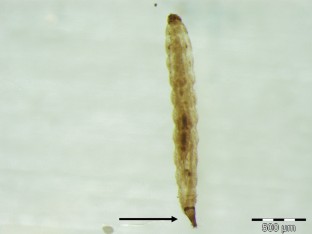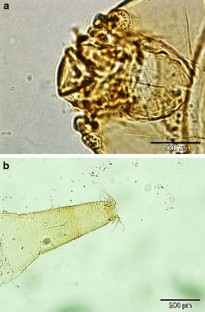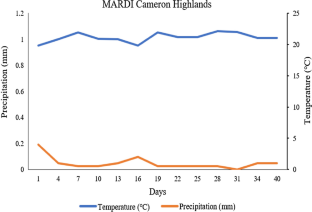 References
1.

Salmela J, Kvifte GM, More A (2012) Description of a new Psychoda Latreille species from Fennoscandia (Diptera: Psychodidae). Zootaxa 3313:34–43

2.

Griffith TB, Gillet-Kaufman J (2018) Drain fly Psychoda spp. (Insecta: Diptera:Psychodidae) (EENY-716). http://edis.ifas.ufl.edu/DLN. Accessed 18 Dec 2019

3.

Quate LW (1962) The Psychodidae of Batu Caves, Malaya (Diptera). Pac Insects 4:219–234

4.

Bravo F, Lopes PS, Bastos S (2010) A new Brazilian species of Psychoda Latreille, 1796 (Diptera, Psychodidae) collected in a bromeliad. Biota Neotrop 10:167–169. https://doi.org/10.1590/S1676-06032010000200021

5.

Ahmad A, Ahmad AH, Dieng H, Satho T, Ahmad H, Aziz AT, Boots M (2011) Cadaver wrapping and arrival performance of adult flies in an oil palm plantation in northern peninsular Malaysia. J Med Entomol 48:1236–1246. https://doi.org/10.1603/ME10247

6.

Heo CC, Nazni WA, Chew KW, Kurahashi H, Jeffery J, Heah SK, Omar B (2010) A study of cow dung diptera in Sentul Timur, Kuala Lumpur, Malaysia. J Trop Med Parasitol 33:53–61

7.

Tüzün A, Dabiri F, Yüksel S (2010) Preliminary study and identification of insects' species of forensic importance in Urmia, Iran. Afr J Biotechnol 9:3649–3658

8.

Lindgren NK, Sisson MS, Archambeault AD, Rahlwes BC, Willett JR, Bucheli SR (2015) Four forensic entomology case studies: records and behavioral observations on seldom reported cadaver fauna with notes on relevant previous occurrences and ecology. J Med Entomol 52:143–150. https://doi.org/10.1093/jme/tju023

9.

Redborg KE, Hinesly TD, Ziegler EL (1983) Rearing Psychoda alternata (Diptera: Psychodidae) in the laboratory on digested sewage sludge, with some observations on its biology. Environ Entomol 12:412–415. https://doi.org/10.1093/ee/12.2.412

10.

Cordeiro DP, Wagner R (2018) Family Psychodidae. In: Thorp JH, Covich AP (eds) Thorp and Covich's freshwater invertebrates. Academic Press, London, pp 765–770

11.

Wagner R, Richardson BA, Richardson MJ (2008) A new psychodid species from Puerto Rican tank bromeliads. Stud Neotrop Fauna Envion 43:209–216. https://doi.org/10.1080/01650520802288173

12.

Hajibabaei M, Janzen DH, Burns JM, Hallwachs W, Hebert PDN (2006) DNA barcodes distinguish species of tropical Lepidoptera. Proc Natl Acad Sci 103:968–971. https://doi.org/10.1073/pnas.0510466103

13.

Turner CL (1923) The Psychodidae (moth-like flies) as subjects for studies in breeding and heredity. Am Nat 57:545–558. https://www.journals.uchicago.edu/doi/pdfplus/10.1086/279944

14.

Bishop AL, McKenzie HJ, Barchia IM, Harris AM (1998) Occurrence and effect of temperature regimes on four species of fly (Diptera) found with 'Culicoides brevitarsis' Kieffer (Ceratopogonidae) in bovine dung. Gen Appl Entomol 28:93–99

15.

Scott HG (1961) Filter fly control at sewage plants. Sanitarian 24:14–17

16.

Munstermann LE (2019) Phlebotomine sand flies and moth flies (Psychodidae). In: Mullen GR, Durden L (eds) Medical and veterinary entomology. Academic Press, London, pp 191–211
Acknowledgements
We would like to thank MARDI, Cameron Highlands for the permission to conduct research at the study site. We would also like to extend our gratitude to Professor Rüdiger Wagner for the confirmation of genus Psychoda sp. morphologically.
Funding
This research was supported by the Faculty of Medicine, Universiti Teknologi MARA, Selangor, Malaysia under the grant numbers: 600-IRMI/DANA-KCM-5/3/LESTARI (147/ 2017) and 600-IRMI 5/3/GIP (017/2018) as well as the Higher Institution Centre of Excellence (HICoE) program (MO002-2019), University of Malaya.
Ethics declarations
Conflict of Interest
The authors declare that they have no conflict of interest.
Ethical Approval
The study protocol was approved by the Research Ethics Committee of Universiti Teknologi MARA [600-FF (PS.17/2/1)].
Additional information
Publisher's Note
Springer Nature remains neutral with regard to jurisdictional claims in published maps and institutional affiliations.
About this article
Cite this article
Azmiera, N., Low, V.L. & Heo, C.C. Colonization of Rabbit Carcasses by Drain Fly Larvae, Psychoda sp. (Diptera: Psychodidae): The First Report. Acta Parasit. (2021). https://doi.org/10.1007/s11686-020-00313-z
Received:

Accepted:

Published:
Keywords
Psychoda sp.

Forensic entomology

Malaysia

Highland

Drain fly