Abstract
Introduction
The grey wolf (Canis lupus) is the natural host of many parasites. These animals travel quite long distances to search for prey and nests, causing parasites to spread over large areas; therefore, determination of the parasites carried by grey wolves is important.
Methods
In this study, we used both morphological and molecular methods for parasitological identification of helminth species. For this purpose, the material obtained after necropsy was examined by macroscopic, microscopic, and molecular (multiplex PCR and DNA sequencing) methods.
Results
No pathological lesions and parasites were detected in the macroscopic examination of the trachea, lungs, heart, liver, spleen, stomach, and kidneys. The parasites collected from the intestines and diaphragm muscles were identified as Taenia hydatigena, Mesocestoides litteratus and Trichinella britovi.
Conclusion
The aim of this study was to determine the helminth species in a dead grey wolf from wildlife. To the best of our knowledge, with this study, Taenia hydatigena, Mesocestoides litteratus and Trichinella britovi were detected for the first time in a grey wolf in Turkey.
Access options
Buy single article
Instant access to the full article PDF.
US$ 39.95
Tax calculation will be finalised during checkout.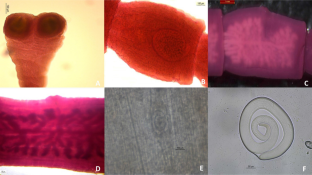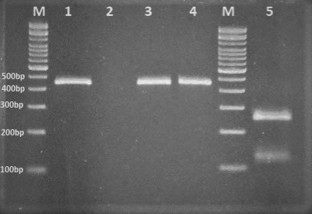 References
1.

Mech L, Boitani L (2003) Wolves: behavior, ecology and conservation. University of Chicago, Chicago, IL, USA

2.

Boitani L, Phillips M, Jhala Y (2018) Canis lupus. The IUCN Red List of Threatened Species 2018: e.T3746A119623865. https://doi.org/10.2305/IUCN.UK.2018-2.RLTS.T3746A119623865.en

3.

Ambarli H, Erturk A, Soyumert A (2016) Current status, distribution, and conservation of brown bear (Ursidae) and wild canids (gray wolf, golden jackal, and red fox; Canidae) in Turkey. Turk J Zool 40(6):944–956. https://doi.org/10.3906/zoo-1507-51

4.

Miller B, Dugelby B, Foreman D, del Río CM, Noss R, Phillips M, Reading R, Soulé ME, Terborgh J, Willcox L (2001) The importance of large carnivores to healthy ecosystems. Endanger Species 18(5)

5.

Craig HL, Craig PS (2005) Helminth parasites of wolves (Canis lupus): a species list and an analysis of published prevalence studies in Nearctic and Palearctic populations. J Helminthol 79:95–103. https://doi.org/10.1079/JOH2005282

6.

Al-Sabi MNS, Rääf L, Osterman-Lind E, Uhlhorn H, Kapel CMO (2018) Gastrointestinal helminths of gray wolves (Canis lupus lupus) from Sweden. Parasitol Res 117(6):1891–1898. https://doi.org/10.1007/s00436-018-5881-z

7.

de Macedo MRP, Zanet S, Bruno S, Tolosano A, Marucco F, Rossi L, Muller G, Ferroglio E (2019) Gastrointestinal helminths of wolves (Canis lupus Linnaeus, 1758) in Piedmont, north-western Italy. J Helminthol 94:1–6. https://doi.org/10.1017/S0022149X19000841

8.

Szafrańska E, Wasielewski O, Bereszyński A (2010) A faecal analysis of helminth infections in wild and captive wolves, Canis lupus L., in Poland. J Helminthol 84:415–419. https://doi.org/10.1017/S0022149X10000106

9.

Tigin Y, Burgu A, Doganay A, Oge S, Umur S (1989) Helminthic faecal examination of some mammals and birds in Ankara zoological garden. Vet J Ankara Univ 36(3):646–664 (In Turkish)

10.

Gurler AT, Beyhan YE, Acici M, Bolukbas SC, Umur S (2010) Helminths of mammals and birds at the Samsun Zoological Garden, Turkey. J Zoo Wildl Med 41(2):218–223. https://doi.org/10.1638/2009-0070R1.1

11.

Hofer S, Gloor S, Müller U, Mathis A, Hegglin D, Deplazes P (2000) High prevalence of Echinococcus multilocularis in urban red foxes (Vulpes vulpes) and voles (Arvicola terrestris) in the city of Zürich. Switz Parasitol 120(2):135–142. https://doi.org/10.1017/S0031182099005351

12.

Taylor MA, Coop RL, Wall RL (2016) Veterinary parasitology, 4th edn. Blackwell Publishing, Oxford

13.

Gamble HR, Bessonov AS, Cuperlovic K, Gajadhar AA, Van Knapen F, Noeckler K, Schenone H, Zhu X (2000) International Commission on Trichinellosis: recommendations on methods for the control of Trichinella in domestic and wild animals intended for human consumption. Vet Parasitol 93(3–4):393–408. https://doi.org/10.1016/S0304-4017(00)00354-X

14.

Anderson RC (2000) Nematode parasites of vertebrates: their development and transmission, 2nd edn. Cabi Publishing, London

15.

Loos-Frank B (2000) An up-date of Verster's (1969) Taxonomic revision of the genus Taenia Linnaeus'(Cestoda) in table format. Syst Parasitol 45(3):155–184. https://doi.org/10.1023/A:1006219625792

16.

Hrčkova G, Miterpakova M, O'Connor A, Šnábel V, Olson PD (2011) Molecular and morphological circumscription of Mesocestoides tapeworms from red foxes (Vulpes vulpes) in central Europe. Parasitology 138(5):638–647. https://doi.org/10.1017/S0031182011000047

17.

Bowles J, Blair D, McManus DP (1992) Genetic variants within the genus Echinococcus identified by mitochondrial DNA sequencing. Mol Biochem Parasitol 54(2):165–173. https://doi.org/10.1016/0166-6851(92)90109-W

18.

Pozio E, La Rosa G (2003) PCR-derived methods for the identification of Trichinella parasites from animal and human samples. In: Sachse K, Frey J (eds) PCR detection of microbial pathogens: methods and protocols. Humana Press, New Jersey, pp 299–309

19.

Moks E, Jõgisalu I, Saarma U, Talvik H, Järvis T, Valdmann H (2006) Helminthologic survey of the wolf (Canis lupus) in Estonia, with an emphasis on Echinococcus granulosus. J Wildl Dis 42:359–365. https://doi.org/10.7589/0090-3558-42.2.359

20.

Segovia JM, Torres J, Miquel J, Llaneza L, Feliu C (2001) Helminths in the wolf, Canis lupus, from north-western Spain. J Helminthol 75(2):183–192. https://doi.org/10.1079/JOH200152

21.

Lesniak I, Heckmann I, Heitlinger E, Szentiks CA, Nowak C, Harms V, Jarausch A, Reinhardt I, Kluth G, Hofer H, Krone O (2017) Population expansion and individual age affect endoparasite richness and diversity in a recolonising large carnivore population. Nat Sci Rep 7:41730. https://doi.org/10.1038/srep41730

22.

Guralp N, Dincer S, Kemer R, Cantoray R, Tasan E (1977) The distribution and public health significance of gastro-intestinal helminths in Elazıg Stray dogs. Vet J Ankara Univ 24:241–249 (In Turkish)

23.

Doganay A (1983) Prevalence of helminths in Ankara dogs and their potential public health significance. Vet J Ankara Univ 30(4):550–561 (In Turkish)

24.

Aydenizoz M (1997) Helminthological investigations of dogs in Konya Province. Turk J Parasitol 21:429–434 (In Turkish)

25.

Kilinc SG, Kesik HK, Simsek S (2019) Molecular characterization and haplotypes of sheep and goat isolates of Cysticercus tenuicollis in Turkey. Parasitology 146(8):1047–1054. https://doi.org/10.1017/S0031182019000362

26.

Utuk AE, Piskin FC (2012) Molecular detection and characterization of goat isolate of Taenia hydatigena in Turkey. Sci World J 2012:962732. https://doi.org/10.1100/2012/962732

27.

Cengiz G, Tenekeci GY, Bilgen N (2019) Molecular and morphological characterization of Cysticercus tenuicollis in red deer (Cervus elaphus) from Turkey. Acta Parasitolog 64(3):652–657. https://doi.org/10.2478/s11686-019-00085-1

28.

Hermosilla C, Kleinertz S, Silva LM, Hirzmann J, Huber D, Kusak J, Taubert A (2017) Protozoan and helminth parasite fauna of free-living Croatian wild wolves (Canis lupus) analyzed by scat collection. Vet Parasitol 233:14–19. https://doi.org/10.1016/j.vetpar.2016.11.011

29.

Mimioglu MM, Guralp N, Tolgay N, Sayin F (1965) Helminths of foxes (Vulpes vulpes) and studies on the species found first time in Turkey. Vet J Ankara Univ 12:164–190 (In Turkish)

30.

Gicik Y, Kara M, Sarı B, Kilic K, Arslan MO (2009) Intestinal parasites of red foxes (Vulpes vulpes) and their zoonotic importance for humans in Kars province. J Fac Vet Med Kafkas Univ 15(1):135–140

31.

Pozio E, Casulli A, Bologov VV, Marucci G, La Rosa G (2001) Hunting practices increase the prevalence of Trichinella infection in wolves from European Russia. J Parasitol 87(6):1498–1501. https://doi.org/10.1645/0022-3395(2001)087[1498:HPITPO]2.0.CO;2

32.

Bień J, Moskwa B, Goździk K, Cybulska A, Kornacka A, Welc M, Popiołek M, Cabaj W (2016) The occurrence of nematodes of the genus Trichinella in wolves (Canis lupus) from the Bieszczady Mountains and Augustowska Forest in Poland. Vet Parasitol 231:115–117. https://doi.org/10.1016/j.vetpar.2016.04.010

33.

Akkoc N, Kuruuzum Z, Akar S, Yuce A, Onen F, Yapar N, Ozgenc O, Turk M, Ozdemir D, Avci M, Guruz Y, Oral AM, Pozio E, Izmir Trichinellosis Outbreak Study Group (2009) A large-scale outbreak of trichinellosis caused by Trichinella britovi in Turkey. Zoonoses and Public Health 56(2):65–70. https://doi.org/10.1111/j.1863-2378.2008.01158.x

34.

Senlik B, Cirak VY, Girisgin O, Akyol CV (2011) Helminth infections of wild boars (Sus scrofa) in the Bursa province of Turkey. J Helminthol 85(4):404–408. https://doi.org/10.1017/S0022149X1000074X
Acknowledgements
We would like to express our gratitude to Dr. Cevdet Yarali and Ozcan Yildirim for their encouragement during this study. Permission was obtained from the Republic of Turkey Ministry of Agriculture and Forestry with permission number: 71037622-280.05-E.2902122
Ethics declarations
Conflict of Interest
The authors declare that they have no conflict of interest.
Additional information
Publisher's Note
Springer Nature remains neutral with regard to jurisdictional claims in published maps and institutional affiliations.
About this article
Cite this article
Erol, U., Danyer, E., Sarimehmetoglu, H.O. et al. First Parasitological Data on a Wild Grey Wolf in Turkey with Morphological and Molecular Confirmation of the Parasites. Acta Parasit. (2020). https://doi.org/10.1007/s11686-020-00311-1
Received:

Accepted:

Published:
Keywords
DNA sequencing

Grey wolf

Helminth

PCR

Turkey