Abstract
Purpose
Cystic Echinococcosis (CE) is a medically important disease that is caused by the metacestodes of Echinococcus granulosus. Human hydatid is considered an endemic disease in specific regions of Iran. The goal of the present study was to determine the genetic diversity of E. granulosus from the paraffin-embedded human tissue samples which were collected from the endemic regions of Iran.
Methods
Fifty-five formalin-fixed and paraffin-embedded hydatid cysts (FFPE) of humans, which had been removed surgically, were obtained from the South Khorasan and Sistan and Baluchistan provinces. These regions are related to the East and Southeast regions of Iran, respectively. The cox1 and nad1 genes from mitochondria were amplified from the extracted DNA and sequenced. The sequences were edited using the BioEdit software. Furthermore, phylogenetic and genetic diversity analyses were performed.
Results
Sequencing of the cox1 and nad1 genes from the 44 CE samples was done successfully. Genetic analysis revealed that 38 (86.3%) and 6 (13.6%) of the isolates were G1- and G6-genotypes, respectively. In general, eight and six haplotypes were identified by cox1 and nad1 genes analysis, respectively. For G1 strains, the haplotype diversity index was higher for the cox1 gene (0.6 ± 0.07) in comparison with the nad1 gene (0.4 ± 0.09).
Conclusion
The findings of the present study showed that the sheep strain (G1) and the less important camel strain (G6) play the main roles in the transmission cycle of CE in the East and Southeast regions of Iran. Therefore, these results could be useful for managing the hydatid disease control programs in the studied and other similar areas.
Access options
Buy single article
Instant access to the full article PDF.
US$ 39.95
Tax calculation will be finalised during checkout.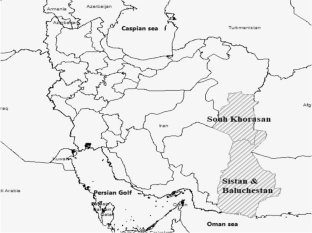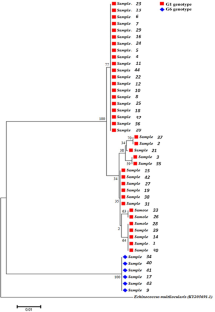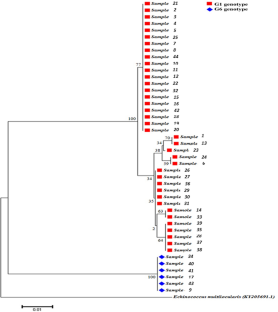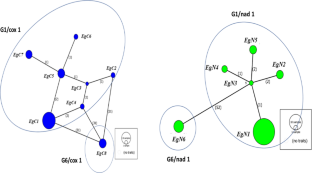 References
1.

Rokni M (2009) Echinococcosis/hydatidosis in Iran. Iran J Parasitol 4:1–16

2.

Chaâbane-Banaoues R, Oudni-M'rad M, M'rad S, Amani H, Mezhoud H, Babba H, (2016) A novel PCR-RFLP assay for molecular characterization of Echinococcus granulosussensu lato and closely related species in developing countries. Parasitol Res 115(10):3817–3824. https://doi.org/10.1007/s00436-016-5143-x

3.

Scott J, McManus D (1994) The random amplification of polymorphic DNA can discriminate species and strains of Echinococcus. Trop Med Parasitol 45(1):1–4

4.

Jabbar A, Narankhajid M, Nolan MJ, Jex AR, Campbell BE, Gasser RB (2011) A first insight into the genotypes of Echinococcus granulosus from humans in Mongolia. Mol Cell Probes 25(1):49–54. https://doi.org/10.1016/j.mcp.2010.11.001

5.

Debeljak Z, Boufana B, Interisano M, Vidanovic D, Kulisic Z, Casulli A (2016) First insights into the genetic diversity of Echinococcus granulosus sensu stricto (ss) in Serbia. Vet Parasitol 223:57–62. https://doi.org/10.1016/j.vetpar.2016.04.007

6.

Karamian M, Haghighi F, Hemmati M, Taylor WR, Salehabadi A, Ghatee MA (2017) Heterogenity of Echinococcus canadensis genotype 6—the main causative agent of cystic Echinococcosis in Birjand, Eastern Iran. Vet Parasitol 245:78–85. https://doi.org/10.1016/j.vetpar.2017.08.018

7.

Li J-q, Li L, Fan Y-l, Fu B-q, Zhu X-q, Yan H-b, Jia W-z (2018) Genetic diversity in Echinococcus multilocularis from the plateau vole and plateau pika in Jiuzhi County, Qinghai Province, China. Front Microbiol 9:2632. https://doi.org/10.3389/fmicb.2018.02632

8.

Thompson RA, McManus DP (2002) Towards a taxonomic revision of the genus Echinococcus. Trends Parasitol 18(10):452–457. https://doi.org/10.1016/S1471-4922(02)02358-9

9.

Schneider R, Gollackner B, Edel B, Schmid K, Wrba F, Tucek G, Walochnik J, Auer H (2008) Development of a new PCR protocol for the detection of species and genotypes (strains) of Echinococcus in formalin-fixed, paraffin-embedded tissues. Int J Parasitol 38(8–9):1065–1071. https://doi.org/10.1016/j.ijpara.2007.11.008

10.

Sharbatkhori M, Mirhendi H, Jex AR, Pangasa A, Campbell BE, Kia EB, Eshraghian MR, Harandi MF, Gasser RB (2009) Genetic categorization of Echinococcus granulosus from humans and herbivorous hosts in Iran using an integrated mutation scanning-phylogenetic approach. Electrophoresis 30(15):2648–2655. https://doi.org/10.1002/elps.200900145

11.

Bowles J, McManus D (1993) NADH dehydrogenase 1 gene sequences compared for species and strains of the genus Echinococcus. Int J Parasitol 23(7):969–972. https://doi.org/10.1016/0020-7519(93)90065-7

12.

Sharma M, Fomda BA, Mazta S, Sehgal R, Singh BB, Malla N (2013) Genetic diversity and population genetic structure analysis of Echinococcus granulosus sensu stricto complex based on mitochondrial DNA signature. PLoS ONE 8(12):e82904. https://doi.org/10.1371/journal.pone.0082904

13.

Tamura K, Nei M (1993) Estimation of the number of nucleotide substitutions in the control region of mitochondrial DNA in humans and chimpanzees. Mol Biol Evol 10(3):512–526. https://doi.org/10.1093/oxfordjournals.molbev.a040023

14.

Barazesh A, Sarkari B, Shahabi S, Halidi AG, Ekici A, Aydemir S, Mahami-Oskouei M (2020) Genetic diversity of Echinococcus granulosus isolated from humans: a comparative study in two cystic Echinococcosis endemic areas, Turkey and Iran. BioMed Res Int 2020:3054195. https://doi.org/10.1155/2020/3054195

15.

Ahmadi N, Hamidi M (2008) A retrospective analysis of human cystic Echinococcosis in Hamedan province, an endemic region of Iran. Ann Trop Med Parasitol 102(7):603–609. https://doi.org/10.1179/136485908X337517

16.

Yousefi E, Rafiei A, Rashidi I, Khademvatan S, Foroutan M (2019) Molecular characterization of Echinococcus granulosus in paraffin-embedded human tissues from Southwest Iran. Asian Pac J Trop Med 12(11):507. https://doi.org/10.4103/1995-7645.271290

17.

Sharbatkhori M, Harandi MF, Mirhendi H, Hajialilo E, Kia EB (2011) Sequence analysis of cox1 and nad1 genes in Echinococcus granulosus G3 genotype in camels (Camelus dromedarius) from Central Iran. Parasitol Res 108(3):521–527. https://doi.org/10.1007/s00436-010-2092-7

18.

Khademvatan S, Majidiani H, Foroutan M, Tappeh KH, Aryamand S, Khalkhali H (2019) Echinococcus granulosus genotypes in Iran: a systematic review. J Helminthol 93(2):131–138. https://doi.org/10.1017/S0022149X18000275

19.

Ebrahimipour M, Sadjjadi SM, Darani HY, Najjari M (2017) Molecular studies on cystic echinococcosis of camel (Camelus dromedarius) and report of Echinococcus ortleppi in Iran. Iran J Parasitol 12(3):323

20.

Schneider R, Gollackner B, Schindl M, Tucek G, Auer H (2010) Echinococcus canadensis G7 (pig strain): an underestimated cause of cystic Echinococcosis in Austria. Am J Trop Med Hyg 82(5):871–874. https://doi.org/10.4269/ajtmh.2010.09-0639

21.

Bardonnet K, Piarroux R, Dia L, Schneegans F, Beurdeley A, Godot V, Vuitton D (2002) Combined eco-epidemiological and molecular biology approaches to assess Echinococcus granulosus transmission to humans in Mauritania: occurrence of the 'camel' strain and human cystic Echinococcosis. Trans R Soc Trop Med Hyg 96(4):383–386. https://doi.org/10.1016/S0035-9203(02)90369-X

22.

Jafari R, Sanei B, Baradaran A, Spotin A, Bagherpour B, Darani HY (2018) Genetic characterization of Echinococcus granulosus strains isolated from humans based on nad1 and cox1 gene analysis in Isfahan, Central Iran. J Helminthol 92(6):696–702. https://doi.org/10.1017/S0022149X17000967

23.

Spotin A, Mahami-Oskouei M, Harandi MF, Baratchian M, Bordbar A, Ahmadpour E, Ebrahimi S (2017) Genetic variability of Echinococcus granulosus complex in various geographical populations of Iran inferred by mitochondrial DNA sequences. Acta Trop 165:10–16. https://doi.org/10.1016/j.actatropica.2016.03.002

24.

Romig T, Ebi D, Wassermann M (2015) Taxonomy and molecular epidemiology of Echinococcus granulosus sensu lato. Vet Parasitol 213(3–4):76–84. https://doi.org/10.1016/j.vetpar.2015.07.035
Acknowledgements
This study was supported by Birjand and Zahedan University of Medical Sciences, Iran.
Funding
Funding was provided by Birjand University of Medical Sciences (Grant no. 5303).
Ethics declarations
Conflict of interest
The authors report no conflicts of interest.
Ethical approval
This experimental study was approved by the Ethical Committee of Birjand University of Medical Sciences, Birjand, Iran (IR.BUMS.REC.1399-195).
About this article
Cite this article
Mirahmadi, H., Behravan, M., Raz, A. et al. Genotyping of the Echinococcus granulosus in Paraffin-Embedded Human Tissue Samples from Iran. Acta Parasit. (2020). https://doi.org/10.1007/s11686-020-00309-9
Received:

Accepted:

Published:
Keywords
Echinococcus granulosus

Genotyping

cox1 and nad1 genes

Human hydatid disease

Iran