Abstract
Purpose
Leishmania major-infected BALB/c mice display strong susceptibility to the infection due to the induction of Th2 response. The aim of this study was to assess the effects of naloxone on virulence of L. major in BALB/c mice and the ensued cellular immune response.
Methods
The effects of injection of a single dose of naloxone in the footpad of L. major-infected BALB/c mice were investigated by evaluating the lesion sizes, the parasite burden, cell proliferation, secreted cytokines (IFN-γ, IL-4, IL-10 and IL-12) and their genes expressions due to naloxone treatment while the untreated mice were used as a control.
Results
Significantly lower lesion sizes and less parasite burden were measured in the treated mice. Significantly decreased productions of IFN-γ, IL-12, IL-4, and IL-10 were also observed in the treated mice at week 4 post-infection while the production IL-10 remained significantly hindered till 8 weeks post-infection.
Conclusion
Our data indicated that although the treatment of L. major-infected BALB/c mice with a single dose of naloxone was unable to improve the cellular immune response, it led to lower virulence, confirmed by significantly reduced lesions and parasite load.
Access options
Buy single article
Instant access to the full article PDF.
US$ 39.95
Tax calculation will be finalised during checkout.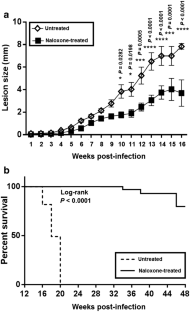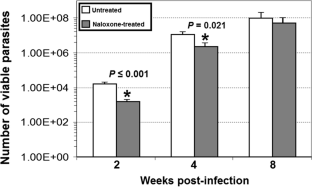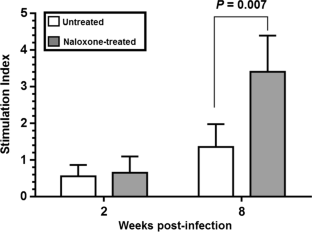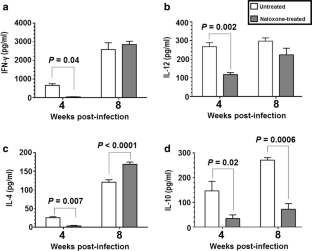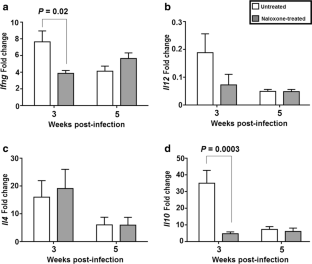 References
1.

Muller I, Fruth U, Louis JA (1992) Immunobiology of experimental leishmaniasis. Med Microbiol Immunol 181(1):1–12. https://doi.org/10.1007/BF00193391

2.

Sacks D, Noben-Trauth N (2002) The immunology of susceptibility and resistance to Leishmania major in mice. Nat Rev Immunol 2(11):845–858. https://doi.org/10.1038/nri933

3.

Reiner SL, Locksley RM (1995) The regulation of immunity to Leishmania major. Annu Rev Immunol 13:151–177. https://doi.org/10.1146/annurev.iy.13.040195.001055

4.

Launois P, Maillard I, Pingel S, Swihart KG, Xenarios I, Acha-Orbea H, Diggelmann H, Locksley RM, MacDonald HR, Louis JA (1997) IL-4 rapidly produced by V beta 4 V alpha 8 CD4+ T cells instructs Th2 development and susceptibility to Leishmania major in BALB/c mice. Immunity 6(5):541–549. https://doi.org/10.1016/s1074-7613(00)80342-8

5.

Launois P, Tacchini-Cottier F, Parra-Lopez C, Louis JA (1998) Cytokines in parasitic diseases: the example of cutaneous Leishmaniasis. Int Rev Immunol 17(1–4):157–180. https://doi.org/10.3109/08830189809084491

6.

Rogers KA, DeKrey GK, Mbow ML, Gillespie RD, Brodskyn CI, Titus RG (2002) Type 1 and type 2 responses to Leishmania major. FEMS Microbiol Lett 209(1):1–7. https://doi.org/10.1111/j.1574-6968.2002.tb11101.x

7.

Robinson A, Wermeling DP (2014) Intranasal naloxone administration for treatment of opioid overdose. Am J Health Syst Pharm 71(24):2129–2135. https://doi.org/10.2146/ajhp130798

8.

Peterson PK, Sharp B, Gekker G, Brummitt C, Keane WF (1987) Opioid-mediated suppression of interferon-gamma production by cultured peripheral blood mononuclear cells. J Clin Invest 80(3):824–831. https://doi.org/10.1172/JCI113140

9.

Bhaskaran M, Reddy K, Sharma S, Singh J, Radhakrishnan N, Kapasi A, Singhal PC (2001) Morphine-induced degradation of the host defense barrier: role of macrophage injury. J Infect Dis 184(12):1524–1531. https://doi.org/10.1086/324667

10.

Azuma Y, Ohura K (2002) Endomorphin-2 modulates productions of TNF-alpha, IL-1beta, IL-10, and IL-12, and alters functions related to innate immune of macrophages. Inflammation 26(5):223–232. https://doi.org/10.1023/a:1019766602138

11.

Narayan P, Tandon R, Haq W, Dhar MM, Singh VK (2002) Inhibition of antigen specific lymphocyte proliferation and cytokine stimulation by peptidomimetic opioid compound. Int Immunopharmacol 2(6):751–757. https://doi.org/10.1016/s1567-5769(02)00011-5

12.

Loizzo A, Loizzo S, Lopez L, d'Amore A, Renzi P, Spampinato S, Di Carlo S, Bacosi A, Zuccaro P, Pacifici R (2002) Naloxone prevents cell-mediated immune alterations in adult mice following repeated mild stress in the neonatal period. Br J Pharmacol 135(5):1219–1226. https://doi.org/10.1038/sj.bjp.0704577

13.

Molla Hassan AT, Hassan ZM, Moazzeni SM, Mostafaie A, Shahabi S, Ebtekar M, Hashemi SM (2009) Naloxone can improve the anti-tumor immunity by reducing the CD4+CD25+Foxp3+ regulatory T cells in BALB/c mice. Int Immunopharmacol 9(12):1381–1386. https://doi.org/10.1016/j.intimp.2009.08.008

14.

Sacerdote P, Manfredi B, Gaspani L, Panerai AE (2000) The opioid antagonist naloxone induces a shift from type 2 to type 1 cytokine pattern in BALB/cJ mice. Blood 95(6):2031–2036

15.

Titus RG, Marchand M, Boon T, Louis JA (1985) A limiting dilution assay for quantifying Leishmania major in tissues of infected mice. Parasite Immunol 7(5):545–555. https://doi.org/10.1111/j.1365-3024.1985.tb00098.x

16.

Asadpour A, Riazi-Rad F, Khaze V, Ajdary S, Alimohammadian MH (2013) Distinct strains of Leishmania major induce different cytokine mRNA expression in draining lymph node of BALB/c mice. Parasite Immunol 35(1):42–50. https://doi.org/10.1111/pim.12018

17.

Darabi S, Khaze V, Riazi-Rad F, Darabi H, Bahrami F, Ajdary S, Alimohammadian MH (2015) Leishmania major strains isolated from distinct endemic areas show diverse cytokine mRNA expression levels in C57BL/6 mice: toward selecting an ideal strain for the vaccine studies. Cytokine 76(2):303–308. https://doi.org/10.1016/j.cyto.2015.05.022

18.

Overbergh L, Giulietti A, Valckx D, Decallonne R, Bouillon R, Mathieu C (2003) The use of real-time reverse transcriptase PCR for the quantification of cytokine gene expression. J Biomol Tech 14(1):33–43

19.

Schefe JH, Lehmann KE, Buschmann IR, Unger T, Funke-Kaiser H (2006) Quantitative real-time RT-PCR data analysis: current concepts and the novel "gene expression's CT difference" formula. J Mol Med (Berl) 84(11):901–910. https://doi.org/10.1007/s00109-006-0097-6

20.

Livak KJ, Schmittgen TD (2001) Analysis of relative gene expression data using real-time quantitative PCR and the 2(-Delta Delta C(T)) Method. Methods 25(4):402–408. https://doi.org/10.1006/meth.2001.1262

21.

Rao Y, Wang YL, Li JG, Ke JJ (2004) Effects of morphine and fentanyl on tumor necrosis factor-alpha and interleukin-6 concentrations in human whole blood in vitro. Chin Med J (Engl) 117(2):303–304

22.

Karaji AG, Hamzavi Y (2012) The opioid antagonist naloxone inhibits Leishmania major infection in BALB/c mice. Exp Parasitol 130(1):73–77. https://doi.org/10.1016/j.exppara.2011.09.006

23.

Bozorgomid A, Hajipirloo HM, Tappeh KH, Nazari N, Karamati SA, Shirooie S (2016) Evaluation of the alum-naloxone adjuvant activity against experimental murine leishmaniasis due to L. major. J Parasit Dis 40(4):1141–1145. https://doi.org/10.1007/s12639-015-0731-8
Acknowledgments
This project was funded by research Grant # IPI-384 of Pasteur Institute of Iran.
Ethics declarations
Conflict of interest
On behalf of all authors, the corresponding author states that there is no conflict of interest.
About this article
Cite this article
Alimohammadian, M.H., Riazi-Rad, F., Asadi-Tat, M. et al. Naloxone Diminishes the Virulence and Modifies the Cellular Immune Responses of BALB/c Mice Infected with Leishmania major. Acta Parasit. (2020). https://doi.org/10.1007/s11686-020-00308-w
Received:

Accepted:

Published:
Keywords
Naloxone

Leishmania major

Cutaneous leishmaniasis

BALB/c mice