Abstract
Purpose
To evaluate the prevalence of Cryptosporidium and Microsporidia, associated risk factors and species identification in patients with haematological malignancies (HM).
Methods
A total of 148 consecutive patients with HM and 101 healthy subjects were evaluated for Cryptosporidium and Microsporidia using modified Kinyoun and modified Trichrome staining. Clinical, demographic and laboratory parameters were studied. The species of Cryptosporidium and Microsporidia were studied using PCR–RFLP.
Results
Of 148 HM patients initially screened, 47 were excluded from the final analysis due to inadequate clinical records. Patients with HM [n = 101, 63 (62.4%) male] more often had Cryptosporidium than healthy subjects [n = 101, 65 (74.4%) male] [3/101 (3%) vs. 0/101 (0%), p = 0.02]. Two of 101 (2%) HM patients and none of the healthy subjects had Microsporidia (p = 0.155). Diarrhea was more prevalent in HM patients with Cryptosporidium than those without [3, 100% vs. 39/96, 40.62%; p = 0.04). Both patients infected with Microsporidia presented with persistent diarrhea and fever. Cryptosporidium hominis was identified in all the three HM patients. Enterocytozoon bieneusi was identified in one HM patient infected with Microsporidia, which was classified as genotype Ind2.
Conclusion
Cryptosporidium and Microsporidia may infect HM patients leading to overwhelming diarrhea. The commonest species of Cryptosporidium and Microsporidia found to infect HM patients are C. hominis and E. bieneusi.
Access options
Buy single article
Instant access to the full article PDF.
US$ 39.95
Tax calculation will be finalised during checkout.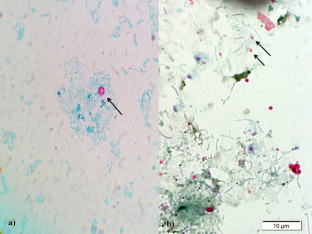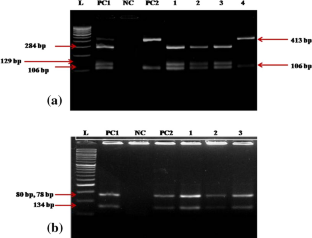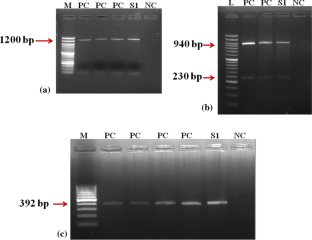 References
1.

Hunter PR, Nichols G (2002) Epidemiology and clinical features of Cryptosporidium infection in immunocompromised patients. Clin Microbiol Rev 15(1):145–154. https://doi.org/10.1128/cmr.15.1.145-154.2002

2.

Ajjampur SS, Sankaran P, Kang G (2008) Cryptosporidium species in HIV-infected individuals in India: an overview. Natl Med J India 21(4):178–184

3.

Khanduja S, Ghoshal U, Ghoshal UC (2017) Phylogenetic analysis of genetically distinct Enterocytozoon bieneusi infecting renal transplant recipients. Acta Parasitol 62(1):63–68. https://doi.org/10.1515/ap-2017-0007

4.

Silva LP, Silva RMG, Fernandes NA, Oleiverra JAA (2011) Parasitos e/ou comensais em pacientes neoplásicos submetidos à quimioterapia. Biosci J 27(1):170–177

5.

Botero JH, Castano A, Montoya MN, Ocampo NE, Hurtado MI, Lopera MM (2003) A preliminary study of the prevalence of intestinal parasites in immunocompromised patients with and without gastrointestinal manifestations. Rev Inst Med Trop Sao Paulo 45(4):197–200. https://doi.org/10.1590/s0036-46652003000400004

6.

Tamer GS, Balikci E, Erbay A (2008) The prevalence of cryptosporidiosis in children who were diagnosed with leukemia and lymphoma. Turkiye Parazitol Derg 32(3):192–197

7.

Hassanein SM, Abd-El-Latif MM, Hassanin OM, Abd-El-Latif LM, Ramadan NI (2012) Cryptosporidium gastroenteritis in Egyptian children with acute lymphoblastic leukemia: magnitude of the problem. Infection 40(3):279–284. https://doi.org/10.1007/s15010-011-0230-5

8.

Garcia-Elorriaga G, Corona-de Los Santos JC, Mendez-Tovar S, del Rey-Pineda G, Perez-Casillas RX (2013) Opportunistic bacteria and microbial flora in children with leukemia and neutropenic enterocolitis. Rev Med Inst Mex Seguro Soc 51(4):424–427

9.

Hijjawi N, Zahedi A, Kazaleh M, Ryan U (2017) Prevalence of Cryptosporidium species and subtypes in paediatric oncology and non-oncology patients with diarrhoea in Jordan. Infect Genet Evol 55:127–130. https://doi.org/10.1016/j.meegid.2017.08.033

10.

Izadi M, Jonaidi-Jafari N, Saburi A, Eyni H, Rezaiemanesh MR, Ranjbar R (2012) Prevalence, molecular characteristics and risk factors for cryptosporidiosis among Iranian immunocompromised patients. Microbiol Immunol 56(12):836–842. https://doi.org/10.1111/j.1348-0421.2012.00513.x

11.

Rudrapatna JS, Kumar V, Sridhar H (1997) Intestinal parasitic infections in patients with malignancy. J Diarrhoeal Dis Res 15(2):71–74

12.

Rafiei A, Rashno Z, Samarbafzadeh A, Khademvatan S (2014) Molecular characterization of Cryptosporidium spp. isolated from immunocompromised patients and children. Jundishapur J Microbiol 7(4):e9183. https://doi.org/10.5812/jjm.9183

13.

Dehkordy AB, Rafiei A, Alavi S, Latifi S (2010) Prevalence of cryptosporidium infection in immunocompromised patients, in South-west of iran, 2009–10. Iran J Parasitol 5(4):42–47

14.

Gentile G, Venditti M, Micozzi A, Caprioli A, Donelli G, Tirindelli C, Meloni G, Arcese W, Martino P (1991) Cryptosporidiosis in patients with hematologic malignancies. Rev Infect Dis 13(5):842–846. https://doi.org/10.1093/clinids/13.5.842

15.

El-Mahallawy HA, El-Din NH, Salah F, El-Arousy M, El-Naga SA (2004) Epidemiologic profile of symptomatic gastroenteritis in pediatric oncology patients receiving chemotherapy. Pediatr Blood Cancer 42(4):338–342. https://doi.org/10.1002/pbc.10394

16.

Hassan SI, Sabry H, Amer NM, Shalaby MA, Mohamed NA, Gaballah H (2002) Incidence of cryptosporidiosis in immunodeficient cancer patients in Egypt. J Egypt Soc Parasitol 32(1):33–46

17.

El-Mahallawy H, Zaki MM, El-Arousy M, Shalabi L, Mansour T (2011) Diagnosis of intestinal microsporidiosis in pediatric oncology patients in Egypt using modified acid fast trichrome staining versus PCR. Acta Parasitol 56(4):348–352

18.

Chabchoub N, Abdelmalek R, Mellouli F, Kanoun F, Thellier M, Bouratbine Ad, Aoun K (2009) Genetic identification of intestinal Microsporidia species in immunocompromised patients in Tunisia. Am J Trop Med Hyg 80(1):24–27

19.

Ghoyounchi R, Mahami-Oskouei M, Rezamand A, Spotin A, Aminisani N, Nami S, Pirestani M, Berahmat R, Madadi S (2019) Molecular Phylodiagnosis of Enterocytozoon bieneusi and Encephalitozoon intestinalis in Children with Cancer: Microsporidia in Malignancies as an Emerging Opportunistic Infection. Acta Parasitol 64(1):103–111. https://doi.org/10.2478/s11686-018-00012-w

20.

Nsagha DS, Njunda AL, Assob NJC, Ayima CW, Tanue EA, Kwenti TE (2016) Intestinal parasitic infections in relation to CD4+ T cell counts and diarrhea in HIV/AIDS patients with or without antiretroviral therapy in Cameroon. BMC Infect Dis 16(1):9

21.

Ghoshal U, Khanduja S, Pant P, Prasad KN, Dhole TN, Sharma RK, Ghoshal UC (2015) Intestinal microsporidiosis in renal transplant recipients: prevalence, predictors of occurrence and genetic characterization. Indian J Med Microbiol 33(3):357–363. https://doi.org/10.4103/0255-0857.158551

22.

Guo Y, Tang K, Rowe LA, Li N, Roellig DM, Knipe K, Frace M, Yang C, Feng Y, Xiao L (2015) Comparative genomic analysis reveals occurrence of genetic recombination in virulent Cryptosporidium hominis subtypes and telomeric gene duplications in Cryptosporidium parvum. BMC Genom 16:320. https://doi.org/10.1186/s12864-015-1517-1

23.

Ryan U, Zahedi A, Paparini A (2016) Cryptosporidium in humans and animals-a one health approach to prophylaxis. Parasite Immunol 38(9):535–547. https://doi.org/10.1111/pim.12350

24.

Khan A, Shaik JS, Grigg ME (2018) Genomics and molecular epidemiology of Cryptosporidium species. Acta Trop 184:1–14. https://doi.org/10.1016/j.actatropica.2017.10.023

25.

Khanduja S, Ghoshal U, Agarwal V, Pant P, Ghoshal UC (2017) Identification and genotyping of Enterocytozoon bieneusi among human immunodeficiency virus infected patients. J Infect Public Health 10(1):31–40. https://doi.org/10.1016/j.jiph.2016.01.005

26.

Saigal K, Sharma A, Sehgal R, Sharma P, Malla N, Khurana S (2013) Intestinal microsporidiosis in India: a two year study. Parasitol Int 62(1):53–56. https://doi.org/10.1016/j.parint.2012.09.005

27.

Zhang X, Wang Z, Su Y, Liang X, Sun X, Peng S, Lu H, Jiang N, Yin J, Xiang M, Chen Q (2011) Identification and genotyping of Enterocytozoon bieneusi in China. J Clin Microbiol 49(5):2006–2008. https://doi.org/10.1128/JCM.00372-11

28.

Thellier M, Breton J (2008) Enterocytozoon bieneusi in human and animals, focus on laboratory identification and molecular epidemiology. Parasite 15(3):349–358. https://doi.org/10.1051/parasite/2008153349

29.

Dey A, Ghoshal U, Agarwal V, Ghoshal UC (2016) Genotyping of Cryptosporidium species and their clinical manifestations in patients with renal transplantation and human immunodeficiency virus infection. J Pathog 2016:2623602. https://doi.org/10.1155/2016/2623602

30.

Xiao L, Limor J, Morgan UM, Sulaiman IM, Thompson RC, Lal AA (2000) Sequence differences in the diagnostic target region of the oocyst wall protein gene of Cryptosporidium parasites. Appl Environ Microbiol 66(12):5499–5502. https://doi.org/10.1128/aem.66.12.5499-5502.2000

31.

Spano F, Putignani L, McLauchlin J, Casemore DP, Crisanti A (1997) PCR-RFLP analysis of the Cryptosporidium oocyst wall protein (COWP) gene discriminates between C. wrairi and C. parvum, and between C. parvum isolates of human and animal origin. FEMS Microbiol Lett 150(2):209–217. https://doi.org/10.1016/s0378-1097(97)00115-8

32.

Akiyoshi DE, Feng X, Buckholt MA, Widmer G, Tzipori S (2002) Genetic analysis of a Cryptosporidium parvum human genotype 1 isolate passaged through different host species. Infect Immun 70(10):5670–5675. https://doi.org/10.1128/iai.70.10.5670-5675.2002

33.

Spano F, Putignani L, Crisanti A, Sallicandro P, Morgan UM, Le Blancq SM, Tchack L, Tzipori S, Widmer G (1998) Multilocus genotypic analysis of Cryptosporidium parvum isolates from different hosts and geographical origins. J Clin Microbiol 36(11):3255–3259

34.

Raynaud L, Delbac F, Broussolle V, Rabodonirina M, Girault V, Wallon M, Cozon G, Vivares CP, Peyron F (1998) Identification of Encephalitozoon intestinalis in travelers with chronic diarrhea by specific PCR amplification. J Clin Microbiol 36(1):37–40

35.

Sulaiman IM, Fayer R, Lal AA, Trout JM, Schaefer FW 3rd, Xiao L (2003) Molecular characterization of Microsporidia indicates that wild mammals Harbor host-adapted Enterocytozoon spp. as well as human-pathogenic Enterocytozoon bieneusi. Appl Environ Microbiol 69(8):4495–4501. https://doi.org/10.1128/aem.69.8.4495-4501.2003

36.

Lo Nigro L (2013) Biology of childhood acute lymphoblastic leukemia. J Pediatr Hematol Oncol 35(4):245–252. https://doi.org/10.1097/MPH.0b013e31828f8746

37.

Mahdi NK, Al-Saadoon MA (2012) Microsporidiosis among children with malignant diseases in Basrah. Iraq Pak J Med Sci Jul Sep 28(4):621–624

38.

Nichols RA, Campbell BM, Smith HV (2003) Identification of Cryptosporidium spp. oocysts in United Kingdom noncarbonated natural mineral waters and drinking waters by using a modified nested PCR-restriction fragment length polymorphism assay. Appl Environ Microbiol 69(7):4183–4189. https://doi.org/10.1128/aem.69.7.4183-4189.2003

39.

Jimenez-Gonzalez GB, Martinez-Gordillo MN, Caballero-Salazar S, Peralta-Abarca GE, Cardenas-Cardoz R, Arzate-Barbosa P, Ponce-Macotela M (2012) Microsporidia in pediatric patients with leukemia or limphoma. Rev Invest Clin 64(1):25–31

40.

Leelayoova S, Subrungruang I, Suputtamongkol Y, Worapong J, Petmitr PC, Mungthin M (2006) Identification of genotypes of Enterocytozoon bieneusi from stool samples from human immunodeficiency virus-infected patients in Thailand. J Clin Microbiol 44(8):3001–3004. https://doi.org/10.1128/JCM.00945-06
Acknowledgements
Ujjala Ghoshal would like to thank European Society of Clinical Microbiology and Infectious Diseases (ESCMID) Clinical Parasitology group for their kind support. Sonali K. Kalra would also like to acknowledge ICMR fellowship (80/829/2013-ECD-I). This work was funded by Indian Council of Medical Research, New Delhi, India (reference no. 5/3/3/3/2008-ECD-I).
Funding
This study was supported by a grant to UG from Indian Council of Medical Research, New Delhi, India (reference no. 5/3/3/3/2008-ECD-I).
Ethics declarations
Conflict of interest
All authors declare that they have no conflict of interest.
Ethics approval
The study was approved by Institutional Ethics Committee (PGI/DIR/RC/1085/2007).
Consent to participate
Consent was taken from patients while filling predesigned questionnaire.
Data transparency
All authors make sure that all the data and materials comply with the field standards.
Additional information
Publisher's Note
Springer Nature remains neutral with regard to jurisdictional claims in published maps and institutional affiliations.
About this article
Cite this article
Ghoshal, U., Kalra, S.K., Tejan, N. et al. Prevalence and Genetic Characterization of Cryptosporidium and Microsporidia Infecting Hematological Malignancy Patients. Acta Parasit. (2020). https://doi.org/10.1007/s11686-020-00307-x
Received:

Accepted:

Published:
Keywords
Cryptosporidiosis

Intestinal microsporidiosis

Diarrhea

Malignancy