Abstract
Introduction
Anaplasma sp. is an obligatory intracellular Gram-negative tick-transmitted bacterial pathogen of humans and animals. Oxytetracycline and chlortetracycline are the drugs of choice for treating domestic animals with acute anaplasmosis. Lack of documented information about oxytetracycline resistance in Anaplasma species in the world was the scope of this study to screen by PCR for the detection of the oxytetracycline-resistance genes in Anaplasma species from infected cattle and sheep in the Northwest and Southwest of Iran.
Materials and Methods
Total of 100 cattle and sheep blood samples collected from 2 provinces in the Northwest and 1 province in the Southwest of Iran were tested microscopically by the Giemsa staining examination and confirmed by PCR. Then the presence of two different oxytetracycline-resistance genes (otrA, and otrB) was detected by PCR in positive samples.
Results
The results showed that 60% of Anaplasma-infected samples were identified to have an otrA-resistance gene, and 26.67% had an otrB-resistance gene. The coexistence of two oxytetracycline-resistance determinants was encountered in 13.33% of the isolates. The significant difference in the frequency of otr genes was found among three Anaplasma species (A. marginale, A. centrale and A. ovis), and among three studied regions in Iran (p < 0.05). The identified sequences were submitted to the GenBank and deposited under accession numbers MN880729 and MN895439 for otrB and otrA genes.
Conclusion
This study, for the first time, indicated the oxytetracycline-resistance genes in the three most prevalent Anaplasma species in ruminants. This finding helps to select an appropriate treatment strategy for eradication of anaplasmosis.
Access options
Buy single article
Instant access to the full article PDF.
US$ 39.95
Tax calculation will be finalised during checkout.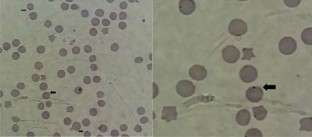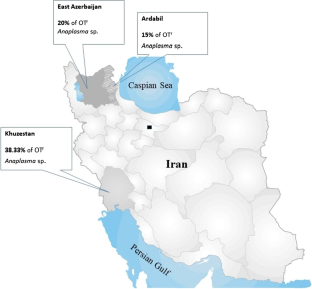 References
1.

Dumler JS, Barbet AF, Bekker CP, Dasch GA, Palmer GH, Ray SC, Rikihisa Y, Rurangirwa FR (2001) Reorganization of genera in the families' Rickettsiaceae and Anaplasmataceae in the order Rickettsiales: unification of some species of Ehrlichia with Anaplasma, Cowdria with Ehrlichia and Ehrlichia with Neorickettsia, descriptions of six new species combinations and designation of Ehrlichia equi and "HGE agent" as subjective synonyms of Ehrlichia phagocytophila. Int J Syst Evol Microbiol 51(6):2145–2165. https://doi.org/10.1099/00207713-51-6-2145

2.

Dumler JS, Choi KS, Garcia-Garcia JC, Barat NS, Scorpio DG, Garyu JW, Grab DJ, Bakken JS (2005) Human granulocytic anaplasmosis and Anaplasma phagocytophilum. Emerg Infect Dis 11:1828–1834. https://doi.org/10.3201/eid1112.050898

3.

Zhan L, Cao WC, Jiang JF, Zhang XA, Wu XM, Zhang WY, Liu W, Zuo SQ, Cao ZW, Yang H, Richardus JH, Habbema JD (2010) Anaplasma phagocytophilum in livestock and small rodents. Vet Microbiol 144:405–408. https://doi.org/10.1016/j.vetmic.2010.02.018

4.

Palmer GH (1989) Anaplasma vaccines. In: Wright IG (ed) Veterinary protozoan and hemoparasite vaccines. CRC Press, Boca Raton, pp 2–29

5.

Aktas M, Özübek S (2017) Outbreak of anaplasmosis associated with novel genetic variants of Anaplasma marginale in a dairy cattle. Com Immuno Microbiol Infect Dis (CIMID) 54:20–26

6.

Kocan KM, de la Fuente J, Blouin EF, Coetzee JF, Ewing SA (2010) The natural history of Anaplasma marginale. Vet Parasitol 167(2–4):95–107. https://doi.org/10.1016/j.vetpar.2009.09.012

7.

Bayley AJ (2005) Compendium of veterinary products, 8th edn. North American Compendiums INC, Port Huron

8.

Chopra I, Roberts MC (2001) Tetracycline antibiotics: mode of action, applications, molecular biology, and epidemiology of bacterial resistance. Microbiol Mol Biol Rev 65:232–260. https://doi.org/10.1128/mmbr.65.2.232-260.2001

9.

Kuttler KL, Simpson JE (1978) Relative efficacy of two oxytetracycline formulations and doxycycline in the treatment of acute anaplasmosis in splenectomized calves. Am J Vet Res 39:347–349 (PMID: 629473)

10.

Stewart CG, Immelman A, Grimbeek P, Grib D (1979) The use of a short and long- acting oxytetracycline for the treatment of Anaplasma marginale in splenectomized calves. J S Afr Vet Assoc 50:83–85 (PMID: 551196)

11.

Brayton KA, Kappmeyer LS, Herndon DR, Dark MJ, Tibbals DL, Pamer GH, McGuire TC, Knowles DP Jr (2005) Complete genome sequencing of Anaplasma marginale reveals that the surface is skewed to two super families of outer membrane proteins. Proc Nat Acad Sci USA 102:844–849. https://doi.org/10.1073/pnas.0406656102

12.

Michalova E, Novotna P, Schlegelova J (2004) Tetracyclines in veterinary medicine and bacterial resistance to them. Vet Med 49(3):79–100. https://doi.org/10.17221/5681-vetmed

13.

Jones CH, Tuckman M, Howe AY (2006) Diagnostic PCR analysis of the occurrence of methicillin and tetracycline resistance genes among Staphylococcus aureus isolates from phase 3 clinical trials of Tigecycline for complicated skin and skin structure infections. Antimicrob Agents Chemother 50:505–510. https://doi.org/10.1128/aac.50.2.505-510.2006

14.

Roberts MC (2005) Update on acquired tetracycline resistance genes. FEMS Microbiol Lett 245:195–203. https://doi.org/10.1016/j.femsle.2005.02.034

15.

Roberts MC, Schwarz S, Aarts HJM (2012) Erratum: acquired antibiotic resistance genes: an overview. Front Microbiol 384:1–17. https://doi.org/10.3389/fmicb.2012.00384

16.

Pickens LB, Tang Y (2010) Oxytetracycline biosynthesis. J Biol Chem 285:27509–27515. https://doi.org/10.1074/jbc.r110.130419

17.

Roberts MC, Schwarz S (2009) Tetracycline and chloramphenicol resistance mechanisms. In: Douglas L, Mayers MD (eds) Antimicrobial drug resistance. Springer, New York, pp 183–193. https://doi.org/10.1007/978-1-59745-180-2_15

18.

Doyle D, McDowall KJ, Butler MJ, Hunter IS (1991) Characterization of an oxytetracycline-resistance gene, otrA, of Streptomyces rimosus. Mol Microbiol 5:2923–2933. https://doi.org/10.1111/j.1365-2958.1991.tb01852.x

19.

Jalali SM, Khaki Z, Kazemi B, Bandehpour M, Rahbari S, Razi Jalali M, Yasini SP (2013) Molecular detection and identification of Anaplasma species in sheep from Ahvaz, Iran. Iran J Vet Res 14(1):50–56. https://doi.org/10.22099/IJVR.2013.1389

20.

Ghatak S, Muthukumaran RB, Nachimuthu SK (2013) A simple method of genomic DNA extraction from human samples for PCR-RFLP analysis. J Biomol Tech 24(4):224. https://doi.org/10.7171/jbt.13-2404-001

21.

Aktas M, Ozubek S (2018) Anaplasma ovis genetic diversity detected by major surface protein 1a and its prevalence in small ruminants. Vet Microbiol 217:13–17. https://doi.org/10.1016/j.vetmic.2018.02.026

22.

de La Fuente J, Golsteyn Thomas EJ, Van Den Bussche RA, Hamilton RG, Tanaka EE, Druhan SE, Kocan KM (2003) Characterization of Anaplasma marginale isolated from North American bison. Appl Environ Microbiol 69:5001–5005. https://doi.org/10.1128/aem.69.8.5001-5005.2003

23.

de La Fuente J, Ruybal P, Mtshali MS, Naranjo V, Shuqing L, Mangold AJ, Rodríguez SD, Jiménez R, Vicente J, Moretta R, Torina A et al (2007) Analysis of world strains of Anaplasma marginale using major surface protein 1a repeat sequences. Vet Microbiol 119(2–4):382–390. https://doi.org/10.1016/j.vetmic.2006.09.015

24.

Kawahara M, Rikihisa Y, Lin Q, Isogai E, Tahara K, Itagaki A, Hiramitsu Y, Tajima T (2006) Novel genetic variants of Anaplasma phagocytophilum, Anaplasma bovis, Anaplasma centrale, and a novel Ehrlichia sp. in wild deer and ticks on two major islands in Japan. Appl Environ Microbiol 72(2):1102–1109. https://doi.org/10.1128/aem.72.2.1102-1109.2006

25.

Han R, Yang J, Liu Z, Gao S, Niu Q, Adeel Hassan M, Luo J, Yin H (2017) Characterization of Anaplasma ovis strains using the major surface protein 1a repeat sequences. Parasit Vectors 10:447. https://doi.org/10.1186/s13071-017-2363-6

26.

Nikolakopoulou TL, Egan SH, Van Overbeek LS, Guillaume G, Heuer H, Wellington EMH, Van Elsas JD, Collard JM, Smalla K, Karagouni AD (2005) PCR detection of oxytetracycline resistance genes otr (A) and otr (B) in tetracycline-resistant streptomycete isolates from diverse habitats. Curr Microbiol 51:211–216. https://doi.org/10.1007/s00284-004-4430-4

27.

Nouri S, Shahbazi P (2020) Distribution of oxytetracycline resistance genes in E. coli isolated from pigeon fecal samples. J Exotic Pet Med 33:14–17

28.

Dugan J, Daniel D, Rockey DD, Jones L, Andersen AA (2004) Tetracycline resistance in Chlamydia suis mediated by genomic islands inserted into the Chlamydial inv-like gene. Antimicrob Agents Chemother 48(10):3989–3995. https://doi.org/10.1128/aac.48.10.3989-3995.2004

29.

Yin S, Wang X, Shi M, Yuan F, Wang H, Jia X, Yuan F, Sun J, Liu T, Yang K, Zhang Y, Fan K, Li Z (2017) Improvement of oxytetracycline production mediated via cooperation of resistance genes in Streptomyces rimosus. Sci China Life Sci 60(9):992–999. https://doi.org/10.1007/s11427-017-9121-4

30.

Noaman V, Bastani D (2016) Molecular study on infection rates of Anaplasma ovis and Anaplasma marginale in sheep and cattle in West-Azerbaijan province. Iran Vet Res Forum 7(2):163–167

31.

Khumalo ZTH, Catanese HN, Liesching N, Hove P, Collins NE, Chaisi ME, Gebremedhin AH, Oosthuizen MC, Brayton KA (2016) Characterization of Anaplasma marginale subsp. centrale strains by use of msp1aS genotyping reveals a wildlife reservoir. J Clin Microbiol 54:2503–2512. https://doi.org/10.1128/JCM.01029-16

32.

Hakimi H, Sarani A, Takeda M, Kaneko O, Asada M (2019) Epidemiology, risk factors, and co-infection of vector-borne pathogens in goats from Sistan and Baluchestan province. Iran. PLoS One 14(6):e0218609. https://doi.org/10.1371/journal.pone.0218609

33.

Jafar Bekloo A, Bakhshi H, Soufizadeh A, Sedaghat MM, Jafar Bekloo R, Ramzgouyan MR, Chegeni HA, Faezeh Faghihi F, Telmadarraiy Z (2017) Ticks circulate Anaplasma, Ehrlichia, Babesia and Theileria parasites in North of Iran. Vet Parasit 248:21–24. https://doi.org/10.1016/j.vetpar.2017.10.015

34.

Bursakov SA, Kovalchuk NS (2019) Co-infection with tick-borne disease agents in cattle in Russia. Ticks Tick Borne Dis 10(3):709–713. https://doi.org/10.1016/j.ttbdis.2019.03.004

35.

Zhou M, Cao S, Sevinc F, Sevinc M, Ceylan O, Ekici S, Jirapattharasate C, Moumouni PFA, Liu M, Wang G, Iguchi A, Udriko P, Suzuki H, Xuan X (2017) Molecular detection and genetic characterization of Babesia, Theileria and Anaplasma amongst apparently healthy sheep and goats in the central region of Turkey. Ticks Tick Borne Dis 8(2):246–252. https://doi.org/10.1016/j.ttbdis.2016.11.006

36.

Renneker S, Abdo J, Bakheit MA, Kullmann B, Beyer D, Ahmed J, Seitzer U (2013) Coinfection of Sheep with Anaplasma, Theileria and Babesia Species in the Kurdistan Region, Iraq. Transbound Emerg Dis 60(Suppl. 2):113–118. https://doi.org/10.1111/tbed.12148

37.

Spooner PR (1990) The effects of oxytetracycline on Theileria parva in vitro. Parasite 100(1):11–17. https://doi.org/10.1017/S0031182000060066

38.

Hasheminasab SS, Moradi P, Wright I (2018) Four year epidemiological and chemotherapy survey of babesiosis and theileriosis, and tick vectors in sheep, cattle and goats in Dehgolan, Iran. Ann Parasitol 64(1):43–48. https://doi.org/10.17420/ap6401.131

39.

Coetzee JF, Apley MD, Kocan KM, Rurangirwa FR, Van Donkersgoed J (2005) Comparison of three oxytetracycline regimens for the treatment of persistent Anaplasma marginale infections in beef cattle. Vet Parasitol 127:61–73. https://doi.org/10.1016/j.vetpar.2004.08.017
Acknowledgements
The authors are grateful to University of Tabriz (Grant no. 433296787) for financial supporting and to Katiraee. F for assistance in the submission of the otr genes in the GenBank.
About this article
Cite this article
Shahbazi, P., Nouri Gharajalar, S., Mohebbi, K. et al. First Survey on the Presence and Distribution of Oxytetracycline-Resistance Genes in Anaplasma Species. Acta Parasit. (2020). https://doi.org/10.1007/s11686-020-00306-y
Received:

Accepted:

Published:
Keywords
Anaplasma

Oxytetracycline

Drug resistance

Genes

Livestock

Iran