Abstract
Purpose
There are currently nine monogenoidean species of Rhabdosynochus infecting the gill lamellae of wild and cultured centropomid fishes from tropical and subtropical waters of the western Atlantic and eastern Pacific Oceans. The purpose of the present study was to describe the morphological distinctiveness of two new species of Rhabdosynochus found on the cultured Centropomus viridis collected from floating cages from the Mexican eastern Tropical Pacific in 2018.
Methods
monogenoideans were fixed with 4–5% formalin solution, observed and measured as temporary or permanent mounts stained with Gomori's trichrome, and mounted in Canada balsam. Other specimens were mounted on slides using a mixture of lactic acid (LA) and glycerin-ammonium picrate (GAP) and then remounted in Canada balsam to obtain measurements of the haptoral structures and copulatory complex. Illustrations were prepared with the aid of a drawing tube using a Leica microscope DM 2500 with Nomarski interference contrast.
Results
Rhabdosynochus viridisi n. sp. is mainly differentiated from all other congeneric species in the shape and size of their copulatory complexes, i.e., length 75–105 µm vs. 45–55 µm in R. alterinstitus, 26–44 µm in R. volucris, 19–22 µm in R. lituparvus, 21–37 µm in R. siliquaus, 48–75 µm in R. hargisi, 37–44 µm in R. hudsoni and 44–61 µm in R. guanduensis. Rhabdosynochus pacificus n. sp. differs from all other species of the genus in having an accessory piece (one subunit) distally twisted.
Conclusions
Based on the morphometric differences of the two new species described above, the number of valid species of Rhabdosynochus has now increased to 11. These two new species of Rhabdosynochus represent the first described species of the genus on C. viridis.
Access options
Buy single article
Instant access to the full article PDF.
US$ 39.95
Tax calculation will be finalised during checkout.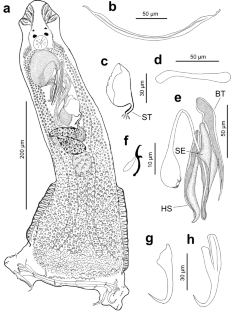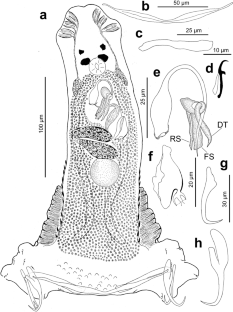 References
1.

Kritsky DC, Boeger WA, Robaldo RB (2001) Neotropical Monogenoidea. 38. Revision of Rhabdosynochus Mizelle and Blatz, 1941 (Polyonchoinea: Dactylogyridea: Diplectanidae), with descriptions of two new species from Brazil. Comp Parasitol 68(1):66–75

2.

Kritsky DC, Bakenhaster MD, Fajer-Ávila EJ, Bullard SA (2010) Rhabdosynochus spp. (Monogenoidea: Diplectanidae) infecting the gill lamellae of snooks, Centropomus spp. (Perciformes: Centropomidae), in Florida, and redescription of the type species R. Rhabdosynochus. J Parasitol 96:879–886. https://doi.org/10.1645/GE-2529.1

3.

Doro AV, Kozlowiski de Azebedo R, Luque JLF (2012) Three new species of Monogenea (Platyhelminthes) parasites of fish in the Guandu river, southeastern Brazil. Acta Sci Biol Sci 34(4):483–490. https://doi.org/10.4025/actascibiolsci.v34i4.10466

4.

Domingues MV, Boeger WA (2008) Phylogeny and revision of Diplectanidae Monticelli, 1903 (Platyhelminthes: Monogenoidea). Zootaxa 1698:1–40. https://doi.org/10.5281/zenodo.180750

5.

Mendoza-Franco EF, Violante-González J, Vidal-Martínez VM (2006) A new diplectanid (Monogenea) genus and species from the gills of the black snook Centropomus nigrescens (Perciformes, Centropomidae) of the Pacific coast of Mexico. J Parasitol 92(3):481–485. https://doi.org/10.1645/GE-3538.1

6.

Mendoza-Franco EF, Violante-González J, Vidal-Martínez VM (2008) New species of Rhabdosynochus Mizelle and Blatz 1941, (Monogenoidea: Diplectanidae) from the gills of centropomid fishes (Teleostei) off the Pacific coast of Mexico. J Parasitol 94(1):28–35. https://doi.org/10.1645/GE-1241.1

7.

Bush AO, Lafferty KD, Lotz JM, Shostak AW (1997) Parasitology meets ecology on its own terms: Margolis et al. revisited. J. Parasitol 83:575–583. https://doi.org/10.2307/3284227

8.

Tringali MD, Berts TM, Seyoum S, Bermingham E, Bartolacci D (1999) Molecular phylogenetics and ecological diversification of the Transisthmian fish Centropomus (Perciformes: Centropomidae). Mol Phylogenet Evol 13(1):193–207. https://doi.org/10.1006/mpev.1999.0624

9.

Escárcega Rodríguez S (2005). El robalo: avances biotecnológicos para su crianza. Mexico. AGT Editor S.A. 126 p

10.

Ibarra-Castro L, Navarro-Flores J, Sánchez-Téllez JL, Martínez-Brown JM, Ochoa-Bojórquez LA, Rojo-Cebreros AH (2017) Hatchery production of Pacific white snook at CIAD-Unity Mazatlán, Mazatlán, Mexico. World Aquacult 48:25–29

11.

Morales-Serna FN, López-Moreno DG, Medina-Guerrero RM, Abad-Rosales SM, Martínez-Brown JM, Ibarra-Castro L, Fajer-Avila EJ (2020) Toxicity of formalin for juvenile Centropomus viridis and in vitro efficacy against the parasite Rhabdosynochus sp (Monogenea: Diplectanidae). J Appl Ichthyol 36(5):740–744. https://doi.org/10.1111/jai.14077

12.

Suárez-Morales E, Ho JS, Santana-Piñeros AM (2008) Caligus tenuifurcatus Wilson, 1937 (Copepoda, Siphonostomatoida), a parasite of centropomid and lutjanid teleosts from a coastal system of the Mexican Pacific. Acta Parasitol 53(4):397–403. https://doi.org/10.2478/s11686-008-0051-6

13.

Soto-Rodríguez SA, Lozano-Olvera R, Abad-Rosales SM, Martínez-Brown JM, Ibarra CL (2019) Susceptibility of Pacific white snook Centropomus viridis to Vibrio species. Dis Aquat Organ 134(3):189–195

14.

García-Vásquez A, Hansen H, Christison KW, Rubio-Godoy M, Bron JE, Shinn AP (2010) Gyrodactylids (Gyrodactylidae, Monogenea) infecting Oreochromis niloticus niloticus (L.) and O. mossambicus (Peters) (Cichlidae): a pan-global survey. Acta Parasitol 55(3):215–229. https://doi.org/10.2478/s11686-010-0042-2
Acknowledgements
This study was supported by the following agencies: Instituto Nacional de Pesca y Acuacultura (INAPESCA) through the Direccion General Adjunta de Investigacion en Acuacultura (DGAIA) and the Centro Regional de Investigación Acuícola y Pesquera (CRIAP) located in Manzanillo, Colima, Mexico. Fish specimens were kindly provided by Alejandro P. Muñoz (CRIAP). Alma S. Sandoval and Yuliana A. Zurita Moo assisted us during laboratory work. MMR was supported by a Master student fellowship (scholarship number 708028) from the Consejo Nacional de Ciencia y Tecnología (CONACyT), Mexico. This paper derives partially from the master thesis of MMR (Universidad Autónoma Metropolitana Unidad-Xochimilco, Mexico city).
Ethics declarations
Conflict of Interest
The authors declare that they have no conflict of interest.
Ethical Approval
All applicable institutional, national and international guidelines for the care and use of animals were followed.
Additional information
Publisher's Note
Springer Nature remains neutral with regard to jurisdictional claims in published maps and institutional affiliations.
About this article
Cite this article
Montero-Rodríguez, M., Mendoza-Franco, E.F. & Téllez, N.A.L. New Species of Rhabdosynochus Mizelle and Blatz 1941 (Monogenoidea: Diplectanidae) From the Gills of the Cultured Centropomus viridis (Perciformes) in the Mexican Eastern Tropical Pacific. Acta Parasit. (2020). https://doi.org/10.1007/s11686-020-00303-1
Received:

Accepted:

Published:
Keywords
Monogenoidea

Centropomidae

Cultured fish

Floating cages

Ectoparasitic platyhelminths

Commercial marine fish