Abstract
Understanding the neural correlates of cognitive problems in patients with breast cancer (BC) after systemic treatment have been a topic of increasing investigation. The heterogeneity of the systemic treatment regimens may undermine our ability to identify brain microstructural alterations resulting from any given regimen. We investigated the detrimental effects of the anthracycline-based systemic treatment (AST) regimen (epirubicin and cyclophosphamide + docetaxel + tamoxifen) on brain gray matter (GM) and white matter (WM) microstructural alteration in long-term BC survivors. We performed a battery of neuropsychological tests and structural magnetic resonance imaging (MRI) to 31 long-term BC survivors who had received the AST regimen (AST group) and 43 healthy controls (HC group). Voxel-based morphometry evaluated the whole-brain voxel-wise GM volume, while diffusion tensor imaging technique with tract‐based spatial statistics analysis evaluated whole-brain WM microstructural alteration. Partial least squares regression (PLSR) was used to evaluate the relationship between cognitive impairment and brain microstructural alteration in BC survivors. Compared with the HC group, the AST group exhibited a significantly poorer performance in attention, as well as a marginal significantly poorer performance in verbal working memory and executive function. Significantly lower fractional anisotropy (FA), higher radial diffusivity (RD), and lower axial diffusivity (AD) in multiple brain WM regions were showed in AST group compared with the HC group. Overlap of lower FA and higher RD was found in the body of corpus callosum (CC) and bilateral superior corona radiata (SCR), whereas overlap of lower FA and AD was found in the body of CC and right SCR. The PLSR results showed that the WM regions with overlap of lower FA and AD were significantly associated with executive and verbal working memory decline. No significant difference was observed in the GM volume between groups. Our results suggest that microstructural abnormalities of certain vulnerable WM regions in the AST regimen-exposed brain may provide neuroimaging evidence for the identification of brain injury and cognitive impairment induced by specific chemotherapy regimens.
Access options
Buy single article
Instant access to the full article PDF.
USD 39.95
Price includes VAT (USA)
Tax calculation will be finalised during checkout.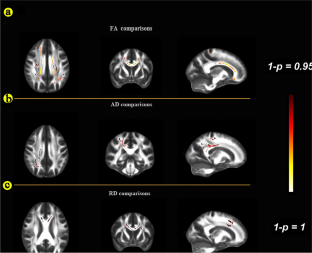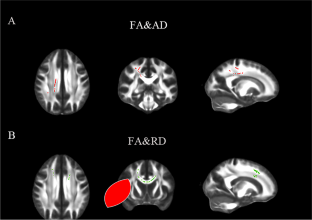 Data availability
The datasets used and/or analyzed during the current study are available from the corresponding author on reasonable request.
Funding
This study was funded by the National Natural Science Foundation of China (Grant No. 81901821 and 82071879), the Science and Technology Plan of Shaanxi Province (Grant 2019SF-209), and the Fundamental Research Funds for the Central Universities (Grant Nos. JB211203 and XJS201207).
Ethics declarations
Ethical approval
All procedures carried out in studies involving human participants were consistent with the ethical standards of institutions and/or national research councils, as well as with the 1964 Helsinki Declaration and its subsequent amendments or comparable ethical standards.
Consent to participant
Informed consent was obtained from all patients included in the study.
Consent to publish
All authors approved the version to be published in the study.
Competing interests
The author(s) declare no potential conflicts of interest with respect to the research, authorship, and/or publication of this article.
Additional information
Publisher's note
Springer Nature remains neutral with regard to jurisdictional claims in published maps and institutional affiliations.
About this article
Cite this article
Zhang, H., Li, P., Liu, T. et al. Focal white matter microstructural alteration after anthracycline-based systemic treatment in long-term breast cancer survivors: a structural magnetic resonance imaging study. Brain Imaging and Behavior (2021). https://doi.org/10.1007/s11682-021-00551-3
Keywords
Breast cancer

Chemotherapy

Cognitive impairment

Anthracycline-based systemic treatment

Tract-based spatial statistics

Partial least squares regression