Abstract
Traumatic experiences have been linked to poor mental and physical health. However, there has been little examination of their relationship to neuroimaging markers of cerebrovascular risk. White matter hyperintensities (WMHs) are markers of brain small vessel disease. WMHs can be detected decades before the onset of dementia and other disorders and can serve as early markers for these brain disorders. We tested whether traumatic experiences were associated with brain WMH volume among midlife women. In the MsBrain study, 145 women (mean age = 59 years) without cardiovascular disease, stroke, or dementia were recruited. Women completed questionnaires [trauma checklist, depression, post-traumatic stress measures]; physical measures [body mass index (BMI), blood pressure (BP)]; phlebotomy; actigraphy sleep measurement, and 3 Tesla magnetic resonance brain imaging for WMHs. Cross-sectional associations between traumatic experiences and WMH volume were assessed in linear regression models. Covariates were age, race/ethnicity, education, BMI, BP, lipids, preeclampsia, sleep, and additionally depressive and post-traumatic stress disorder symptoms. 68% of women endorsed at least one of the traumas assessed. The most common trauma was sexual assault (23% of women). Women with trauma exposure had greater WMH volume than women without trauma [B(SE) = .24 (.09), p = .01, multivariable]. The single trauma most associated with WMH was sexual assault [B(SE) = .25 (.11), p = .02, multivariable]. Results persisted adjusting for depressive or post-traumatic stress symptoms. A trauma history, particularly sexual assault, was associated with greater WMH volume controlling for covariates, including depressive and post-traumatic symptoms. Sexual assault may place women at risk for poor brain health.
Access options
Buy single article
Instant access to the full article PDF.
USD 39.95
Price includes VAT (USA)
Tax calculation will be finalised during checkout.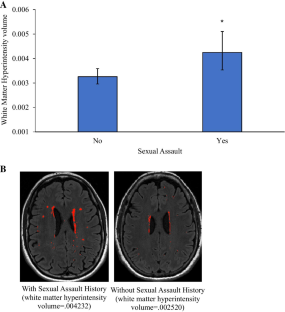 Data availability
Anonymized data are shared upon request from qualified investigators consistent with National Institutes of Health guidelines.
References
Ancoli-Israel, S., Cole, R., Alessi, C., Chambers, M., Moorcroft, W., & Pollak, C. P. (2003). The role of actigraphy in the study of sleep and circadian rhythms. Sleep, 26(3), 342–392.

Bacchus, L. J., Ranganathan, M., Watts, C., & Devries, K. (2018). Recent intimate partner violence against women and health: A systematic review and meta-analysis of cohort studies. BMJ Open, 8(7), e019995. https://doi.org/10.1136/bmjopen-2017-019995

Benjamin, E. J., Muntner, P., Alonso, A., Bittencourt, M. S., Callaway, C. W., Carson, A. P., et al. (2019). Heart disease and stroke Statistics-2019 update: A report from the American Heart Association. Circulation, 139(10), e56–e528. https://doi.org/10.1161/CIR.0000000000000659

Benjet, C., Bromet, E., Karam, E. G., Kessler, R. C., McLaughlin, K. A., Ruscio, A. M., et al. (2016). The epidemiology of traumatic event exposure worldwide: Results from the world mental health survey consortium. Psychological Medicine, 46(2), 327–343. https://doi.org/10.1017/s0033291715001981

Bernstein, D. P., Fink, L., Handelsman, L., Foote, J., Lovejoy, M., Wenzel, K., et al. (1994). Initial reliability and validity of a new retrospective measure of child abuse and neglect. American Journal of Psychiatry, 151(8), 1132–1136. https://doi.org/10.1176/ajp.151.8.1132

Breiding, M. J., Black, M. C., & Ryan, G. W. (2008). Chronic disease and health risk behaviors associated with intimate partner violence-18 U.S. states/territories, 2005. Annals of Epidemiology, 18(7), 538–544. https://doi.org/10.1016/j.annepidem.2008.02.005

Brickman, A. M., Provenzano, F. A., Muraskin, J., Manly, J. J., Blum, S., Apa, Z., et al. (2012). Regional white matter hyperintensity volume, not hippocampal atrophy, predicts incident Alzheimer disease in the community. Archives of Neurology, 69(12), 1621–1627. https://doi.org/10.1001/archneurol.2012.1527

Debette, S., & Markus, H. S. (2010). The clinical importance of white matter hyperintensities on brain magnetic resonance imaging: Systematic review and meta-analysis. BMJ, 341, c3666. https://doi.org/10.1136/bmj.c3666

Debette, S., Seshadri, S., Beiser, A., Au, R., Himali, J. J., Palumbo, C., et al. (2011). Midlife vascular risk factor exposure accelerates structural brain aging and cognitive decline. Neurology, 77(5), 461–468. https://doi.org/10.1212/WNL.0b013e318227b227

Felitti, V. J., Anda, R. F., Nordenberg, D., Williamson, D. F., Spitz, A. M., Edwards, V., et al. (1998). Relationship of childhood abuse and household dysfunction to many of the leading causes of death in adults. The Adverse Childhood Experiences (ACE) study. American Journal of Preventive Medicine, 14(4), 245–258.

Friedewald, W. T., Levy, R. I., & Fredrickson, D. S. (1972). Estimation of the concentration of low density lipoprotein cholesterol in plasma, without use of the preparative ultracentrifuge. Clinical Chemistry, 18(6), 499–502.

Gallo, L. C., Roesch, S. C., Fortmann, A. L., Carnethon, M. R., Penedo, F. J., Perreira, K., et al. (2014). Associations of chronic stress burden, perceived stress, and traumatic stress with cardiovascular disease prevalence and risk factors in the Hispanic Community Health Study/Study of Latinos Sociocultural Ancillary Study. Psychosomatic Medicine, 76(6), 468–475. https://doi.org/10.1097/PSY.0000000000000069

Gibson, C. J., Maguen, S., Xia, F., Barnes, D. E., Peltz, C. B., & Yaffe, K. (2020). Military sexual trauma in older women veterans: Prevalence and comorbidities. Journal of General Internal Medicine, 35(1), 207–213. https://doi.org/10.1007/s11606-019-05342-7

Goodwin, R. D., & Stein, M. B. (2004). Association between childhood trauma and physical disorders among adults in the United States. Psychological Medicine, 34(3), 509–520. https://doi.org/10.1017/s003329170300134x

Kershaw, K. N., Brenes, G. A., Charles, L. E., Coday, M., Daviglus, M. L., Denburg, N. L., et al. (2014). Associations of stressful life events and social strain with incident cardiovascular disease in the Women's Health Initiative. Journal of the American Heart Association, 3(3), e000687. https://doi.org/10.1161/JAHA.113.000687

Kessler, R. C., Davis, C. G., & Kendler, K. S. (1997). Childhood adversity and adult psychiatric disorder in the US National Comorbidity Survey. Psychological Medicine, 27(5), 1101–1119.

Kessler, R. C., Aguilar-Gaxiola, S., Alonso, J., Benjet, C., Bromet, E. J., Cardoso, G., et al. (2017). Trauma and PTSD in the WHO world mental health surveys. European Journal of Psychotraumatology, 8(sup5), 1353383. https://doi.org/10.1080/20008198.2017.1353383

Koenen, K. C., De Vivo, I., Rich-Edwards, J., Smoller, J. W., Wright, R. J., & Purcell, S. M. (2009). Protocol for investigating genetic determinants of posttraumatic stress disorder in women from the Nurses' Health Study II. BMC Psychiatry, 9(29). https://doi.org/10.1186/1471-244X-9-29

Kornerup, H., Osler, M., Boysen, G., Barefoot, J., Schnohr, P., & Prescott, E. (2010). Major life events increase the risk of stroke but not of myocardial infarction: Results from the Copenhagen City Heart Study. European Journal of Cardiovascular Prevention and Rehabilitation, 17(1), 113–118. https://doi.org/10.1097/HJR.0b013e3283359c18

Lambert, M. A., Bickel, H., Prince, M., Fratiglioni, L., Von Strauss, E., Frydecka, D., et al. (2014). Estimating the burden of early onset dementia; systematic review of disease prevalence. European Journal of Neurology, 21(4), 563–569. https://doi.org/10.1111/ene.12325

Liu, H., Petukhova, M. V., Sampson, N. A., Aguilar-Gaxiola, S., Alonso, J., Andrade, L. H., et al. (2017). Association of DSM-IV posttraumatic stress disorder with traumatic experience type and history in the World Health Organization world mental health surveys. JAMA Psychiatry, 74(3), 270–281. https://doi.org/10.1001/jamapsychiatry.2016.3783

Liu, X., Logan, J., & Alhusen, J. (2020). Cardiovascular risk and outcomes in women who have experienced intimate partner violence: An integrative review. The Journal of Cardiovascular Nursing, 35(4), 400–414. https://doi.org/10.1097/JCN.0000000000000654

Marshall, G. N. (2004). Posttraumatic stress disorder symptom checklist: Factor structure and English-Spanish measurement invariance. Journal of Traumatic Stress, 17(3), 223–230. https://doi.org/10.1023/b:Jots.0000029265.56982.86

Matthews, D. R., Hosker, J. P., Rudenski, A. S., Naylor, B. A., Teacher, D. F., & Turner, R. C. (1985). Homeostasis model assessment: Insulin resistance and B cell function from fasting plasma glucose and insulin concentration in man. Diabetologia, 28(7), 412–419.

Merrick, M. T., Ford, D. C., Ports, K. A., Guinn, A. S., Chen, J., Klevens, J., et al. (2019). Vital signs: Estimated proportion of adult health problems attributable to adverse childhood experiences and implications for prevention — 25 states, 2015–2017. Morbidity and Mortality Weekly Report, 68(44), 999–1005.

Monk, T. H., Reynolds, C. F., Kupfer, D. J., Buysse, D. J., Coble, P. A., Hayes, A. J., et al. (1994). The Pittsburgh sleep diary. Journal of Sleep Research, 3(2), 111–120.

Radford, K., Delbaere, K., Draper, B., Mack, H. A., Daylight, G., Cumming, R., et al. (2017). Childhood stress and adversity is associated with late-life dementia in aboriginal Australians. The American Journal of Geriatric Psychiatry, 25(10), 1097–1106. https://doi.org/10.1016/j.jagp.2017.05.008

Radloff, L. S. (1977). The CES-D scale: A self-report depression scale for research in the general population. Applied Psychological Measurement, 1(3), 385–401.

Rich-Edwards, J. W., Mason, S., Rexrode, K., Spiegelman, D., Hibert, E., Kawachi, I., et al. (2012). Physical and sexual abuse in childhood as predictors of early-onset cardiovascular events in women. Circulation, 126(8), 920–927. https://doi.org/10.1161/CIRCULATIONAHA.111.076877

Santaularia, J., Johnson, M., Hart, L., Haskett, L., Welsh, E., & Faseru, B. (2014). Relationaships between sexual violence and chronic disease: A cross-sectional study. BMC Public Health, 14.

Schnurr, P. P., Spiro, A. I., Vielhauer, M. J., Findler, M. N., & Hamblen, J. L. (2002). Trauma in the lives of older men: Findings from the normative aging study. Journal of Clinical Geropsychology, 8, 175–187.

Schnurr, P. P., Lunney, C. A., Sengupta, A., & Spiro III, A. (2005). A longitudinal study of retirement in older male veterans. Journal of Consulting and Clinical Psychology, 73(3), 561–566. https://doi.org/10.1037/0022-006X.73.3.561

Scott, K. M., Koenen, K. C., Aguilar-Gaxiola, S., Alonso, J., Angermeyer, M. C., Benjet, C., et al. (2013). Associations between lifetime traumatic events and subsequent chronic physical conditions: A cross-national, cross-sectional study. PLoS One, 8(11), e80573. https://doi.org/10.1371/journal.pone.0080573

Smith, S. G., Zhang, X., Basile, K. C., Merrick, M. T., Wang, J., Kresnow, M., & Chen, J. (2018). The National Intimate Partner and sexual violence survey (NISVS): 2015 data brief - updated release. National Center for Injury Prevention and Control, Centers for Disease Control and Prevention.

Suglia, S. F., Sapra, K. J., & Koenen, K. C. (2015). Violence and cardiovascular health: A systematic review. American Journal of Preventive Medicine, 48(2), 205–212. https://doi.org/10.1016/j.amepre.2014.09.013

Sumner, J. A., Kubzansky, L. D., Elkind, M. S., Roberts, A. L., Agnew-Blais, J., Chen, Q., et al. (2015). Trauma exposure and posttraumatic stress disorder symptoms predict onset of cardiovascular events in women. Circulation, 132(4), 251–259. https://doi.org/10.1161/circulationaha.114.014492

Thurston, R. C., Chang, Y., Barinas-Mitchell, E., Jennings, J. R., Landsittel, D. P., Santoro, N., et al. (2016). Menopausal hot flashes and carotid intima media thickness among midlife women. Stroke, 47(12), 2910–2915. https://doi.org/10.1161/strokeaha.116.014674

Thurston, R., Wu, M., Aizenstein, H., Chang, Y., Barinas Mitchell, E., Derby, C., & Maki, P. (2020). Sleep characteristics and white matter hyperintensities among midlife women. Sleep, 43(6). https://doi.org/10.1093/sleep/zsz298

Ullman, S. E., Najdowski, C. J., & Filipas, H. H. (2009). Child sexual abuse, post-traumatic stress disorder, and substance use: Predictors of revictimization in adult sexual assault survivors. Journal of Child Sexual Abuse, 18(4), 367–385. https://doi.org/10.1080/10538710903035263

Walker, E. A., Gelfand, A., Katon, W. J., Koss, M. P., Von Korff, M., Bernstein, D., & Russo, J. (1999). Adult health status of women with histories of childhood abuse and neglect. American Journal of Medicine, 107(4), 332–339. https://doi.org/10.1016/s0002-9343(99)00235-1

Wu, M., Rosano, C., Butters, M., Whyte, E., Nable, M., Crooks, R., et al. (2006). A fully automated method for quantifying and localizing white matter hyperintensities on MR images. Psychiatry Research, 148(2–3), 133–142. https://doi.org/10.1016/j.pscychresns.2006.09.003

Wu, M., Fatukasi, O., Yang, S., Alger, J., Barker, P. B., Hetherington, H., et al. (2018). HIV disease and diabetes interact to affect brain white matter hyperintensities and cognition. AIDS, 32(13), 1803–1810. https://doi.org/10.1097/QAD.0000000000001891

Yaffe, K., Vittinghoff, E., Lindquist, K., Barnes, D., Covinsky, K. E., Neylan, T., et al. (2010). Posttraumatic stress disorder and risk of dementia among US veterans. Archives of General Psychiatry, 67(6), 608–613.
Funding
This research was supported by the National Institutes of Health (NIH), National Institute on Aging (RF1AG053504 to Thurston & Maki), the NIH Heart Lung and Blood Institute (R01HL105647 and 2K24HL123565 to Thurston), and the National Institute on Mental Health (R01MH101269 to Koenen). This work was also supported by the University of Pittsburgh Clinical and Translational Science Institute (NIH Grant UL1TR000005) and the University of Pittsburgh Small Molecule Biomarker Core (NIH Grant S10RR023461 to Poloyac).
Ethics declarations
Procedures were approved by the University of Pittsburgh Institutional Review Board. Participants provided written informed consent.
Conflict of Interest
Dr. Maki receives consultant fees from Pfizer, Abbvie, and Balchem.
Dr. Thurston receives consultant fees from Astellas, Pfizer, Procter & Gamble, and Virtue Health.
Drs. Aizenstein, Chang, Jakubowski, Derby, Koenen, Barinas-Mitchell and Wu report no financial interests or potential conflicts of interest.
Consent for publication
Not applicable.
Additional information
Publisher's note
Springer Nature remains neutral with regard to jurisdictional claims in published maps and institutional affiliations.
Supplementary Information
About this article
Cite this article
Thurston, R.C., Jakubowski, K.P., Wu, M. et al. Sexual assault and white matter hyperintensities among midlife women. Brain Imaging and Behavior (2021). https://doi.org/10.1007/s11682-021-00536-2
Keywords
Trauma

White matter hyperintensities

Sexual assault

Cerebrovascular

Women